This post may contains affiliate links for your convenience. If you make a purchase after clicking a link we may earn a small commission but it won't cost you a penny more! Read our full disclosure policy here.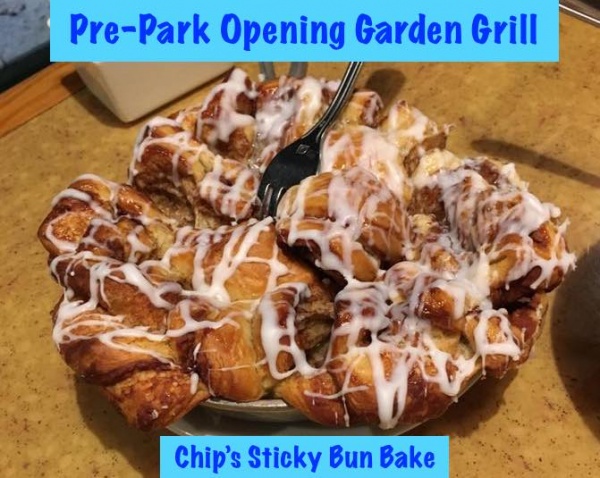 Picture provided by Renée Lucas
If you are looking for a great breakfast the Garden Grill Chip 'n' Dale's Harvest Feast Breakfast has been a wonderful option since it first started serving up warm sticky buns in late 2015. Breakfast hours are between 8:00 a.m. and 10:30 a.m. This is a family-style, revolving restaurant, character meal that I think everyone should try at least once.
There is a perfect time of morning that can make this breakfast even more special…the pre-park opening 8 am reservation. This reservation time can be hard to get, but it is worth stalking the MyDisneyExperience.com website (and really anytime up until about 8:20 a.m. works great).
How to get there
If onsite, start your day with an early bus to Epcot. I recommend getting to the bus stop about 7-7:15 a.m. so you'renot rushing to your reservation. (The front desk is not great about knowing about this early bus, but don't worry…it will come.) Or if you don't like getting up quite that early you can always grab an Uber, Lyft or Minnie Van around 7:30 a.m.
When you arrive at Epcot you will get to go through a fairly empty security. Sometimes park operations asks security to open a little late (which starts to stress some of the guests out). Use this time to talk to the security Cast Members. They are pretty awesome and often have some great stories to tell. I learned that one of our security guards was going to be in the Candelight Processional later that night. The others said she had a voice of an angel!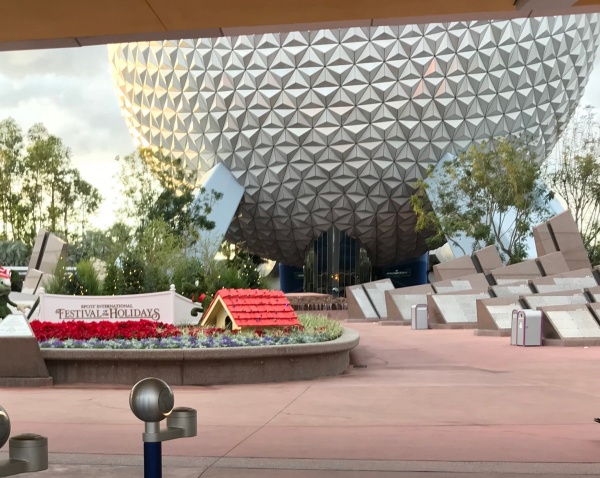 An empty Epcot entrance
Once through security there will be separate line for early morning breakfast reservations, usually on the far left side. They will scan your MagicBand or look you up on their tablet and then point you to the designated tapstile. If you made good time, the tapstiles won't even be open yet, giving you a beautiful unobstructed view of Spaceship Earth and the wonderful landscaping in front. My 4 year old son was the first guest through the tapstiles in December and he thought he was the coolest person ever.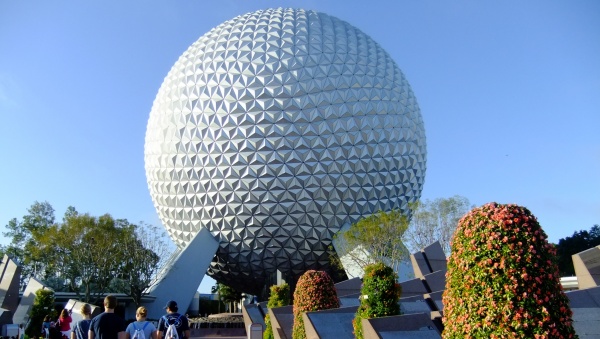 Less than 10 guests in front of us after entering the park in 2016
Make sure to take your time and enjoy the empty park. Most of the other early breakfast reservation guests will be rushing over to Norway to eat with the princesses at Akershus. You have a short walk over to the Land Pavilion, so ask a Cast Member or guest to take a picture of you and your family. Or just snap a couple selfies. Then you can meander slowly past the Character Spot, under the monorail and towards the beautiful Land Pavilion. Usually there is a friendly Cast Member there to park your stroller, if you have one, and make sure you are headed the right direction.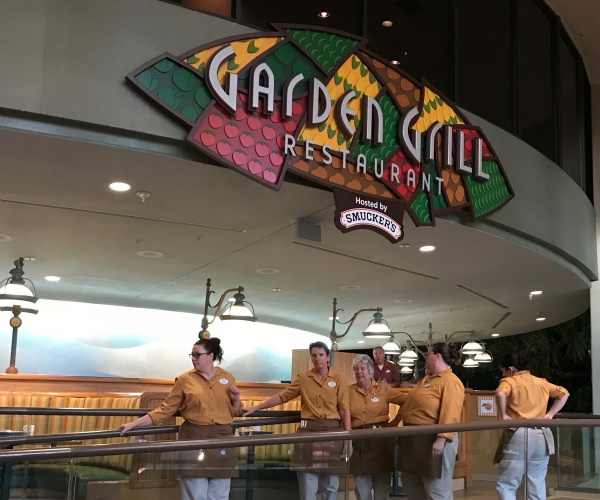 Cast Members waiting to serve the first guests at the revolving restaurant
The Breakfast…yummo
Once inside the pavilion you will find that the only activity is on the other side at the Garden Grill. When you check-in try to request an outside booth if possible…you'll thank me later. Like I mentioned before, the breakfast is family-style, which means your server will bring platters of food the share at your table. If there is anything else you want more of or substituted your cast member will bring it to you, as it is also all-you-care-to-eat.

The Harvest Feast breakfast spread – Picture provided by Stephen Thrussell
Not much has changed since Elizabeth and Scott G.'s visit in 2015. The meal no longer includes biscuits and gravy, but you still receive Mickey shaped waffles, scrambled eggs, tater-tots (which Disney likes to call potato barrels), bacon, sausage links, fruit and the most amazing ginormous sticky bun (which is worth the price of the breakfast alone). The Garden Grill also has the famous POG juice. The passion fruit, orange and guava mixture has a little fan following of its own and is slowly expanding to many places including the Happily Ever After Fireworks Dessert Party. All of the food is delicious, and I really feel like this is one of the best tasting breakfasts on Walt Disney World property.
The Characters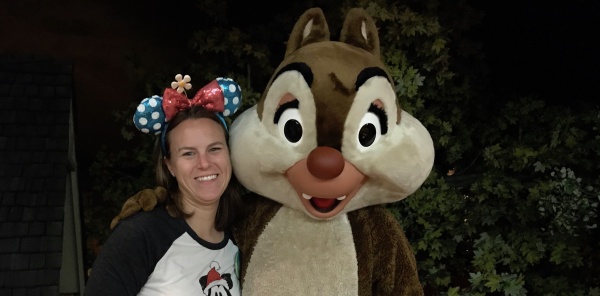 Making friends with Dale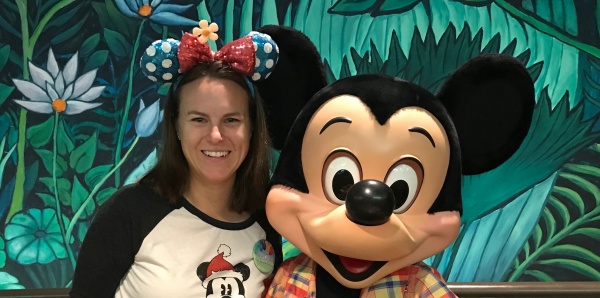 Mickey is always ready for his close-up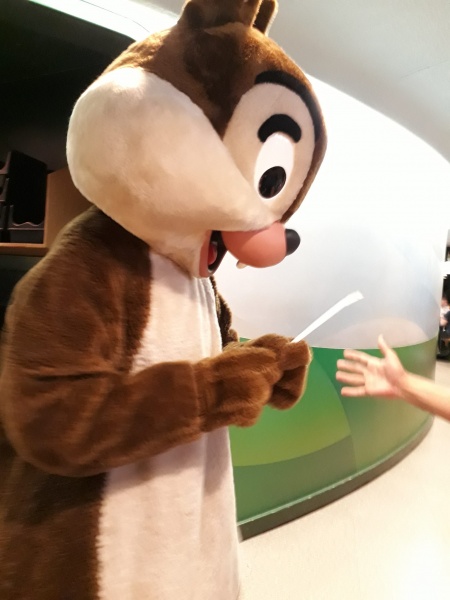 Chip is often more of a trouble maker than Dale. – Picture provided by Stephen Thrussell
But the thing that really makes this restaurant extra special is the character interactions as you travel slowly over the Living with the Land attraction. Every time I have visited this restaurant we have had long interactions with all of the characters. And unlike other character meals, usually we see all the character twice. Pluto even went "fishing" with my son and proceeded to eat the yummy fish my son "caught". Many of my friends tell me they also love the interactions with Chip, Dale, Pluto and Mickey here.
Pluto showing how big the fish was that my son "caught"
What makes Pre-park opening here so special
If you let your server know your plans when you sit down, and ask for the check right away, you will likely be able to take advantage of your very close proximity to Soarin' after breakfast. In December my family and I ate breakfast at a leisurely pace, enjoyed all of the characters twice, and had time for a bathroom break before heading down to Soarin' just below the Garden Grill.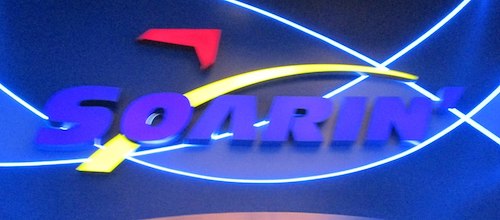 Picture provided by Kelly Nobles
Cast Members greeted us happily at the start of the queue letting us straight in. We walked right up to the pre-show area and were in the first ride of the day with about 15 other guests. When our ride was over we asked the Cast Members if we could ride again. They happily said "No problem, pick your seat. Anyone else want to ride again?" Everyone else declined and we were able to have a attraction all to ourselves in an empty theater!
Now I'm not saying a second ride in an empty theater happens every time, but you should be able to get in one ride before the rope drop masses descend upon the attraction if you leave the restaurant by about 8:55 a.m. As we walked out of the theater, these masses were loudly stomping down the queue ramps. We were able to continue with our day, with one Tier 1 FastPass out of the way, and it was only 9:02 a.m.
Have you utilized this breakfast tip before? What suggestions do you have? Share in the comments or on Facebook or Twitter.
Did you like this article? Make sure to share it with your friends! Check below for easy ways to share!
Incoming search terms:
https://www themouseforless com/blog_world/pre-park-opening-breakfast-garden-grill/
garden grill opening for breakfast