This post may contains affiliate links for your convenience. If you make a purchase after clicking a link we may earn a small commission but it won't cost you a penny more! Read our full disclosure policy here.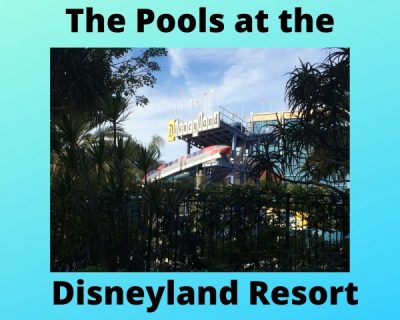 The Red Monorail Slide at the Disneyland Hotel pool
For some people, a trip to the Disneyland Resort involves spending every waking moment in the two parks, perhaps throwing in a visit or two to Downtown Disney. But for others, no vacation is complete without a dip in the hotel pool.

If pools are important to your vacation, it's a good idea to know where to find the best ones. Here, I'm describing the pools at all three of the Disney owned and operated hotels, plus at an off-property hotel that has an outstanding pool.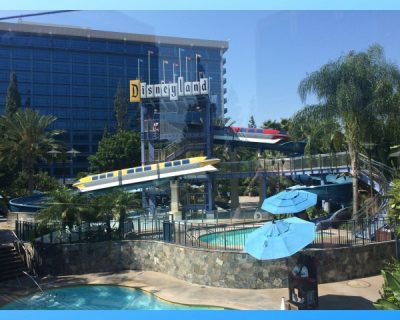 The Disneyland Hotel's theme is the early days of Disneyland. Midcentury theming can be found throughout the hotel's grounds, and the pool area is no exception. The pool area includes the E-Ticket pool, which is your best bet for a relaxing dip with your family.

The nearby D-Ticket pool should be your destination if you want to swim laps. And the Monorail Waterslides are impossible to miss. Red Monorail is slightly taller and longer than the Yellow Monorail, yet both provide big thrills.

Nearby, small children can enjoy a miniature version of the slides in a toddler friendly splash area. Here, two small slides empty into a shallow pool. Water jets and spray features add to the fun.

If you want to soak your tired theme-park-weary muscles after a long day in the parks, head to the two hot tubs, one themed towards Mickey and the other towards Minnie.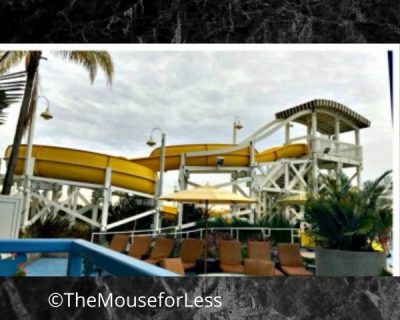 This hotel is themed towards the early days of California boardwalks, and features the Disneyland Resort's only rooftop pool. The pool deck is accessible with your room card. The main pool, Paradise Pool, is rather standard, just the place to take a relaxing dip when the temperature soars.

The big deal here is the California Streamin' slide, themed after a roller coaster. Since this pool area is on the hotel's third floor, it's possible to slide down California Streamin' while fireworks at the theme parks explode in the sky!

There is a small Children's Pool nearby, perfect for kids who are too small or too timid to try the huge waterslide. There is also a hot tub, Paradise Spa, nearby.


Disneyland's flagship hotel offers three pools themed to the same California Craftsman motif that is found throughout the luxurious resort. The large Fountain Pool, named for the sculpted turtle fountain it boasts, is the best place to take your family to cool off during a hot day.

The Redwood pool is named after the waterslide that seems to twirl around the trunk of a giant redwood tree. For those too small or too timid for this exciting slide, there is a Children's Pool nearby, shaped like Mickey Mouse.

The circular Mariposa Pool is this resort's relaxing pool. Mariposa is Spanish for "butterfly," and there are butterfly decorations surrounding this area. There is also a hot tub nearby.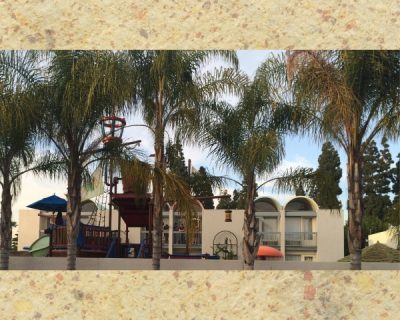 The name says it all: This isn't just a pool; this is a super fun pool for kids. And while it isn't technically a Disneyland Resort, it is pretty darn close to the Resort area. Each hotel guest is given a wristband that includes access to this pool area, called Castaway Cove. Because of the location of the hotel (a short walk to the pedestrian entrance to Disneyland), you might find yourself splashing in the pool while a monorail whizzes by, or sitting in a lounge chair gazing at the Matterhorn.

The pirate-themed pool has waterslides and spray features, water cannons, a bucket that will drop water on guests, and a pirate ship to climb all over. If this is too much for you, you can always retreat to the large pool to swim and cool off.

Smaller children have their own shallow wading pool with water jets, and adults can relax in the hot tub. Out of all the nearby off-property hotel, this one clearly has the best pool area.


Which Disneyland resort pool is your favorite? Tell us in the comments or on Facebook or Twitter!
Did you like this article? Make sure to share it with your friends! Check below for easy ways to share!  
Want to visit a Disney Destination? Contact The Magic for Less Travel for more information and a free, no-obligation quote.

Incoming search terms:
disneyland hotel wristband pool
https://www themouseforless com/blog_world/pools-disneyland-resort/