This post may contains affiliate links for your convenience. If you make a purchase after clicking a link we may earn a small commission but it won't cost you a penny more! Read our full disclosure policy here.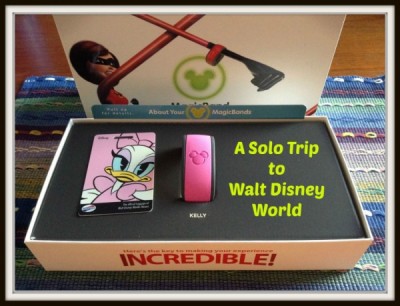 My next Walt Disney World will be my first solo trip.  Our family dynamics have changed because our young adults are now in college and have jobs.  With their school and work schedules, they cannot take time off to travel.  Rather than forgoing my beloved Disney vacation because of this stage of family life, I will travel solo!
The idea of solo travel delights me, and to be honest, it kind of scares me too.  I'm going to a familiar place that feels like home, but I've always had the company of loved ones while there.  I feel a little like Rapunzel in Tangled.  It's the "Best Day Ever!" followed by "Will I be OK?"  This is DISNEY we're talking about, so I'm betting on the "Best Day Ever!" happening!
It has been exciting to plan my first solo trip!  I've always had to take into account everyone's interests, and for the last handful of years I asked the kids to pick our dining locations.  For this trip, it's just me planning for myself and I had a blank slate in which to draw up my own adventure!  The planning for a Disney vacation is half of the fun, and as a solo traveler, I've had several factors to consider.
Resort Choice
I don't need a lot of space, and for just me a double bed is fine.  I decided to stay at the All Star Sports Resort, a resort we have enjoyed as a budget-friendly choice on our pre-cruise trip.  I did 'splurge' for a preferred room location because we liked the Surf's Up location last year, and that'll be a nice spot to stay again.  My room will be clean and more than adequate, and I am happy at any pool as long as I can secure a lounge chair, a spot in the shade, a cold beverage, and a book in hand.  It's all good at All Star Sports!
Ticket Choice
Long ago, we gave park hoppers a try.  We discovered that one park per day, when mixed in with resort time and Disney Springs, was plenty for us so we haven't had the park hopper option for years.  For my solo trip, I bought a park hopper!  I can decide on the fly if I want to hop to another park just because, and for a solo traveler that's fun!
Dining Choices
I've been letting the kids pick our restaurants with one rule, that we try a new-to-us place each time.  For my solo trip, I am picking my own restaurants!  Half of my reservations are at new-to-me places, and I may even try a walk-up for lunch at Tiffins on arrival day…..Because, why not?!  I can eat where I like, when I like.
Will it be weird to eat by myself?  I don't think so.  I'll enjoy the food and atmosphere at the restaurants, and will pack my Kindle if I want to relax and take a dip into a book.
Attractions
I can bypass thrill rides because I don't do them, and I can do my favorite attractions multiple times if I wish to do so!  Can I ride the Haunted Mansion three times in a row?  Why not?!
Early Mornings and Rests
I'm an Early Bird by nature, and I am taking advantage of Morning Extra Magic Hours.  There will be no one else to get out of bed early, and I won't have to wait for my turn for the shower.  I can get up and go when ready!  If I do run late, I have no one but myself to blame.
The Florida heat has been a growing concern for me as I get older.  If I need to take a long break or leave the park early because the heat is having an adverse effect to my health, I can.  I can tour the parks at my own pace and find a bench with a spot in the shade when needed.  I don't have to worry about slowing anyone down if I want a break.
Overall Cost of the Trip While Considering Extras
Buying just one plane ticket and one park ticket is less expensive than buying for multiple people.  I am taking the Backstage Tales tour at Animal Kingdom, which is affordable since I am paying only for myself.  If I decide to add another tour or hard ticket event, I can do so without breaking the bank.
Meeting Friends and Making Friends
My family will not be with me, but I will not be alone.  I am fortunate to have friends in Orlando and in The Mouse For Less community, and have plans to meet a few friends while at Walt Disney World.  In addition to the people I know, there are thousands of people I do not know that I will encounter.  Maybe it's the pixie dust at Walt Disney World, but as an introvert I somehow do end up chatting with others while in line, at the pool, in the laundry room, and at countless other places in the parks.  It may be a fleeting conversation, but sharing a passion for Disney is a common bond that ties us together and makes for great vacation memories.
Final Thoughts
Will I miss my family?  Yes.  Can I still have a good time?  Yes.  Nowadays, it is easier than ever to keep in touch with Face Time and texting.  I will be in touch with my family every day while at Walt Disney World.  Meanwhile, I can enjoy myself and maximize my Mickey Time!
As UP reminds us, Adventure is out there!  I am going to savor my first solo trip and make the most out of creating my own adventure.
Have you taken a solo trip to Walt Disney World or Disneyland?  What were the favorite parts of your trip?