This post may contains affiliate links for your convenience. If you make a purchase after clicking a link we may earn a small commission but it won't cost you a penny more! Read our full disclosure policy here.
Have you ever wondered what your kids' Disney planning tips would be? Well this is Charlie is my five year old son. He is a kindergartner by day and a soccer player/ wizard by night.  To say he is familiar with the Walt Disney World Resort is an understatement. We will be leaving for his SIXTH trip soon. Our trip will include staying at Disney over Halloween, experiencing a new to us resort ( The Villas at Disney's Grand Floridian Resort), experiencing Mickey's Not So Scary Halloween Party and experiencing Pandora – the World of Avatar for the first time. In addition Charlie will be over the 44 inch mark for the first time every on a Walt Disney World trip.
I thought it would be interesting to interview Charlie and talk about is excited about, how he has helped plan the trip, and anything else other kids or parents should think about when planning there Walt Disney World vacations.
Mom : Hi Charlie! 
Charlie: Hi Mom! 
M: What is your favorite part of a Disney Vacation? 
C: Spending as much time with your family as you can, and riding rides!!
M: Do you remember what hotels we are staying at? 
C: Polynesian for 4 nights and ( The Grand)Floridian for 2 
M: That' s right! Are you looking forward to staying at either resort? 
C: We have NEVER stayed at the Floridian before so I can't wait. 
M: Is there anything else new that you are looking forward too? 
C: The new Soarin'. 
M What about Pandora?
C: I don't know what that is? 
M: What is your FAVORITE resort you have ever stayed at 
C: The one the monorail goes into? What is that? 
M: The Contemporary ( we stayed at Bay Lake Towers) 
C: YES! I like that resort because I like watching the monorail!
M: What should you pack for Disney World? 
C: Your epi pen, any stuffed animals you need to sleep, shorts and your bathing suit.
M: What about FastPasses? Which rides do you like to use a FastPass? 
C: Seven Dwarfs Mine Train. The line is too long. 
M: Do you have a favorite restaurant? 
C: I like anyplace you can eat near the pool, because I want to go in the pool. 
M: Do you remember Mickey's Not so Scary Halloween Party?
C: Yes, I was a hamburger last time!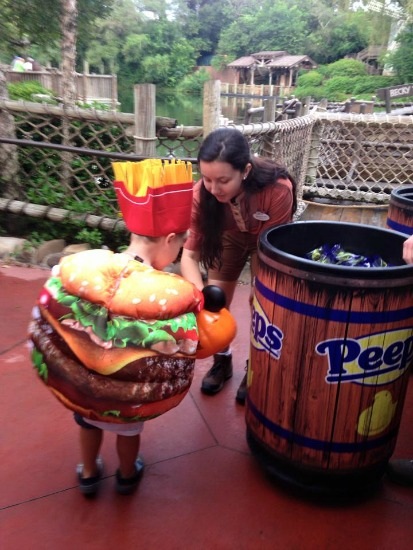 M: What are you going to be this time? 
C: I am going to be Jack and the baby is going to be Sally
M: Any tips for other kids going  Mickey's Not So Scary Halloween Party? 
C: Try to stay up for the fireworks, and the trick or treat lines look long, but go fast. 
M: What is the your favorite thing to do on the last day of vacation? 
C: As much as I can, because then you have to get on a plane and go all the way back home. So it's good to have as much fun as you can.
M: Any other tips for kids and adults planning Disney trips? 
C: Yes, make sure you stay out of the adults way when they are making FastPasses, and remember there are fun restaurants there so don't worry when your Mom makes reservations.  Also buy a balloon in the Magic Kingdom. And the ice cream is good too. Disney is fun!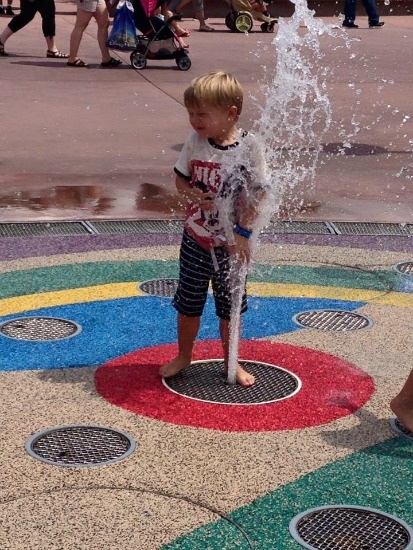 Mom's note. This interview was conducted over several days and edited together to account for snack breaks, TV shows that needed to be watched and various whiny moments!
What are some of the fun things your kids have said about the Disney vacation planning process? Share them in the comments.
Did you like this article? Make sure to share it with your friends! Check below for easy ways to share!