This post may contains affiliate links for your convenience. If you make a purchase after clicking a link we may earn a small commission but it won't cost you a penny more! Read our full disclosure policy here.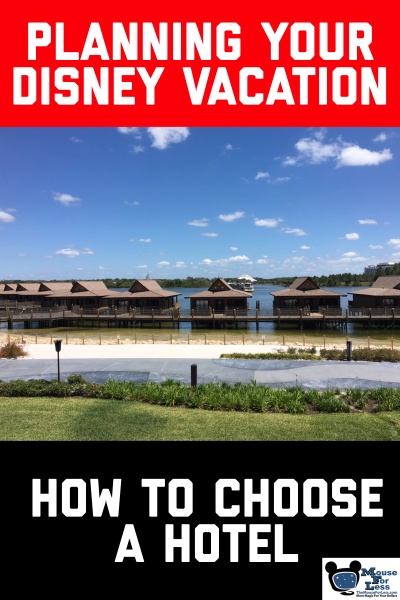 It's that magical moment! You might be like us and your family has finally decided that it's time to make your way down to the most magical place on Earth! Excited, you sit down at the computer and start doing some research. But, as you click through the million links that pop up on Google, your excitement is suddenly replaced by anxiety. What does FP+ stand for? I have to book reservations for dinner how many months out? How many choices of hotels do I have?
Yes. Planning a Disney vacation can get overwhelming at times. If you show up at the World without spending a little time up front planning your vacation, you might be that person I met in line at Tower of Terror asking me why I'm in the special line with no wait (aka…the FastPass+ line). However, planning the Disney vacation (read: anticipation!) is as much a part of the experience for me as actually going on the trip. Here at the Mouse For Less, we want to help you break down each step of the vacation planning process to make it not only easy, but fun!
Remember, if you don't care to plan the vacation yourself, you can always go to the incredible agents at the Magic for Less Travel Agency! They are a concierge level travel agency that can make sure everything is taken care of while getting you the best deals, with no additional cost to you! You can request a free quote and get your Disney vacation on the books!
Now, if you do want to plan your vacation on your own, the first step I would suggest is to research hotels first (not flights)! Playing with the dates will allow you to see what days might get you the lowest rates, and more time at Disney! Once you have your hotel dates booked, then I suggest you buy your plane tickets. Our family decided we wanted to go to celebrate our little one's first birthday! So that, coupled with a crowd calendar determined our dates we wanted to visit!
Now the big question, which of the 32 resorts (and counting) do you want to choose for your stay? Here are the big four considerations we suggest for choosing your resort.
Consideration #1: What type of vacationer are you?
Are you always on the go when you vacation? Do you need to pack your day with every opportunity to see everything? Or are you the type of person who likes to enjoy the resort like swimming in the pool or going to the spa? These are important things to think about as you go through the next few questions. Knowing what kind of vacationer you are can help you determine where you want to stay.
Knowing what kind of theme you would want to enjoy will be a factor as well. Are you ok with a giant Ariel greeting you every morning from your hotel room? Or do you want a more subtle Disney theme with some elegance? These might be big factors depending on how strong your preferences are!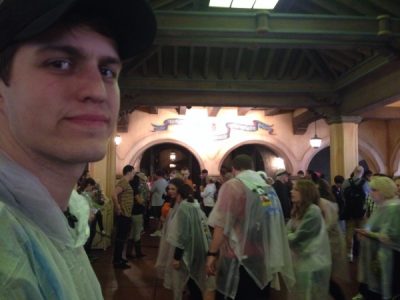 Consideration #2: Who's coming with you?
This is an important question because it can help you determine how big of a room you need. Some rooms are a typical hotel room layout with two queen beds and a bathroom. Others are basically a house for three families! Knowing how many people you have in your party and if you all want to stay together in the same room will help eliminate some room types and allow you to narrow down your choices.
Also, if you are in need of special accommodations for health reasons, be sure to click the button on the My Disney Experience page to filter for accessible rooms!

Consideration #3: Location, location, location.
First choice you are going to have to make – do you want to stay on Disney property or off Disney property? Know that staying on property gets you different perks when it comes to transportation, FastPasses and dining reservations than if you stay off property. While staying off property might save you money (say, if you are using points at a hotel or using an AirB&B), it might end up costing you in certain experiences you could have your heart set on. Also you will need to factor in paying for an Uber or parking at the parks. Disney has recently announced some good neighbor hotels that they are partnered with, but you need to read the fine print on the differences between staying there vs. staying on property.
If you end up staying on property, there are a few more things you need to consider for location. Are you a HUGE fan of the Magic Kingdom? Are you planning on traveling around World Showcase at Epcot several times? These are important questions to answer because some resorts are closer to certain parks than others. For example, staying at the Grand Floridian makes it super easy to get to Magic Kingdom and EPCOT via monorail while staying at Animal Kingdom Lodge will be a hop, skip and a jump to Animal Kingdom via bus. Staying on the Boardwalk allows you to walk to EPCOT and Hollywood Studios but is further away from Animal Kingdom or Magic Kingdom. If there is a particular park you know you want to visit more than others, it is important to consider your vacation "commute." This might be especially important if you are coming back to your hotel to take naps for little ones!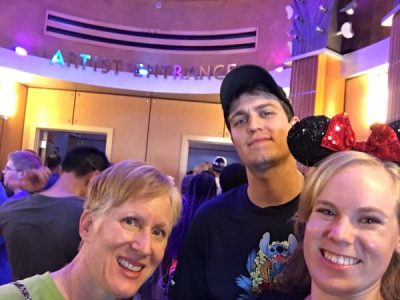 Consideration #4: Price, price, price.
This one is going to be a big factor. Disney breaks up their resorts into four types of rooms: Value, Moderate, Deluxe and Deluxe Villas.
Your Values are going to be the lowest price. These resorts are usually in the $100-$200 a night range, (or more depending on the season you go). Typically, they have the least amount of amenities compared to the rest of the Disney resorts. But that doesn't mean they skimp out on you! The themes are usually overt and fun, full of Disney characters and decorations. The pools are shaped to go along with the themes and usually they have a food court available. We loved staying at All Star Movies for our honeymoon. It was a place to sleep and shower while we tore up the parks without breaking our newlywed bank!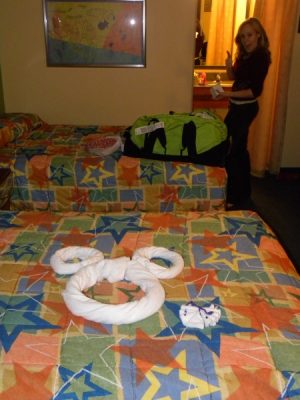 Note that if you stay at the Campgrounds at Fort Wilderness at an actual campsite, this is going to be the only place you can stay at Disney for under $100 a night. We loved camping during our last stay, but we are also avid backpackers and used to roughing it!
The Moderates are going to be the middle of the range prices, from $175-$250, (or more depending on the season you go). The themes at these resorts are going to be strong but have a little less what we call "in your face Disney" decor. Usually, there's a food court but also a couple of sit down restaurant options at the resort, allowing you to have a nice meal even if you don't go in the park on a day of your vacation. Our experience at Coronado Springs was excellent! It was nice to be able to grab a meal at Maya Grill after our crazy day dealing with Hurricane Matthew issues and then be back to our room shortly after! And the pool is amazing with a fun water slide!
The Deluxe Resorts are going to the be the cream of the crop, costing you over $250 a night. The theme is going to be incredibly executed with tons of detail. The pools are going to have lots of fun areas for kids to play in. Depending on the resort, there might be a spa to enjoy and several sit down restaurants. Many of these resorts also offer character dining and other special events, like the lighting of the torches at sundown at the Polynesian.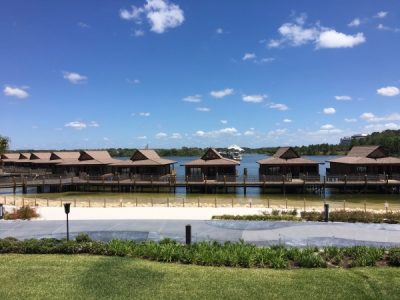 Deluxe Villas are going to be at your Deluxe Resorts and also offer more of a home feel. They will have kitchens, separate rooms, and other amenities (like a washer and dryer in your room)! Most guests who stay in these rooms are members of the Disney Vacation Club. However, you can book these rooms without being a member! If you wish to prepare your own meals instead of eat out, have different rooms for family members in one villa, host a family reunion type event, or simply have more of a home away from home feel, these might be what you are looking for!
Put all these considerations together, and you should be able to have a good idea of where you might want to call home for your Disney vacation. Our family knew we want to be close to the parks, but still enjoy the amenities of a deluxe resort. We also are going to have a large party, upwards of eight! And while we will definitely be checking out Toy Story Land at Disney's Hollywood Studios and Pandora at Animal Kingdom, we know with a little one's first trip, our hearts are probably going to be in Magic Kingdom. With our family being Disney Vacation Club Members, we decided that the Villas at Grand Floridian resort are going to be the best accommodations for our upcoming vacation!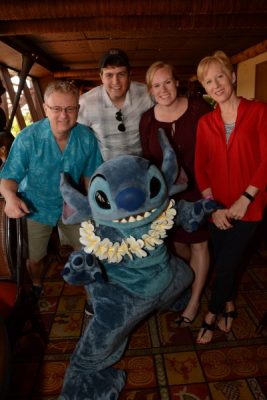 For a complete list of the Disney resorts, you should check out the guides on the Mouse for Less. There you can find details on the rooms, amenities, transportation and themes that can help you make the best decision for your family!
Let us know – where is your favorite place to stay while at Disney? How do you go about choosing your hotel? Share in the comments, or on Facebook or Twitter.
Did you like this article? Make sure to share it with your friends! Check below for easy ways to share!