This post may contains affiliate links for your convenience. If you make a purchase after clicking a link we may earn a small commission but it won't cost you a penny more! Read our full disclosure policy here.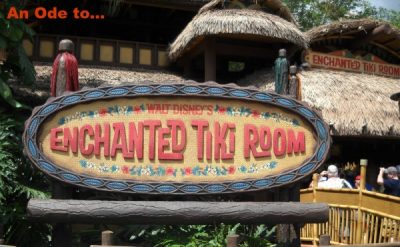 Walt Disney World's Enchanted Tiki Room.  Photo courtesy of Kelly Nobles
I barely remember anything from my very first Walt Disney World visit way back in 1976. I was just about to turn 6, and my parents were so excited to take my little sister and me to Walt and Roy's last great project. I remember little things; being scared out of my mind when the witch popped out on Snow White's Scary Adventures. My sister being scared out of HER mind on the Haunted Mansion. Both of us being delighted when my parents woke us up and brought us to our window at the Contemporary Resort so we could watch the Electrical Water Pageant. But most of that trip is a blur.
But one memory that sticks out very clearly in my mind is the first time I visited The Enchanted Tiki Room, or Tropical Serenade, as it was sometimes called back then. Something about the singing birds, the rainstorm that plunged the room into darkness in the middle of the day, the chorus of birds that was somewhat reminiscent of Alice in Wonderland, the chanting columns, and the drummers made me feel like I was in an enchanted wonderland.  I remember, months later, singing the song out loud in class, and my teacher gently but firmly telling me to stop.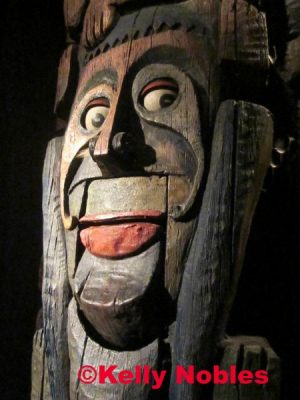 A column inside Walt Disney World's Enchanted Tiki room
As my sister and I grew up, the visits to Walt Disney World became more and more frequent, and the Tiki Room was an important stop on these trips. Before long, our traveling party expanded to include both my and my sister's husbands. It wasn't long after that when our kids were along for the ride, too. By this time, the Tiki Room was Under New Management, a development I certainly wasn't a fan of. But soon enough, Iago and Zazu flew off to wherever it was they came from, and Jose, Pierre, Michael and Fritz returned to their classic show.
In the meantime, my husband and I had moved 3000 miles West, which meant I was finally introduced to Walt's original park, Disneyland, the Happiest Place on Earth. Of course, a visit to the Tiki Birds was on the agenda.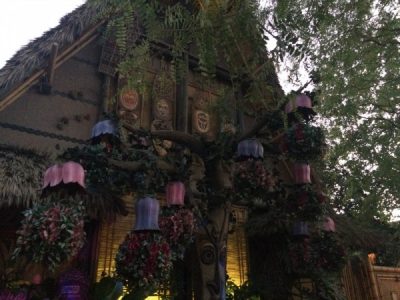 Disneyland's Enchanted Tiki Room
Was I surprised when I learned that here, I could eat my beloved, delicious Dole Whip inside the Tiki Room! In fact, the small kiosk that sells the Dole Whip has two lines here – one from outside in Adventureland, and one from the inside of the waiting area for the show.
This version of the Tiki room is the one my daughter first experienced on her second birthday. She sat on my lap, completely silent during the opening song, and when it was over and the rest of the room was applauding, she solemnly said one of her favorite words: "More."
Of course, the Tiki Room became a favorite place for us to visit on every one of her birthdays. It was always an option when we visited during those magical pre-school years when we had resident Annual Passes.
And when family and friends came to town and wanted to visit Disneyland, we would bring them into the Tiki Room. They didn't always get it. Some people thought it was simply bizarre, and wanted to get back to high impact thrill rides like Space Mountain and California Screamin'.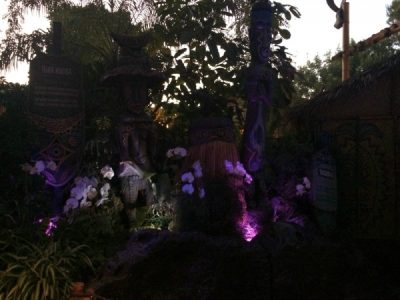 The waiting area for Disneyland's Enchanted Tiki Room
But for me, the whistling, tweeting, singing Audio-Animatronics represent the best of Walt Disney's imagination. Just as I sat on my mother's lap in Walt Disney World and my daughter sat in my lap in Disneyland, I hope my daughter will hold her child in her lap in the years to come as they both sing like the birdies sing in the Enchanted Tiki Room.
 What is your favorite part about the Enchanted Tiki Room? Share your memories of the attraction in the comments.