This post may contains affiliate links for your convenience. If you make a purchase after clicking a link we may earn a small commission but it won't cost you a penny more! Read our full disclosure policy here.
There's really nothing more satisfying than sipping a frozen drink as you stroll through Walt Disney World, especially when it's about 100 degrees out! Sometimes bottled water just won't cut it; I need something frozen (and delicious!) to keep me going on hot Disney days! As part of my "Frozen Treats to Keep You Cool" series, here are some of my favorite non-alcoholic frozen treats to help keep you cool.
LeFou's Brew, Gaston's Tavern
For theming alone, I recommend you swing by
Gaston's Tavern
in New Fantasyland at the Magic Kingdom. He has antlers in
all
of his decorating, my what a guy! Great decor aside, this spot is home to a few of my favorite Disney treats, LeFou's Brew among them. This frozen beverage is sure to refresh you on a steamy day. Made with frozen apple juice, toasted marshmallow, and topped with passion fruit and mango foam, this treat is surprisingly light. If you're feeling extra (like I often am when I'm on vacation), get your Brew in a souvenir stein! Just remember, no dancing on tables!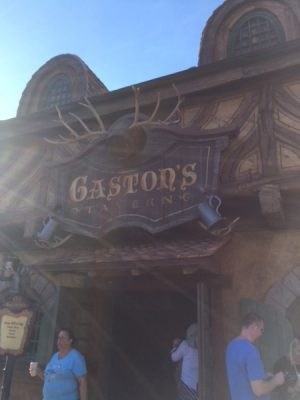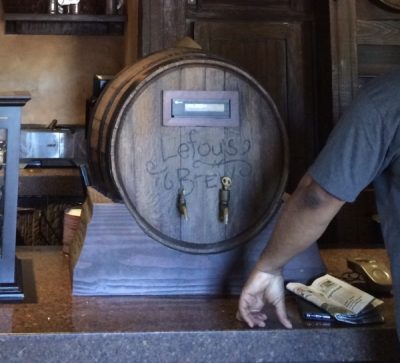 Frozen Lemonade and Coca-Cola, Drinkwallah
Head to Drinkwallah in Asia at Disney's Animal Kingdom for lots of refreshing slushy-type treats. Blue raspberry, Minute Maid lemonade, and Coca-Cola frozen beverages are available, and the frozen lemonade is one of my favorite treats on a hot day! Refreshing, icy, and somehow a little fizzy, this treat is large enough to share with a friend (if you're feeling nice!). You'll find your beverage served with no lid and with a paper straw to make sure any litter throughout the park isn't dangerous to the animals!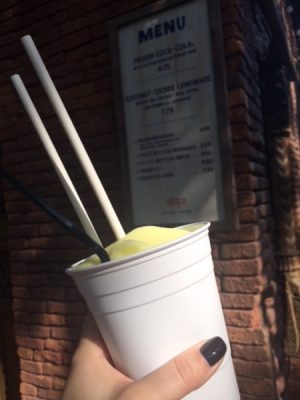 Goofy's Glaciers, Goofy's Candy Company
Disney Springs is now home to some of my favorite eats on property.
Goofy's Candy Company
is a classic candy shop is located in The Marketplace section of the Springs, and is home to all kinds of classic confections. On a hot day, chocolate is sure to melt as soon as you walk outside, but you'll be sure to find a frosty treat perfect for braving the heat: Goofy's Glaciers. These slushy beverages are refreshing, vibrantly colored, and fun to drink! Ask the cast member to mix up a concoction with your favorite flavors, or go with a classic, like Orange You Happy Orange!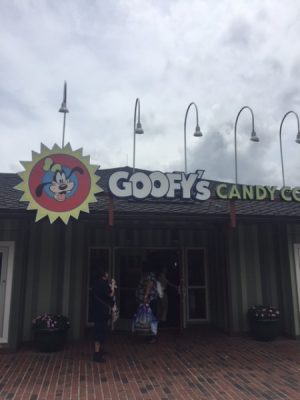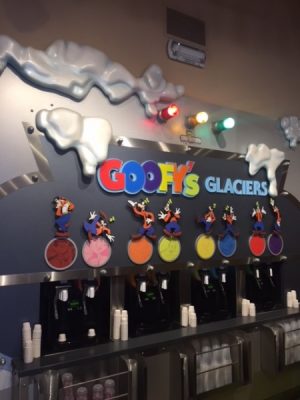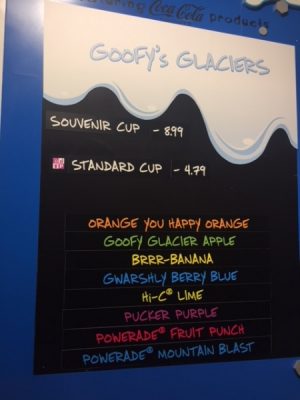 Frozen Drinks, Joffrey's Kiosks
The frozen beverages at Joffrey's kiosks throughout the World don't look like anything special, but they really impressed me the last time I visited Epcot! I was in the mood for something frozen, and we came across the Joffrey's kiosk at the entrance of the World Showcase. I ordered a frozen strawberry drink, and was blown away by its deliciousness! Sweet, fresh, and full of pieces of fresh strawberries. The frozen cappuccino is another delicious option when in the World Showcase! If yogurt-based smoothies are your thing, head to the Joffrey's Handcrafted Smoothies kiosk at Disney Springs. There are tons of delicious frozen drinks available, like the Flamingo Frost, made with pineapple juice, strawberries, banana, and yogurt (who doesn't want to drink something like that while on vacation?).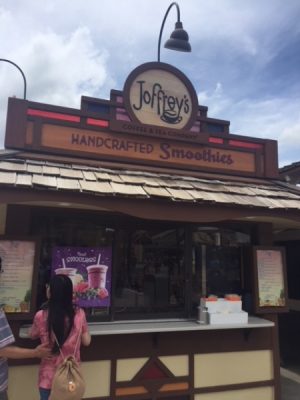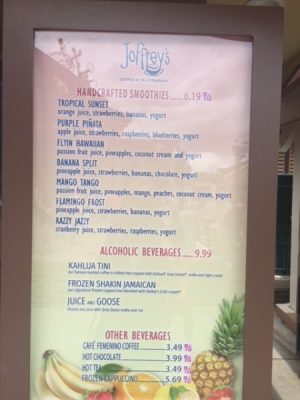 Violet Lemonade, Pineapple Promenade
Okay, so this one is a limited time offering, and can only be found at the
Epcot Flower and Garden  Festival
, but I look forward to it all year, so it had to make my list! If you're visiting during Flower & Garden, add this to your "must drink" list! A little bit floral, a little bit sweet, a lot refreshing, this vibrant purple drink is small and perfect if you need to cool off, but need to save more room for other delicious Food & Wine offerings! It's also incredibly photogenic, which doesn't hurt!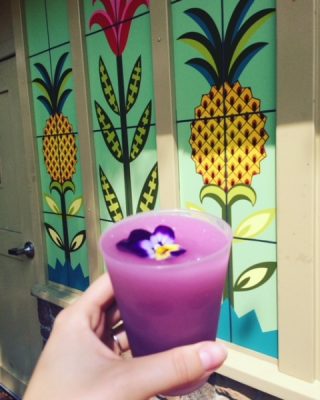 Honorable Mention: Kakigori, Kabuki Cafe
So it's not
technically
 a frozen drink, per se, but it comes with a spoon and a straw and it's delicious, so it makes my list as an honorable mention. The kakigori at the
Kabuki Cafe
in the Japan pavilion is a refreshing, moderately priced treat that you can't miss! This Japanese shave ice is available in a variety of different flavors (go for rainbow if you can't decide, it gives you a few flavors!) sure to please. The ice is shaved down to a snow consistency, no chunks of flavorless ice here! And the cast members are generous with the flavored syrups, too!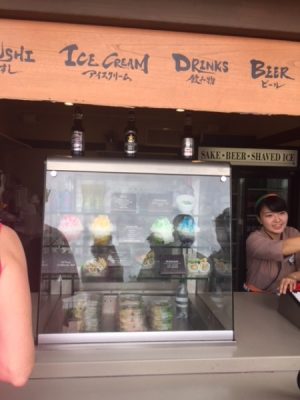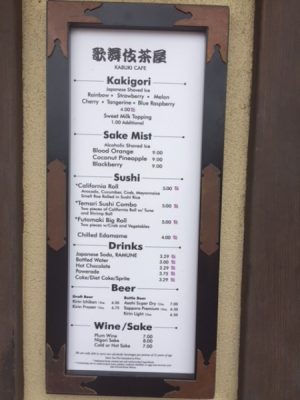 What are your favorite frozen drinks at Walt Disney World? Share them in the comments, or on Facebook or Twitter.Did you like this article? Make sure to share it with your friends! Check below for easy ways to share!