This post may contains affiliate links for your convenience. If you make a purchase after clicking a link we may earn a small commission but it won't cost you a penny more! Read our full disclosure policy here.
The Muppets and Disney have had a long history together, from Muppetvision and the Muppets at Walt Disney World Special to Disney buying them and having new experiences like Great Moments in History and Muppets Now.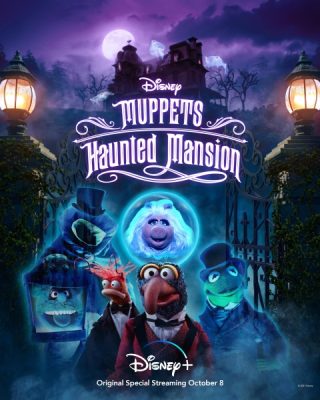 In recent years, the Muppets have had some good moments, but Disney has, at times, seemed unsure of what to do with them. With the announcement of Muppets Haunted Mansion on Disney+, Muppets fans were hopeful that we would see the potential of Disney and the Muppets fully realized, and after watching it I have to say…this is quite possibly the best thing the Muppets have done in years, and is a wonderful new special.

Without giving too many spoilers, Muppets Haunted Mansion sees Gonzo and Pepe take a challenge to spend the night in a haunted mansion while the rest of the gang is at a Halloween party. As they go through the night, Gonzo and Pepe meet any spirited friends, including some great cameos and very familiar faces.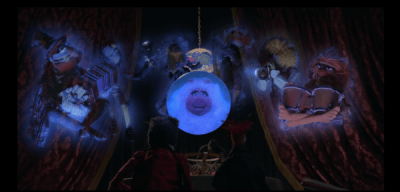 What results is a fun, funny, silly, and spooky mix of the Muppets playing both themselves, and some well known inhabitants of the mansion (including "Madame Pigota" who is now also available as a PhotoPass Magic Shot in Walt Disney World). A few of my favorite moments include (note: some minor spoilers here):
Will Arnett as the "Ghost Host" is great
The incorporation of Muppets into some of the famous Haunted Mansion moments are fun, including Bunsen and Beaker as busts and Pops and Sam as the dueling portraits
The whole ballroom scene is wonderful, but has particularly fun moments for the most dedicated Muppet fans, including a tribute to the Muppet Show "At the Dance" segments, and a TON of rare Muppet appearances (shoutout to Big Mean Carl)
How Fozzie is used is great for him as a character, and for Haunted Mansion fans
While it might not seem like a big thing, having Brian Henson performing in a Muppet anything was nice to see again
A sweet tribute to the late Ed Asner
The general silliness of the whole thing, including running jokes on evil laughs and a screaming goat. The Muppets are at their best when they can just goof off, and this special does that wonderfully.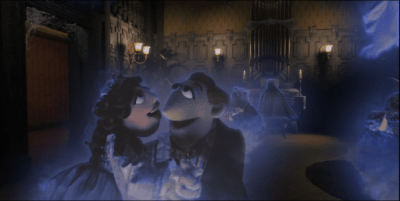 Muppets Haunted Mansion has something for just about anyone – Halloween fans, Disney parks fans, Muppet Show fans, Muppets Tonight fans, or just people who like nice things. You can tell that writer/director Kirk Thatcher (who has a long history with the Muppets) really put his heart into this, as he has talked about in a ton of interviews. I really hope this is a taste of things to come with the Muppets, because when they are at their best it is hard to beat this ensemble, and Muppets Haunted Mansion really gets as close as we have seen in a long time.
Have you watched Muppets Haunted Mansion yet? What were your thoughts? Let us know in the comments or on Facebook or Twitter!
Did you like this article? Make sure to share it with your friends! Check below for easy ways to share!  
Want to visit a Disney Destination? Contact The Magic for Less Travel for more information and a free, no-obligation quote.