This post may contains affiliate links for your convenience. If you make a purchase after clicking a link we may earn a small commission but it won't cost you a penny more! Read our full disclosure policy here.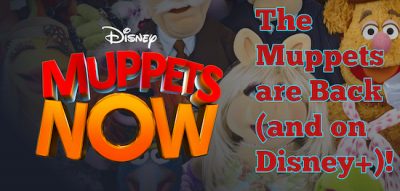 Disney+ has already provided tons of hours of entertainment to fans, really no matter what their main interests are. Outside of the amazing back catalog, you have the Mandalorian, the Imagineering Story, and even Hamilton. However, if you know me, you probably know the thing I was most excited about from the original announcement, was the new Muppets show.
Muppets Now, which premiered on July 31, is described as an unscripted original show, and I'm still not entirely sure what that means. However, after seeing just one episode I can confidently say, that this is the closest they have gotten to capturing the spirit of the original Muppet Show in a long time.
A few years ago, when ABC had the short lived attempt at a Muppets TV show, I actually liked a lot about it. However, it never really caught on, and that is partially because it too a long time to really figure itself, and it's subject matter, out. When that show was cancelled, I wrote this about the future of the Muppets, initially about their success on YouTube:
"The sort of short sketch/song-based entertainment has always been the Muppets' strength, so they could continue to succeed in this area.
And who knows, with Netflix, Hulu, Amazon, Yahoo, and everyone else wanting to produce their own content, the Muppets could still have a second-life on TV."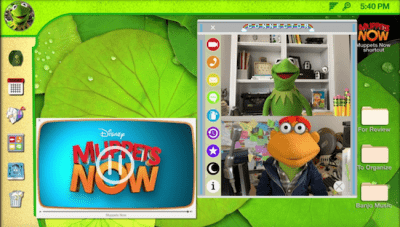 With Muppets Now, they have essentially done just that. The show is framed around the Muppets producing a streaming show, so you get the Muppet Show-reminiscent interplay between Kermit and Scooter on the production end, but the show itself is a collection of themed segments, also much like the Muppet Show.
In the first episode, we got Miss Piggy and uncle Deadly giving fashion advice, Walter showcasing Kermit's hidden talent (with a slight misunderstanding), an updated Swedish Chef cooking segment, and a sit down interview with Kermit that goes about as smoothly as you would expect.
Through all of these, there are numerous celebrity cameos, and also Muppet cameos. On that front, Sam Eagle has a great part in the middle, and the interview has a few lesser known Muppets making an appearance.
Through all of this, the show is fast-paced, silly, funny, appropriately nonsensical, and really true to the spirit of the Muppets. Without the constraints of network TV, it really does seem like The Muppets have found the right way to adapt to modern times while not really giving up what makes them a beloved part of pop culture.
If you have ever enjoyed anything the Muppets have made, I would encourage you to give this a try – I would bet you will be waiting with great anticipation for each new episode.
Have you seen the new Muppets Now show? What do you think? Share in the comments or on Facebook or Twitter!
Did you like this article? Make sure to share it with your friends! Check below for easy ways to share!  
Want to visit a Disney Destination? Contact The Magic for Less Travel for more information and a free, no-obligation quote.