This post may contains affiliate links for your convenience. If you make a purchase after clicking a link we may earn a small commission but it won't cost you a penny more! Read our full disclosure policy here.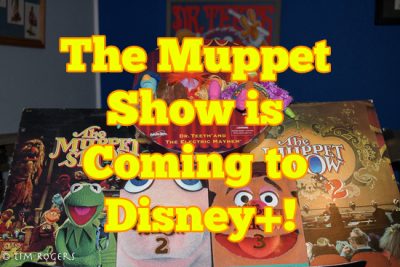 In mid January, out of the blue, if you follow any of the official Muppet accounts on social media, you saw a cryptic message somewhat like this:

For the next few days after that, Muppet fans theorized what this big announcement might be – a new Muppet film? A Muppet overlay of the Hall of Presidents (still a good idea, BTW)? Another season of Muppets Now?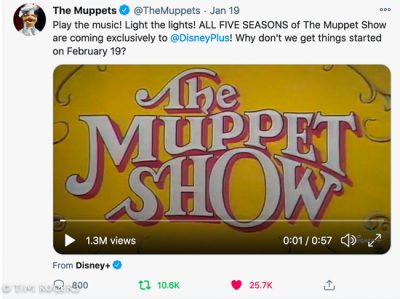 However, many Muppet fans guessed what ended up being the correct answer – filling a large Muppet-sized void on Disney+, and in our hearts.
You see, even though Disney now owns the Muppets, some of the older properties, much like with Marvel, have some complicated ownership and legal rights. With the Muppet Show, this is compounded by the fact that it was originally filmed and shown in England and contains a ton of licensed music.
To the uninitiated, this might not seem like that big a deal. However, as I might have mentioned before, many of these episodes haven't been able to be seen in years. There were DVD releases of the first three seasons, and also a Time Life collection of some random episodes, but the bulk of the 4th and 5th season will be new. If you can't tell, I am excited.
And I want you to be excited too! These episodes were all added on February 19th, but here is my guide for some of the episodes to look out for, and the ones I am most excited to see. I chose one standout from each season, so if you want to just get a taste of what was going on with the Muppet Show that year, they are a good place to start. You can also check out my favorite episodes and moments in a little more depth here.
One quick note, some of these episodes were produced and aired in different order, so the episode numbers might not quite line up, but they will be just as wonderful no matter when you see them.
Muppet Show Great Episodes and Moments
Season 1
In a lot of the first season you are really seeing the Muppet team figure out the characters and what they wanted to do with them. Some of the voices, particularly Miss Piggy and Janice, will seem odd (even odder than some people find Kermit's voice now), and you might notice Gonzo is less expressive. You really see them figure a lot of who these characters are by the end of the season, and that holds through the rest of Muppet history.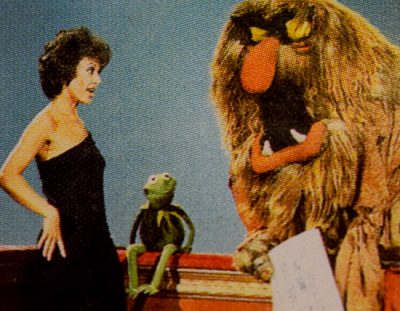 Rita Moreno (Season 1, Episode 2) – Rita Moreno is a national treasure, and this episode was one of the standouts of the first season. She won an Emmy for this appearance (completing her EGOT) and it has many classic moments.
Season 2
Madeline Kahn (Season 2, Episode 9) – This episode is one of those where the guest star is great, but all the Muppet-centric bits are absolutely fantastic. Besides Pigs in Space and the Swedish Chef, you also get the Electric Mayhem performing "New York State of Mind", Animal singing Gershwin (which is quick, but hilarious), and "Happy Feet". Definitely something for everyone here.
Season 3
Pearl Bailey (Season 3, Episode 5) –  So this one is for the Broadway nerds out there (like me). One of the great things about the Muppet Show is being able to see fantastic performers from a previous generation do what they do best, and Pearl Bailey is one of the best. This whole episode builds up to the end, which is by far one of my favorite segments in any episode.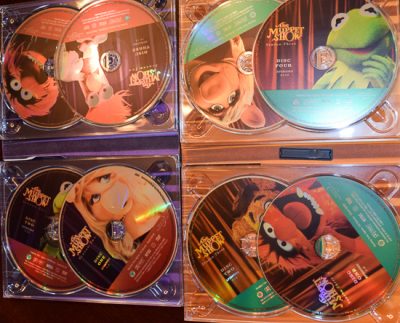 Season 4
The Cast of Star Wars (Season 4, Episode 17) – Maybe a preview of things to come, this Episode really captures the adventurous joy of early Star Wars and Mark Hamill fully embraces the essence of the Muppets. It's one of those wonderful glimpses into the past, and the finale is worth the wait for any Muppet fan.
Season 5
Gene Kelly (Season 5, Episode 1) – A lot of what makes the Muppets the Muppets is the craziness and zaniness, but the other part is a big heaping helping of kindness and heart. This episode captures that feeling, with a healthy bit of wonder, and has two incredibly memorable guest spots that I won't spoil here.
Any season or episode of the Muppet Show
There are a few Muppet segments that I love at any place and any time. If you aren't familiar, to me some of my favorites are Veterinarian's Hospital (I love puns), Pigs in Space, and the Swedish Chef.
Muppet Show Episodes I Am Most Excited to See for the First Time
Dizzy Gillespie (Season 4, Episode 13) – After the announcement, I took a peak at the guests for the seasons I hadn't yet seen, and this one caught my eye more than any other. Seeing one of the true pioneers of jazz put into the insanity of the Muppets is something I cannot wait to see, especially his rendition of St. Louis Blues with the Electric Mayhem.
Johnny Cash (Season 5, Episode 21) – Some of the best Muppet Show episodes are when otherwise serious guests come in and get silly. The Kenny Rogers episode is also a great example of that.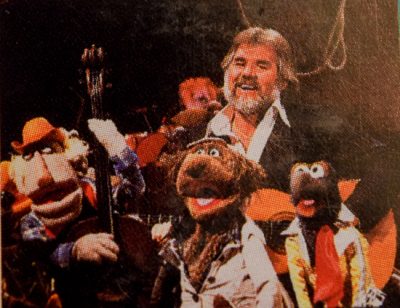 Buddy Rich (Season 5, Episode 22) – All I needed to hear was "Animal vs. Buddy in a drum battle"
The Muppet Show really is the purest distillation of the spirit of the Muppets, and I am definitely enjoying experiencing the whole thing. I hope you're joining me.
What episode of The Muppet Show has been your favorite so far, after rewatching? Share your thoughts with us in the comments or on Facebook or Twitter!
Did you like this article? Make sure to share it with your friends! Check below for easy ways to share!  
Want to visit a Disney Destination? Contact The Magic for Less Travel for more information and a free, no-obligation quote.