This post may contains affiliate links for your convenience. If you make a purchase after clicking a link we may earn a small commission but it won't cost you a penny more! Read our full disclosure policy here.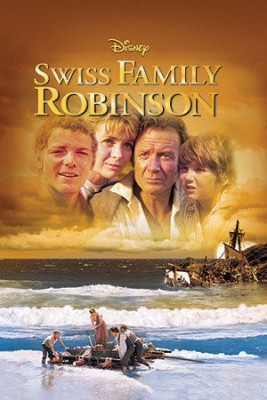 DVD Cover ©Disney
Based loosely on Johann David Wyss's 1812 novel Der Schweizerische Robinson, The Swiss Family Robinson was theatrically released on December 21, 1960. The live action flick is 126 minutes in length.
Plot Summary
In the midst of the Napoleonic Wars, the Robinson family, which includes a father, a mother, and three sons, Fritz, Ernst, and Francis, departs Bern, Switzerland to commence a new life in New Guinea. The family is seeking peace, a hope that quickly terminates when the ship they are sailing to New Guinea capsizes during a pirate raid and the captain abandons the vessel. Talk about a disaster. The only good news for the Robinsons is the close proximity of the wreckage to an island, a deserted island at that.
The Robinsons, to their credit, exude a positive attitude. Still, faith alone cannot possibly prove sufficient for the family to long survive in a locale sans communication with the outside world, not to mention the threats posed by wild animals and pirates. Right?
The Crests and Troughs of Tobago
A project commenced by Disney in 1958 (1), The Swiss Family Robinson was filmed on the Caribbean island of Tobago, off the coast of Venezuela. Director Ken Annakin and his team originally scouted more prominent islands for the set, including Jamaica and Trinidad, and were not aware of Tobago until it was mentioned by someone in Trinidad. Tobago, with several beaches, a tree for the film's treehouse, and hotels, immediately enthralled the team. Years later, during a 2002 interview, actor John Mills recalled, "I've been all over the world to shooting locations, and I don't think I've ever been to a more lovely location." (2)
Mills had previously heralded Tobago in his 1981 autobiography, saying, "Unlike a sugar island like Barbados, it was lush; the scenery was varied and very beautiful. I was lucky to see it before it became popular, with the inevitable golf course and noisy water sports. It was simple and totally unspoilt: miles of empty golden beaches lapped by the sea which was full of exotic and highly-coloured fish that, as they were never shot, were so tame they poked their noses against our facemasks as we swam amongst them." (3)
Quintessential aesthetics notwithstanding, the filming process was not without difficulties. The team was in perpetual danger, and not from the flick's pirates. In an interview with the London Evening News during filming in 1959, Mills said, "If a scorpion doesn't bite me during the night I get into the car, and if it doesn't skid off the edge of a cliff, I reach the mangrove swamp. I walk through; and if I'm not sucked in by a quick-sand, eaten alive by land crabs, or bitten by a snake, I reach the beach. I change on the beach, trying to avoid being devoured by insects, and walk into the sea. If there are no sharks or barracudas about, we get the shot and then do the whole thing in reverse, providing, of course, we haven't died of sunstroke in the meantime." (4)
Additionally, the film's crew struggled to endure the cramped accommodations. In a 2002 interview, Annakin said, "We had a crew that were [sic] fighting all the time. They were a British crew, and they were grumpy and mad at everybody. They didn't want to be there. They wanted to go home. And it became very difficult for the Production Manager to keep them there. So he took all their passports away from them." (5) Yikes!
A Star is Found
In mid-1959, days before John Mills departed for Tobago to commence filming The Swiss Family Robinson, the actor's family received exciting news. Upon viewing another Mills film, Tiger Bay (1959), Walt Disney was struck by one of the actors: John Mills's teenage daughter Hayley, who was immediately selected for the title role in Disney's Polyanna (1960).
On Hayley Mills's situation, the Associate Producer of Pollyanna, George Golitzin, said, "When Disney saw her, he decided immediately that she was to be our girl, and the whole Mills family joyfully came over to California. [John] Mills has been coaching her before he leaves for Tobago." (6)
Hayley Mills would subsequently serve as the double star in The Parent Trap (1961). She was named a Disney legend in 1998.
Reviews
Howard Thompson of The New York Times was highly complimentary of The Swiss Family Robinson. In his review, Thompson said, "Any parent who denies it to the kids deserves to be shipwrecked on a remote island, at least till the new year," and "The Robinsons, their island and Mr. Disney have made a real Christmas contribution for any family." (7)
The tone of Ben Kubasik's review in Newsday was more equivocal, but Kubasik too really seemed to enjoy the production. The critic praised the film for "a seldom-attained blending of excitement and tenderness" and was enthralled by the flick's wide assortment of animals, including tigers, ostriches, zebras, hyenas, elephants, and monkeys. Kubasik even asserted that the animals' performance was often superior to that of "the people in the cast." (8)
In line with the positive reviews, The Swiss Family Robinson was the highest-grossing film of 1960. (9)
Cast
The film starred Mills as the father, Dorothy McGuire as the mother, James MacArthur as Fritz, Janet Munro as Roberta, Tommy Kirk as Ernst, Kevin Corcoran as Francis, Sessue Hayakawa as Kuala the pirate chief, and Cecil Parker as Captain Moreland. McGuire and Kirk had previously starred as the mother and son, respectively, in Disney's heartwarming 1957 film Old Yeller. 
Kirk would subsequently star for Disney in The Absent Minded Professor (1961), Moon Pilot (1962), Bon Voyage! (1962), Son on Flubber (1963), The Misadventures of Merlin Jones (1964), and The Monkey's Uncle (1965). He and Corcoran, who had also starred in Old Yeller and Bon Voyage! in addition to Pollyanna (1960), were named Disney legends in 2006.
Attitude
The Robinsons are a cohesive family. Throughout the movie, the individual family members cooperate to complete requisite tasks, including building a raft to reach the island, constructing an elaborate treehouse for shelter, and organizing traps to defeat the large band of pirates. The Robinsons do not feel sorry for themselves, and they do not procrastinate; they are all determined to salvage the situation and act with foresight. When conflict arises, the parents ensure a swift resolution. Being defeated by an external foe like the pirates would be bad, but self-destructing from petty internal conflict would be even worse.
Action
Action scenes are a major part of The Swiss Family Robinson. Incidents with wild animals, family fisticuffs, and pirate battles permeate the flick.
Music
Music is a fairly negligible element in The Swiss Family Robinson. Two lyrical songs, "My Heart Was an Island" and "O Christmas Tree," are included, the former a soothing and brief piece, the latter a traditional Christmas number.
Background music occasionally complements the action; a booming, dramatic tune accompanies the first pirate encounter, for example.
Romance
Roberta, the granddaughter of British Captain Moreland, attracts the affection of both Fritz and Ernst. A potential romantic storyline falls flat, but the shenanigans related to the sibling rivalry are entertaining.
Humor
The Swiss Family Robinson is funnier than you might think. Awkward lines are inserted from time to time, and Francis, the youngest son, engages in a plethora of antics, mainly involving the various animals.
Toward the beginning of the film, Ernst leads a hilarious scene with extemporaneous comments about an organ and a distress flag. Ernst is brilliant, but he concedes the common sense offered by his father.
Relationship to Other Disney Films
Pirates have dominated many Disney films, both live action and animated, over the years, including Treasure Island (1950), Peter Pan (1953), Treasure Planet (2002), and the Pirates of the Caribbean series.
Tarzan (1999) also involves a shipwrecked family.
Disney's 2007 animated feature Meet the Robinsons is not related to The Swiss Family Robinson.
In the Parks
Guests at Walt Disney World's Magic Kingdom and the Disneyland parks in Paris and Tokyo, respectively, will encounter "Swiss Family Treehouse," a walkthrough replica of the treehouse from The Swiss Family Robinson. Disneyland Park's "Swiss Family Treehouse" was converted to "Tarzan's Treehouse" in 1999.
Photo ©Natalie Aked
At the Magic Kingdom and the Disneyland parks in Anaheim, Paris, and Tokyo, respectively, guests can enjoy Disney's classic boat adventure attraction "Pirates of the Caribbean."
Like the Robinsons in the movie, guests at the Magic Kingdom and Disneyland Park can sail a raft to an island, Tom Sawyer Island.
The swimming scene of The Swiss Family Robinson made me think of Walt Disney World's defunct water park, River Country, because of the natural setting and short slides.
Overall
The Swiss Family Robinson is a lengthy film at over two hours, but its abundance of action, humor, and beautiful visuals will likely keep you engaged throughout.
Notes
1) Weiler, A. (1957, December 22). BY WAY OF REPORT: Disney Plans Two New Films–Other Items. New York Times, p. 51. Retrieved September 28, 2015, from http://0-search.proquest.com.alpha1.suffolk.lib.ny.us/docview/114291444?accountid=35174
2) Passafiume, A. (n.d.). SWISS FAMILY ROBINSON (1960). Retrieved September 27, 2015, from http://www.tcm.com/this-month/article/203349|0/Swiss-Family-Robinson.html
3) Ibid.
4) Ibid.
5) Ibid.
6) Knickerbocker, P. (1959, August 30). OUT WEST WITH NEW ENGLAND'S 'POLLYANNA.' New York Times, p. X7. Retrieved September 28, 2015, from http://0-search.proquest.com.alpha1.suffolk.lib.ny.us/docview/114682485?accountid=35174
7) Thompson, H. (1960, December 24). New Version of 'Swiss Family Robinson.' New York Times, p. 8. Retrieved September 27, 2015, from http://0-search.proquest.com.alpha1.suffolk.lib.ny.us/docview/115084428?accountid=35174
8) Kubasik, B. (1960, December 24). 'Swiss Family Robinson' Rare Film Fare. Newsday, p. 14. Retrieved September 27, 2015, from http://0-search.proquest.com.alpha1.suffolk.lib.ny.us/docview/899103813?accountid=35174
9) McMahon, T. (2013, May 16). Highest Grossing Movies Adjusted for Inflation. Retrieved September 27, 2015, from http://inflationdata.com/articles/2013/05/16/highest-grossing-movies-adjusted-for-inflation/
What do you think of The Swiss Family Robinson? Let me know in the comments!
Sponsored Ad:  Would you like to help support The Mouse For Less website in continuing their mission of being THE Disney vacation planning resource?  You can do so by purchasing Swiss Family Robinson from our Affiliate Link through Amazon. Thanks so much for your support!
Incoming search terms:
Mr Robinson full movie
swiss family robinsons
https://www themouseforless com/blog_world/movie-review-swiss-family-robinson/
Where was the swiss family Robinson filmed