This post may contains affiliate links for your convenience. If you make a purchase after clicking a link we may earn a small commission but it won't cost you a penny more! Read our full disclosure policy here.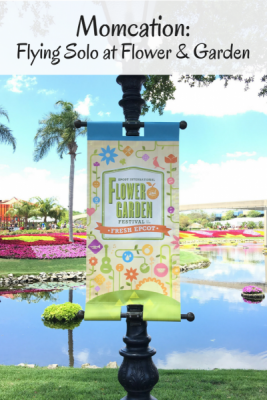 Have you had the opportunity to do a solo trip to Walt Disney World?  It's a bucket list item for many major Disney fans.  (Check out these planning tips if you have a solo trip on the horizon!)  I was lucky enough to have the chance at a solo vacation.  Not only that – I had the chance to go to last year's Epcot Flower & Garden Festival for the first time on my momcation!  Seeing all of the highlights from the 2018 festival had me reminiscing… how should you fly solo at Flower & Garden?
Taste the Food
The Epcot Flower & Garden Festival has been referred to by some as the mini Epcot Food & Wine Festival.  In my opinion, it's hardly a mini version.  The spring festival is expansive and offers incredible dining options.  Many of the menus feature fresh ingredients and a variety of options.  The best advice I can offer is to come hungry – and be sure to check out the menus in advance!  (Especially if the weather is hot, your stomach likely won't be big enough to try everything you want to… you'll have to prioritize.)
I especially enjoyed the Florida Fresh booth at last year's event, and was excited to see they have many delicious offerings again this year.  The Carne Asada was tasty, and the Key Lime Tarte with Toasted Meringue was excellent.  The tarte has returned for this year and is a delicious treat – I would definitely recommend it!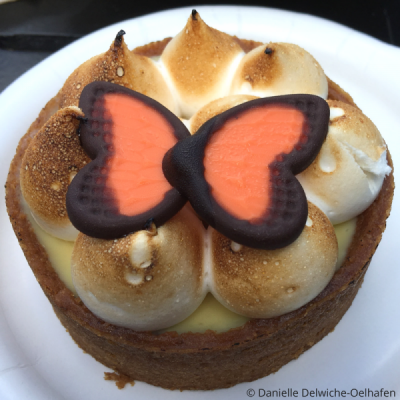 The Key Lime Tarte with Toasted Meringue at Florida Fresh.
Go on a Tour
There is so much to see and do at the Flower & Garden Festival.  It is definitely not a challenge to fill your day!  If you have the time and interest, I suggest checking out one of the tours for a unique experience expanding on the regular festival offerings.
I chose to check out the Behind the Seeds tour last year.  This is tour is offered year-round but it was the best fit for my interest, budget, and timeline.  The tour takes you through the backstage areas within the greenhouses at Epcot.  Much of it is a new perspective (or more in-depth perspective) on what you experience on Living with the Land.  If you have an interest in gardening or sustainable food, I would say the tour is worth the time and money.  If that doesn't sound like your cup of tea (pun intended) you can check out some of the unique Festival tours!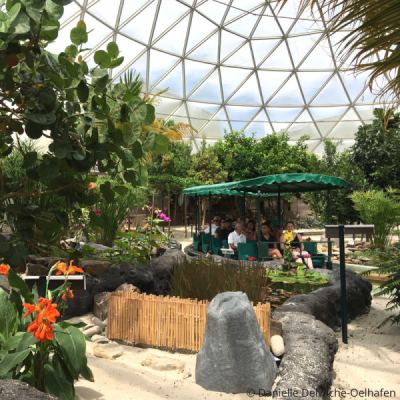 The Behind the Seeds Tour offers some time to explore the greenhouse garden –
and catch a backstage view of folks experiencing Living with the Land.
Get the Pictures
The Epcot Flower & Garden Festival is a gorgeous time of year to visit Florida!  The bright blue skies against beautiful blooms are straight out of a photography enthusiast's dream.  Whether you're working with an SLR, point and shoot, or your trusty smart phone – you do not want to forget your camera!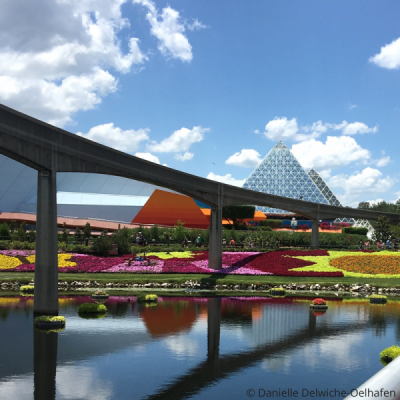 One of my favorite photos from Flower & Garden!
There are also some great photo opportunities with Disney photographers – the photo stop will definitely be worth your while!
(If you're skeptical about purchasing Memory Maker, check out these reasons to make the investment.  I don't know that I would have thought to buy Memory Maker for a solo trip, but it was a perk of having the Annual Pass.  I'm so grateful that I had it!  The photos were a pleasure to share with family, and they're a great keepsake from the vacation. Editor's Note: In this situation you may want to look at the Memory Maker One Day option, which allows you to purchase Memory Maker for one day of your trip for a cheaper price. As of right now, the price is $59 per day.)
Take it in!
Whatever activities or food you decide to try, be sure to take your time.  The biggest benefit to seeing the Epcot Flower & Garden Festival solo was the freedom it allowed me to be flexible and enjoy some of the littler things…  Whether it was a leisurely stroll through the Butterfly House or people watching while enjoying a spring cocktail, it was definitely an opportunity to relax while enjoying the season.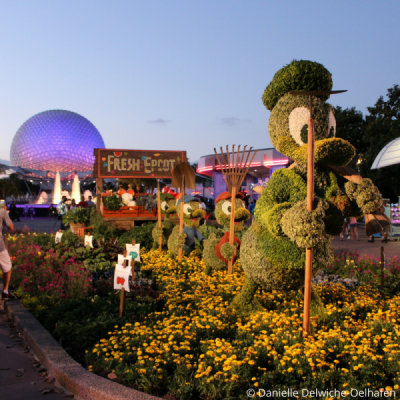 The 25th Flower & Garden Festival will be held through May 28, 2018.  What are you most excited to see at this year's event? Share in the comments or on our Facebook page.
Did you like this article? Make sure to share it with your friends! Check below for easy ways to share!