This post may contains affiliate links for your convenience. If you make a purchase after clicking a link we may earn a small commission but it won't cost you a penny more! Read our full disclosure policy here.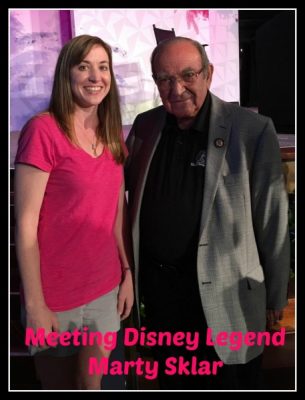 Epcot is now home to several major festivals that take place throughout the year. The newest festival, the International Festival of the Arts, followed in the footsteps of the Epcot Food and Wine and Epcot Flower and Garden Festivals all host various seminars for guests to enjoy.
One of these seminars featured Marty Sklar, an Imagineer who had a remarkable career with the Disney company. When I saw that there was an opportunity to hear him speak, I jumped at the chance and immediately began counting down the days to the festival.
Marty Sklar is one of Disney's most influential figures. He worked for Disney for over 50 years and now that he has retired, he writes and speaks about the experiences of his extraordinary career. The seminar that I attended focused on Marty's most recent book, One Little Spark.
One Little Spark was on my Christmas list and I was quite disappointed when I didn't receive the book as a gift. So, I was super excited when I found out that not only was I going to see Marty in person, but attendees of the seminar would receive an autographed copy of the book!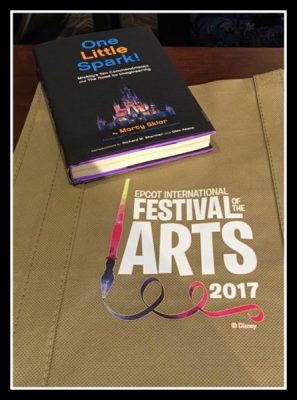 After much anticipation, the day finally arrived and we took our seats in the Odyssey at Epcot. When Marty came out to the stage, I found myself starstruck for the first time in my life.  For the next hour or so, we were all treated to personal stories and videos from Marty's career.
One Little Spark focuses on Mickey's Ten Commandments, a set of "rules" that the Imagineers follow as they develop new stories and attractions. Marty discussed each of these and why they were important to him and the company as a whole. Throughout his talk, he shared his experience in developing Disney parks around the world.
Marty was hired by Walt Disney himself and worked alongside him until his death. As Marty showed us photos, he pointed out that he didn't have any with Walt because he was always the one setting up the photos. Marty also wrote many of Walt's speeches and the dialogue he used in videos. He may not have been on screen for most of these, but his presence was certainly a part of some of Walt's biggest moments.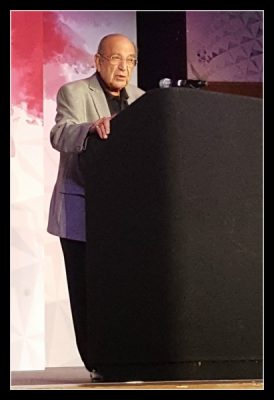 Marty sharing stories from his career
Marty has been to the opening of every Disney park in the world. How incredible! I can't even begin to imagine what it must be like to stroll down the streets of each park, knowing that your ideas and hard work have played such a vital role. Marty is extremely humble about all of this though, and certainly has a sense of humor. He laughed as he shared artwork that friends had given him that showed what he was like as a co-worker.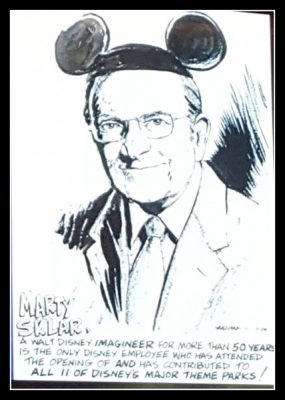 Marty enjoyed sharing artwork done by friends and co-workers
One of my favorite parts of the seminar was when Marty took questions from the audience. One of the most interesting things he was asked was why the "city" part of Epcot was never developed. Marty's answer was simple: Walt died.
He went on to explain that Walt believed (and he was right) that you needed support and cooperation from the businesses around you to pull off a huge project like building a Disney park. Walt had the ability to go to many corporations and strike up a partnership. No one else had the ability to bring the community together like Walt did. No one else was Walt Disney. So, the project went in a different direction and the result was the Epcot theme park that the world has grown to love.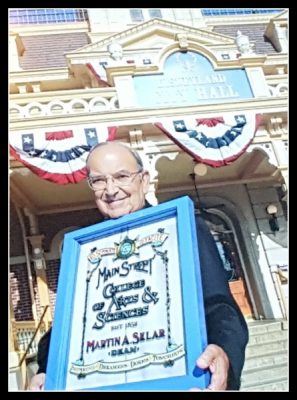 Marty was honored with his own Main Street window
At the end of the seminar, we had the opportunity to take a photo with Marty. I again became completely starstruck and only managed to squeak out, "It's so nice to meet you!" If Marty noticed how nervous I was, it certainly didn't show. He simply greeted me with a warm smile and shook my hand. It was an amazing opportunity for me to shake the hand of a man I admire so much.
If you ever have the opportunity to hear Marty Sklar speak, I highly recommend attending one of his seminars. He is engaging and funny as he shares the details of his remarkable career. You will not be disappointed!
Have you attended an event with Marty Sklar or read one of his books? Let us know what you thought in the comments!
Note: This article features an affiliate link.
Did you like this article? Make sure to share it with your friends! Check below for easy ways to share!