This post may contains affiliate links for your convenience. If you make a purchase after clicking a link we may earn a small commission but it won't cost you a penny more! Read our full disclosure policy here.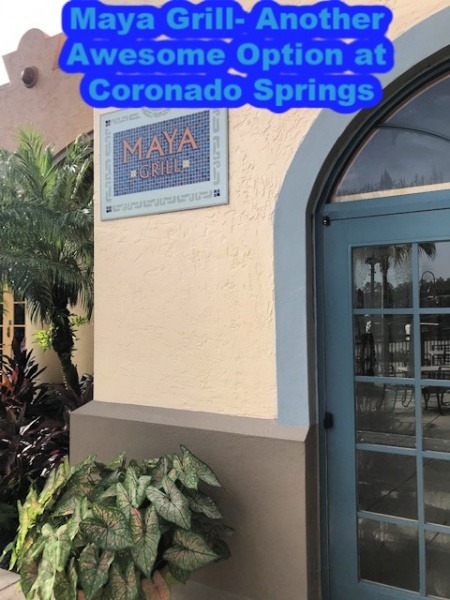 With all of the hype around Coronado Springs and the new Gran Destino Tower, I wanted to remind you of an "old" stand-by table service restaurant that exists there. Maya Grill– another awesome option at Coronado Springs.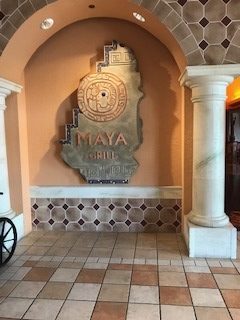 Coronado Springs has jumped to the top of my list of favorite resorts after my recent stay there. One of the many reasons is the top notch dining options that it has. From quick-service to fine dining at Toledo's and all of the options in-between and including pool side dining, it would be easy to forget about Maya Grill– another awesome option at Coronado Springs.
The ability to go back to your room, shower and then go to a beautifully themed table service restaurant within walking distance from your room was something my husband and I totally enjoyed and took advantage of during our last trip.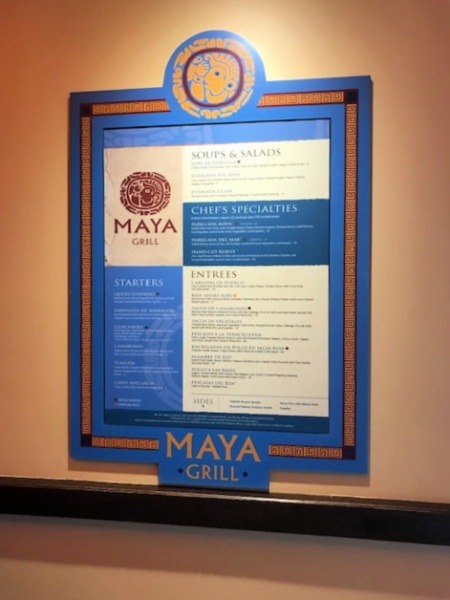 We visited Maya Grill. What a nice atmosphere. I had made an Advance Dining Reservation, as it is a table service restaurant. It was pretty busy in there too. The ambiance was soothing and cozy. There was a musician playing guitar while we ate and we really felt as if we were in another country without a care in the world.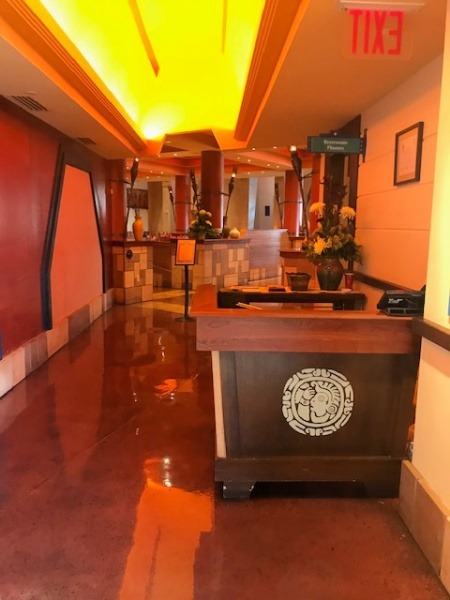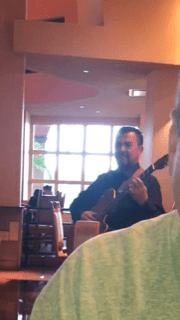 We started with a simple appetizer:
Chips and Salsa
Crispy Tortilla Chips with House-made Salsa
$6.00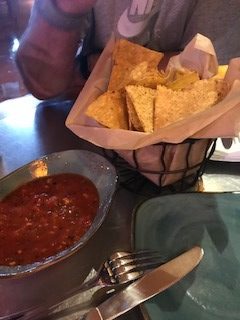 For our meal we ordered:
Parillada Maya (serves two)
Grilled New York Strip with Guajillo Butter, Pastor-glazed Organic Chicken Breast and Chorizo Cantimpalitos served with Fresh Vegetables and Esquites
$58.00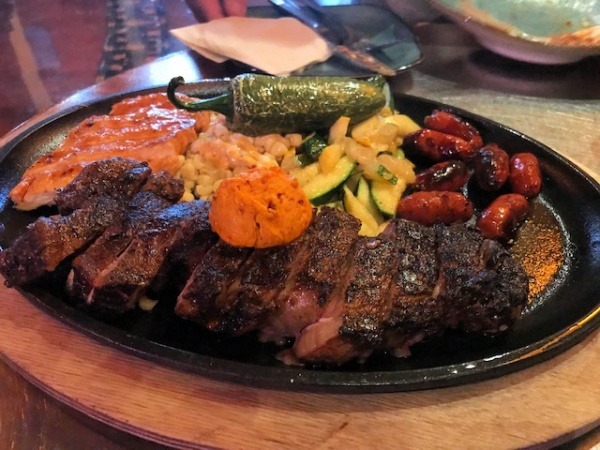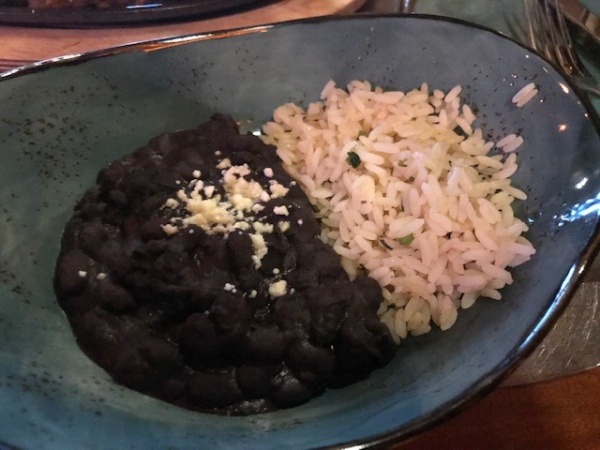 My husband and I can eat a fair amount of food. Sadly, that is more and more evident now that we are middle aged, but that is another story. We typically would not share an entree for fear one of us may not be full. It looked so good and the price for two was not bad. We figured if we still had room we would have dessert or hit up another place at the resort later for a snack if needed.
This was so tasty and so awesome to have a bit of choice on the plate. It was like ordering multiple entrees. It was served with black beans and white rice on the side for each of us. The Chorizo was spicy but not too spicy. The chicken had a Mexican type of barbecue sauce that was really good and the New York Strip was cooked perfectly in the Guajillo butter which gave it a bit of a zing. The vegetables and esquites (corn dish) was a great balance to the meal. Obviously not a vegetarian meal by any stretch, but if you love meat and want some variety, this is highly recommended.
For drinks, my husband had a beer and I had a glass of the Elouan Pinor Noir, Willamette Valley, OR $12.00. We were entirely too full for desert. It was a delicious and filling meal. The entire meal with including the corn tortilla chips was prepared gluten free, which I need, and was so satisfying. We will absolutely visit here again for sure!
Have you tried Maya Grill before? What are your thoughts? Tell us in the comments or on Facebook or Twitter!
Did you like this article? Make sure to share it with your friends! Check below for easy ways to share!
Want to visit the Walt Disney World Resort? Contact The Magic for Less Travel for more information and a free, no-obligation quote.