This post may contains affiliate links for your convenience. If you make a purchase after clicking a link we may earn a small commission but it won't cost you a penny more! Read our full disclosure policy here.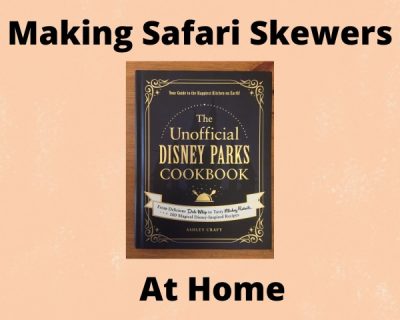 This recipe for Safari Skewers came from The Unofficial Disney Parks Cookbook
One of my favorite Christmas presents that I received this year is The Unofficial Disney Parks Cookbook, written by Ashley Craft. Ms. Craft is a lifelong Disney Parks fan. She often found herself missing her favorite Disney foods when she was at home. So she painstakingly tried to recreate some of her favorites in her kitchen. This cookbook is a compilation of her successes.

I read the book through cover to cover. Rather than organize the recipes by the type of meal, the author has it divided by theme park. There are separate chapters for Disneyland Park, The Magic Kingdom, Epcot, Hollywood Studios, Animal Kingdom and California Adventure. (They are in this order because of the date each park opened.). Before each section is a colorful map of each park indicating where each recipe comes from.

My cooking skills are solidly average, so I decided to try one of the simpler recipes in this book. I chose the Safari Skewers from Bengal Barbecue, a popular quick-service location in Disneyland's Adventureland.

You might laugh when you read this, but I have never actually eaten at Bengal Barbecue! I've lost count of the times I've walked through Adventureland, breathing in the rich aroma of savory grilled meat wafting from this location. But there was always a long line and seating is very limited.

For this recipe, you will need: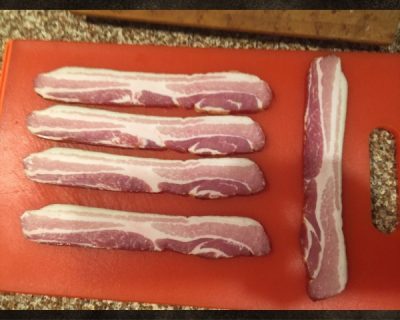 1/2 pound thick cut bacon
Wooden skewers (you can also use metal, but I went with wood)
½ pound thick cut bacon, cut into 2" strips
8 thick spears asparagus, cut into 1" pieces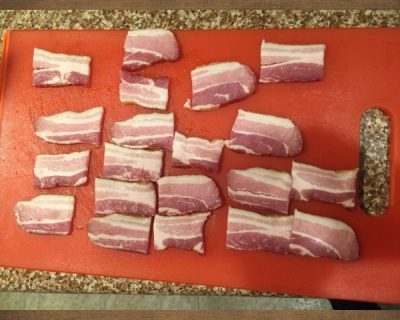 Cut bacon
The first step is to soak the wooden skewers in water for 30 minutes. While the skewers were soaking, I cut the bacon and the asparagus. Next, preheat a grill or grill pan 10 minutes to medium-high heat. I chose to use the griddle on our stovetop. My stovetop tends to be very hot, so I did not keep the heat that high. I turned it down to about medium.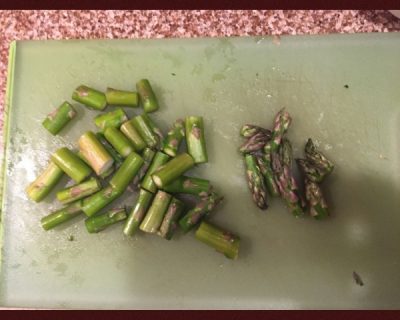 Asparagus
The second step in making the Safari Skewers is to wrap each piece of bacon around a piece of asparagus and then spear a skewer through it. Repeat with remaining wrapped asparagus pieces and skewers, dividing asparagus evenly.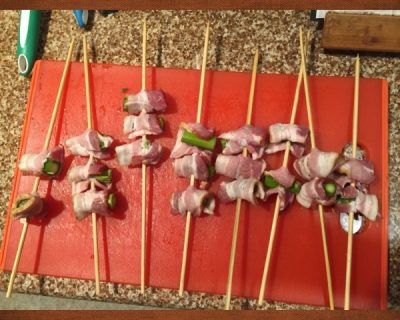 Assembled Skewers
The third step is to grill the skewers until the bacon is cooked through and the asparagus is tender. The recipe suggests eight minutes and I found that this was perfect. One thing the Safari Skewers recipe does not say is whether or not to turn the skewers. I turned them halfway through so all the bacon could get nice and crispy.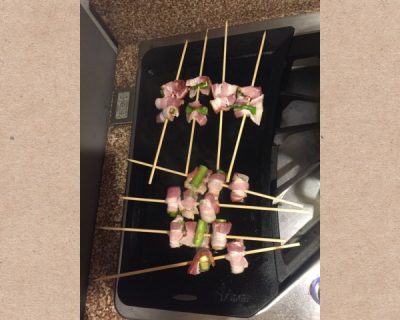 Cooking the skewers
How did the Safari Skewers taste? Divine! I mean, I'm of a mind that you can wrap pretty much anything in bacon and it's going to taste delicious. My husband and I both devoured ours happily. My picky daughter ate hers with less enthusiasm.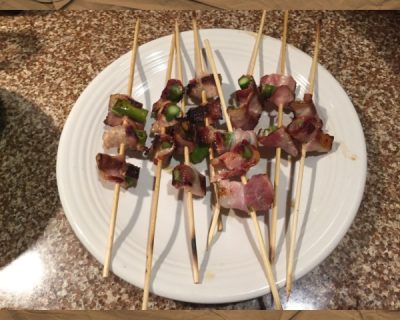 The finished product
What recipe will I try next? The Beignets from New Orleans Square? The Macaron Ice Cream Sandwiches from Epcot? The Peanut Butter and Jelly Milk Shakes from Hollywood Studios? I'm not sure yet, but you can bet I'll be cooking from this cookbook again!
Did you like this article? Make sure to share it with your friends! Check below for easy ways to share!  
Want to visit a Disney Destination? Contact The Magic for Less Travel for more information and a free, no-obligation quote.

Incoming search terms:
https://www themouseforless com/blog_world/making-safari-skewers-at-home-disney-cooking/