This post may contains affiliate links for your convenience. If you make a purchase after clicking a link we may earn a small commission but it won't cost you a penny more! Read our full disclosure policy here.
The largest of the Walt Disney World parks, Disney's Animal Kingdom's 500 acres provide a fun-filled area to explore the animal world and transport visitors to an immersive experience of seven distinct natural areas. And if you're thinking that this is just a "Disney zoo," you couldn't be more wrong!
With all these acres to explore and all the experiences available to you from rides to shows to exhibits and more, it's easy to get overwhelmed and miss out on some of the amazing offerings.
Here are a few tips to get you started on an exciting day.
1. Get to the park early and hit the major attractions–Expedition Everest, Dinosaur, Festival of the Lion King and Kilimanjaro Safari to name a few. We have gotten there at park opening and experienced all or most of them by noon before the crowds get heaviest and the sun is at its strongest.
2. Speaking of the Florida sun and its strength, a good place to take a break and get some of the best food in the park is the spacious covered seating behind Flame Tree Barbecue. It's a great place to take a break from the rays and share some food (portions are large and easily shareable.)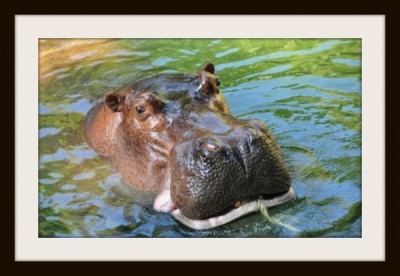 3. One of the highlights of the park is the Kilimanjaro Safari attraction. You can explore the African Savannah in an open-air vehicle led by an informative tour guide. When you do this not-to-be-missed attraction, try for an early morning ride. You will be more likely to see the animals being more active. If that can't work for your family, skip the mid-afternoon hours if you can–they are usually much more crowded and the sun and heat are at their strongest. Opt for later in the afternoon when the crowds begin to thin. If you do the safari more than once in your visit (and why not?), be sure to get a different guide for a different experience and different stories. If you plan on taking photos during your safari (and you should), try to get a seat on the outside end of the vehicle for your best chance at an unobstructed view. And if it's raining, don't let that deter you from taking a safari ride. Many animals like to come out and cool off during the rain increasing your chances of seeing them in action–plus, lines will likely be shorter as many people choose to leave the park when it rains.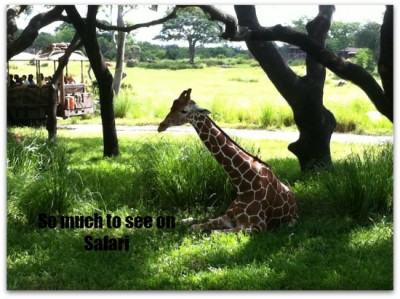 4. The centerpiece of this park is the Tree of Life. You will pass the tree as you enter and choose a land to visit, but don't rush by. Spend some time looking at the tree which features more than 300 animals carved into it. It's often a photo opportunity spot, but few people spend time really looking at this beautiful piece of art. Don't miss it!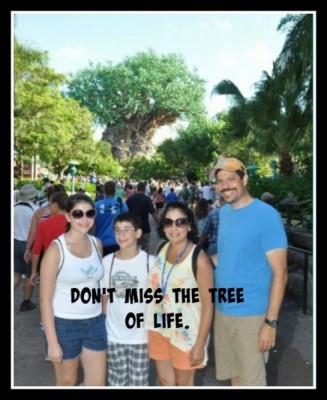 5. Yes, yes, this is most likely a family vacation, but don't overlook that Animal Kingdom gives mom and dad the opportunity to enjoy a famous Dole Whip right along with the kids–but yours can come with rum in it! So make that stop at Tamu Tamu in Africa.
6. Believe the signs at Kali River Rapids that you will get wet. They are not kidding! Bring some plastic zip close bags for your camera, phones, etc., especially if you plan to ride Kali River Rapids. This is a refreshing and fun way to beat the Florida heat, but trust me, you will get soaked. Though you can put your items in a "protective" area of the raft, they still get wet. Everyone usually gets wet, but inevitably someone gets SOAKED. If you can, have an extra set of clothes (including underwear) to change into afterwards. You will be glad to have them. Some folks choose to wear rain ponchos, too. And, keep your feet on the foot rail in the raft, not on the floor. When the bottom of those rafts fill with water, you don't want to have your feet in there for the entire ride.
7. Stay past dark. Animal Kingdom is staying open later than it used to thanks to the addition of night-time shows and new versions of its attractions. Adding darkness to Everest, Kali River Rapids and Safari will add to the enjoyment. For the best view of the nightime Safari, head there at dusk. And, the Tree of Life comes alive with the lights and images projected onto it for a not-to-be-missed experience.
8. Don't overlook the single rider line. Lines can get quite long on the more popular attractions like Expedition Everest. If you are traveling with your spouse or older children, consider using the single rider line. It could get you on the ride a lot quicker than the stand-by line. It's how my family was able to ride Everest three times in one visit!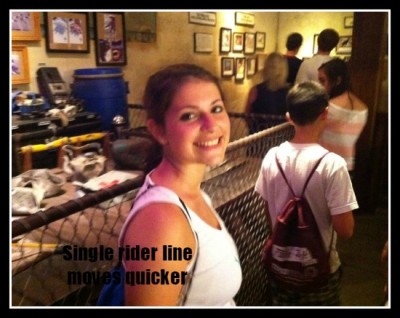 What was once considered by many to be a "half-day park," Animal Kingdom provides more than a day's worth and excitement for the whole family.
What is your favorite part about Disney's Animal Kingdom? Share your tips in the comments.