This post may contains affiliate links for your convenience. If you make a purchase after clicking a link we may earn a small commission but it won't cost you a penny more! Read our full disclosure policy here.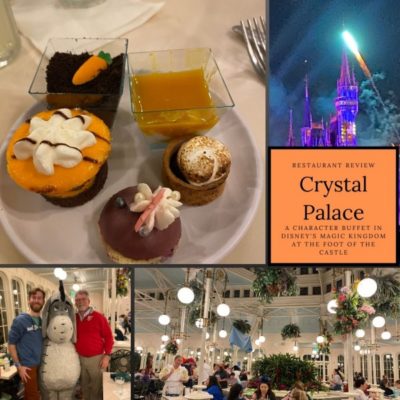 Editor's Note: This article was written prior to the parks closing due to COVID-19. We are not sure how dining at Crystal Palace will be changing moving forward.
Stu and I had a great time eating at the Magic Kingdom's  Crystal Palace. A character buffet was a bit of a stretch for a 32-year-old and his dad.   But we wanted to be close to the castle at fireworks time so we thought we'd try it. It turns out that the food, characters and locations were all fantastic.
Stu and I are not buffet people. Buffets are not big in New England.   Plus, Pat and Stu both have dietary restrictions and buffets can be difficult to negotiate. Add to that big bouncy characters and lots of kids and the Crystal Palace seemed like an odd choice.
The Crystal Palace and the Nighttime Spectacular
Still, we had a theme to our week; dinner with fireworks. We had already eaten at Topolino's Terrace, California Grill and Spice Road Table. All excellent fireworks viewing restaurants. The lone location in the Magic Kingdom that seemed to fit this bill was the Crystal Palace.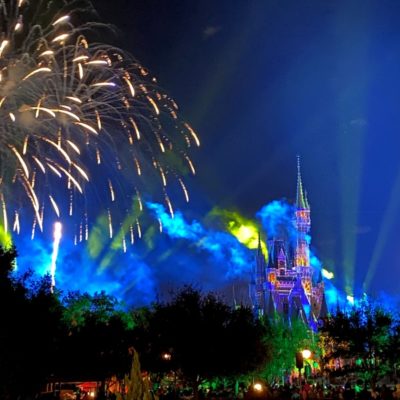 The original Crystal Palace was built mostly of glass in London's Hyde Park in the 18th century. The glass ceiling in the original would have been perfect for fireworks viewing. Disney's Crystal Palace kept the Victorian design but has a solid roof, porches and awnings. You can't view fireworks from inside the restaurant except for a few seats.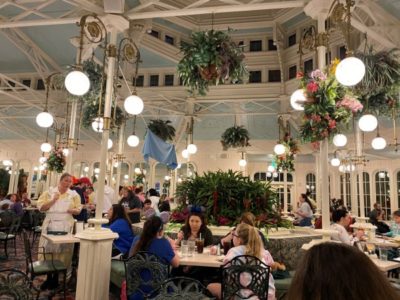 The porch has a great view of the Magic Kingdom's Happily Ever After nighttime spectacular. To view the fireworks just tell your server and wander out to the porch. There, leaning against the rail you have an unobstructed view of the show. We ere even luckier as it was overcast so Disney operated a "low show" which took place to the left of the castle (or right in front of us).
Crystal Palace's Food is worth it too.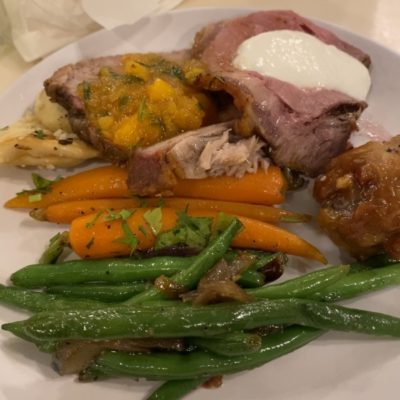 For a buffet, Magic Kingdom's Crystal Palace has an amazing variety of properly prepared foods. There was a table of food for kids, a salads, hot dishes, cold dishes, carving station and desserts. Past experiences with buffets provided piles of overcooked and bland foods. Disney got it right. The green beans were cooked but crisp. The carrots were roasted but firm. The shrimp were large (on the edge of jumbo). Everything we had was done well.
A highlight for us was the carving station's pork slices with peach barbecue sauce and desserts. The sauce was not an out of the bottle sauce; it was rich, complex and a bit spicy. The variety of desserts was an issue. An issue only because my wife was not there to stop me. I think I had six. Due to lactose intolerance Stu had one. One dessert multiple times. Had we not eaten our way through Disney for the last couple of days this could have been our new home.
Winnie The Pooh and Tigger Too
When we made the reservation there were a lot of reasons we were leery about attending a character meal.  With no kids to bring we felt a little odd.  We thought we might stick out like sore thumbs.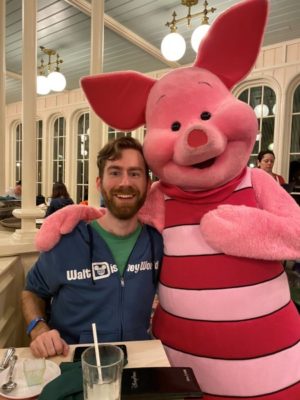 Yet, as we walked to the restaurant I was quietly singing "The Wonderful Thing About Tiggers" by the Sherman Brothers. The Paul Winchell version. Complete with vocal modulations. The way I sang it to my little sister when she was four to make her laugh. What happened to the cold, old consultant? I was pumped to visit Pooh's house.
How could you not love Pooh, Eeyore, Piglet and Tigger. Stu and I both went to Magic Kingdom's Crystal Palace with ulterior motives. Having listed to me imitate Tigger since he was a child, Stu wanted to get a picture of me with Tigger. I wanted to get a picture of him with Pooh to recreate a picture from when he was a child.
Unfortunately, we missed the character parade while we were out watching fireworks. As Eeyore would say, "Oh, bother.". We had to eat until they came around again. By the time they did Tigger had headed off to bed. I did get a great picture of Stu and Pooh. His smile says it all.
We'll just have to return to get the picture with Tigger. Based on the fun we had I think that's a no brainer.
Have you tried Crystal Palace? What did you think of the restaurant? Let us know in the comments or on Facebook or Twitter!
Did you like this article? Make sure to share it with your friends! Check below for easy ways to share!  
Want to visit a Disney Destination? Contact The Magic for Less Travel for more information and a free, no-obligation quote.

Incoming search terms:
https://www themouseforless com/blog_world/magic-kingdoms-crystal-palace-review/
https://www themouseforless com/blog_world/magic-kingdoms-crystal-palace-review/#:~:text=You cant view fireworks Happily Ever After nighttime spectacular
https://www themouseforless com/blog_world/magic-kingdoms-crystal-palace-review/#:~:text=Crystal Palaces elegant Victorian decor wander out to the porch
https://www themouseforless com/blog_world/magic-kingdoms-crystal-palace-review/#:~:text=Disneys Crystal Palace kept the oasis in the Magic Kingdom
https://www themouseforless com/blog_world/magic-kingdoms-crystal-palace-review/#:~:text=Some of the best fireworks good food is just inside
crystal palace in magic kingdom
https://www themouseforless com/blog_world/magic-kingdoms-crystal-palace-review/#:~:text=Some of the best fireworks porch of the Crystal Palace
https://www themouseforless com/blog_world/magic-kingdoms-crystal-palace-review/#:~:text=The porch has a great unobstructed view of the show
https://www themouseforless com/blog_world/magic-kingdoms-crystal-palace-review/#:~:text=To view the fireworks just right in front of us)
can you see foreworks from crystal palace