This post may contains affiliate links for your convenience. If you make a purchase after clicking a link we may earn a small commission but it won't cost you a penny more! Read our full disclosure policy here.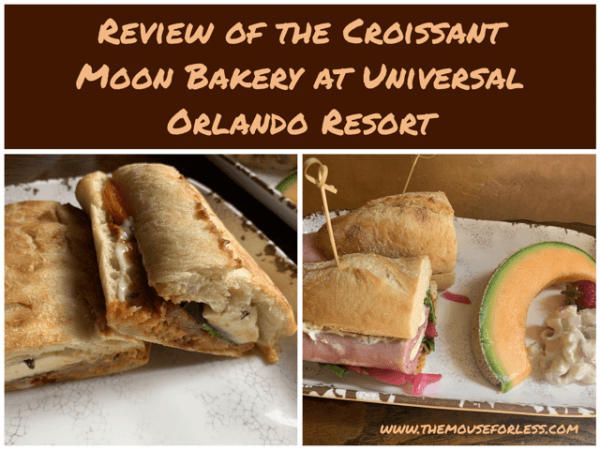 On a recent visit to Islands of Adventure at the Universal Orlando Resort, we made a stop at the Croissant Moon Bakery. This quick spot, found just at the front of the park is a great spot for those who are looking to grab a sweet bakery treat, but how is it if you're looking for lunch options?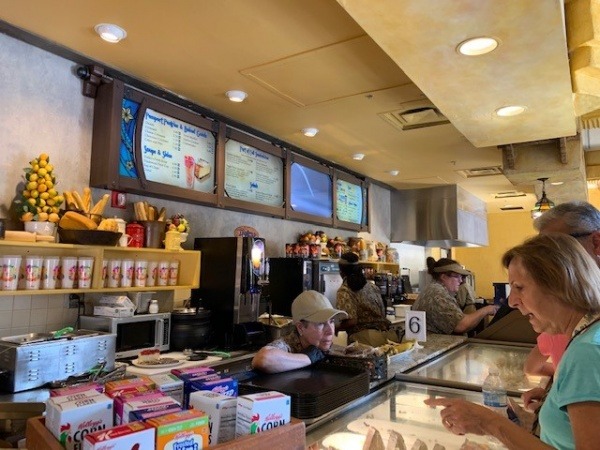 The restaurant itself is very small, due to it's bakery nature. There is a walk up counter for you to place your order. If you order a sandwich, they will give you a number and you will find a table to sit at. There aren't a lot of tables, with the majority being outside, but since it was the middle of the afternoon, we opted to sit at one of the few options inside. Menu options here include salads, soups, and sandwiches.
The good thing is that sandwiches are all fresh…warmed and made to order. The bad thing….sandwiches are made fresh….warmed and made to order. What do I mean? Well, it's good that the sandwiches aren't cooked and waiting for you, however, as is a trend with this restaurant, there is not really a kitchen, per se. It's a panini press and there are only two of them. So, if you order a sandwich and a large number of people ahead of you have ordered sandwiches, you may be waiting a while. Which is what happened to us. Now, we weren't in a hurry, so we didn't mind, but if you were in one, just know you may be waiting a while.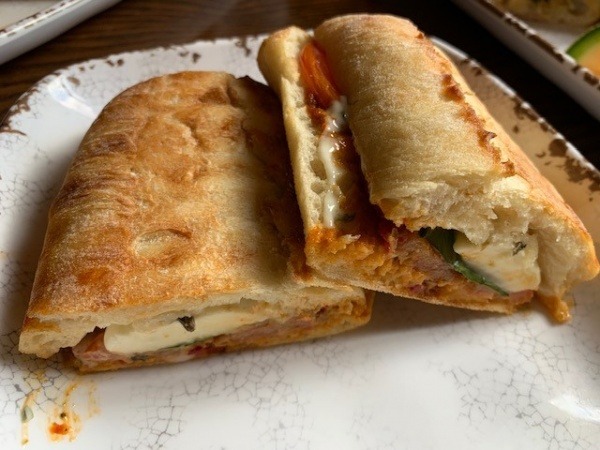 I got the Caprese Sandwich, which was served with fresh mozzarella, vine-ripened tomatoes, sun-dried tomato pesto, and basil aioli served on warm ciabatta. This sandwich was exactly what I was looking for. It was light and a great option in the heat, even though it was warmed. The flavors were exceedingly fresh and there was plenty of food. The sandwich is served with a side, and I opted for the potato salad, which was really yummy.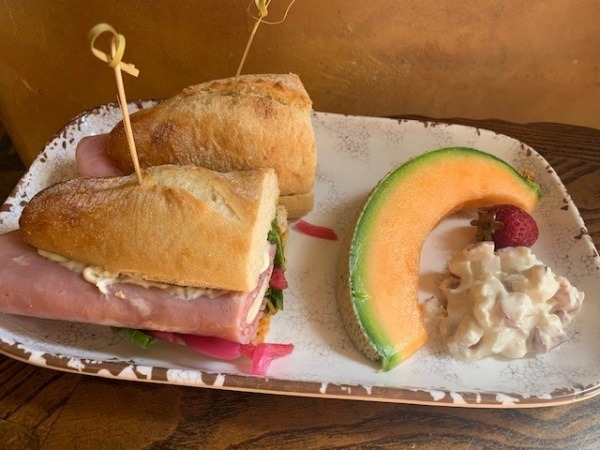 My husband got the Italian Sandwich, which was served with salami, spicy capicola, ham, smoked mozzarella, arugula, pickled onions, sun-dried tomato pesto, and basil aioli served on a crusty baguette. This would have been my second choice of sandwich and again, it was quite delicious. A great lunchtime option.
Overall, I definitely liked my meal at Croissant Moon Bakery. The only thing that I wish they could fix was the slower preparation time, but given the nature of the location, it's understandable why it took a while.
Have you tried the Croissant Moon Bakery before? What were your thoughts? Share in the comments or on Facebook or Twitter!
Did you like this article? Make sure to share it with your friends! Check below for easy ways to share!
Want to visit the Universal Orlando Resort? Contact The Magic for Less Travel for more information and a free, no-obligation quote.