This post may contains affiliate links for your convenience. If you make a purchase after clicking a link we may earn a small commission but it won't cost you a penny more! Read our full disclosure policy here.
Jaleo (pronounced häleo) is the fifth of restaurateur Jose Andres' love letters to his native Spain. You want to experience the food of Spain? Go to Disney Springs' Jaleo! Have you ever been in a restaurant and want to try a little bit of everything? Jaleo gives you both the desire to try everything and the opportunity.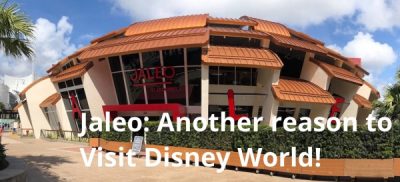 You need to be an adventurous eater to fall in love with Disney Springs' Jaleo like we did. Spanish food features flavors that are found in Italian, Greek and even Moroccan cooking. Don't confuse Spanish food with Mexican food. A glance at the menu will show that they are not similar at all.
Jaleo is located in Disney Springs West Side next to the House of Blues. Park in the Orange Garage and you will have a straight shot into Jaleo. You can't miss the two story building – it has a yellow roof and red highlights. The design is based on as artichoke; a vegetable native to Spain.
We must admit that we haven't eaten at the Disney Springs Jaleo. But we have eaten at the Washington D.C. Jaleo and count it among the top ten restaurants that we have eaten. Based on our D.C. experience, Jaleo is worth a trip to Walt Disney World.
Sharing is the way to go
Disney Springs' Jaleo provides a dining experience meant to be shared. It's great for date night and groups and a go to place for foodies. Most dishes at Jaleo fall within two categories; tapas and entrees meant to be shared. Sharing the food is the best part of the Jaleo experience. A very common overheard phrase at Jaleo is 'OMG you have to try this.'
If you are unfamiliar with tapas they are small plates with several bites of food. They are usually more complex than appetizers and are great fun to share. Typically, a tapas meal consists of several shared courses of these delightful dishes.
We chose to share three rounds of tapas rather than share the large entrees. Each 'course' consisted of two different tapas. Larger groups can try this with an even greater selection of tapas for each course. This is a great technique to discover a variety of foods and smooth over any culinary differences that you have.
Disney Springs' Jaleo's food is fantastic!
We can't review every dish on the menu (we wish we could because that means we would have tried them all).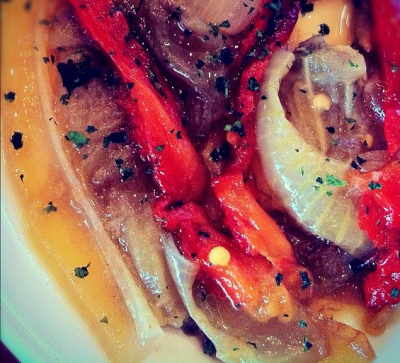 The Escelivada Catalana (roasted red pepper, eggplant and sweet onions with sherry dressing served with toasted bread) was rich and complex. Both sweet and savory, the flavors lingered match well with a nice glass of wine. Even the meat eater in the group enjoyed this dish.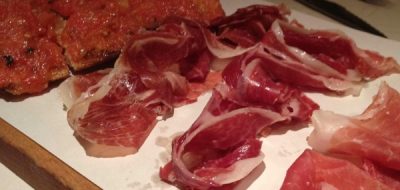 Meat eaters can experience the many ways that Disney Springs' Jaleo prepares Ibérico ham. Ibérico pigs run wild in Spain and their diet consists primarily of acorns. We had read about these pigs before dining here was the first time were able to try this delicacy. The ham is dry aged (like Virginia ham or proscuitto) and when thin sliced is salty, nutty and melts in your mouth. Jaleo offers a variety and incorporates them into chorizo and other Spanish sausages. Ibérico ham is an adventure worth discovering.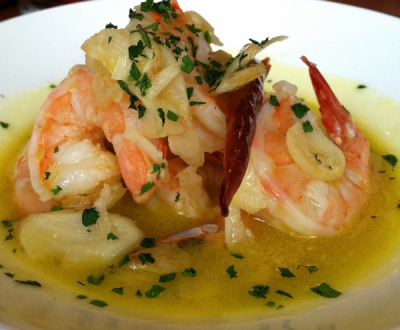 Gambas al Ajillo is a classic Mediterranean shrimp dish. Shrimp sautéed with garlic is something that a lot of us can cook at home but the restaurant somehow manages to raise it to another level. Dusted with parsley, layered with thin garlic slices and nestled in broth these shrimp are cooked to perfection. As simple as this dish is, Jaleo makes Gambas al Ajillo a star.
Before you go
Some advice before you go. Check out the menu and see what excites you. Dining here is an experience and your party should expect to spend at least ninety minutes there. This might not be the place for cranky toddlers but it is a place to discover great food and a bit of Spain.
Some of our best dining experiences leave us walking away wishing we could recreate the dishes at home. Often we can, but with Jaleo, we can't. Every tapas dish had multiple layers of flavors and texture.
The glory of Jaleo is in it's variety. As eaters, our desires vary greatly. Pat loves veggies and fish but does not prefer red meat or pork. Bob eats just about anything that doesn't move and prefers beef and pork.
Our next trip to Walt Disney World will include Star Wars, Galaxy Edge but it won't be complete without dinner at Jaleo; the restaurant is that good.
Are you excited to try Jaleo on your next visit to Walt Disney World?  Let us know in the comments below or on Facebook or Twitter!
Did you like this article? Make sure to share it with your friends! Check below for easy ways to share!
Want to visit the Walt Disney World Resort? Contact The Magic for Less Travel for more information and a free, no-obligation quote.