This post may contains affiliate links for your convenience. If you make a purchase after clicking a link we may earn a small commission but it won't cost you a penny more! Read our full disclosure policy here.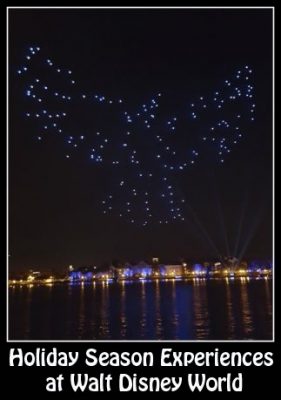 I recently visited Walt Disney World and was excited to see all of the special shows and decorations that can be found in the parks at this time of year.  I wasn't sure how much holiday entertainment I could cram into one whirlwind long weekend, but I was determined to see as much as I could!
Candlelight Processional
First up on the agenda was the Candlelight Processional. This is an absolute must do for me during the Christmas season. Each night, a celebrity narrator tells the Christmas story and a full choir and orchestra play traditional Christmas tunes. The performances take place 3 times per night at 5:00 p.m., 6:45 p.m., and 8:15 p.m.. The show is incredibly popular and a dining package is available for guaranteed seating.  For more details on the Candlelight Processional Dining Package check out my previous post. I highly recommend the show!

Candlelight Choir and Orchestra
Jingle Bell, Jingle BAM!
I was really excited when this show was announced.  Even though I wasn't a big fan of the name, I was looking forward to a new show taking place at Disney's Hollywood Studios.  Once it opened, I started to hear mixed reviews, but I still wanted to check it out.
I did not go into the show expecting it to be a "replacement" for the Osborne Lights. I feel like trying to compare the two would be like comparing apples to oranges. This show is a whole new experience.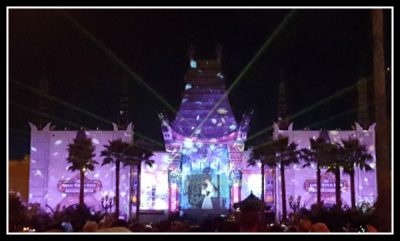 The theater is transformed with projection technology
There were some things about the show that I did enjoy about Jingle Bell, Jingle BAM! The projection technology is amazing and I love that Disney has found a way to completely transform buildings through the projection shows. It also snowed during the show. Well, Florida "snow" anyway. The show also features laser lighting which created really cool effects when the lasers reflected off the snow.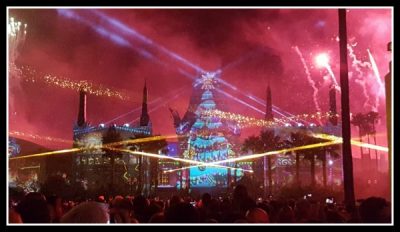 Lasers, lights, snow, and fireworks
I had heard that there was not enough BAM! in this show, but for me, it was not the amount of fireworks that bothered me, but that fact that I couldn't see them well at all. There are two large speaker and light towers  in front of the theater as well as some trees. These completely blocked my view of the fireworks. If you are anywhere behind those speakers, you run the risk of not being able to see everything that is happening.
I also thought the story line fell a little flat.  At times, it seemed that random movie scenes were playing on the theater rather than a cohesive story. Maybe I missed something, but overall, I was not very impressed.
Starbright Holidays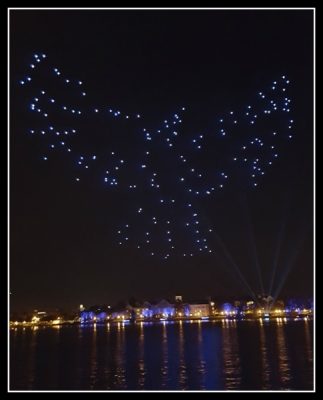 Drones light up the night sky
After leaving Hollywood Studios a little disappointed, we headed over to Disney Springs to shop, eat, and check out one of Disney's newest holiday productions, Starbright Holidays. This show takes place at 7:00 pm and 8:30 pm at Disney Springs.
Each night, 300 drones create lighted images over the water in this production. There is no other show like it in the country. Even though this show is only 5 minutes long, it was amazing! Pictures and videos just do not do it justice. I went out of my way to see this show and I was glad that I did. I loved it and hope to see more like it in the future of Disney parks.
Checking Out Cinderella Castle
Cinderella's Castle
Cinderella Castle during the holiday season is absolutely gorgeous! The castle is pretty on an ordinary day, but the lights make it an extraordinary sight. Each night,  A Frozen Holiday Wish takes place on the castle stage and Elsa officially lights up the castle for the evening. I have seen this show several times and always enjoy it.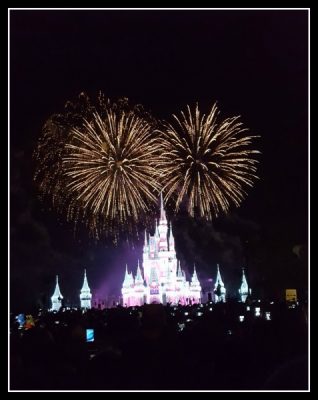 Wishes over the castle lights
Wishes, the nightly fireworks show, is even more spectacular at this time of year. Even if you have seen Wishes before, stop to watch if you have the chance. The finale of fireworks over the castle is an awesome sight to see. Don't forget to take a photo in front of the castle as a keepsake.  It makes a wonderful backdrop for a family portrait.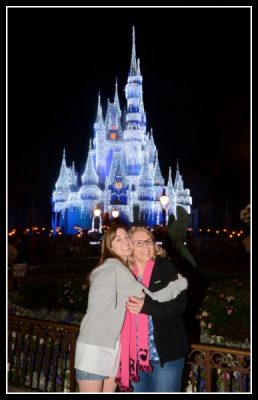 Posing in front of the castle with my mom
Jingle Cruise
Even the Jungle Cruise skippers get into the holiday spirit as this beloved boat ride gets a minor makeover for the holidays. I had a hilarious skipper on my recent ride on the Jingle Cruise and enjoyed a few new holiday jokes this time around. Check it out at night time for a different view and a chance to explore the river in the dark.
Holiday Resort Hopping
The decorations at Walt Disney World at this time of year are incredible, but it is not just the parks that are all decked out for the holidays, the resorts are beautifully decorated as well. One of my favorite things to do is go around to the different hotels and check out the decorations. Some of my favorites are the Christmas trees and gingerbread displays.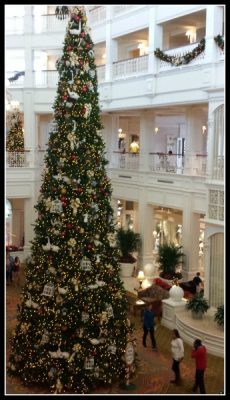 Grand Christmas tree at the Grand Floridian
Each resort puts their own unique spin on the displays and they are just amazing. The contemporary gingerbread display features the characters from Frozen. The Grand Floridian gingerbread house is actually large enough that you can go inside and the tree is huge! The Beach Club even has a carousel made of gingerbread. Make sure you check these out!
There are so many things to see and do during the holiday season, it has easily become my favorite time to visit. You may encounter some crowds, but it is worth it to experience all of the fun and joy of the Walt Disney World resort at this time of year!
Have you visited Walt Disney World during the holiday season? What is your favorite thing to do?