This post may contains affiliate links for your convenience. If you make a purchase after clicking a link we may earn a small commission but it won't cost you a penny more! Read our full disclosure policy here.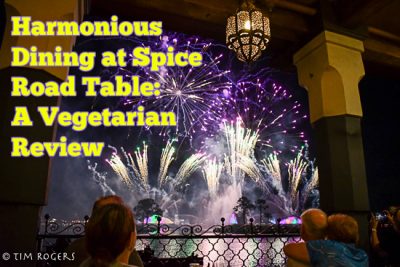 On October 1st, EPCOT officially premiered its new nighttime spectacular called "Harmonious." Since I had a trip planned during the first month on the Walt Disney World 50th Anniversary celebration, I know I wanted to see the show, but also didn't want to have to fight with the crowd for a spot if at all possible.
So when they announced there would be some dining packages available, and that one of them was at a restaurant I had been meaning to try anyway, it seemed like a natural fit.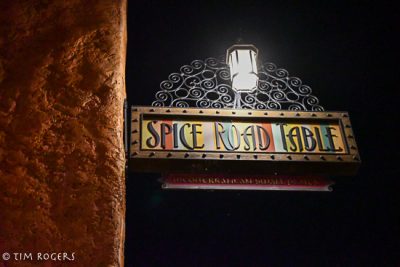 For the experience itself, the reservation says you can check in 45 minutes before the show (ours was a 9:45pm start for Harmonious, so check in at 9). We got there a bit early, and were actually able to start checking in around 8:45pm.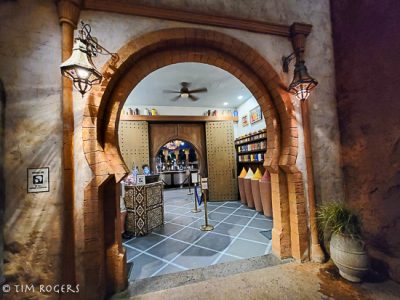 As a brief aside, when I was trying to book this party the availability was incredibly tight, and I actually sort of lucked into my spot. Once I arrived at the restaurant, I immediately understood why it was so tight – the entire dining package was limited to 8 tables, 4 tables of 4, and 4 tables of 2. Compared to some other exclusive dining experiences, this is incredibly small. However, for Spice Road Table at least, using any more of the covered patio area would start really having a disparate experience between participants, so I think it works at that size.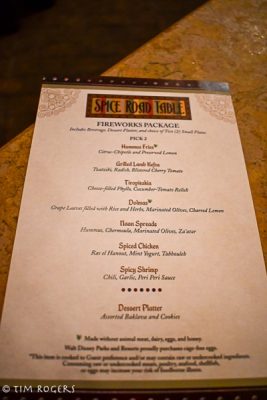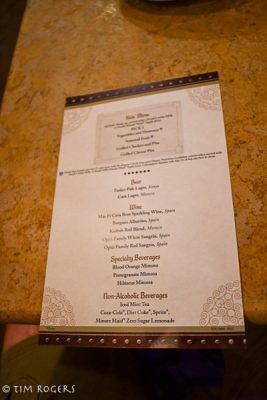 After being seated, you are given the menu and the servers start taking orders. For this package, it is a fixed price and each person gets two small places, dessert, and unlimited drinks (including a selection of alcoholic beverages). Let's start with the drinks: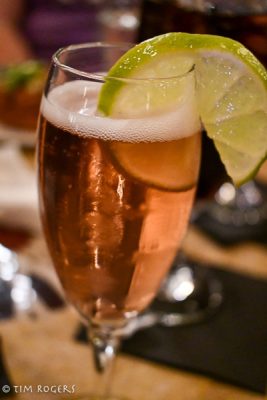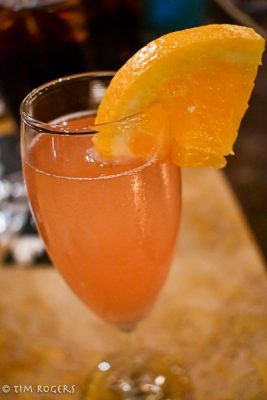 There are three specialty beverages included in the package, and they are all mimosas. There is a pomegranate, a hibiscus, and a blood orange. Of the three, the blood orange was the favorite for both my wife and I. The hibiscus was good, but for us the pomegranate was too tart. I also tried the Burgans Albariño white wine, and of the drinks it was definitely my favorite. However, a great part of this package was the ability to try all of the options to find out what we did and did not like.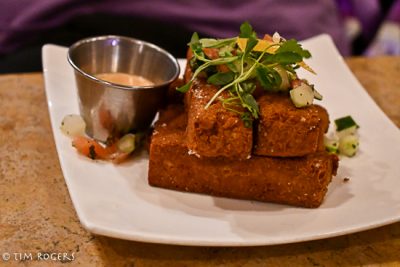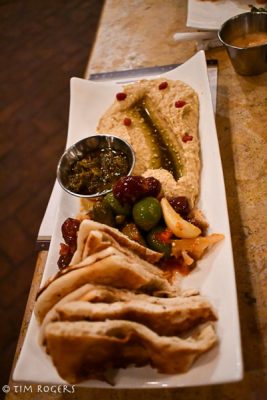 As for the food, there were 4 vegetarian options, hummus fries, naan spreads, dolmas, and tiropitakia.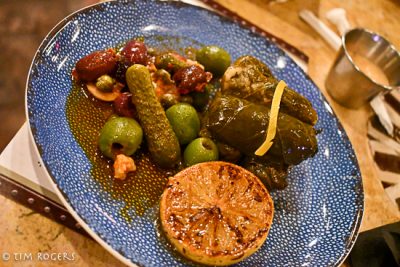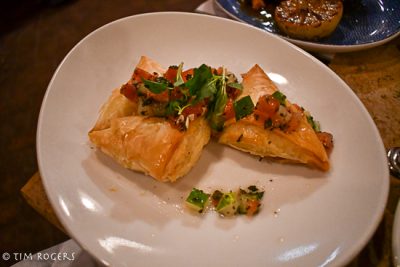 All of these were great, and had very generous portions so we could easily share between us. The hummus fries are sort of like long falafel with a tasty sauce. The tiropitakia are the cheese only version of spinach pies with a fresh relish on top. The naan spreads are essentially a hummus plate with a few add ons, but was very tasty, and the dolmas are traditional stuffed grape leaves, although I will add that these had a perfect balance of seasoning.  For us, the hummus fries and tiropitakia were probably our favorites, but it was a close competition.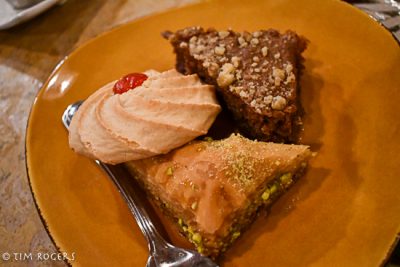 For the dessert, we got baklava, chocolate baklava, and an almond cookie. I thought all three were great and would happily have them again.
So at this point, we had enjoyed great food and drinks with great service, and the show hadn't even started yet.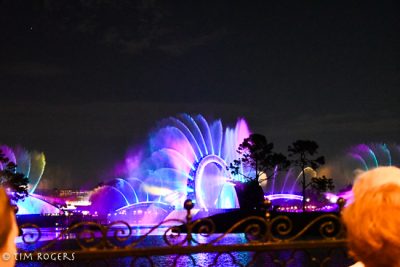 Harmonious is a celebration of Disney music around the world, and many of the pavilions in the World Showcase are highlighted through associated Disney songs.
The show itself utilizes the large barges that now live in the World Showcase lagoon through water effects, light effects, and digital screens. From the viewing area for this package, you have a somewhat angled view of the big circle , but have a pretty clear view of two of the side barges. You also have a clear view of the fireworks.
One thing I will note – if you are a group of 3 or 4, you will get seated in the first row right on the edge. If you are a group of 2, you will likely be in the second row. As you can see in the picture above, this means you need to look past one table of people, and maybe avoid a column for a few moments, but for me the quality of the food and service, and not having to fight with people to get a good spot more than made up for it.
Also, at least when I booked, if you took into account everything you were being served (without even counting the unlimited alcohol) the different in cost between ordering those items normally at Spice Road Table and doing this package was around $20 a person for adults. For me, that is more than worth the experience and I would gladly book this again (and just eat at Spice Road Table outside of a special package).
One final note about Harmonious itself – both my wife and I really liked it (she instantly said she liked it more than Illuminations). For me, that comparison is hard because they are very different shows trying to do very different things that happen to be presented in the same space. One of my favorite Disney Nighttime Spectaculars is World of Color, and there are many moments in Harmonious that directly remind me of that show and bring some of its energy to Walt Disney World for the first time. On top of that, everyone is bound to have at least one moment they absolutely love (for me it was probably the Brave section, although I won't disagree with all of the Coco advocates out there) and there are plenty of wow moments, including a particular favorite near the end with rocket launches from the various countries. Like Illuminations before it, I think it could use a few tweaks, but is a solid show that is a great way to end a day at EPCOT.
Have you experienced Spice Road Table for fireworks viewing? What were your thoughts? Share in the comments or on Facebook or Twitter!
Did you like this article? Make sure to share it with your friends! Check below for easy ways to share!  
Want to visit a Disney Destination? Contact The Magic for Less Travel for more information and a free, no-obligation quote.

Incoming search terms:
https://www themouseforless com/blog_world/harmonious-dining-package-at-spice-road-table-a-vegetarian-review/
SPICE ROAD HARMONIOUS