This post may contains affiliate links for your convenience. If you make a purchase after clicking a link we may earn a small commission but it won't cost you a penny more! Read our full disclosure policy here.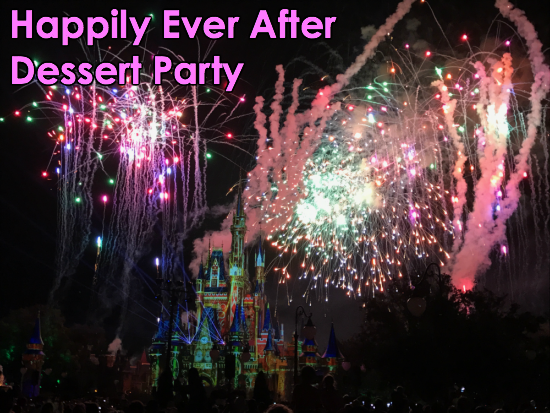 The Happily Ever After Dessert party provides prime viewing for the nightly Happily Ever After fireworks and projection show at Magic Kingdom along with a dessert party. This post covers the specifics of the party and answers the question, "Is it worth it?"
The Details
The Happily Ever After Dessert party debuted with the new fireworks and projection show in May 2017. Reservations are highly recommended and can be made up to 180 days prior to the party through Disney's dining reservations system. It is a "pre-pay" event, so you pay the full cost of the party up front. There are two options for the party:  Plaza Garden Viewing or Tomorrowland Terrace viewing.  The current cost is $59 per adult and $35 per child (ages 3-9) for garden viewing and $79 per adult and $47 per child for terrace viewing.
The party begins every night 90 minutes prior to the posted fireworks time; if the show is scheduled for 9:00, the party will start at 7:30. (Disney's information indicates the party starts 75 minutes before the show, but they will allow you to check in early and start feasting on the desserts at about 90 minutes.) The party itself is located at Tomorrowland Terrace, near the entrance to Tomorrowland from the hub (the center of the park). Everyone is provided with a wristband upon entry, then is escorted to a table in the restaurant (which is closed to the public and only open to those with wristbands).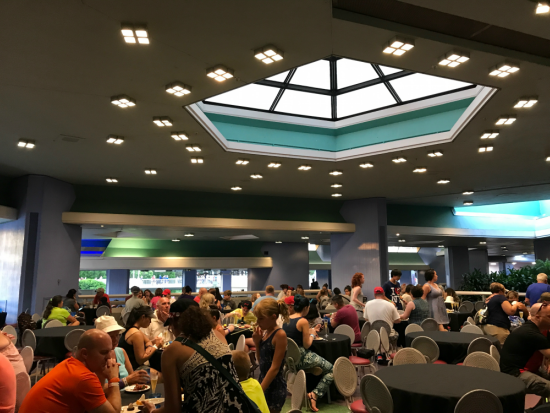 The Tomorrowland Terrace seating area for the Happily Ever After Fireworks Dessert Party
You are then directed to the dessert buffet, which you may visit as many times throughout the event. For those in garden viewing, you will be escorted to the viewing area in front of Cinderella Castle, which is reserved for those at the party.  They recommend heading down about 15 minutes prior to the fireworks.
The Menu
The desserts include chocolate-covered strawberries, Disney character-themed cupcakes and other delectables, ice cream (with toppings), and a decorate-your-own cookie and cupcake station.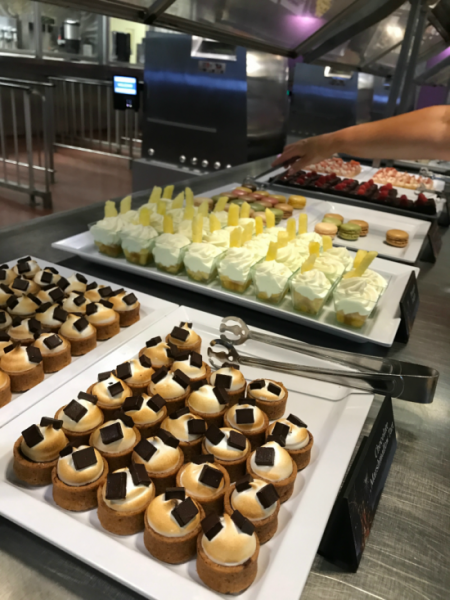 Some of the desserts available at the Happily Ever After Fireworks Dessert Party
The drinks include non-alcoholic sparkling cider, water, coffee, hot chocolate, juice, and lemonade.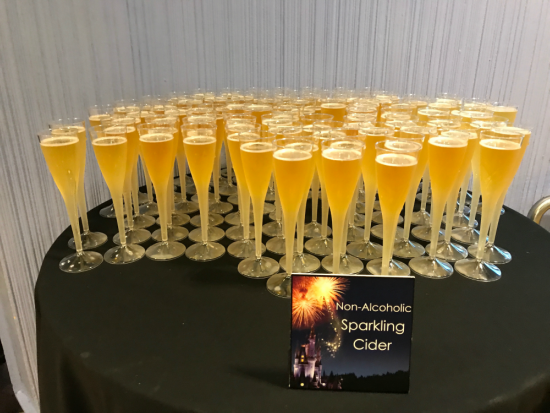 Sparkling cider is served in flutes.
Is It Worth It?
There are four factors to consider when answering this question: crowd level, your other plans, your appetite, and your budget.
Crowd Level: Planning for nighttime spectaculars at Walt Disney World can produce anxiety, especially among those who want to plan the perfect trip and ensure your family has a great time! The hub in front of Cinderella Castle is huge, and when you add the space in Main Street U.S.A, there are a lot of places to watch the fireworks. However, standing shoulder to shoulder in a crowd of hot, sweaty humans isn't for everyone, and the dessert party does provide a guarantee that you won't have to endure the experience that way. If crowds are forecasted to be high, then this is the way to reserve a viewing spot without having to stake out your spot an hour or more in advance. You are also guaranteed that a dad with a kid on his shoulders won't show up at the last second and stand right in front of you!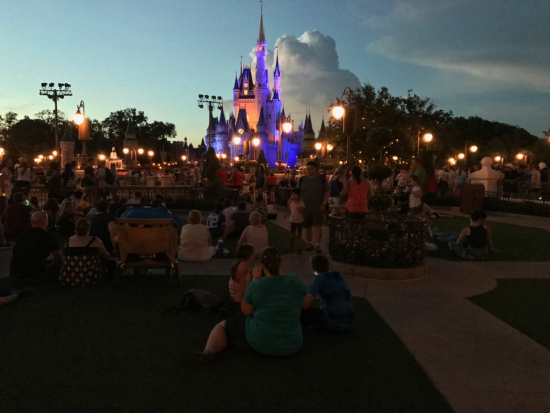 The garden viewing area about 15 minutes prior to the fireworks
Your Other Plans: You need to devote at least 90 minutes to experiencing this party, and if you only have limited time in Magic Kingdom, you might wonder how you can fit everything else and attend this party. If this is your first or second trip to Walt Disney World, getting to experience more attractions might be higher on your priority list than having a perfect viewing spot for fireworks. In general, you can show up 15 minutes prior to a fireworks show and find some spot, somewhere on most nights of the year (perhaps with the exception of the major holidays or the week of Christmas and New Year's).
Your Appetite: I don't recommend having a sit-down table service meal on the evening you go to the dessert party. There are more than a dozen food items to try, and if you don't sample most of them, you might not feel you are getting a good value out of the party.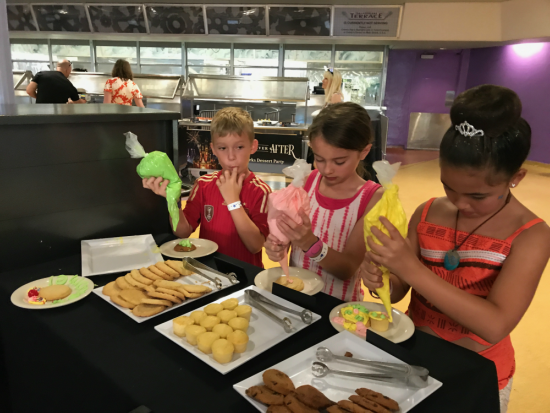 The cookie and cupcake decorating station
Your Budget: Like most things at Walt Disney World, this party is not inexpensive! The garden viewing option is less expensive than terrace viewing, but with a family of four (with one child over the age of 9), you are still talking over $200 for a 90-minute experience! This is well above what most table service meals would cost the same family.
So is it worth it?  It all depends on how you view the factors above for your family. In my experience, we had a member of our party who dislikes standing in the mass of humanity, so the reserved viewing area (which is not crowded at all; we had space to spread out and sit on the ground) was nearly worth the price alone. We also skipped out on a large meal for dinner and snacked in the late afternoon, making the desserts part of our "nourishment" that day. We have also been to Walt Disney World four previous times, so we did not have the pressure of seeing everything. Finally, this was our first time seeing Happily Ever After, and we wanted to have a great viewing spot. For us, it was worth it, at least for one time.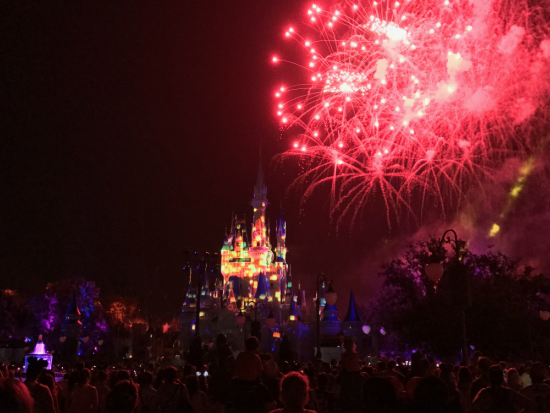 Terrace versus Garden Viewing
One final note! If you decide that the Happily Ever After Dessert Party is for you, you do have one more thing to decide: which viewing option to choose. With the terrace viewing, you get covered viewing, a chair, and access to the desserts and drinks for a longer period of time. These are all positives, especially if there is rain in the forecast. However, the viewing is off-center, and less than ideal in my opinion. With garden viewing, the fireworks and projections on the castle are right in front of you, yet not too close (and Tinker Bell flies right over you in the finale!). But with garden viewing, you do have to leave the party at least 15 minutes prior to the fireworks for an optimal spot and you cannot return for more desserts. The choice will be a personal one for your situation; but for my family, garden viewing was the less expensive option, we couldn't eat another bite if we tried, and the view was spectacular.
Have you experienced the Happily Ever After Dessert Party yet? What were your thoughts? Share them in the comments.
Did you like this article? Make sure to share it with your friends! Check below for easy ways to share!
Incoming search terms:
reservation for happily ever after dessert part