This post may contains affiliate links for your convenience. If you make a purchase after clicking a link we may earn a small commission but it won't cost you a penny more! Read our full disclosure policy here.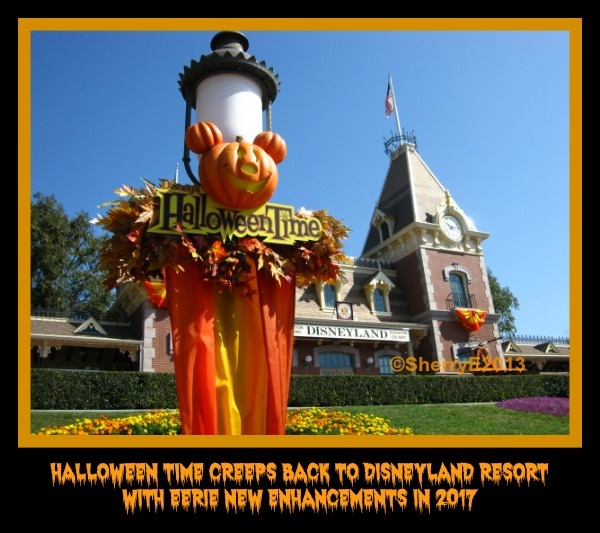 Can you feel it in the air?   Autumn is right around the corner.   At night, there is an ever-so-slight, gradual cool down.  It seems to last for only a fleeting moment, but it is a glimpse of what lies ahead.   With each passing week, the phenomenon that I call "Pumpkin Pandemonium" picks up steam, as omnipresent pumpkin spice items gently nudge the back-to-school merchandise off of store shelves.   Suddenly our favorite brands of ice cream, cereal, toaster pastries, sandwich cookies and air fresheners appear in harvest-inspired flavors and aromas, including (but not limited to) candy corn, pecan pie and caramel apple.   Even kitty litter has been known to get a seasonal makeover (don't ask — just trust me on that one).   What does this tell us?   It tells us that someone out there — or at least merchants, consumers and, apparently, cats — is ready for the seasons to change.
As a lifelong resident of Los Angeles, I can tell you that "fall" is an elusive concept to me.   I long for crisp, blustery days and piles of brightly colored leaves strewn about on the ground.   I dream of brisk air scented with the faint perfume of fresh rain and burning fireplaces, and the extraordinary sunsets painted with Mother Nature's brush.   A Southern California autumn feels suspiciously like summer (as do spring and winter as well, if I'm being honest), and there are no convenient apple orchards or true pumpkin patches in which to frolic in the heart of the city.
So, quite simply, I have to "find the fall" where I can.    I am not a huge fan of the more horror-based Halloween attractions around town — though they are extremely popular with enthusiasts of that genre.  I don't want to be chased around by chainsaw-wielding maniacs under a blanket of fog, nor do I wish for crazed clowns and strange, unidentifiable creatures to pop out at me from behind curtains or shrubbery.   I prefer the more whimsical, playful, non-heart attack-inducing Halloween events… the ones I can enjoy without worrying that I might be accidentally disemboweled or dismembered by the end of the evening.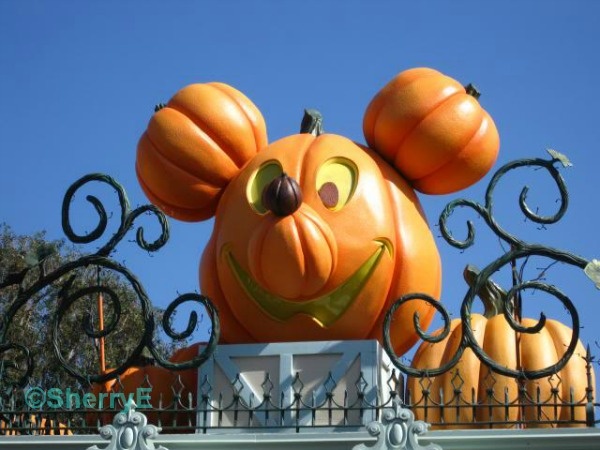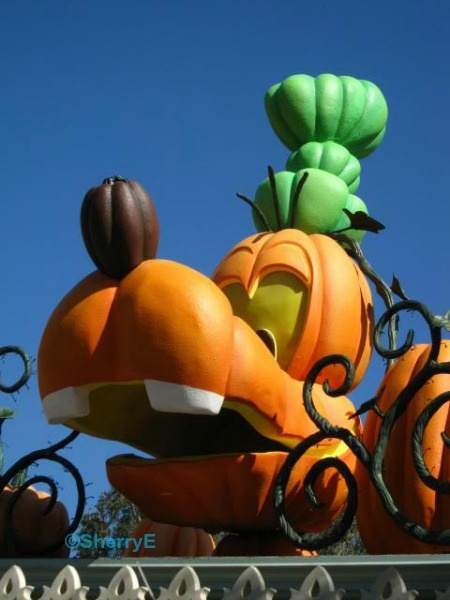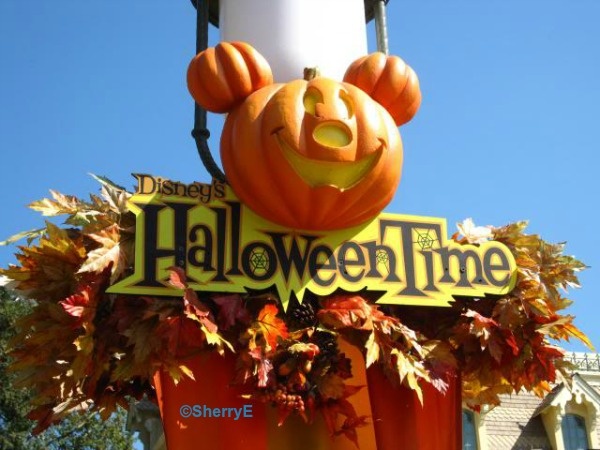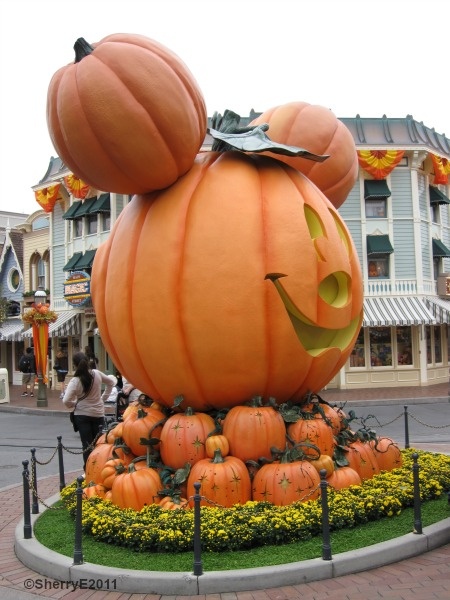 To that end, over the last 10 years, fall has been one of my favorite times to visit Disneyland Resort, second only to the Holidays.   I am a fan of the lighter, happier side of Halloween, and Disneyland delivers the perfect delightful dose of spirited fun during its annual Halloween Time season, which spans the second half of September and all of October.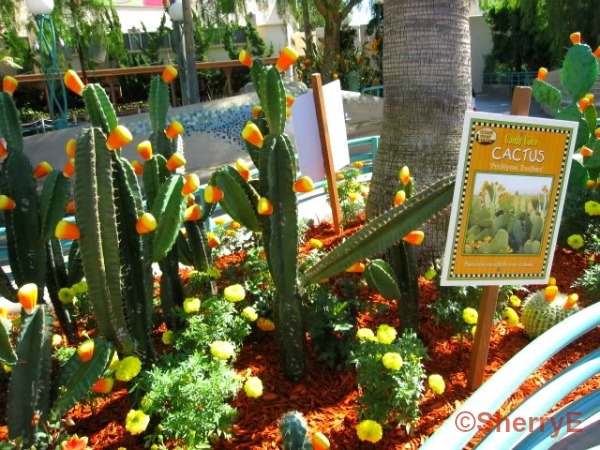 While there are plenty of villains, ghoulish gourds and Jack Skellington-esque touches to be found around Disneyland Park, Disney California Adventure Park's last year of celebrating the season in any real way was, sadly, 2009, when candy corn dangled from the Golden Gate Bridge and grew on palm trees.
That is all about to change, as this will be the year that Halloween returns to California Adventure.    After months of rumors and speculation, the highly anticipated details of the upcoming season — which begins on Friday, September 15th, and ends on Tuesday, October 31st — were recently announced, and there are some bewitching new things a-brewin', along with the return of some fearsome favorites.  While most of the press about 2017's Halloween Time festivities was consistent across cyberspace, I found a few extra details when I perused different official Disney websites, and some of those details might have been overlooked in the initial flurry of blogs, articles and media surrounding what is to come, starting next month.
Here is a rundown of most of what we can look forward to:
New in 2017!!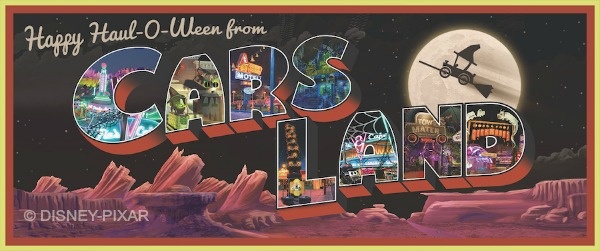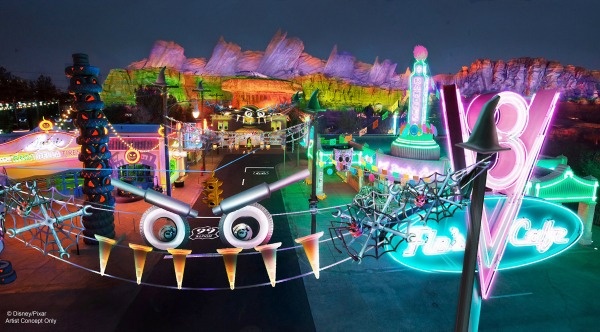 1.   Cars Land's Haul-O-Ween.   For the first time since its debut in 2012, Cars Land's Radiator Springs will fully transform into Radiator Screams, and will roar with a mechanically macabre theme all over town.   Favorite Cars  characters in Halloween gear will be ready to "trunk-or-treat," including super hero Lightning McQueen, van-pire Mater,  pirate Cruz Ramirez, clown Red and punk rocker DJ.   Scary the Scarecar will greet guests at the pathway to Route 66.    Luigi's Rollickin' Roadsters and Mater's Junkyard Jamboree will receive overlays with music and décor, becoming Luigi's Honkin' Haul-O-Ween and Mater's Graveyard JamBOOree, respectively.  Also in the spooky spirit will be Fillmore's Jack-Oil Lanterns, Flo's Spider-Car and Witchy Miss Lizzie's shop, among other residents of the town.
Ramone, one of the citizens of Cars Land, will observe Día de los Muertos with a full-sized Sugar Skull Car and a traditional "ofrenda" display honoring Doc Hudson.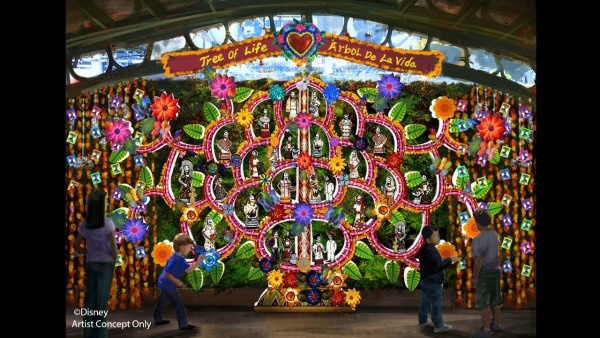 2.   Dia de los Muertos in California Adventure.   In addition to the aforementioned Dia de los Muertos tribute by Ramone in Cars Land, a new seasonal experience will include special entertainment, musicians, dancers and interactive activities — including a representation of Mexican folk art — as well as themed enhancements and food inspired by this celebration of family.   The festivities will feature special themed elements influenced by the Disney-Pixar animated film, Coco.   (Disneyland will continue to offer its traditional Dia de los Muertos skeleton display at Zocalo Park in Frontierland, through November 2nd.)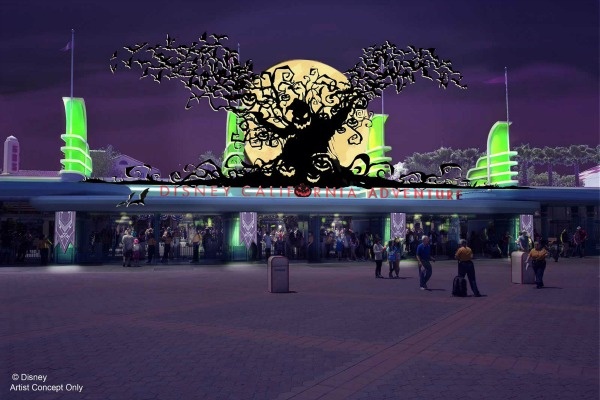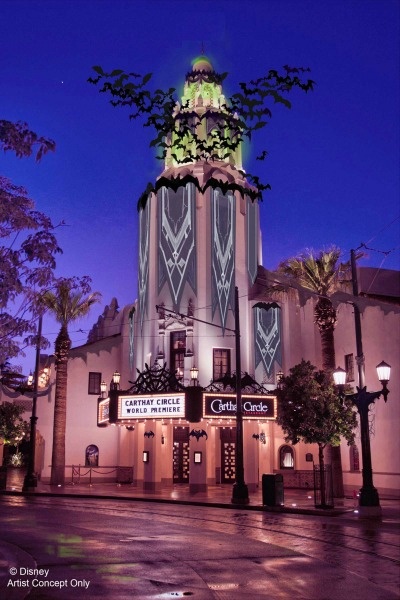 3.   Diabolical decorations.   Appearing for the first time at Disney California Adventure, Oogie Boogie's ominous silhouette — suspended in a state of forever Halloween — will hover above the main entrance to the park, bringing to life thousands of bats in the night sky, swarming around the Bell Tower of Carthay Circle Restaurant and Lounge.
4.    Buena Vista Street décor.   The Nightmare Before Christmas theme continues in the new decorations package along this busy boulevard.  A Headless Horseman statue will reportedly be stationed somewhere in the land as well.
5.  Mickey's Halloween Party-California Adventure pre-party mix-in.     While a version of the party was held in Disney California Adventure through 2009, this will be the first time the park is being included as part of the "pre-party mix-in" for Mickey's Halloween Party.   With a separate party ticket  guests will be able to visit Disney California Adventure (as well as Disneyland) during the three hours prior to the beginning of the party in Disneyland.    This will be a good option for those who wish to attend the party in Disneyland, but who still want some time to see the new Halloween decorations across the Esplanade.
Also new this year, admission to Mickey's Halloween Party will include complimentary Disney PhotoPass downloads.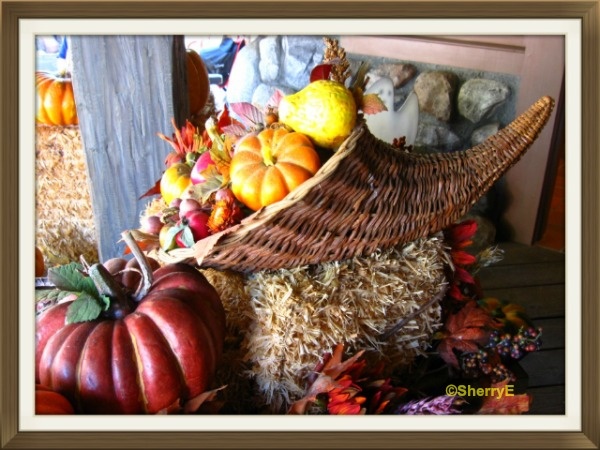 Returning in 2017!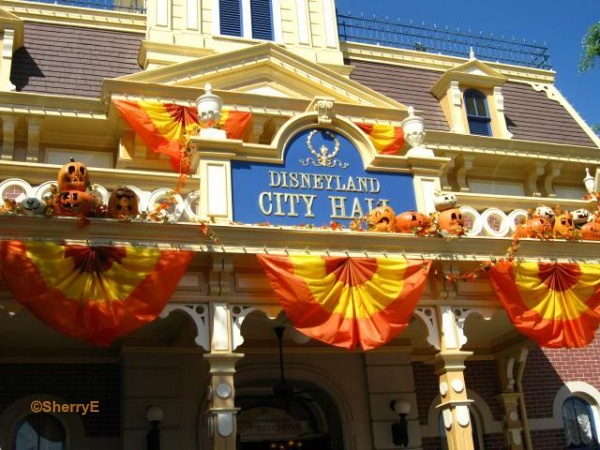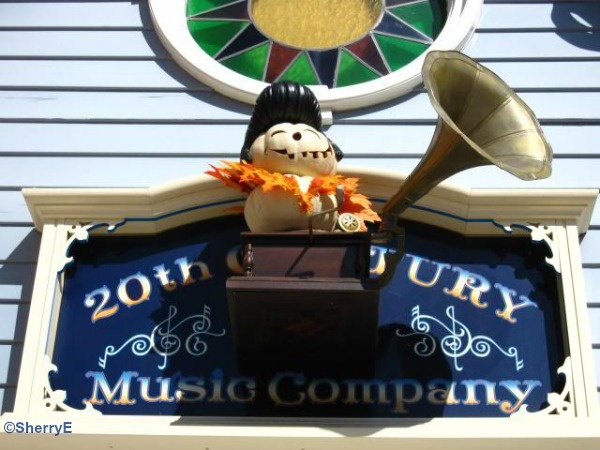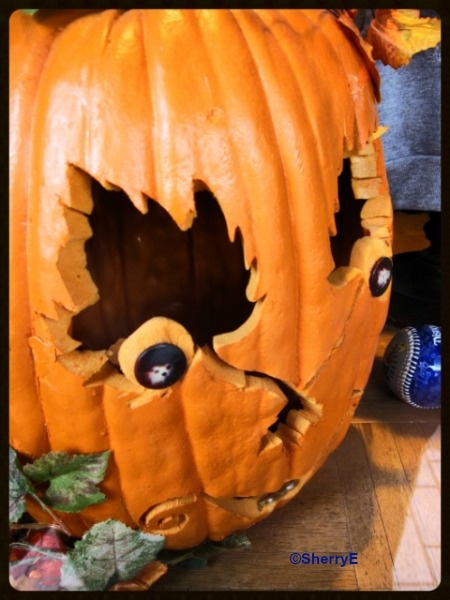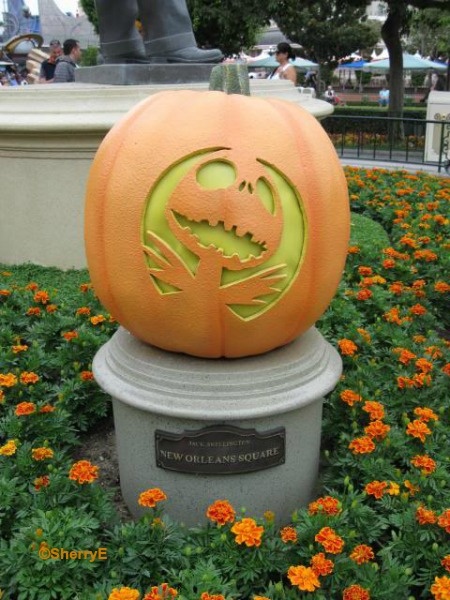 1.   Main Street Pumpkin Festival.     Over 300 pumpkins with individual personalities and unique faces sit in window displays, on balconies, over awnings and in various other creative places as part of the annual Pumpkin Festival.   Around the Hub at the end of Main Street you will see a series of Disney character pumpkins representing each land in Disneyland, surrounding the iconic Partners statue.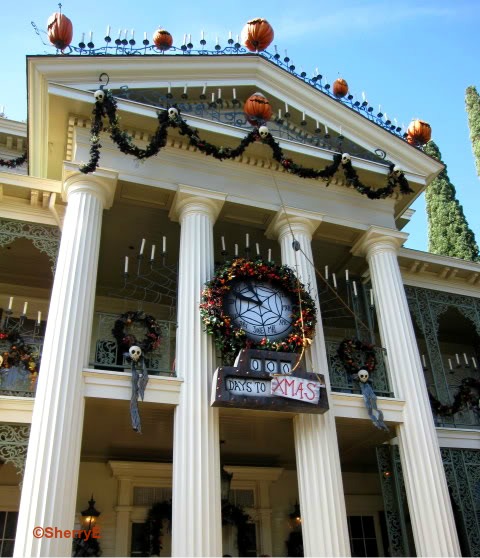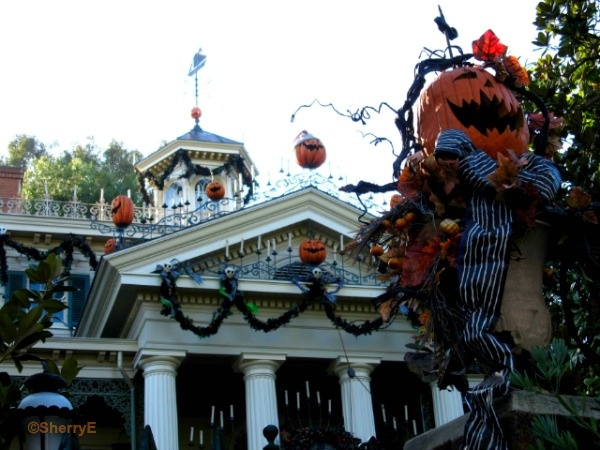 2.   Haunted Mansion Holiday.    Jack Skellington returns once again to take over the Haunted Mansion and infuse it with a bit of twisted Christmas cheer.   The annual Haunted Mansion Holiday gingerbread house has a completely new a new design each year, and this year it's the creepy Oogie Boogie in the form of a 7-foot-tall cookie on the table in the Mansion ballroom. He is peeling back the roof of a gingerbread Haunted Mansion, exposing gummy bugs and worms.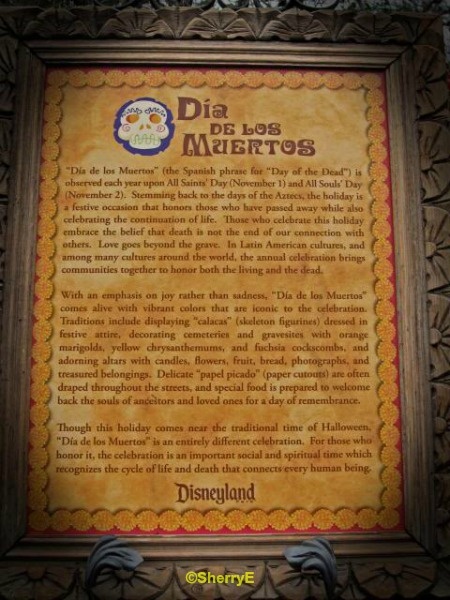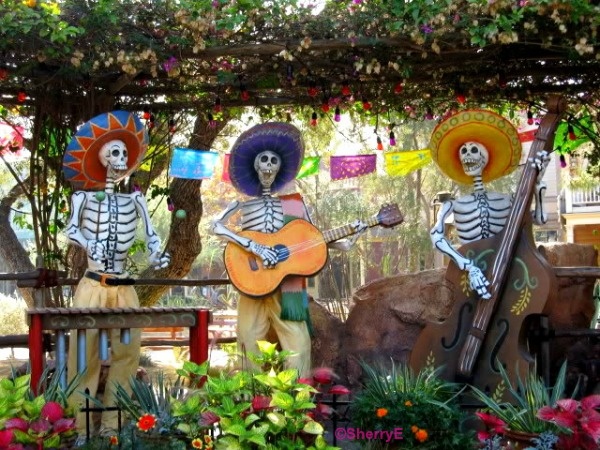 3.   Dia de los Muertos display in Disneyland.    Disneyland will continue to present this colorful skeleton display in Frontierland's Zocalo Park for the Halloween season, from September 15th through November 2nd.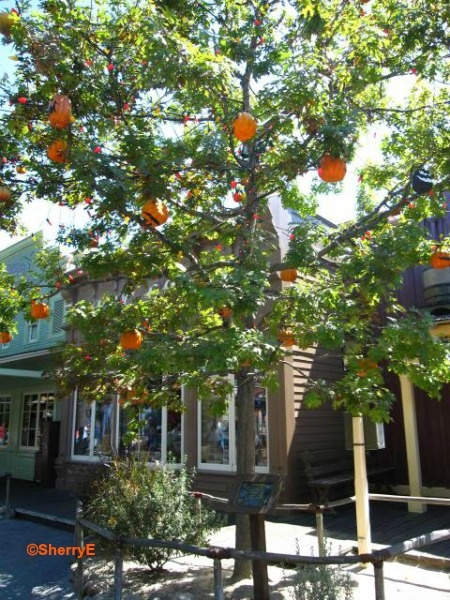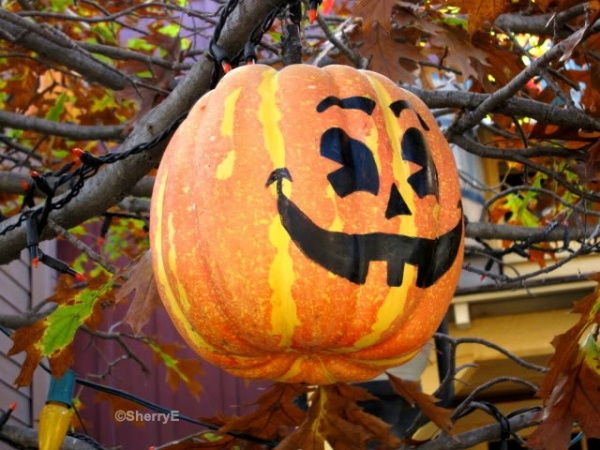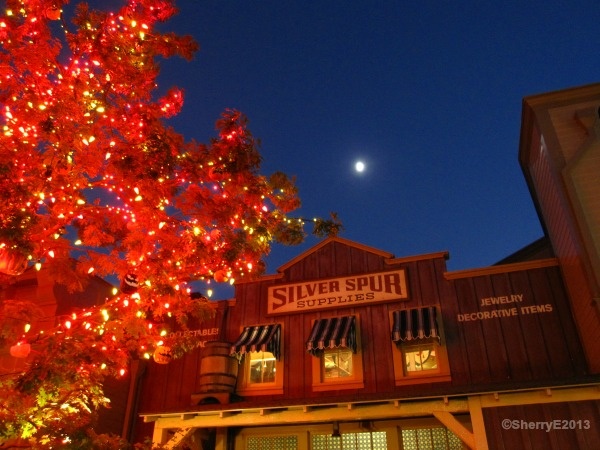 4.   Ray Bradbury Halloween Tree.     On Halloween night in 2007, a stately oak tree in Frontierland was dedicated to author Ray Bradbury, and inspired by his novel, The Halloween Tree.  Mr. Bradbury, who passed away in 2012, was a longtime Disney fan and Disneyland visitor, and he was in attendance at the ceremony.   The tree is rather unassuming in the daytime, though many hand-crafted pumpkins hang from the branches, but at night the tree comes alive and casts an eerie glow.
5.   Space Mountain Ghost Galaxy.    A reimagining of the popular thrill ride in Tomorrowland, Ghost Galaxy is back for another season of hurtling guests through space while dodging galactic ghouls.
6.   Happiest Haunts Tour.   Though, at the time of this publishing, not much is known about the 2017 version, it is expected that the Happiest Haunts Tour will return in some regard, despite reports in 2016 which indicated that it was not as worthwhile (and worth the cost) as it had been prior to that year.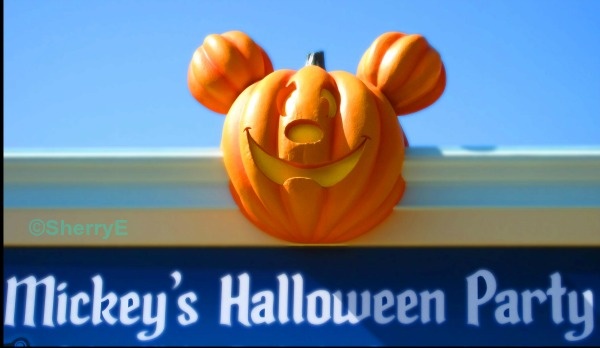 7.   Mickey's Halloween Party.    Arguably the cornerstone of the entire Halloween Time season, the lively Mickey's Halloween Party materializes for another year in Disneyland Park (rumors indicate that the party could possibly move back to California Adventure in 2018).  Costume-clad guests will be able to trick-or-treat throughout Disneyland for candy and healthy snacks.   Villains and infrequently seen characters, along with classic characters in themed attire, will pose for photos.    This hard ticket event offers viewing of the Halloween Screams fireworks spectacular, hosted by "Master of Scare-omonies" Jack Skellington, which is only shown during party hours.   Also exclusive to the party is the Frightfully Fun Parade, which debuted in 2016.    The Headless Horseman gallops through the darkness, heralding the arrival of the parade.  The Cadaver Dans entertain the crowd with a few spooky tunes.
Also returning this year is the event-within-the-event, the Mickey's Halloween Party Dinner Package at the Blue Bayou, which, for a fee separate from the cost of the party ticket, offers reserved viewing for the Frightfully Fun Parade and a 3-course prix fixe dinner.
For the first time in over 20 years, the Halloween Party is kicking off on a night other than a Friday.    Equally surprising is that this is the first time in recent years that the party will not begin exactly two weeks after the Halloween Time season has begun.
Mickey's Halloween Party starts on Wednesday, September 20th, covers 14 nights, and ends on Tuesday, October 31, 2017.   Most nights usually sell out, but they don't sell out right away.   Still, I would advise acting quickly if you plan to buy tickets.   These are the exact dates:
September: 20, 22, 25, 27, 29
October: 3, 6, 10, 13, 17, 20, 24, 27 and 31
For additional info on party tickets and the Blue Bayou Dinner Package, see this page and this page.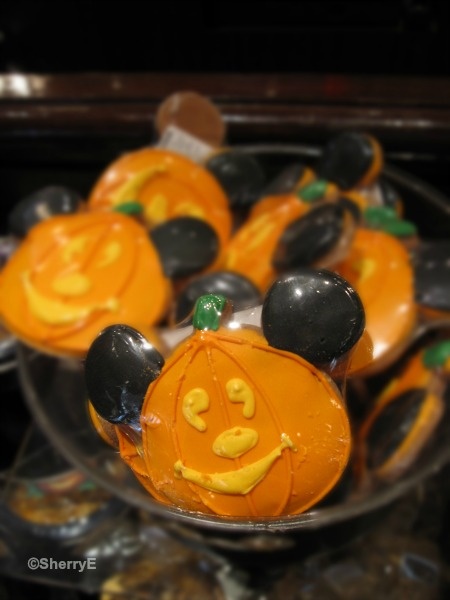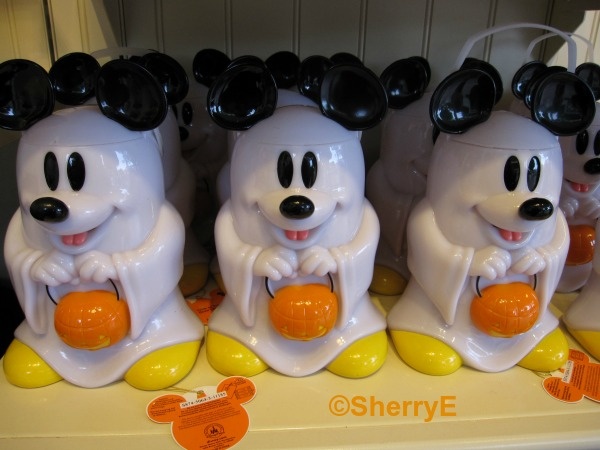 8.   Terrifying Treats and Monstrous Merchandise!   Without question, two of the most popular elements of any special seasonal celebration at Disneyland Resort are the themed foods, drinks and souvenirs.   All around both parks, all three resort hotels and in Downtown Disney, there are fall-inspired menus, snacks, beverages and collectibles to be found.   Whether you have a taste for a savory meal or a sweet treat, there is something for you.    Don't forget to stop in at Ghirardelli for a free Pumpkin Spice Caramel square, and then pick up a pumpkin-shaped loaf of bread at the Boudin Bakery Bread Cart in California Adventure.
Every Halloween Time season, there is a "hot" merchandise item in the parks.   It could be a Ghost Mickey popcorn bucket, or a Hitchhiking Ghost Tiki Mug, or a simple pin with a clever design.   Whatever it is, you can bet that it will fly off the shelves in the blink of an eye, so try to get it when you see it and don't wait too long.   I am a fan of the inexpensive, reusable tote bags that are sold in the parks.   They are very handy when trick-or-treating in Disneyland, as the candy is abundant and typically does not fit in the bags given out upon entrance to Mickey's Halloween Party.
9.   Halloween "Trick or Tea" at Steakhouse 55 in the Disneyland Hotel.     And speaking of Halloween food…. The menu for this afternoon tea includes:  mulled spice and apple pie tea blends; baby gem lettuce salad with green goddess dressing;  assorted scones and an array of finger sandwiches (cucumber and watercress, salmon gravlax, deviled cage-free egg salad or heirloom tomato and mozzarella).   There's a children's menu that includes hot apple cider and peanut butter and jelly, cucumber or ham and cheese "sand-witches"!   And, as expected, this event is not short on treats such as chocolate-covered strawberries, pumpkin Bundt cake and macarons.
10.   Grand Californian Hotel & Spa Halloween Display.    In 2015, following in the footsteps of the gingerbread creation in the lobby during the Holidays, a display called the "Halloween 'Tree-t'" — made of chocolate, crisped rice cereal, marshmallows, fondant and multiple hidden Mickeys — appeared in the lobby of the Grand Californian Hotel.   In 2016, the display was called a "Halloween Pump-'Cake' Patch" and consisted of the same ingredients, more or less.  Despite the somewhat cumbersome names of these masterful confections, it is important for at least one of the Disneyland Resort Hotels to finally get in on the Halloween Time action.   For years, Halloween Time seemed to be a fairly lopsided season, with most of the themed décor and events taking place in Disneyland Park and nowhere else.   These edible displays bring a bit of the season to the hotels, leading to a more immersive experience.  The concept of this year's lobby display is unknown, but I think it is safe to say that there will be another one.
11.   Halloween-Themed In-Room Celebrations.    Disney Floral & Gifts sells In-Room Celebrations, gift baskets and packages for every holiday, but what is included in them could change from year to year.    These are not budget-friendly items, but they bring a bit of Halloween to your hotel room.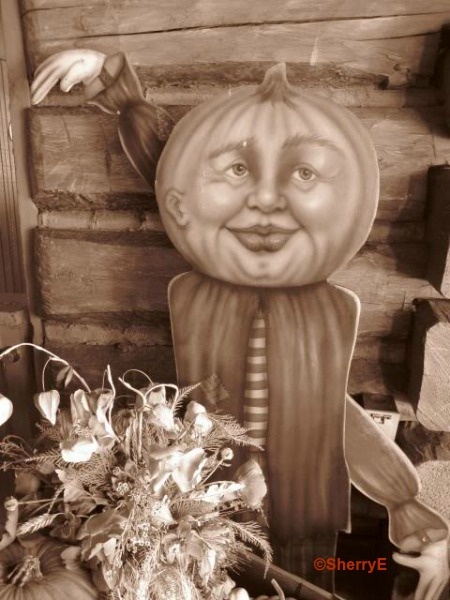 I have given you a fairly comprehensive overview of what is coming to the Disneyland Resort for Halloween Time this year, though I am pretty sure there will be some surprises for us too.   Fall might seem like it is far off in the distance, but it will be here very soon.  What are YOU most looking forward to this year?  What is your favorite thing about Halloween Time?
What are your favorite aspects of Halloween at the Disneyland Resort? Share them and why in the comments!
Did you like this article? Make sure to share it with your friends! Check below for easy ways to share!