This post may contains affiliate links for your convenience. If you make a purchase after clicking a link we may earn a small commission but it won't cost you a penny more! Read our full disclosure policy here.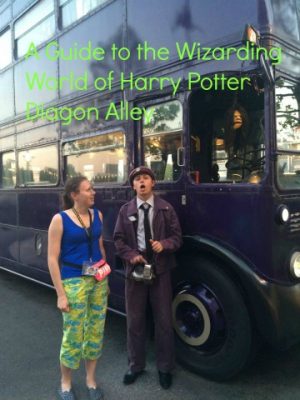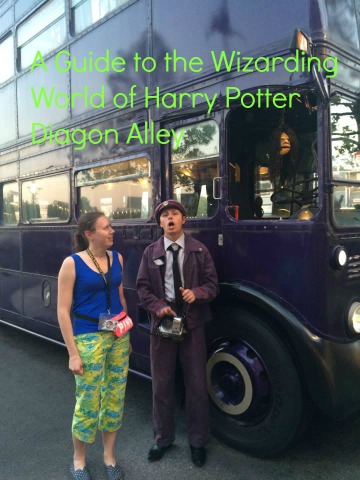 Last week, I wrote about what you could experience while visiting the Wizarding World of Harry Potter – Hogsmeade, but did you know that Universal Orlando has a unique second experience in the Wizarding World of Harry Potter – Diagon Alley located at Universal Studios Florida. Like in the books it is set in London and yes, it's hidden to the everyday passerby.
Before you actually enter Diagon Alley
Be sure to check out all the parts of London along the waterfront. This includes Sirius Black's place Grimmauld Place where you can see Kreacher peer out from the window. Stop and talk to the Knight Bus driver and shrunken head (as I did above) and notice that Kings Cross Station looks almost exactly like the real deal in London.
Rides in The Wizarding World of Harry Potter – Diagon Alley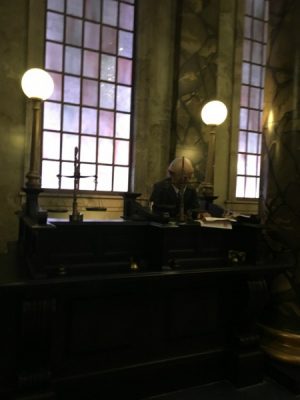 While Diagon Alley is full of detail, the only ride is in Gringotts Bank. Harry Potter and the Escape from Gringotts is a simulated roller coaster. It's a bit of a unique experience, because the coaster portion does not contain that many real world drops, but the screen and simulator elements make it a rather intense ride. Please be aware the ride does contain snakes and dragons (if those frighten you). Much like the rides at Hogsmeade, it is worth going through the queue even if you don't intend to ride.
Details not to miss in Diagon Alley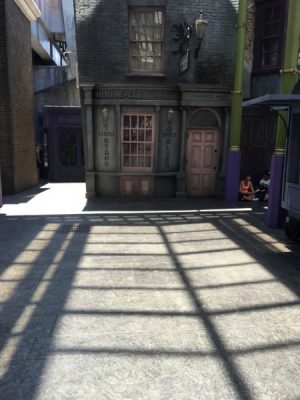 Even though there is only one ride, there are plenty of details not to miss. In no particular order, these include:
The dragon on top of Gringotts breathes fire.
You can use the money exchange to change your real world dollars to Wizard currency to use in the Wizarding World stores.
There is plenty of shopping including: Madame Malkins and Weasley's Wizard Wheezes.
Don't forget to go down the back alley that is Knockturn Alley. (Although the dark, "creepy" area may be frightening to some younger visitors).
Ollivanders is also available and often has less of a wait in Diagon Alley than Hogsmeade.
Dining options in Diagon Alley
The main dining option is the Leaky Cauldron. It is technically counter service, but operates similarly to Be Our Guest. Using an RFID candlestick the staff will deliver your order to your table. It serves both a breakfast menu and a lunch/dinner music. The Mouse for Less has the menu available to check before you go.
Florean Fortescue's Ice Cream receives rave reviews for it's creative flavors. (Due to allergies, I haven't tried it myself.)
There are also several unique snacks and drinks. Like Hogsmeade, due to the contract with J.K. Rowling "normal" theme park snacks like popcorn and Coca-cola are not available in the Wizarding World.
A closing note on the Wizarding World of Harry Potter
Diagon Alley like Hogsmeade makes you feel like you've stepped out of Florida into a different world. It's certainly a must do for any Harry Potter fan. If you want to take the Hogwarts Express and see both parts of the Wizarding World, you will need a park-to-park ticket.
Have you visited The Wizarding World of Harry Potter – Diagon Alley yet? What were some of your favorite aspects? Share them in the comments.
Did you like this article? Make sure to share it with your friends! Check below for easy ways to share!