This post may contains affiliate links for your convenience. If you make a purchase after clicking a link we may earn a small commission but it won't cost you a penny more! Read our full disclosure policy here.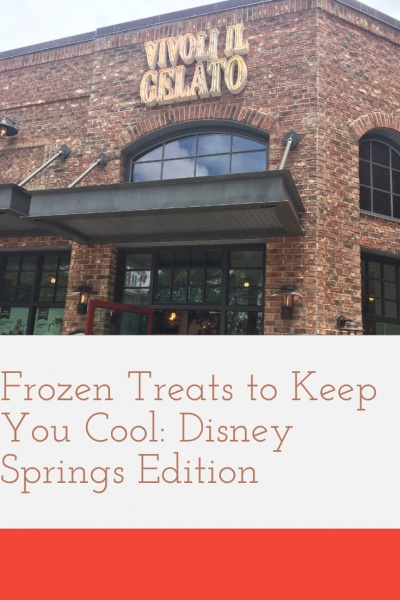 If you've been following along with my Frozen Treats series, you're probably aware of how much I enjoy a refreshing, frosty treat when it's hot and humid outside! Touring the parks is hard work in the summer, and my favorite way to keep my energy up is to enjoy something cool! I've taken you along on a journey throughout Walt Disney World, exploring ice creams, frozen beverages, and more, and today I'm going to show you a combination of the above at Disney Springs. Shopping and dining is serious business, and I'm bringing you my favorite ways to keep cool and maximize your time at The Springs!
Sprinkles Sundae, Sprinkles
I'm a huge cupcake fan; I live on the Upper East Side in NYC, and I'm surrounded by delicious cupcake options, Sprinkles being one of them. But like I've said about Ample Hills Creamery, some things just taste more magical when eaten at Walt Disney World!
While I'm a firm believer that you could close your eyes, point to something, and be thrilled with whatever you got at Sprinkles, I've got a special suggestion that you really should not miss (especially when it's 100 degrees out): the Sprinkles Sundae. Think of it like an ice cream sandwich, but way, way better.
Choose a cupcake flavor, choose an ice cream flavor, and let the server get to work. They'll split open the cupcake, add a scoop of ice cream in the middle, and send you on your way. At $7.95, I consider this to be a pretty good value, considering everything that you get!
Looking for something you can enjoy on the go? Try the Sprinkles Shake. One cupcake, 2 scoops of ice cream, blended into a milkshake so delicious you have to try it to understand. I could keep going here (did I mention Cap'n Crunch ice cream?!), but I'll leave you with this thought: you really cannot go wrong combining a cupcake and ice cream.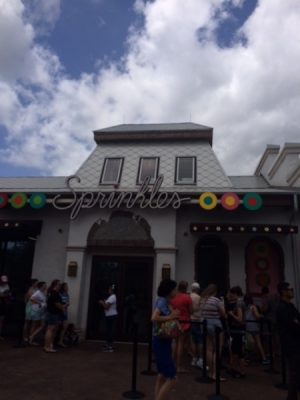 Adult Coca-Cola Float, Coca-Cola Store
You know I wouldn't recommend Coke products unless they were really special, right? I mean, we can grab a Coke just about anywhere throughout WDW! But the Coca-Cola Store in Disney Springs does everything bigger and better. Head to the rooftop beverage bar and be prepared to lose your mind. From soda flights to mocktails to adult beverages, this location has just about everything you could imagine and more.
My favorite option here? The Adult Coca-Cola Float. Made with Bacardi, Kahlua, vanilla ice cream, and of course, Coke, this treat is a refreshing, grown up take on the classic. For $15, this treat is on the higher end of price points, but it's a worthwhile splurge!
Not a drinker? You can absolutely get a classic Coke Float! And while you're there, trick a newbie into trying the Beverly.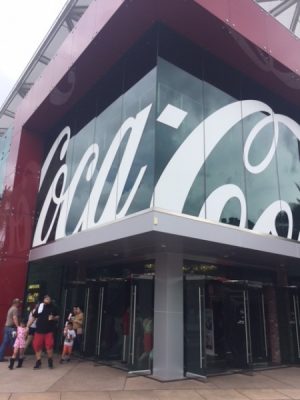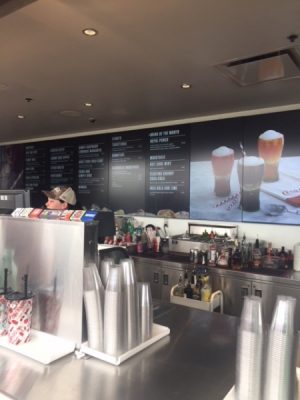 Quake Shake, Ghirardelli Soda Fountain
Head over to the Marketplace to find my next option: the Quake Shake at the Ghirardelli Soda Fountain. I'm a milkshake fanatic (as you'll see as my list goes on), and the concept of blending a chocolate bar into a shake makes me incredibly happy.
Choose your shake flavor, choose your chocolate flavor, and behold: blended goodness. I'm a chocolate shake with caramel bar girl, myself, but you can choose from caramel, strawberry, and mint chocolate bars. Beware, this is incredibly rich. I prefer to share a small (for $7.25) with my fiancé, unless I'm feeling really determined.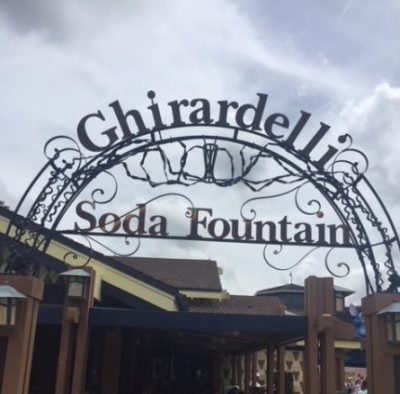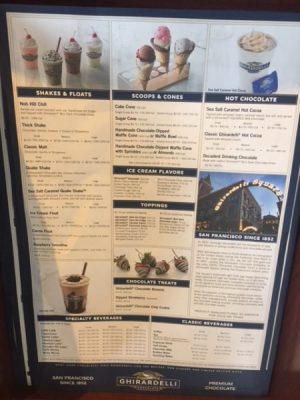 Snow, Florida Snow Company
As heavy as the Quake Shake was, the shave ice snow at the Florida Snow Company is light and refreshing. After a trip to Hawaii, I've become obsessed with all things shave ice. Light, fluffy snow (no chunks of ice here!) is enrobed in flavored syrup, simple as that! I like to add sweetened condensed milk to mine for an extra burst of flavor and sweetness. Available in quite a few flavors, such as pina colada, Coke float, and wild cherry, you'll be sure to find something you love. A small will run you $4.22 and a flower cup (like the ones in Hawaii!) will set you back $5.16.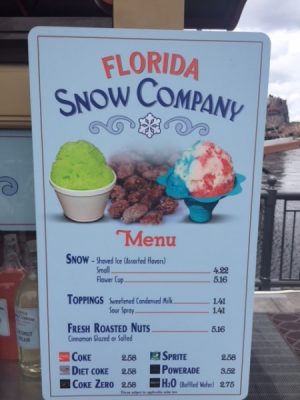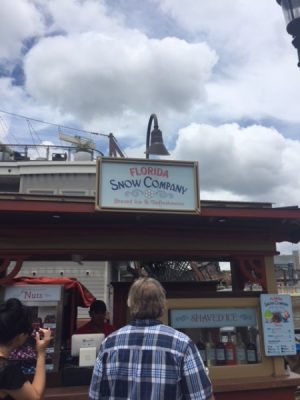 Banana Gelato, Vivoli Il Gelato
Who doesn't love gelato? I'm assuming you probably do, if you've made it this far through my list! This little spot in The Landing is a real treat.
A Florence-based gelato shop owned and operated by a family for 85 years decided to open a second location here in Disney Springs! Super sweet and creamy, you can't go wrong with whatever flavor you choose.
My pick here is the banana gelato! The small will run you $5, and you can choose up to two flavors! If you're looking for something a little fancier, go for the affogato: two scoops of your favorite flavors with a shot of espresso poured over top! Is this an acceptable way to take my coffee in the morning?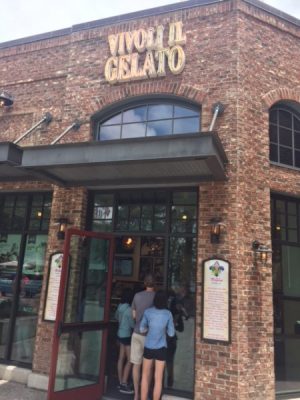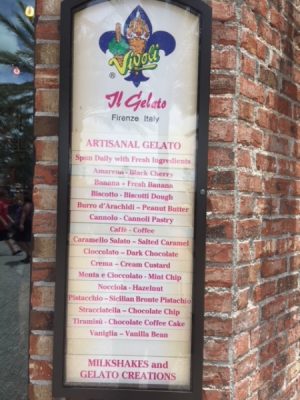 Cake Gelato Shake, D-Luxe Burger
Our last stop on this tour-de-treats is in the Town Center at D-Luxe Burger. Have I mentioned that I love shakes? Anyway, this one is a gem! Much like the Sprinkles Shake, the Cake Gelato Shake at D-Luxe Burger combines vanilla gelato, cupcake syrup, and milk, creating a sugary treat that you can't miss! Topped with whipped cream, rainbow sprinkles, and a cherry, I'd totally swap this out for a slice of birthday (or unbirthday!) cake any day!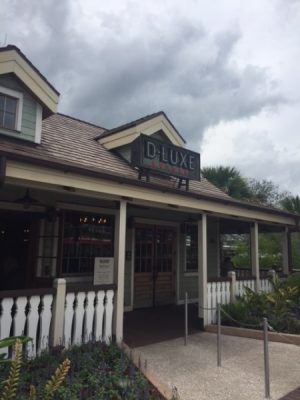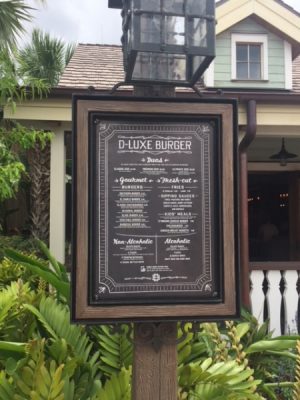 What are some of your favorite frozen treats at Disney Springs? Share in the comments, or on Facebook or Twitter.
Did you like this article? Make sure to share it with your friends! Check below for easy ways to share!