This post may contains affiliate links for your convenience. If you make a purchase after clicking a link we may earn a small commission but it won't cost you a penny more! Read our full disclosure policy here.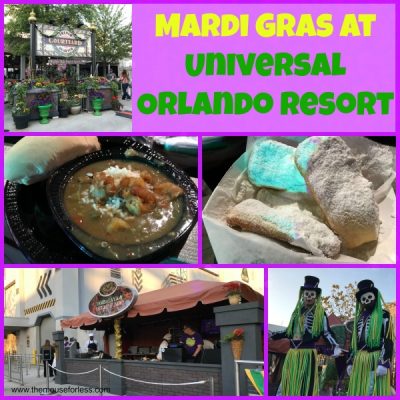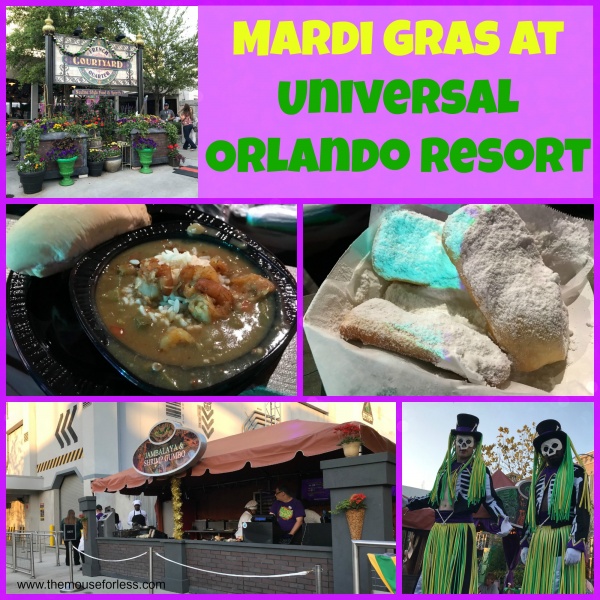 Every year, in either usually February or March, Universal Orlando Resort offers their fun-filled Mardi Gras event at Universal Studios Florida. There are big named concerts that light up the stage; fantastic entertainment, stilt-walkers, a wild parade, more beads than you can imagine, and yes, delicious New Orleans-style food.  Mardi Gras is a Universal Orlando tradition like no other.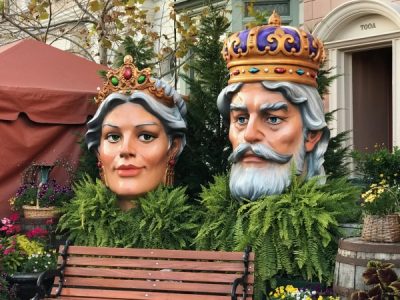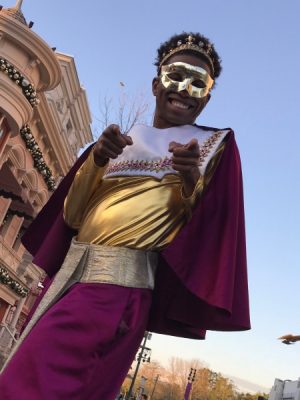 I recently attended the event for really the first time this year (I'd been in the park one time while it had been going on previously, but didn't really stop to enjoy the festivities). But this year, I was determined to see the event in all it's glory.
Mardi Gras is seriously so much fun! Before things really get going, you'll see stilt walkers who are out there to interact with you. They are happy to pose for a photo and well, get the party started.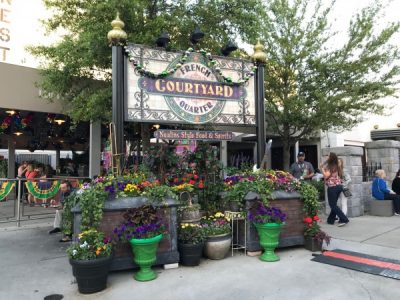 The festivities occur in the Mardi Gras Courtyard, which is a small side street located near the Music Plaza stage. Here, you find decorations, catch authentic bands, and find the food I had mentioned.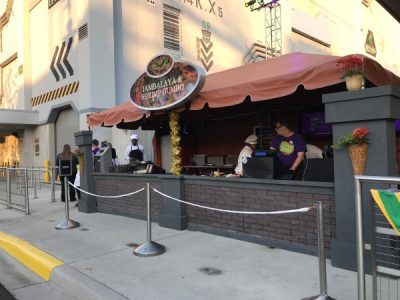 There are a few different food booths where Guests can stop to order some of the more savory dishes, as well as some of the sweeter options. And of course, if you are looking for beverages (because, let's face it, it is Mardi Gras), you can find those here too. The booths can get really busy, especially on the weekends, so make sure to get here early to grab your snack or your drink.
I wanted to get a good sampling of the dishes, so I opted to try both the gumbo and the beignets. I figured both would be representative of what Guests would expect to enjoy both in New Orleans, as well as at Universal's version.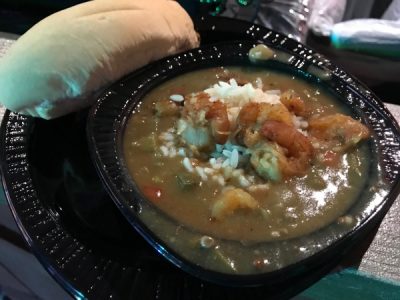 First, was the shrimp gumbo. It was served in a heaping bowl filled with veggies, broth, rice, and a good number of shrimp. It was quite delicious, with a little zing at the end. The gumbo itself was quite filling and due to its size, I couldn't eat all of it. The gumbo was also served with a nice, large, soft roll, perfect for sopping up any of the remaining broth.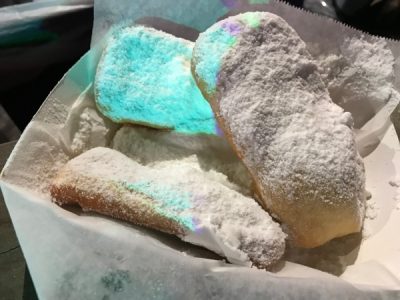 I also tried the beignets and I'm gonna be honest. This was my first time ever having a beignet and it was delicious. It was yeasty and light, like a pillowy doughnut. And it was covered in powdered sugar. There were quite a few beignets in the serving and these were easily sharable.
The last thing that's a major part of the Mardi Gras event is the parade. This is just a fun processional. The music is hopping, Guests get to be a part of it, and there are tons of beads thrown out! It is full of tons of great energy and makes you just smile the whole way through. Take a peek at a preview of what you can expect:
Oh…the best thing about Mardi Gras….the events, and I mean all of them, are included with your daily park admission.
Have you ever attended Mardi Gras at Universal Orlando Resort? What was your favorite part? Share your thoughts in the comments.
Did you like this article? Make sure to share it with your friends! Check below for easy ways to share!