This post may contains affiliate links for your convenience. If you make a purchase after clicking a link we may earn a small commission but it won't cost you a penny more! Read our full disclosure policy here.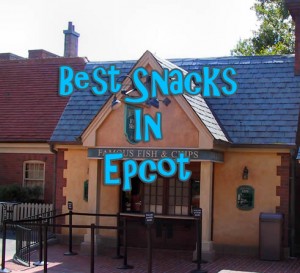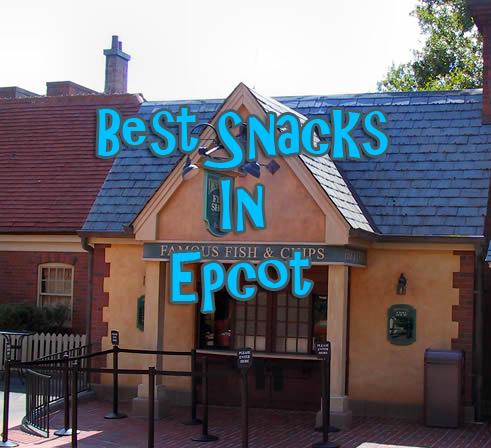 Epcot and snacks go together like peanut butter and jelly.  There's just something about trying different things from not only Future World, but the different countries around World Showcase.  It was honestly SUPER hard to condense this list down from at least something from every pavilion!  But, I powered through.
First things first, let's start in Future World.  There are so many great choices, especially in The Land Pavilion's Sunshine Seasons.  Located just a few steps away from Soarin, the quick service location has some amazing bakery items which may vary from time to time, but my pick:  The Strawberry Shortcake.  How can you go wrong with sweet shortcake, whipped cream and strawberries layered high?  I submit that you cannot.  It's almost always a good sized portion too.    I can taste the berries now!
Menu:  https://www.themouseforless.com/walt-disney-world/dining/menus/sunshine-season-menu/
Let's head to World Showcase, where we'll start with the Norway Pavilion.  Here you'll find a cult favorite in the Disney community, otherwise known as School Bread.  Found in the Kringla Bakeri this treat is really simple.  It's similar in look to a doughnut, but it is much different.  It's actually more of a sweet bread that is filled with vanilla custard and topped with sweet icing and delicious toasted coconut shavings.  It sounds like it would be overly sweet, but really it's not too bad.  Be sure, to grab a spot to eat this treat and while in the Norway Pavilion make sure ride Maelstrom and watch out for Trolls!
Menu:  https://www.themouseforless.com/walt-disney-world/dining/menus/kringla-og-bakery-menu/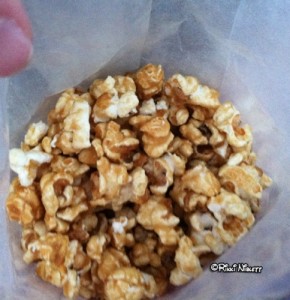 One of the newer locations in the Germany Pavilion is the Karamell-Kuche.  Here, they have some of the best treats on the planet.  Of course, given the name (if you speak German) you'll know that they serve up a lot caramel delights.  I think I could have just filled the whole list of stuff from here, but I decided that that wouldn't make for a very thorough list.  While I would strongly suggest just getting one of everything from here, the item that I think I love the most is their caramel popcorn.  It is made right here in the shop.  Matter of fact, you can watch them make it at certain times of the day.  It is buttery and caramelly and just yum.  I usually get a bag to eat there and a bag to take home.
Menu:  https://www.themouseforless.com/walt-disney-world/dining/menus/karamell-kuche-menu/
One of the more popular things to dine on, especially when hot out, comes from the next country…Japan.  Here, guests can dine on Kaki Gori.  In a nutshell, it's shaved ice with fruit flavoring…or just a fancy version of a snow cone, but it's oh so good.  Found at the Kabuki Cafe, a small stand on the main World Showcase pathway, there  are typically four different flavors that are offered.  They are Strawberry, Melon, Cherry, Tangerine, OR if feeling adventurous, get the Rainbow, which is all four.  For an extra dollar, add the sweet milk on top, which makes it even better.  If you're looking for something a bit more substantial, this location also sells a number of different sushi rolls.
Menu:  https://www.themouseforless.com/walt-disney-world/dining/menus/kabuki-cafe-menu/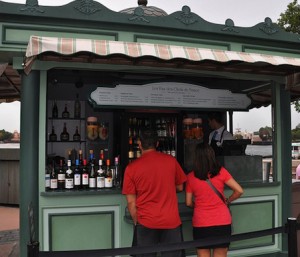 Next, we are going to the France pavilion.  Here you'll find a ton of different snack options!  Especially with the new addition of both the Gelato stand and the Bakery expansion.  However, we're going for something a little more adult.  The Grand Marnier Orange Slush can be found at the Les Vins des Chefs de France.  This is an extra fine slushies with a good amount of alcohol.  They are a combination of fruity, tart, and sweet all in one.
Menu:  https://www.themouseforless.com/walt-disney-world/dining/menus/les-vins-des-chefs-de-france-menu/
Finally, we are going to head over to the UK…where you can stop off at the Yorkshire County Fish and Chips window.  Here, you'll be able to order the delicious namesake, fish and chips.  It is two wonderful pieces of battered fish and just the right size french fries.  (You know…not too big, not too small.)  Add some vinegar or ketchup to dip them in and it is oh so good.  Be prepared to stand in line, but trust me, it's worth it.
Menu:  https://www.themouseforless.com/walt-disney-world/dining/menus/yorkshire-county-fish-shop-menu/
This list, more than any of the others will certainly have some who think I left something off. So, if I missed your favorite, make sure to let me know in the comments…ok?