This post may contains affiliate links for your convenience. If you make a purchase after clicking a link we may earn a small commission but it won't cost you a penny more! Read our full disclosure policy here.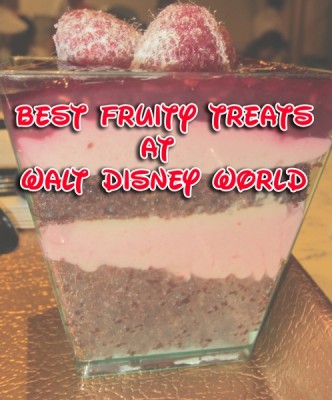 Yay!!!  It's officially Spring!  With Spring brings my love of eating more fresh veggies and fruits. So, I thought I'd take a look at some of the places where if you've got a hankering for fruit, you can pick up something delicious on your next vacation.  (It can't always be chocolate on top of chocolate…or so my doctor says.)
I'll fully admit, some (ok, probably most) won't actually be all that healthy.  But if you're looking for something with a bit of a fruity flavor to it to nosh on, look no further than this article! Let's dig in!
I mean, I don't think there's any doubt that the first mention of this list would be the Dole Whip.  The perfect blend of pineapple goodness.  It's cold, it's fruity, it's tart, it's sweet.  It's everything you could ever want in a fruit lovers treat.  Choose the float option, for more yumminess, as it's Dole Whip mixed with pineapple juice.  You can also choose to pick up a pineapple spear here, but I mean…why?  Dole Whips are where it's at!  If you want to pick up a Dole Whip, you'll be able to do so at Aloha Isle at the Magic Kingdom.  Captain Cook's is going down for a refurb at the end of the month…but they say that Dole Whips should be coming back when it reopens.
Aloha Isle Menu:  https://www.themouseforless.com/walt-disney-world/dining/menus/aloha-isle-menu/
Speaking of frozen treats that you can pick up at the Magic Kingdom, my next offering is the Citrus Swirl.  Many have delighted in the return of this beloved treat that can be found at Sunshine Tree Terrace in Adventureland.  It's orange slush swirled with vanilla soft serve.  It's like a creamsicle. It's a wonderful combination when paired together.  You can't get much better than this.
Sunshine Tree Terrace Menu:  https://www.themouseforless.com/walt-disney-world/dining/menus/sunshine-tree-terrace-menu/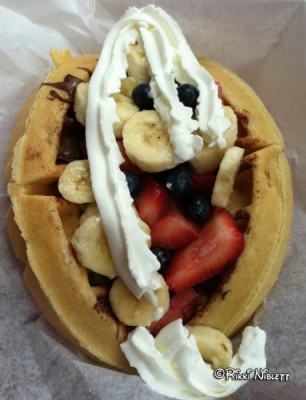 Staying in the Magic Kingdom, one of my absolute favorite treats that can double as an awesome meal (depending on the time of day) is the Nutella and Fresh Fruit Waffle Sandwich.  It is just awesome.  You start with the incredibleness that is Nutella and then combine it with bananas, blueberries, and strawberries.  Holy wow!  I'm getting hungry just thinking about it.  Pick up this bad boy at Sleep Hollow Refreshments found in Liberty Square. (PS:  they also serve up two other awesome waffle sandwiches-the Sweet and Spicy Chicken and the Ham, Prosciutto, and Swiss.
Sleepy Hollow Refreshments Menu:  https://www.themouseforless.com/walt-disney-world/dining/menus/sleepy-hollow-menu/
Are you actually in the mood for a slice of fruit?  Look no further than the fruit stands that can be found throughout Walt Disney World.  Of course the one that pops in my mind is the one on Sunset Blvd. at Disney's Hollywood Studios…Anaheim Produce.  They sell a ton of fresh fruits like apples, oranges, fruit cups, etc. They also sell a ton of other healthy items like energy bars and hummus.
Anaheim Produce Menu:  https://www.themouseforless.com/walt-disney-world/dining/menus/anaheim-produce-menu/
If you're in Epcot, you have two choices that popped right into my head.  The first is the new France bakery – Boulangerie Pâtisserie Les Halles.  Here, they have a lot of treats with fruit included, but if you're looking for something specific, look no further than the Parfait Aux Fruits. This dish is yogurt mousse with mixed berries, like strawberries and blueberries.  Another really great treat is the Framboise- raspberry mousse cake.  My friend tried this last year and loved it.  Other fruity snacks include:the Macaron – with raspberry and lime cream, the Chaussons Aux Pommes – apple turnover or the Cannelle – a cinnamon & orange roll.  Of course, if you choose any treat from here, you cannot go wrong.  They are all pretty darn delicious.
Boulangerie Menu:  https://www.themouseforless.com/walt-disney-world/dining/menus/boulangeriepatisserie-menu/
The other option that popped into my head was the Strawberry Shortcake that can be found in the Bakery section of Sunshine Seasons.  It's a layer cake filled with strawberries and creamy whipped cream. It's a happy treat! Of course, they have things like blueberry muffins, apple danishes, banana nut loaf, key lime tarts, and well, much, much more.
Sunshine Seasons Menu: https://www.themouseforless.com/walt-disney-world/dining/menus/sunshine-season-menu/
Over at Disney's Hollywood Studios, you may pass right by this next location, but you'd be missing out on a great hidden gem!  Sure, Starring Rolls is famous for their cupcakes (hello Butterfinger cupcake with your massive icing pile), but they also have a great Fresh Fruit Tart that's filled with strawberries, kiwis, raspberries, blueberries, etc.  It's a great taste of many different fruits!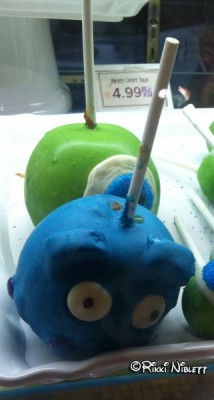 Many of the snack shops offer a delightful amount of fruit treats!  First, we start with the caramel apples.  I told you not everything on this list would be all that healthy and this is certainly proof of that!  The caramel are beautiful works of art…some more coating than apple, it seems.  But technically it's got fruit!  Anther option are the chocolate dipped fruit skewers.  There's the option to pick one with pineapple, or strawberries, or just fruit.  Of course, if you don't want them dipped in chocolate (but what fun is that?) there is the option to get them without being dipped.  There are three places for sure where you can pick up these items.  One is Main Street Confectionery in the Magic Kingdom.  Also in the Magic Kingdom is Big Top Treats in Storybook Circus.  The other is Sweet Spells at Disney's Hollywood Studios.
Big Top Treats:  https://www.themouseforless.com/walt-disney-world/dining/menus/big-top-treats-menu/
Main Street Confectionery: https://www.themouseforless.com/walt-disney-world/dining/menus/main-street-confectionery-menu/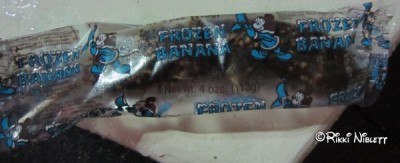 Another treat found in all the parks is the frozen banana.  You can pick up this delightful treat at any of the carts that sell Mickey Bars.  These are covered in chocolate and peanuts.  They are of course, less caloric to eat than the Mickey Bar, and they are a pretty darn good treat.  So easy to eat while on the go.  Sometimes I have cravings for just these!
Well, that's gonna do it for this installment of best places to find fruity treats.  I know there are a TON more that I could have listed…and that's where you come in.  Leave a note for me in the comments and let me know your favorite fruity treat!