This post may contains affiliate links for your convenience. If you make a purchase after clicking a link we may earn a small commission but it won't cost you a penny more! Read our full disclosure policy here.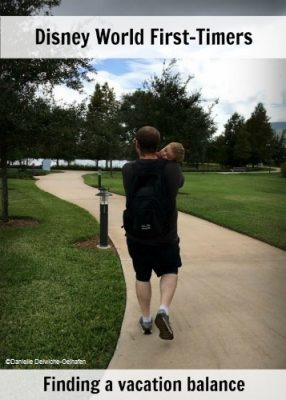 Are you a Disney World first-timer?  I was over the moon when it came time to plan our first Disney vacation.  It was going to be a three-generation trip in the Fall of 2016.  I wanted to be sure that everyone would have the trip of a lifetime!  I threw myself into learning everything I could to plan the perfect Disney vacation.
Blinded with the dreams of everything our vacation could be, I made one of the cardinal Disney planning mistakes.
I swore up and down that we would do it right – have naptime built into the day, go to bed early, and make sure we had an afternoon off.  Our toddler wouldn't get overtired… my husband and parents wouldn't have sore feet… we would all feel satisfied and relaxed at the end of the trip.  Right?
I was oh-so-wrong.
But with every failure comes a lesson or three.  I'm glad to say I have takeaways to make our next vacation a little more balanced.  And the lessons I learned from there will make the next one even better.  All that said – I hope you can learn from my mistakes!
Give Yourself Extra Time
It's cliché to say to plan around your usual schedule when you travel with kids (but oh man is it true!).  We knew that our little guy did better in the mornings and would need a nap time.  We did our best to keep mealtimes and nap time regular.  I even remembered to plan travel time back to the hotel for naps.  What we didn't account for?  Transition time – and toddlers need transition time!
While we as adults may be able to jump off the bus and pass out instantly for an afternoon siesta, that is not the case for most toddlers.  A Disney trip is filled with new experiences and different surroundings.  We have one of the most chill 2-year-olds I have ever met – but I knew better than to think he'd sleep in his stroller with all the excitement going on around him.  Why did I think he'd be able to settle in for a nap instantly after so much morning excitement?  He needed time to slow down, get comfortable, and realize he was tired.
Lesson learned?  Just plan the extra half hour and use what works at home when it's time to slow down.  And don't plan a dinner reservation so close to nap time that you have to wake the little one up!  Do NOT wake the little one up!!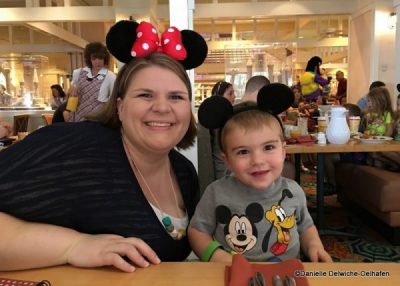 Our well-rested toddler enjoyed his first character meal experience.
Stop Filling the Empty Space
There is so much to do at Disney World!  We've all heard that there's no way you can fit it all in.  And yet – when we are in the depths of planning, drunk on the idea of Disney magic – we want to fill in every little gap.
Our trip will be during Mickey's Not So Scary Halloween Party?  We should totally go!
runDisney Wine & Dine is that weekend?  We can fit the expo in on our afternoon off!!
I can get a Frozen Ever After FastPass?  Make it happen!!!
Now don't get me wrong, I do not regret doing any of these things…  My first runDisney event is an amazing highlight of the trip and the year!  What I do regret is adding, adding, and adding some more.  (And yes, I think this is largely why my husband is reluctant to return.)
Lesson learned?  It's been said before and it will be said again – you cannot see and do everything in one (or five) trips to Disney World.  Please don't make yourself crazy trying to.  And yes, you need the "down day."  Whether you spend your time at the pool, playing mini golf, or exploring Disney Springs – the "down day" is relaxing and rejuvenating for the whole family!  This is why you took the vacation, isn't it?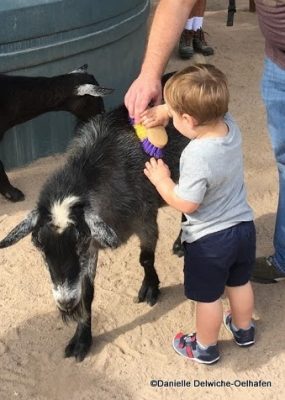 Rafiki's Planet Watch in Animal Kingdom is a great interactive experience for toddlers!
Savor the Little Moments
I absolutely dreamed of seeing my little guy's eyes light up when we arrived at Magic Kingdom.  I had this vision of walking down Main Street – Starbucks in hand – watching him just soak in the magic.  I'm pretty sure that did happen at some point in the trip, but it got lost in the shuffle.
What did turn out to be the best memory?  It was leaving the first character meal.  Not meeting the characters for the first time, or seeing the castle, or even riding a first ride.  It was walking out of the first character meal…  We walked past Minnie and little guy looked up, eyes twinkling, and said "Kiss?"  Oh, holy heart melt!  (And yes, Minnie gave him a little kiss – and he kissed Minnie on the nose…  I'm having all the feelings just writing it!)
Lesson learned?  The best memories turned out to be the unexpected.  For a Type A, obsessive, planning fanatic like myself that can be a hard lesson to learn.  But the things that our little one loved the most are things I hadn't planned on – like riding the carousel five times in a row because there was no line, brushing the goats at Rafiki's Planet Watch, and playing at the Laughin' Place playground outside of Splash Mountain.
You can always reschedule the next FastPass, but you can't recreate that moment of pure joy.  Sometimes that just happens.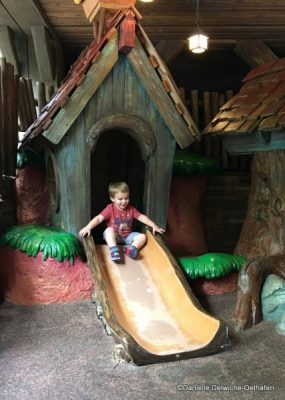 The Laughin' Place outside of Splash Mountain is a treat for toddlers on the move!
What are some of your suggestions for finding balance during your Walt Disney World vacation, especially for a Disney World First-Timer? Share your tips in the comments!
Did you like this article? Make sure to share it with your friends! Check below for easy ways to share!