This post may contains affiliate links for your convenience. If you make a purchase after clicking a link we may earn a small commission but it won't cost you a penny more! Read our full disclosure policy here.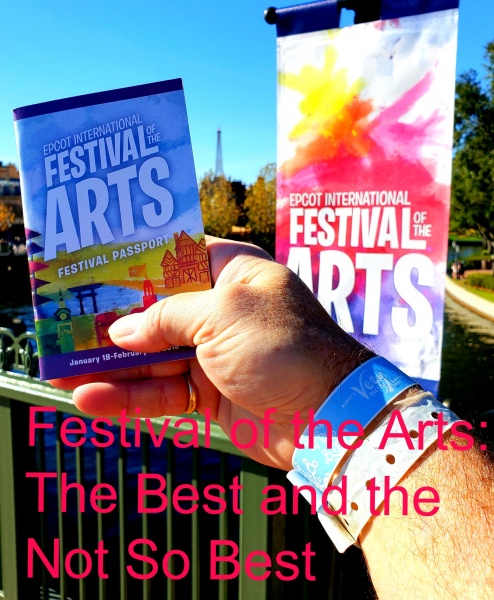 I had a tough start to my journey to the opening day of Epcot International Festival of the Arts. We had a more than three hour delay on my departure. Good news, the beer was cheap at my little rinky dink airport in Belleville. Bad news, I learned EVERYTHING I ever wanted to know and more about a nice old dude from Quincy.  But our equipment eventually showed up, and I finally made it to my refurbed room at Coronado Springs.
That resort is quickly becoming one of my favorites. The new rooms are spectacular. Tons of counter space, modern vanities, hard surface floors, under-bed storage and a GLORIOUS shower. I am also looking forward to the new tapas restaurant, Toledo, set to open there on July 9th. With this, Capa, and the upcoming Jaleo from world class Chef Jose' Andres, the Spanish cuisine scene at WDW is going to be top-notch. Also onsite is Maya Grill, the best Mexican food on property in my opinion. I can't say enough about this resort.
So, on to the Epcot International Festival of the Arts. I have been coming to opening day here since its inception in 2017. Of the two newer festivals (Festival of the Holidays), this one seems to be more successful. One reason that the Epcot International Festival of the Arts is more successful is that there are a few more food options, which helps. Add in all of the fantastic art on display, and the additional live entertainment, and I think this is why Festival of the Arts is more desirable.
I began my Epcot International Festival of the Arts day at 11:00 a.m. in France. My partner queued up at the rope approaching Morocco, and high-tailed it there as soon as it dropped. We played leap frog all the way around World Showcase. Next up were the five kitchens on The Promenade, then on to the Odyssey Center for our final stop.
Are you ready?
L'ART DU CUISINE (France)
Crème de Brie en Petit Pain…Customized bread bowl is adorable. The warm melty brie under the lid is salty and dipable. Tiny, but nice.
Dariole de Saumon a la Provencal…This is a very risky dish, that was pulled off in fine fashion. The mousse-like salmon terrine was rich, yet light. Zucchini and tomato garnish cut nicely. Well prepared.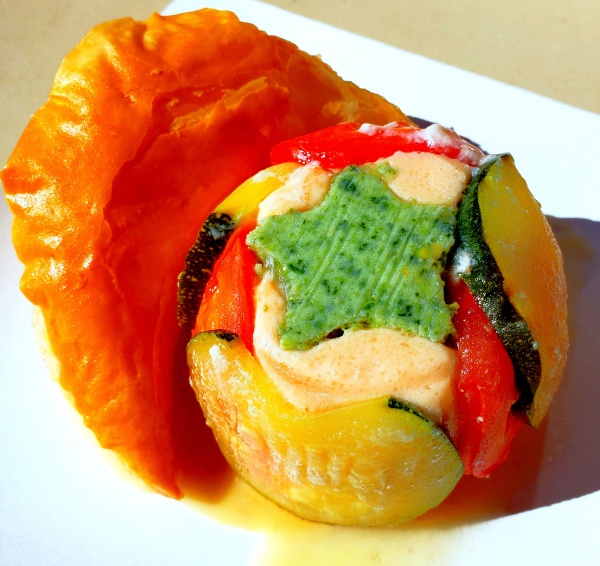 MOSAIC CANTEEN (Morocco)
Spiced Beef…Trifle-like layered cup of delicious hummus and spicy ground beef. The dried cherries are tart, and a nice textural curveball. Crispy pita for dipping and sharing. Yes.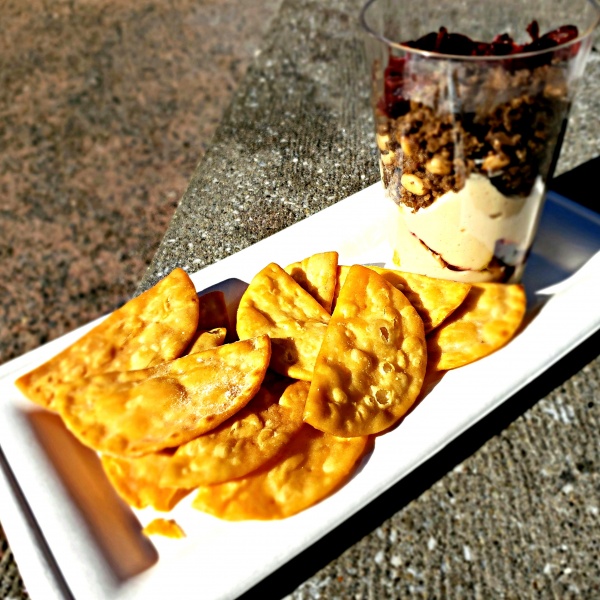 Mediterranean Flatbread…Served on the same bread that was the base for the Lamb Kefta at the last festival, which was a big hit. Briney olives, tender artichokes and salty feta made this pie a flavor bomb. Recommend.
TAKUMI TABLE (Japan)
Sushi Donut…Donut shaped perfectly executed sushi rice. The 'donut' is garnished with nigiri style tuns, salmon and shrimp. Super fresh and wildly creative. Love it!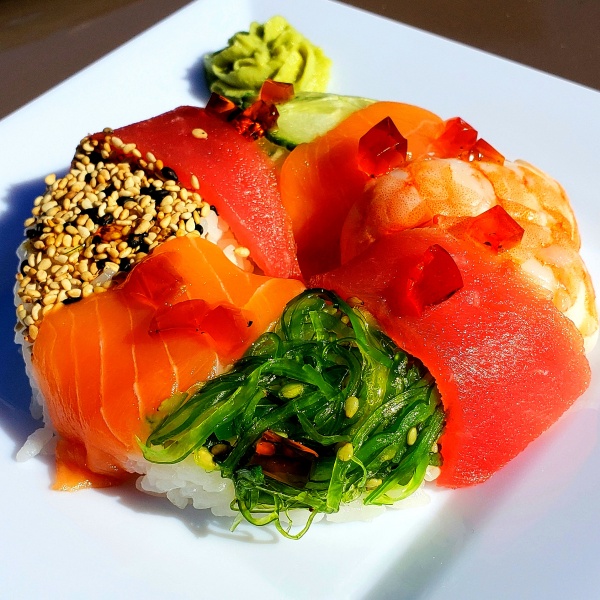 ARTIST'S TABLE (American Adventure)
Beef Wellington…Tender(ish) braised chuck wrapped and baked in a serviceable puff pastry crust. Very basic, very boring. Pass.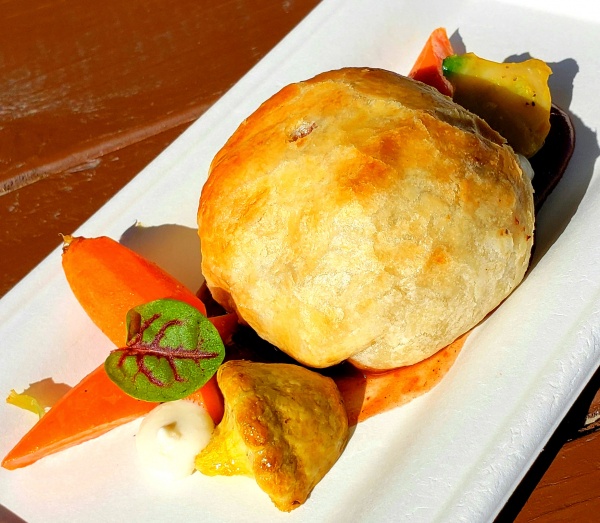 Pan-seared Scallop…Decent sized and gently seared. Chunky chorizo and roasted pepper coulis made for a killer set. Pretty good.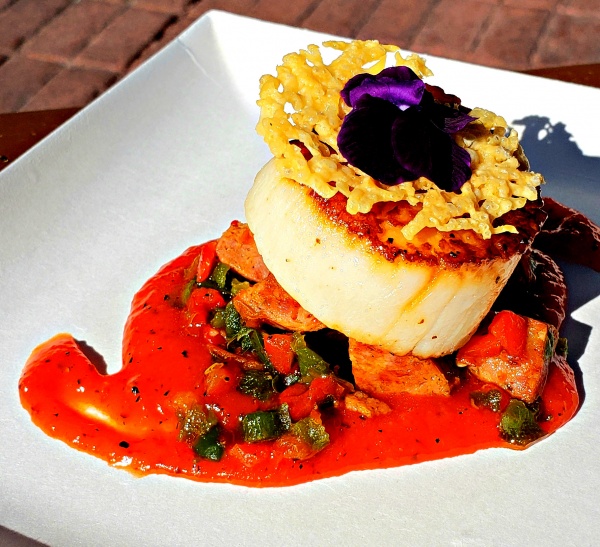 L'ART DI MANGIARE (Italy)
Barbabietole Dolce, Caprino Fritto…Variegated baby beets were perfectly roasted and earthy, with a slightly sweet glaze. Goat cheese fritters were feather-light and creamy. A very simple, but elegant dish. Winner.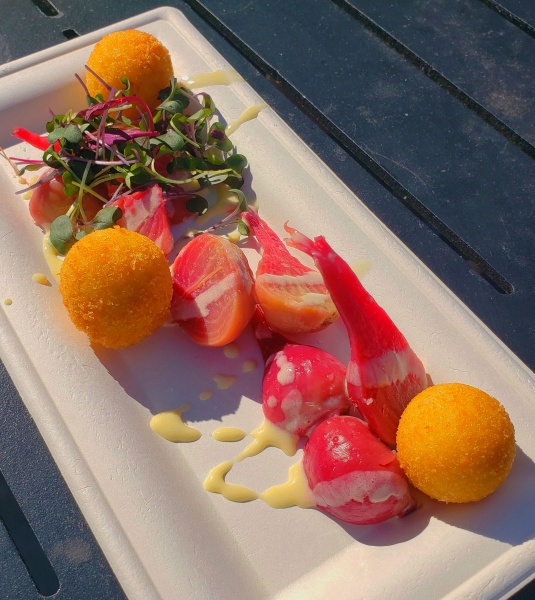 Constine di Maiale Aceto Balsamico…Maybe my best in show. Wait. What? This is Italy! St. Louis ribs were roasted to the right amount of tug. Sweet and tart balsamic glaze was messy for all the right reasons. Skinny and uber-crisp sweet potato fries could have been served on their own. Way to go Italy!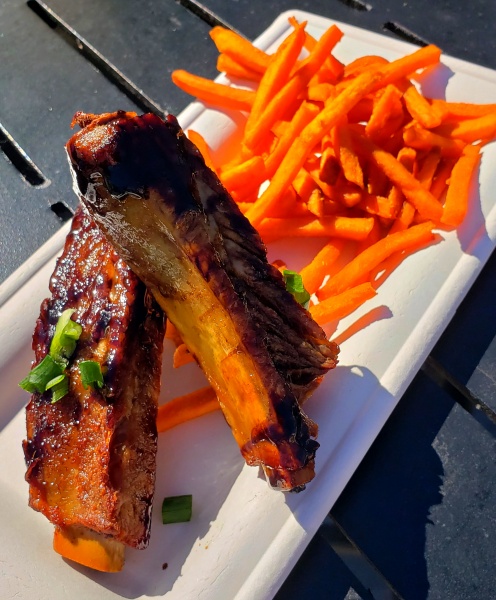 CUISINE CLASSIQUE (Germany)
Red Wine Braised Beef Short Rib…Two nice sized hunks of rib were well braised. Red wine reduction was classically prepared. The grape tomatoes were a smart garnish, adding an acidic punch. This probably belongs in France, but it was excellent nonetheless.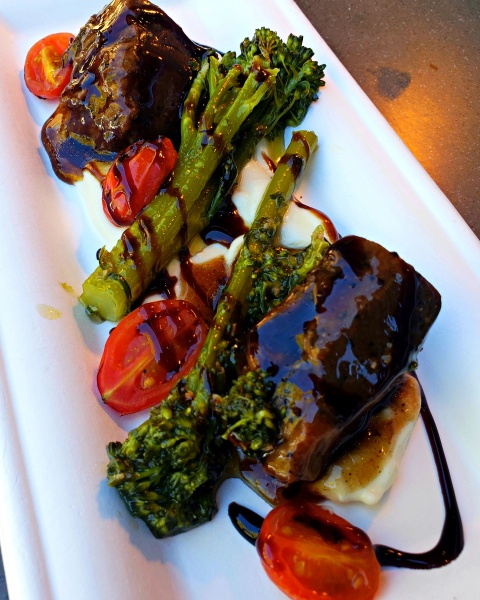 Seared Corvina…Seared Corvina. One of my favorite fishes. This version was just ok. Good sized portion, but the seasoning was a little flat. Ratatouille was a hit. Buerre blanc needed salt as well. Fish lovers will enjoy this.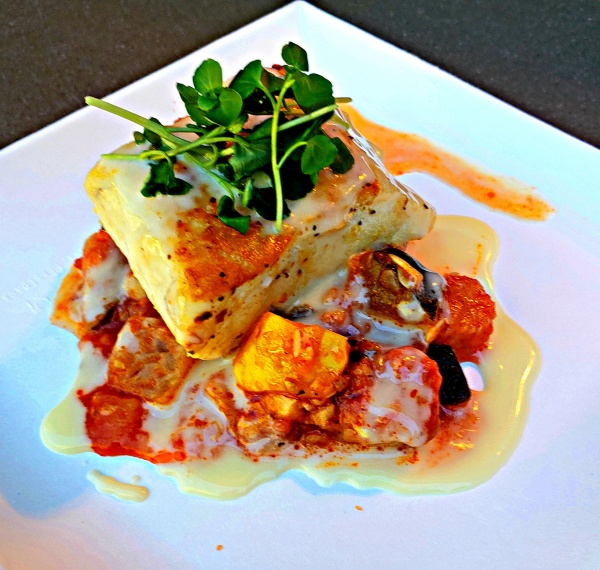 REFRESHMENT OUTPOST
Chilled Shrimp with Quinoa…Very refreshing, if not a little bland. Quinoa was al dente and the spiced yogurt tied it all together. Nothing special, but not a bad heat buster.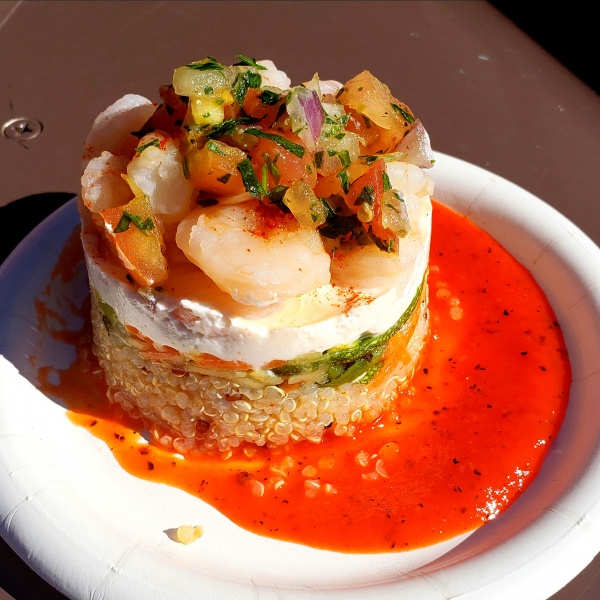 PAINTED PANDA (China)
Dragon and Phoenix…Spicy sautéed shrimp(2) were paired with a spinach fettuccine. Whaaa?? Maybe the strangest thing have seen from China. Just terrible, and 11 bucks!! Please don't.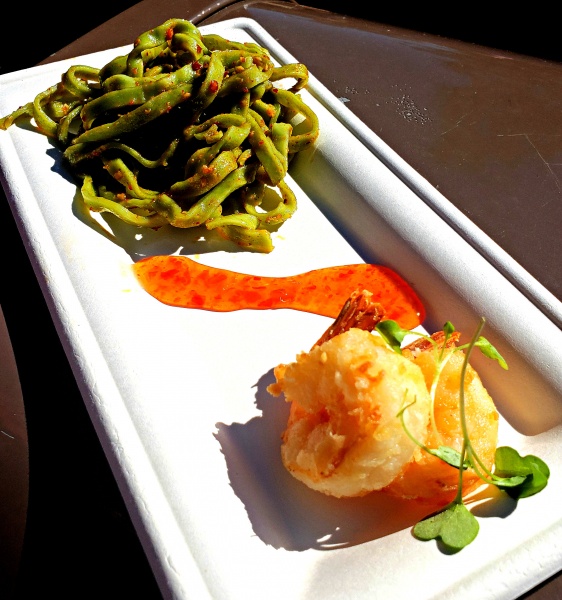 EL ARTISTA HAMBRIENTO (Mexico)
Capello de Hacha…More scallops. These were ok. Ginger habanero sauce had an almost Asian heat kick. Yucca puree was the best part of the dish. Just ok.
Sopes de Chilorio…Ancho chile braised pork was as good as I've had at any festival. Creamy black beans served as a creamy filler. The fried corn masa base was crunchy and phenomenal. Outstanding plate. Top three.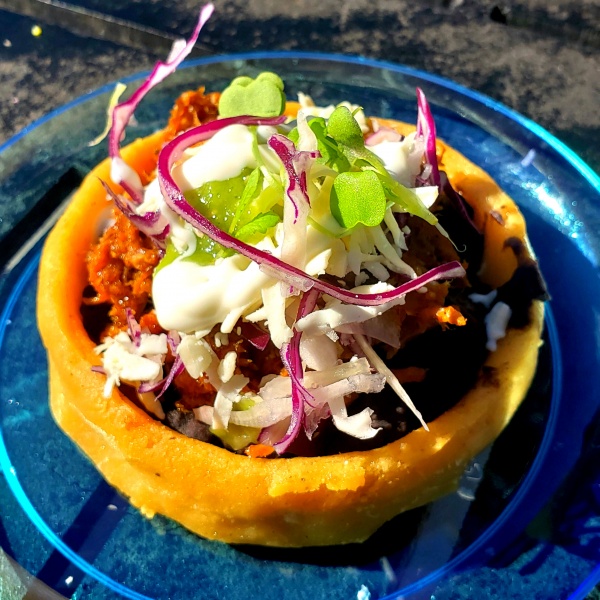 MASTERPIECE KITCHEN ( Canada)
Charcuterie palette…Totally gorgeous array of cured meats and cheeses. The presentation is flawless, which causes delays when plating. Worth the wait for the honeycomb alone.
Wild Mushroom Risotto…This dish was my best in show in '17…not this time. Way under seasoned, and the consistency was way too tight. Hopefully it improves, as Canada usually nails this.
DECONSTRUCTED DISH (Promenade)
Deconstructed BLT…Huge hunk of sous-vide pork belly, nicely crisped to order. Tomato jam is the acid this pork needs. Impossibly well cooked runny egg finished. Excellent.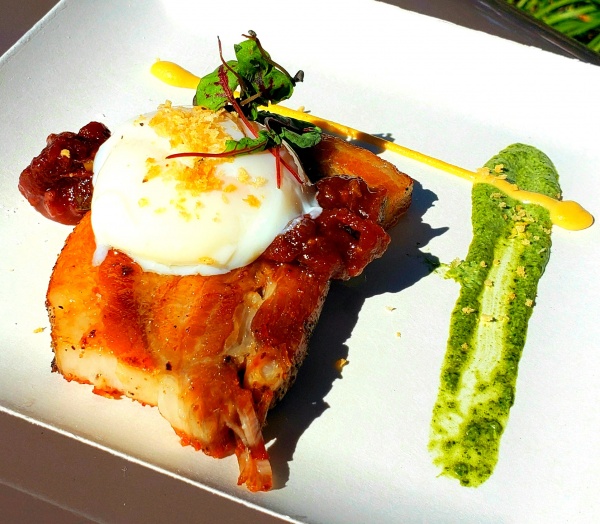 Deconstructed Reuben…How has this dished survived all three of these festivals? Stringy beef(again), ok cabbage, and a flavorless caraway bread curl. Just say no.
Deconstructed Strawberry Cheesecake…Excellent returner. Creamy cheesecake, crunchy little sugar dusted cookies and some sweet Florida strawberries. Nicely done.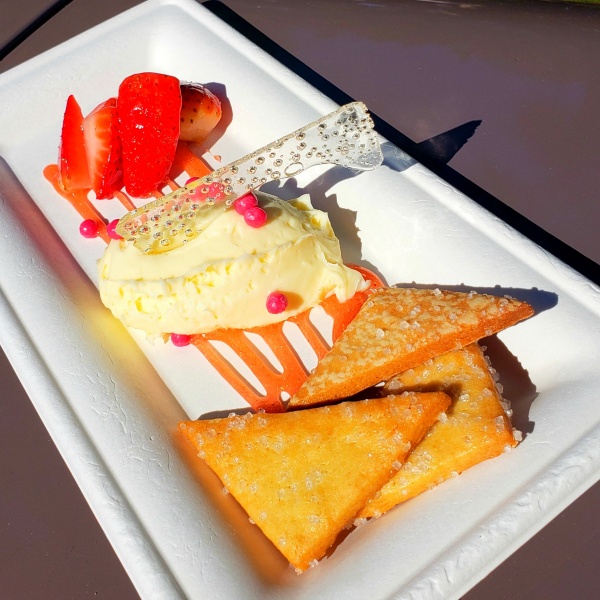 POP EATS (Promenade)
Sous-vide Poulet Rouge Chicken Roulade…Sous-vide experiment failed this time. Utterly flavorless chicken. Brie fondue was even more boring. The dish was beautiful, but it took the poor tweezer-wielding cook forever to plate. This is one of those dishes that will evolve as the festival continues. Big no as it stands now.
Shrimp Ceviche…Textbook, but boring. Just ok.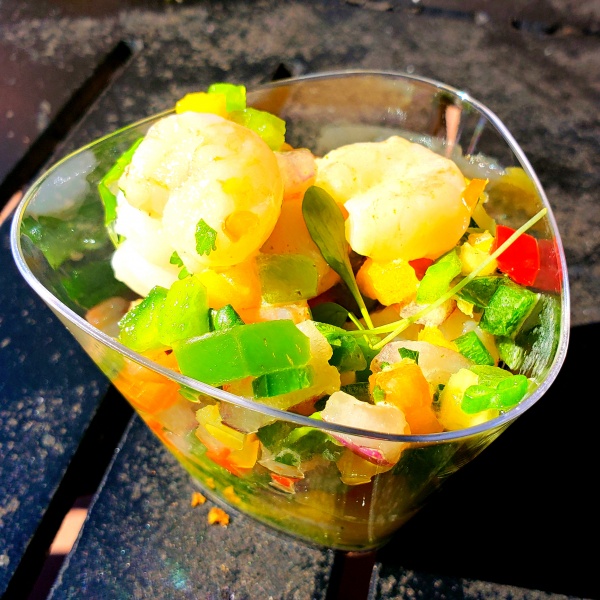 Almond Frangipane Cake…The signature of this festival is prettier than it is delicious, but worth it if you like frangipane. The raspberry jam makes it. Pretty dang good.
PAINTER'S PALATE (Odyssey Center)
Trio of Savory Croissant Donuts…Each year they try to make this dish a hit, but have yet to be completely successful. Chicken salad was deli counter bland. Boursin cheese was meh. Spicy tuna and seaweed was fabulous, but not alone worth the trip across the bridge.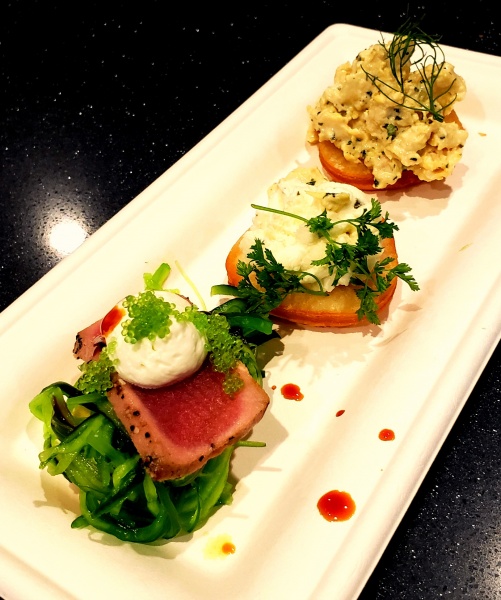 Trio of Hors d'Oeuvres…The chilled shrimp and cream cheese crostini was just awful. Bland and rubbery. Deviled Egg was a killer two bites, and the candied bacon slays. I could eat this little guy all day. The Crispy Risotto ball lacked any real flavor, and the truffle aioli had zero truffle essence. Bottom line is there is no real reason to cross the bridge to the Odyssey Center.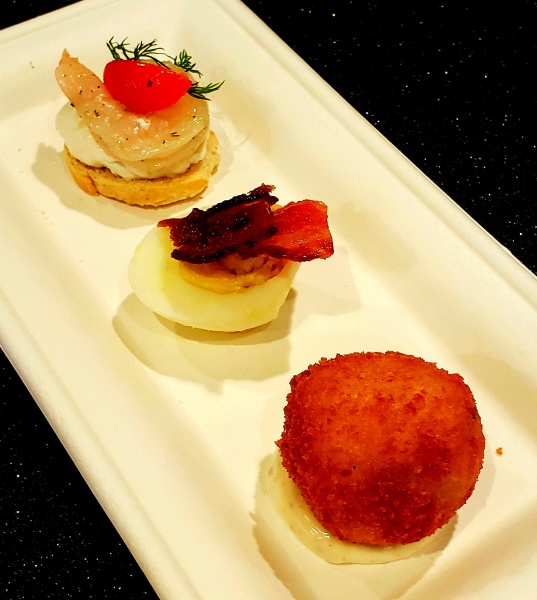 Pro tip: There is a restroom on this island that is NEVER used when there is not a festival in the park. Clean and private.
As you can see, the day started out with some winners, then sort of fizzled out. Most of the dishes that I panned here were based on levels of seasoning, which can be corrected. As it is with all festivals, and all food outlets for that matter, the fate of the final product is in the hands of the last person to touch it. That concept alone represents the biggest challenge for all food service managers…consistency. So if there was something on your "must do" list that I didn't like, don't be afraid to give it a try. I would hate for you to miss out on a new favorite just because  the dish I tried needed a little better finish.
I hope you've enjoyed another trip around Epcot, I certainly enjoyed bringing it to you. Next up is Epcot International Flower and Garden Festival…my Super Bowl.