This post may contains affiliate links for your convenience. If you make a purchase after clicking a link we may earn a small commission but it won't cost you a penny more! Read our full disclosure policy here.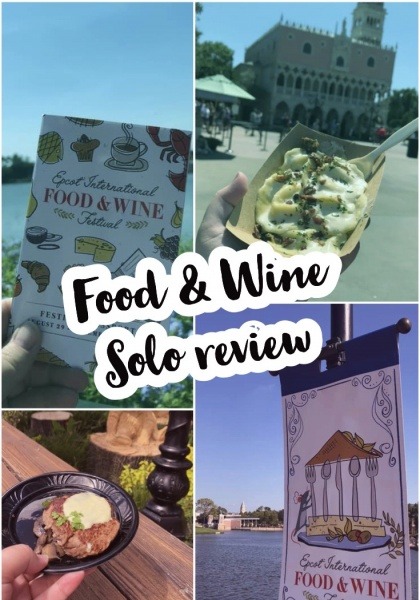 What could be better than food, your favorite drinks & Epcot? Food, your favorite drinks & Epcot SOLO. That's right. I thoroughly enjoyed eating all of the foods completely on my own. The Epcot Food and Wine Festival 2019 was amazing. I am a seasoned Walt Disney World traveler, but never truly "eat & drink" my way around the world when I've gone. So, I was really excited this trip to indulge & truly enjoy the festival.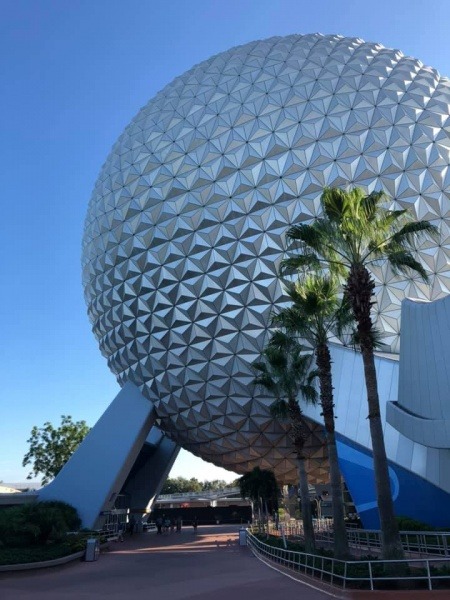 First of all, let me say. Do not – I repeat – do not, have breakfast at Garden Grill & supper at Biergarten on a day you are eating & drinking around the world – especially not solo LOL. No regrets. But I was definitely already very full by the time I got to Biergarten & wished I could've eaten more there.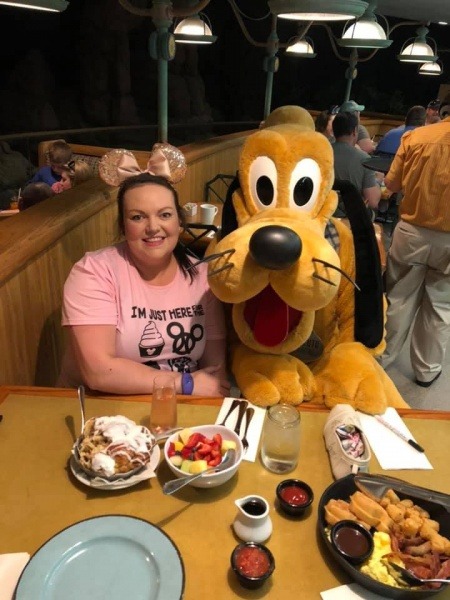 Ok, now that we've got that disclaimer out of the way – let's jump in! The beauty about solo travel is being able to do what floats your boat. More reviews to come on my solo endeavors, but I wanted to get this one out to you guys while the festival is still on! I absolutely loved doing food and wine festival solo. It may sound lonely & intimidating to some, but it was so nice to slow down, soak it all in & eat/drink what I wanted. I will say, that while most dishes are quite small, some are also better shared. So I did end up wasting a portion of some dishes, but again, zero regrets.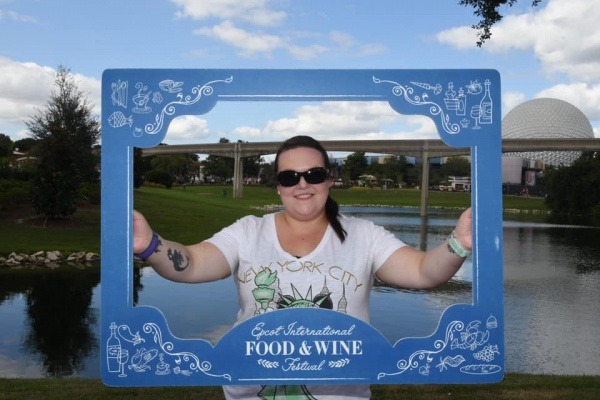 Before I went to the festival, I looked at the menu & had a general idea of what I wanted. I was on the Disney Dining Plan which proved to be beneficial during the festival. I used my snack credits for anything over $4 & paid out of pocket for anything less than $4, as well as any alcohol. I also exchanged a couple quick service credits for 3 snack credits at a booth I wanted a couple items + a water. This was a perfect plan of action. When I arrived at the park, I grabbed my passport & scoped out where I should start. I had planned two Epcot days to take full advantage. In addition, since I did have two full days, I decided to participate in Emile's Fromage Montage challenge, where I had to collect 5 stamps from participating locations to get a free cheesecake!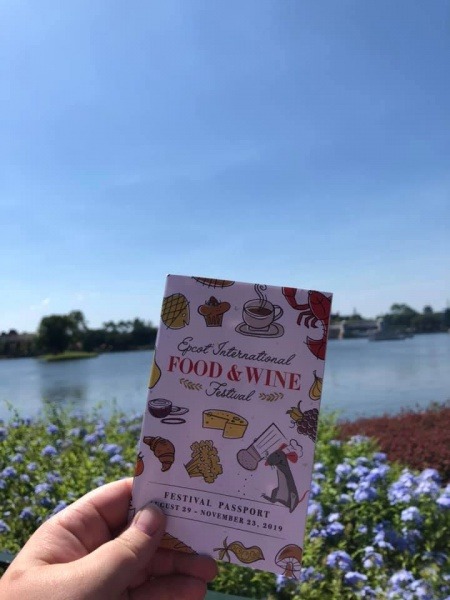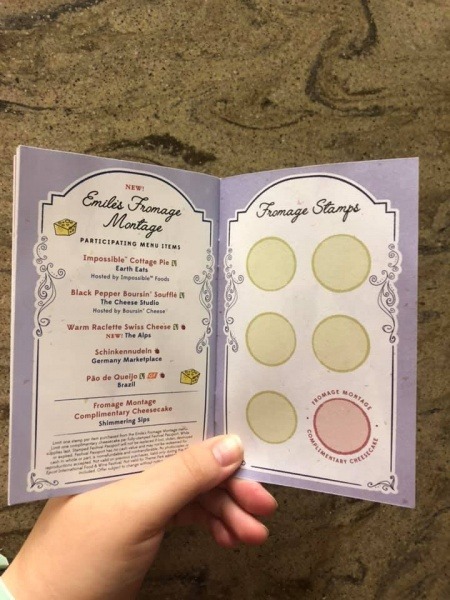 I started in Mexico with a Mexican sangria. Absolutely delicious! I am not a wine drinker, but do love a good sangria. This was the perfect combination of sweet tastes. I quickly realized how small the booth drinks are, in particular the beer (and I am a beer drinker) so, for the most part, I opted for buying a full size beer at the pavilion instead of the booths when I wanted one. Pro tip! Beer drinkers should do the same.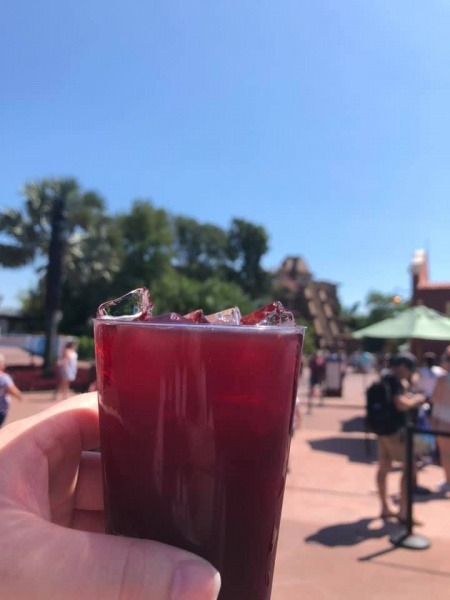 Next up, I hit the Alps booth. I was really looking forward to the frozen rose & the raclette. Unfortunately, this was the only booth I was thoroughly disappointed by. The frozen rose did not have a ton of flavor & the raclette may as well have been a melted cheese slice on soggy potatoes & hard bread. I was definitely underwhelmed & my food & wine adventure was not off to a dreamy start.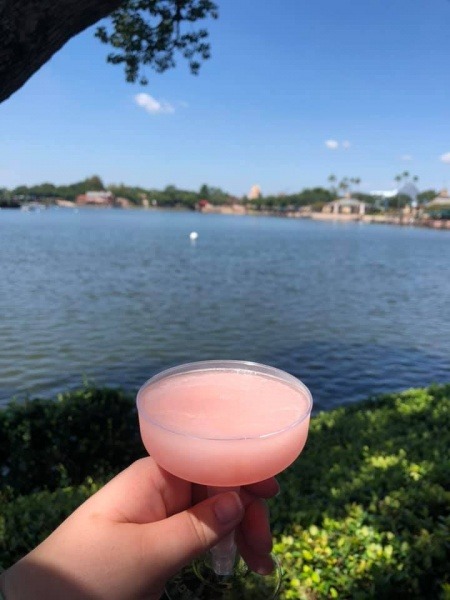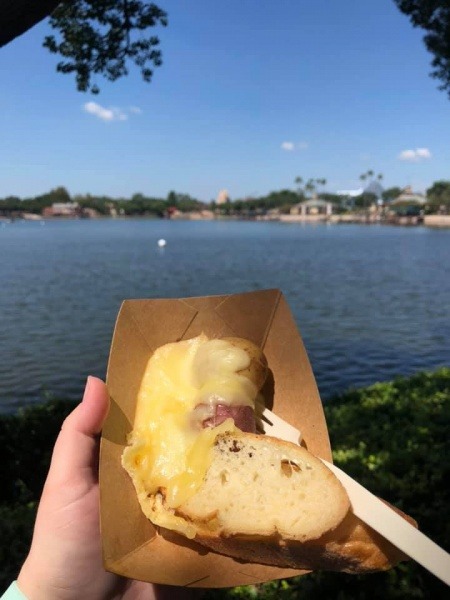 It was time for some bread service over in India! I don't have an adventurous palate sometimes, but this dish sounded yummy. I did find it a bit spicy (only because of my baby palate) but I also found it delicious. Wasn't my favorite, but definitely yummy.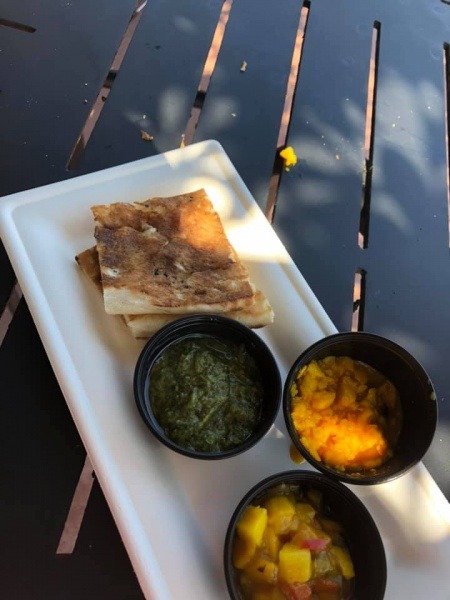 As I made my way around the world showcase, the Hakuna Matata Panna Cotta at Refreshment Outpost caught my eye. It wasn't something on my list, but I could not resist that cute little white choclolate decoration. This was yummy! A little sweet for me & too much for one person, but it was yummy. I had the cute chocolate, a few bites of panna cotta & was on my way.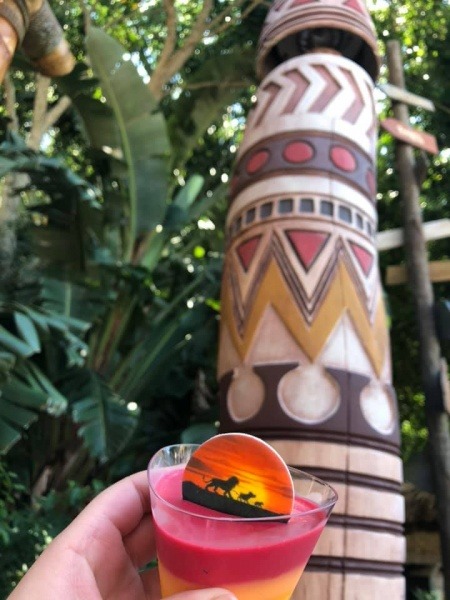 Next stop was Africa, where I had the beef tenderloin & tusker lager. The beer was delicious & the beef was even more delicious! Solid 10/10 – my food & wine experience was picking up!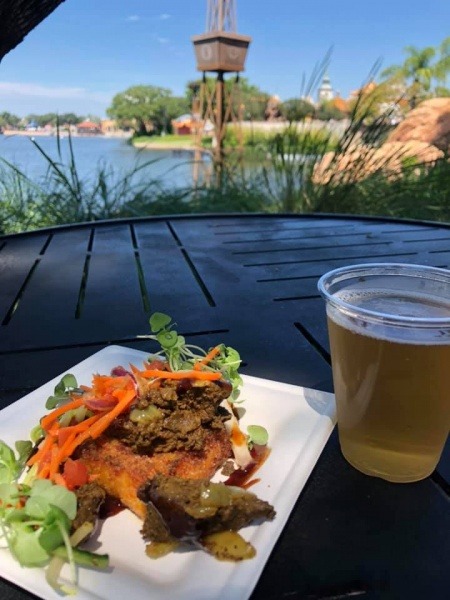 In Germany, I stopped to enjoy schinkennudein & a lager. This was a cheese/noodle type dish and was absolutely phenomenal. I am a sucker for a good cheese dish & this was perfect. Along with it, I got to enjoy some entertainment & German beer.  
Next up was the one I had been waiting for – Italy. I wanted absolutely everything on the menu, but ended up getting the ravioli & the cannoli. The cannoli was delicious & the perfect sweet treat. The ravioli…was seriously inexplicable. I still daydream about this dish. It was phenomenal. Definitely a dish that could be split as almost a full meal, especially paired with a cannoli. It was so good that before I knew it, I'd eaten it all, and somehow still had more room for more wining & dining.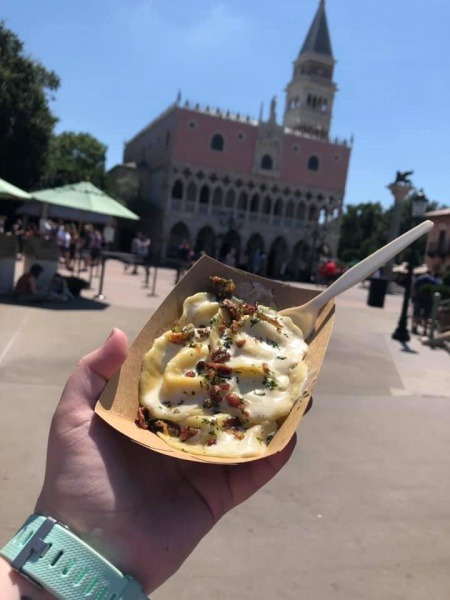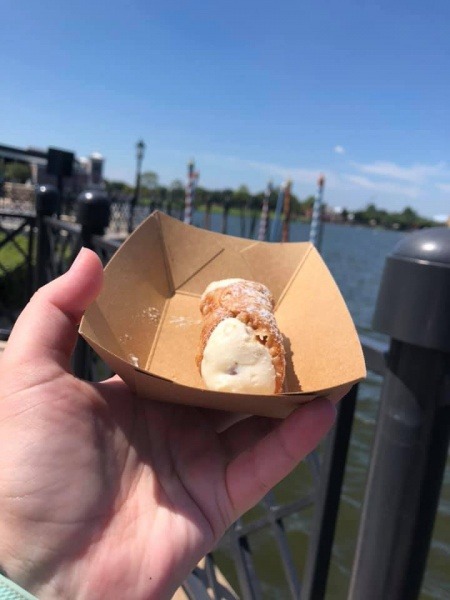 My last stop on day one was Brazil. I had the pork belly & the pao de queijo (cheese bread). Both were delicious. I am not a fan of beans so I didn't love the beans with the pork belly. The pork belly, however, was delicious. Juicy & crispy! The pao de queijo was basically cheese stuffed dinner rolls & was so amazing I got it again on my second day. Again, another filling dish, so I only had one of the two pieces.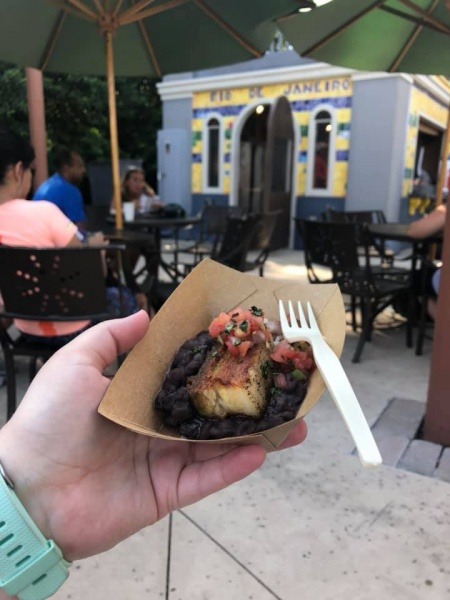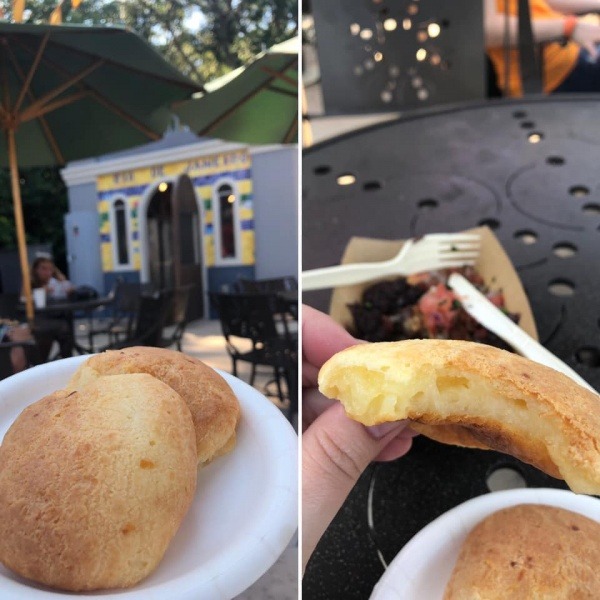 Day one was a wrap! I took a break, headed to the Boardwalk to relax & freshen up for a couple hours, before heading back for the evening. That's right. That was only day one. And yes, I had to eat at Biergarten that night. It was the foodiest of foodie days! Day two I took it a little easier, but still indulged in some more things on my list!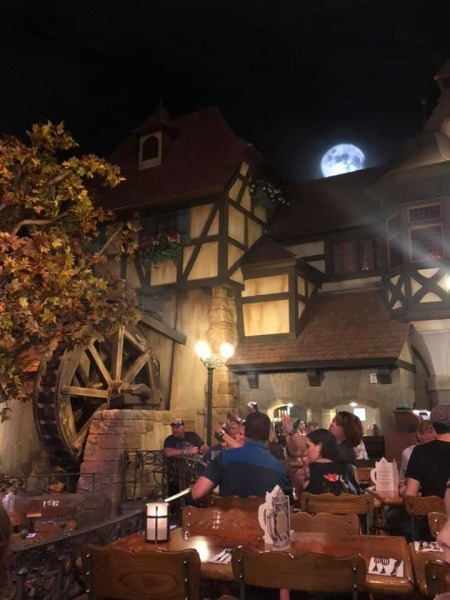 So it was time for day two! I was excited to jump back in & knock of some more treats on my list. I was dining at Akershus that night, but I intentionally scheduled the last sitting so that I could enjoy round two of the festival!  
My first stop was at Active Eats, where I had the loaded mac n cheese. I did not like this one. I don't like spice at all & found this a bit too spicy for my taste. If it wasn't for that, it would have been a delicious snack for me!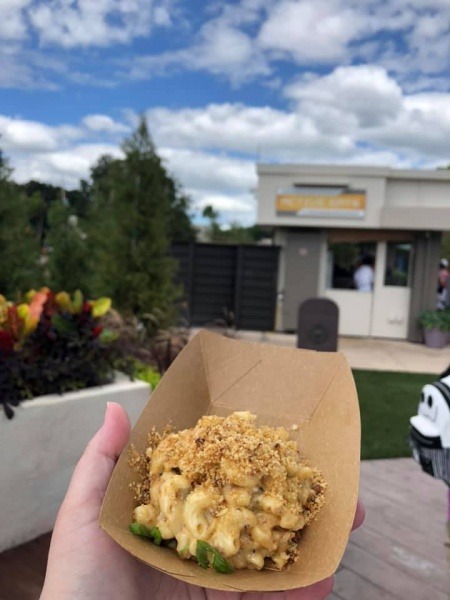 I then headed to the cheese studio for two yummy options I had been looking forward to; maple bourbon cheesecake & bourson souffle. Unfortunately, these didn't live up to the hype for me. The cheesecake was yummy, but a bit too mapley for my liking. The bourson souffle I also enjoyed, but did not like the marmalade on top. They were good, but not incredible compared to some snacks I'd had.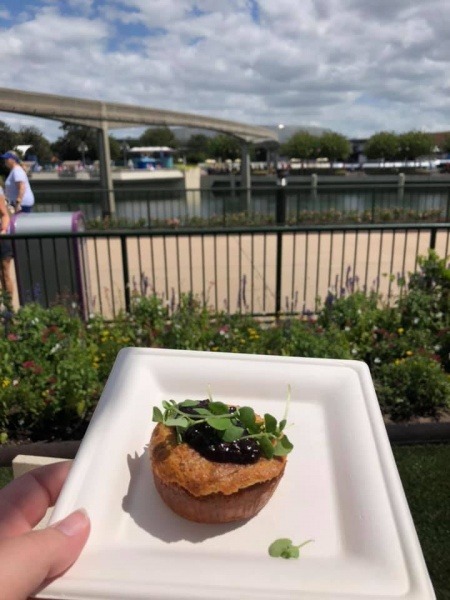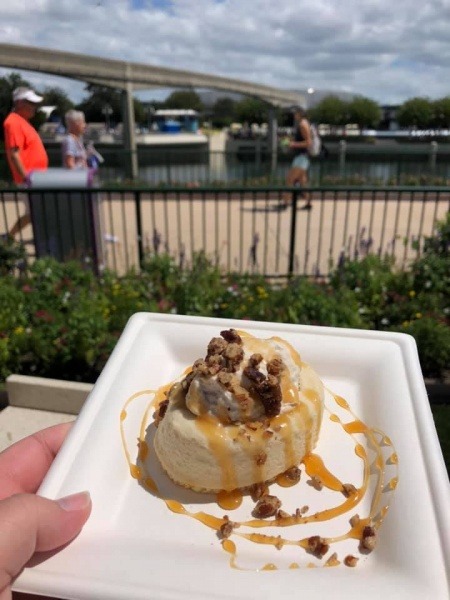 Next, it was off to my home pavilion of Canada. I may be biased, but both dishes I had were incredible. I had the filet mignon & the cheddar soup with pretzel bun. Seriously amazing, delicious & the filet was great value! The soup was quite small, but it was perfect for a solo diner like myself. I may or may not have dipped some of my filet in it for added deliciousness.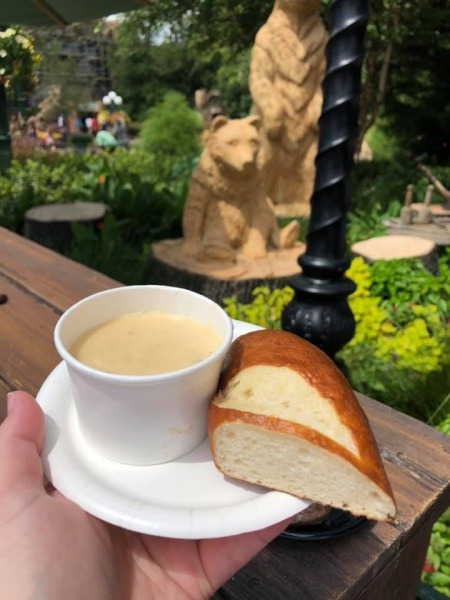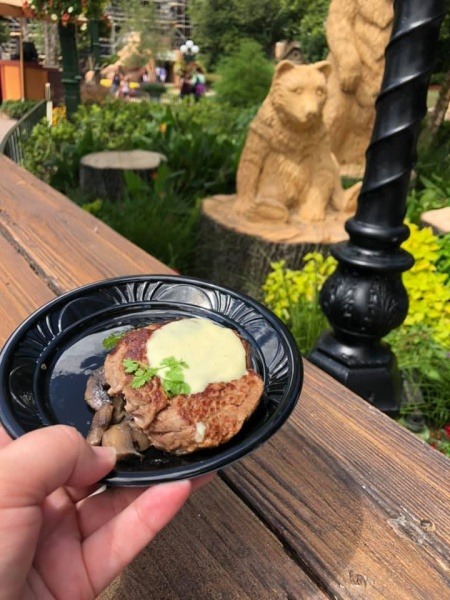 I am a big fan of cider, so of course I had to hit up the Appleseed Orchard booth! Tip: this one is located in behind Canada, actually where the Canada film normally is. It was a nice little hideaway & break from the heat. My favorite was the limoncello, but they were all delicious.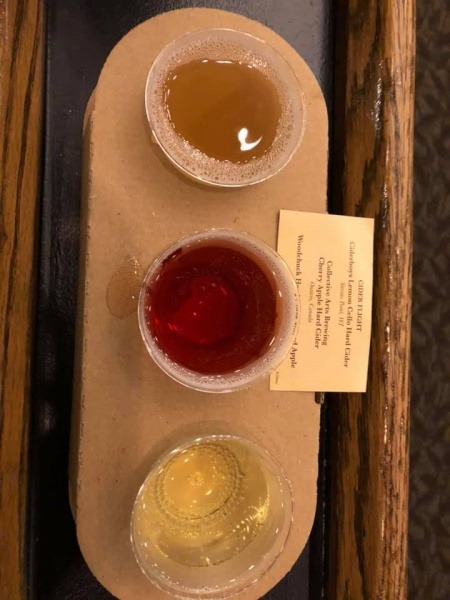 I then moved on to Belgium where I spent some time debating between the Belgian waffle (obvious choice) or the beef. I, unfortunately, opted for the beef. I did not enjoy this one even a little bit & it made it to a trash can very quickly. The meat was very tough, and it was more of a stew than I was expecting. Should've trusted my gut & gone for the obvious choice!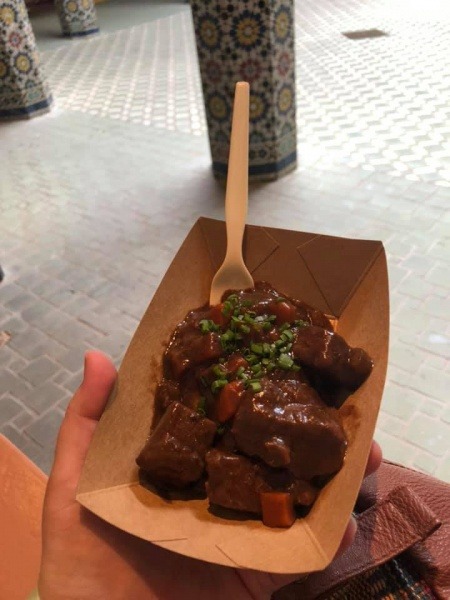 I needed one more stamp on my passport to get the free cheesecake as part of Emile's Fromage Montage. Again, I debated whether I wanted the raviloli in Italy or the pao de queijo in Brazil or to try something new. I narrowed down my choices & decided I wanted to revisit a favorite from day one. However, I didn't want to feel painfully full from the ravioli. I finished my day off with the pao de queijo & it was good to the last drop!! (seriously…still daydreaming about that ravioli though…) I then had enough stamps to get my free cheesecake at Simmering Sips.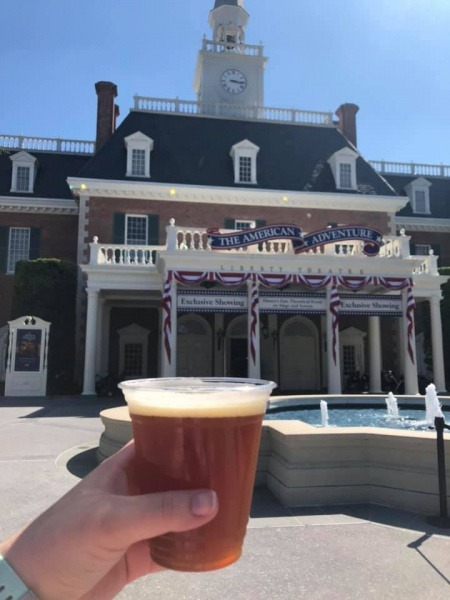 I was park hopping to Magic Kingdom for the afternoon, so on my way out, I grabbed my free item. The cheesecake trio was on my list at Shimmering Sips but I never got to try it. Let's just say, I wish I had. The free "cheesecake" was more of a tart. I assumed I would be getting one of the cheesecakes from the trio but in a smaller size. I was disappointed when I saw it, but it was delicious nonetheless.
Inside the tart was, in fact, some form of cheesecake & it was topped with a white chocolate deco. I love me some cheese anyways, so it's not like I went out of my way to eat the 5 required snacks & get the free dish. I still enjoyed this activity & would recommend it to anyone! As a solo traveler, it would not have been doable in one day, just because it's a lot of food. Or…it would have to be my main source of nourishment that day. So just be mindful of that!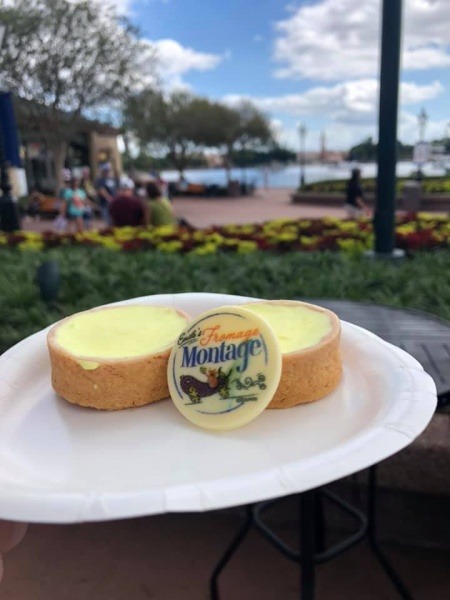 All in all, my first "true" food & wine festival experience was amazing. Doing it as a solo traveler was even more fun because I could just get what I wanted & eat it all myself if my heart (or belly) desired. Things I learned: 1) My eyes are definitely bigger than my belly. 2) I actually do not need to eat every single item on my list  – there's always next year. Who knew?! 3) Take it easy as a solo traveler & don't schedule yourself table service meals on food & wine day, unless they're late at night or breakfast. Only "regret" I have, is not having more sweet things. I do have a major sweet tooth, but as I was going booth to booth, the savory items called to me. I should have told them NO I wanted cheesecake!! Happy snacking, Disney foodies!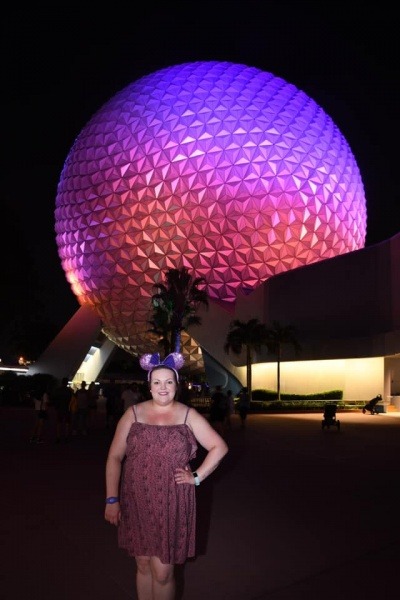 What are some of your favorite dishes from this year's Epcot Food and Wine Festival? And what tips do you have for other solo travelers attempting to enjoy the festival? Share your thoughts in the comments or on Facebook or Twitter!
Did you like this article? Make sure to share it with your friends! Check below for easy ways to share!
Want to visit the Walt Disney World Resort? Contact The Magic for Less Travel for more information and a free, no-obligation quote.

Incoming search terms:
epcot food and wine couple review
https://www themouseforless com/blog_world/epcot-food-and-wine-festival-solo-review/