This post may contains affiliate links for your convenience. If you make a purchase after clicking a link we may earn a small commission but it won't cost you a penny more! Read our full disclosure policy here.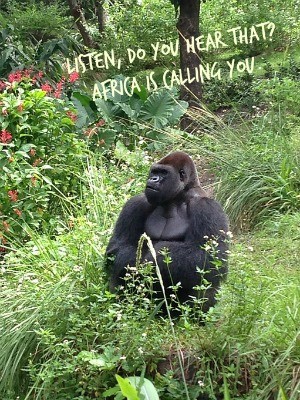 Jambo Mouse for Less readers!  One of my favorite sections of Disney's Animal Kingdom is Africa. Africa is a lively, festive section that is full of music and chatter. All this action takes place in the fictional "village" of Harambe, which is modeled after the Kenyan coastal town of Lemu. Upon entering Harambe, you will notice the African drumming and the upbeat atmosphere. You can't help but be swept up in the music.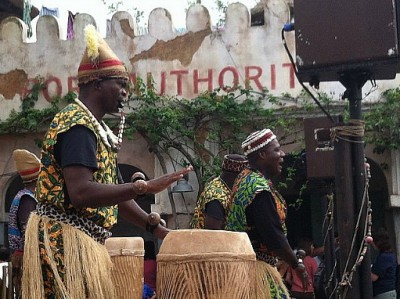 Animal Kingdom is by nature a hot and humid park. Never fear there are plenty of places to quench your thirst and satisfy your appetite for food and adventure in this "continent"
There is the Dawa Bar that serves adult beverages such as African Margaritas, Lost on Safari, Discovery Island Bloody Mary and many other specialty cocktails. If it's just a little too early for libations stop at Kusafiri Coffee Shop and Bakery. Wake up with some coffee or tea and match it up with a warm cinnamon roll, hot breakfast sandwich or danish. Tamu Tamu is also a wonderful place to grab a quick service meal anytime the park is open. Sometimes, when we have not been in the mood to eat a full meal, we have grabbed fresh fruit and cheese at the Harambe Fruit Market. There are plenty of light, refreshing options that are a nice alternative to a full meal on a hot day. What's even nicer is that all the food offerings at Harambe Fruit Market fall under the Disney Dining Plan and you can use a snack credit if you want.
It's hard to believe that there are so many food choices in this one area and if that's not enough there is a pot of gold in this oasis. Tusker House is a sit down table service restaurant that offers a Character Dining buffet. Character Dining is offered for breakfast, lunch and just recently dinner.  This is a great place to go if you happen to have Free Dining, as it is only one credit and you get to have one on one interaction with Mickey, Minnie, Donald, Daisy and Goofy (characters are subject to change without notice).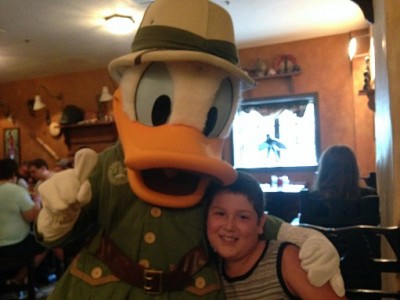 My family and I have enjoyed breakfast here on more than one occasion and the wide variety is more than satisfying. Tusker House buffet consists of fresh fruit and yogurt, Spiced Corn Beef Hash with Cornbread Topping, Beef Bobotie, Cheese Blintz, of course plenty of Mickey waffles with syrup and many other breakfast treats. Though we have not been for lunch or dinner, the menu looks just as tempting with such items as: Kenyan Coffee BBQ Pork Loin, Peri-Peri Marinated Baked Salmon, Cape Malay Curry Chicken, Vegetable Samosa, a variety of vegetables and desserts.
This is an incredibly popular restaurant, so if you are thinking of dining here make sure to obtain a reservation when your 180 day window opens.
Here is an interesting piece of trivia, did you know the first tree planted in 1995 at Animal Kingdom was an Acacia Xanthophlosa from a seed obtained in the continent of Africa and was planted outside of Tusker House.
After taking in such a filling meal, you may not be ready for a thrill ride. No problem, just walk on over to the Kilmanjaro Safaris. When you begin this journey you are welcomed by one of the "preserve rangers" via television–Wilson. He will speak to you about the village of Harambe and explain to you some of the animals you may see and how important conservation is.
Many people who have not been to Animal Kingdom may refer to it as a zoo, but once you climb aboard your safari vehicle and head out to the "savanna" you will realize Animal Kingdom is anything but a zoo. The Safari is located on 110 acres of land and gives animals plenty of freedom of movement. Even with all this land, giraffe, elephants, ostrich, crocodiles, lions, rhino, zebra and kudu roam the plains each day.
Every visit is different, some days you may see the giraffes far off in the distance and other days they may be creating a traffic jam on the trail right in front of your vehicle. On another visit, you might only spot one elephant and the next day it is a herd of many mamas and babies. There are many opportunities for great pictures and learning. One of the many animals you will see is a Kudu, which is a sub species of the Antelope. In fact, a Kudu was the first animal born at the Animal Kingdom. The journey lasts approximately 20 minutes, but if you find that you want to experience a more in depth Safari look into the Wild Africa Trek Tour.
The Wild Africa Trek is a free range 3 hour adventure that takes visitors through the Safi River Valley, high above sleepy hippos and cranky crocodiles and into the open savanna. Adventurers are also treated to an African themed snack. Imagine indulging on such items as Marinated Tandoori Shrimp or Figs and Cheese on the wide open savanna while the sun shines in the distance and an elegant giraffe dashes by. Does this sound like a zoo to you?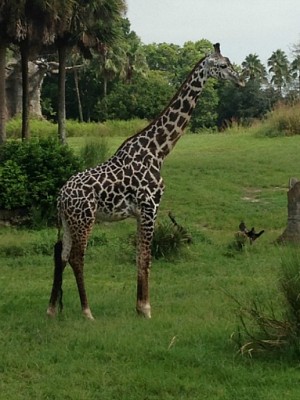 Last, but not least don't forget to take walk through The Pagani Forest Exploration Trail. The trail offers visitors the chance to get a close, but not too close, look at the "residents" and sometimes they can get a good look at you. Pagani means "place of enchantment" and it is easy to see why as you mender down the trail and enjoy the different species and learn along the way.
Visitors are invited to see many different species of birds scrambling and flying about, giant fish, mole rats, gazelles and a crazy colony of meerkats scurrying about.  The highlight of this attraction is no doubt the family of Silverback Gorillas. When we visited with them during our last visit I think they were just as happy entertaining us we were watching their antics. Don't miss it!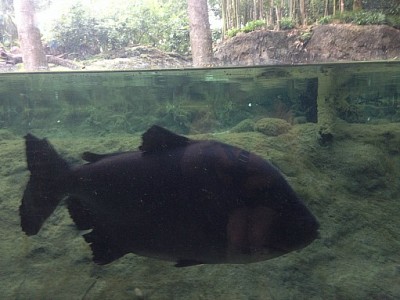 Next time you're at Walt Disney World, make sure you leave room in your daily schedule to explore the continent of Africa at Disney's Animal Kingdom. Happy Anniversary Animal Kingdom, 17 never looked so good!
What's your favorite part about the Africa section of the park?