This post may contains affiliate links for your convenience. If you make a purchase after clicking a link we may earn a small commission but it won't cost you a penny more! Read our full disclosure policy here.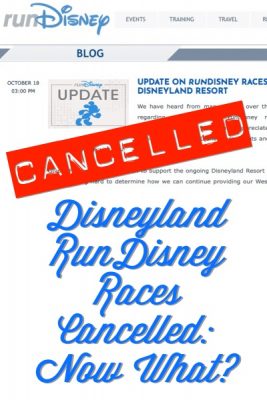 After runDisney announced last week that all Disneyland races will be cancelled in 2018 due to construction, many runners are now thinking, "What do I do now?" While it is always a huge bummer to have a race cancelled when you have been saving up money and training, I'm sure many of you are optimistically looking for a new race to run, preferably at a Disney resort.
In this blog post, I hope to be able to offer you my perspective on which of the Disney World races I believe you should run instead based on a few different categories.
Overall "vibe" of the event
Quality of the course
Things going on at the Walt Disney World resort during race weekend
I'll be ranking these events 1-10 in each of the categories giving them a sum score, allowing me to rank them from worst to best!
4th Place
Princess Weekend – Overall Score: 19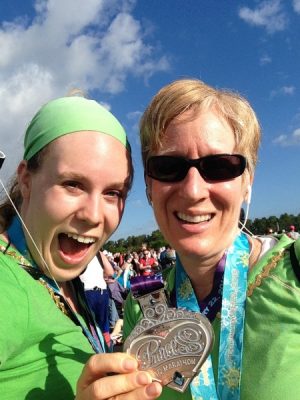 Overall "vibe" of the event – 6
Not being a girly girl, this weekend was fun, but not my favorite overall theme. I still think it's hilarious to see the group of guys running as princesses each year. I sure love dressing as a princess, but I don't have to do this race in order to justify running with my tiara.
Quality of the course – 7
The course is the same as marathon weekend and because it doesn't have that magical marathon race course included in it, the score gets knocked down several pegs. The proportion between highway running vs. park running seems skewed much to the highway and you don't hit more than two parks during the course.
Things going on at the Walt Disney World resort during race weekend – 6
February is usually a slow time of the year which means many rides are down for refurbishment and there's not any special festivals going on to entice you to one park or another. Not a big deal if you don't make it to Disney that often or if you are only coming for the race. But if you would still like to do something other than the race as a regular, it would be nice to have something extra going on.
3rd Place
Star Wars Dark Side – Overall Score: 25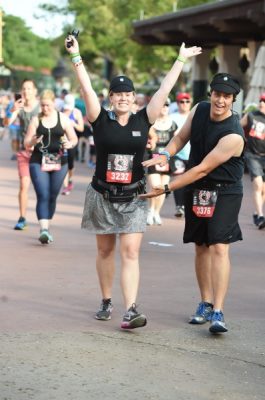 Overall "vibe" of the event – 10
I am personally a HUGE fan of Star Wars. So being in a room at the expo with other Star Wars fans and hearing all the Star Wars music made me so happy! Did I mention they also have clips from Star Wars playing along the course? So epic.
If you are not a huge Star Wars fan, you might not agree with my 10. But it is still fun to have such a great theme to the race.
Quality of the course – 7
Since this course is the same as the Wine and Dine, it gets the same score for the same reasons (read below).
Things going on at the Walt Disney World resort during race weekend – 8
Being in April, you are going during the Flower and Garden festival at EPCOT which is my second favorite festival at WDW. All the flowers are gorgeous and we enjoyed eating our way around the world in a similar fashion to Wine and Dine.
Reason it's not a 10? There's not much else going on in the other parks other than the normal awesomeness. I know, what a critique right? However, we completely skipped Hollywood Studios due to the construction which is normally a "must do" for our family.
2nd Place
Wine and Dine – Overall Score: 26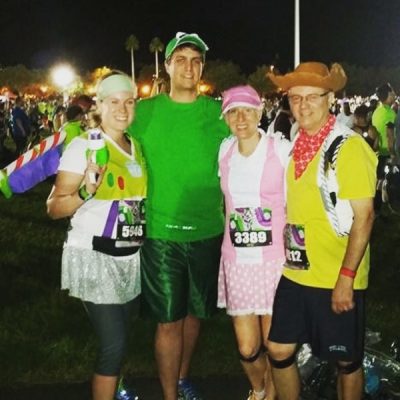 Overall "vibe" of the event – 9
This event is just fun! While it is not a strict IP theme but more of a broad "food" theme, it allows for creativity from both the event staff and the runners. Every year, there's a new look and creative new costumes from runners.
One thing that makes it not a 10 – this runDisney race historically has had many weather issues. Moving it from a night race to a morning race has seemed to mitigate this issue, but it is the end of hurricane season in Florida during a time where it likes to monsoon.
Quality of the course – 7
They have changed the course drastically since I have run this race, but it is the same course as the Star Wars Dark Side race. I am a super fan of the start line as my family usually stays in one of the Magic Kingdom resorts. We stayed a the Polynesian for Star Wars Dark Side and were able to walk to the start line. It was so convenient to not have to take a bus! Other than that, there's not really much to be said except that you do hit up three of the four parks during the half marathon and two during the 10K. Downside…you have to run past the water treatment plant during the half, which is not my favorite.
Things going on at the Walt Disney World resort during race weekend – 10
Wine and Dine race coincides with the Wine and Dine festival at EPCOT which in my opinion, is one of (if not the) best time to visit. Plus, you can get into the Christmas spirit early with Mickey's Very Merry Christmas Party (one of my favorite things to do at WDW).
1st Place
Marathon Weekend – Overall Score: 27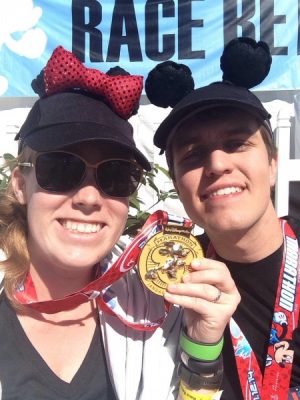 Overall "vibe" of the event – 10
No matter if you are a beginner or a veteran, there is no better event to go to when it comes to getting inspired about your running. Since the whole theme is based on the marathon and you have the classic five characters as the mascots of the race, it forces the focus onto the incredible achievements you are reaching. You leave the weekend pumped to do your next race even though you can barely walk post marathon.
Quality of the course – 10
The 5K is almost entirely in EPCOT while the 10K is the same with an out and back on the highway tacked on to the beginning. The half marathon takes place on the highway to and from the Magic Kingdom from EPCOT, which specifically does not make me happy. But running through that castle is still one of the most amazing feelings ever.
But the marathon course is the crown jewel of the weekend. You run through all four parks during the marathon. While I hate running through the never ending ESPN complex while "hitting the wall," going through Hollywood Studios, the Boardwalk and EPCOT for your finale are so, so motivating! The marathon wins the best course hands down, no exceptions.
Things going on at the Walt Disney World resort during race weekend – 7
There's not a whole lot going on special for the resort during the runDisney race weekend. The Festival of the Arts at EPCOT seems to be expanding which might help with this. But many rides come offline for refurbishment after the crazy holiday season.
Hopefully this helps you choose which RunDisney event you would like to do instead of Disneyland. Hopefully, those races will come back soon as I love running the California parks so much!
What are your thoughts of the Disneyland runDisney races being cancelled? Which Walt Disney World runDisney race would you consider instead and why? Share your thoughts in the comments.
Did you like this article? Make sure to share it with your friends! Check below for easy ways to share!