This post may contains affiliate links for your convenience. If you make a purchase after clicking a link we may earn a small commission but it won't cost you a penny more! Read our full disclosure policy here.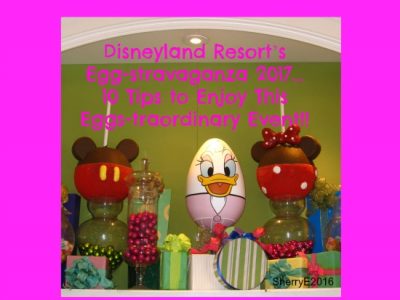 At Disneyland Resort, the last few months of each year are dedicated to celebrating the one-two punch of Halloween Time and the Holidays, with only a blink-and-you'll-miss-it pause between the two seasons. However, after the rapid-fire succession of pumpkins, candy canes and winter sweater-clad characters have faded into the mist and the last traces of tinsel and holly have been tucked away in a nearby warehouse, the festive offerings appear to thin out quite substantially. It is not that Disney ignores other special occasions – a quick glance at the plentiful array of Valentine-themed treats and merchandise will prove otherwise – but the decorations and activities revolving around specific days are sparse.
Enter the increasingly popular springtime event known as the Egg-stravaganza, an Easter egg hunt involving maps and stickers, which sends adults and children scrambling through Downtown Disney, Disneyland Park and Disney California Adventure Park in search of large, easy-to-spot, immovable Disney character eggs. This delightful annual activity — which also takes place at Walt Disney World's Epcot— began under its current name in 2014, though there was a shorter version that was introduced as part of Disney Parks' Limited Time Magic promotion in 2013.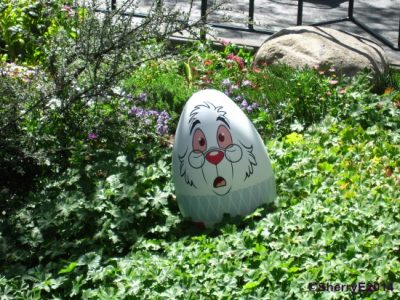 He's late!  He's late!  He's hiding near the Matterhorn!
Over the last few years, the start and end dates of the Egg-stravaganza have changed and the egg-seeking fun has expanded to cover a wider swath of Disneyland Resort soil, but the fundamental steps have remained intact. This year's hunt takes place from April 1 – 16, though it is possible it could be extended beyond Easter if there is a surplus of maps and prizes (which was the case in 2016).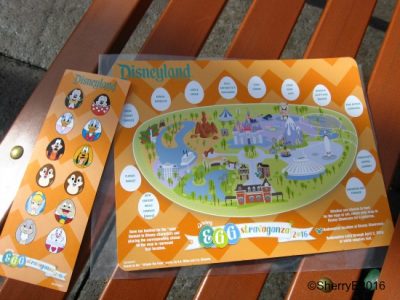 Disneyland Park's Egg-stravaganza 2016 map and stickers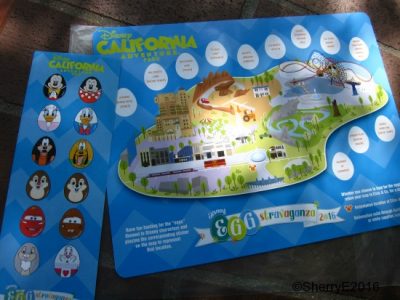 Disney California Adventure Park's Egg-stravaganza 2016 map and stickers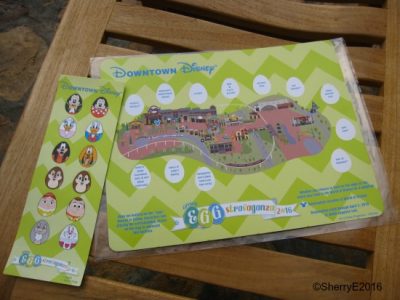 Downtown Disney's Egg-stravaganza 2016 map and stickers
Packages of maps and stickers are available for $5.99 plus tax and can be purchased at a variety of locations throughout Disneyland Resort, though the Disneyland Park maps are usually only found at select Disneyland shops, the California Adventure maps are at select California Adventure shops, and the Downtown Disney maps are at Disney-owned stores in Downtown Disney. Some exceptions may apply.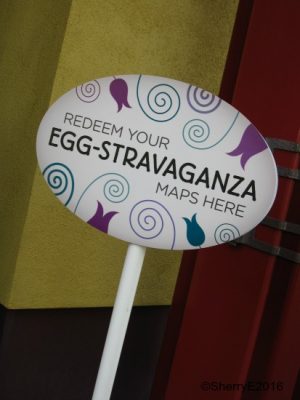 Downtown Disney's redemption location sign, at World of Disney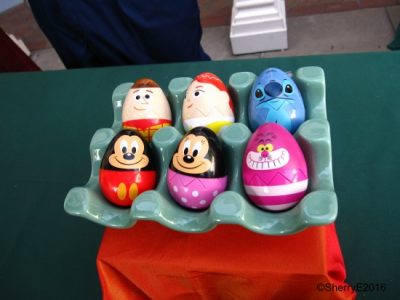 Disneyland's redemption location showcased the 2016 prize eggs in a cute "carton"
Whether or not you complete the task of finding all of the eggs, you will need to buy a map in order to collect the "surprises" — small character eggs, perfect for holding candy or tiny trinkets in Easter baskets — at the designated redemption spots.
After reading online questions and comments from fellow Egg-stravaganza participants, I put together a list of 10 tips and suggestions that may be beneficial as you get out there and take a crack at the fun. (Please forgive me for the shameless egg puns strewn about. What can I say? I enjoy a good yolk.) Most of the following points will be applicable if you choose to take on one or all of the hunts around Disneyland Resort.
For the purposes of this article, I am displaying photos from Egg-stravaganzas of previous years so that readers will get a sense of the general process, the sorts of places to search for eggs, the surprises, the completed maps and any other pertinent details. Keep in mind that some of the hiding spots of previous years may be repeated this year, resulting in unintentional spoilers.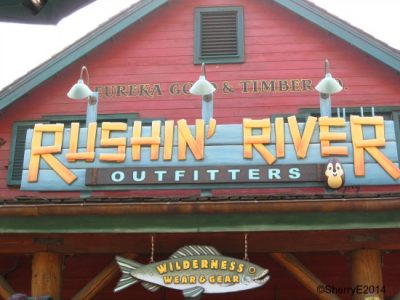 Some of the eggs hide in plain sight…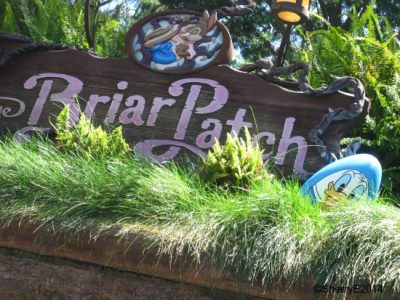 1.   You don't have to be a child — or have a child — to participate. At its core, hunting Easter eggs is something that is mainly geared towards children. The Egg-stravaganza eggs are oversized for a reason, and that reason is so that the youngest hunters will be able to see them.  But don't let that stop you from getting in on the action. I have witnessed many adults with telltale maps in hand, pounding the pavement in search of eggs, and quite a few were without kids. Some of the adults were even flying completely solo (I was one of them!). If you like scavenger hunts, treasure hunts, hunting for wayward keys and socks or hunting for anything in general, Disneyland Resort is the perfect playground for such an outing, and any age group should be able to enjoy it.
2.  It is a good idea to plan ahead and come up with a strategy.  Setting a course of action is useful on any day at Disneyland Resort, and an Egg-stravaganza day is no different. Taking a few moments to think things through before getting started can cut down on wasted time and unnecessary footsteps. For example, do you want to take on all three legs of the egg hunt in one day, or would you prefer to tackle only one hunt in a day — and which one will it be? Do you plan to keep going until you have found every egg, or do you plan to stop in between egg discoveries and ride, shop, eat or rest?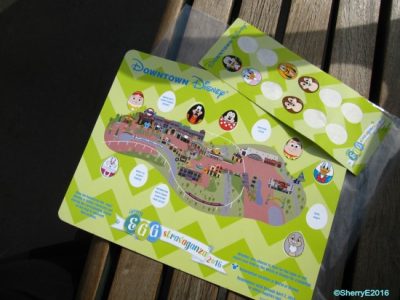 Apply stickers to the corresponding places on the maps as you  find the eggs
While there is no time limit to the Egg-stravaganza and you can go at your own pace – you don't even have to find any of the eggs to claim your prize, as long as you have bought a map — one hunt can take at least a couple of hours if there are breaks in between egg locations. Some hunters may work with a self-imposed time limit if they like a challenge, and race to find all 36 eggs (12 in each park and in Downtown Disney) scattered around Disneyland Resort within two or three hours. There is usually at least one egg hidden in each land of each park, so take a look at the hiding spots noted on the maps and determine if you want to attack them in an organized fashion, i.e., clockwise, counterclockwise, etc. Devise a system that works for you to avoid scurrying to and fro without purpose.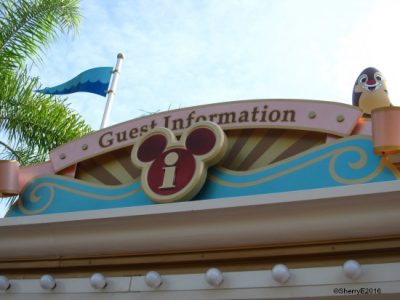 If you are enjoying a day trip and won't have the luxury of being able to retreat to a hotel room to store your prize eggs and maps, it is not a bad idea to get a locker. I recommend renting a locker outside the parks as opposed to getting one inside either one of the parks, for quicker and easier access.  I rented one for $7.00, conveniently situated not too far from the front gates of Disneyland. Anytime I collected a prize I would return to the locker to stash it, along with the corresponding map, so I would not have to tote it around for the rest of the day and risk mangling it in my heavy bag.
It goes without saying that dressing wisely for a day in the sun-drenched parks is essential. It is just as important when it comes to embarking on your Egg-stravaganza journey. You could find yourself walking to areas that you might ordinarily skip during a regular visit to Disneyland, and you will want to be comfortable.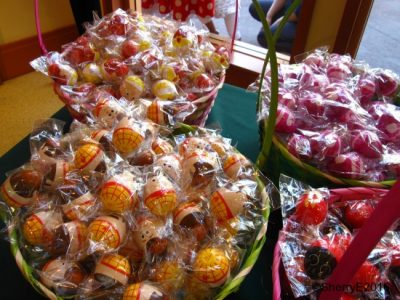 Don't put all your prize eggs in one basket!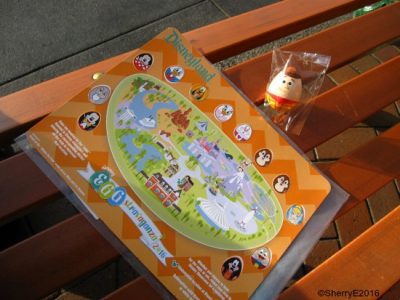 The completed 2016 Disneyland map, and the prize egg I chose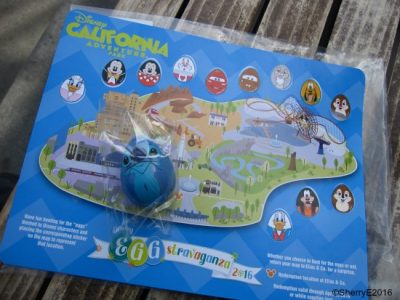 The completed 2016 California Adventure map, with my prize
3.  Obtain your maps and secure your prizes early on.  Though this has not always been the case, during some years' Egg-stravaganzas, the maps for each park could sell out well before Easter. Likewise, the prize selection has been known to dwindle down and some park guests have reported not being able to get the prizes they wanted as the egg hunt carried on. I don't know if similar scenarios will happen this year, but if you are concerned that you might miss out on a map or a prize it is worth noting that you can get both of them in one fell swoop before you are ready to actually start hunting.
For example, let's say you're going to be staying at Disneyland Resort for a week, but won't get around to hunting eggs until a few days in. You don't want to risk not being able to get a map or a prize if the supplies suddenly run low, so you can simply buy a map and collect your prize on your first day. Because the actual hunt is not required to get the prize, show your just-purchased map to a Cast Member at a redemption location to collect your surprise egg.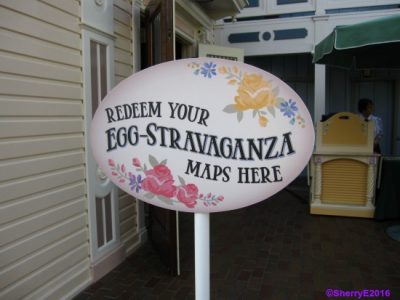 Disneyland's redemption location sign, outside of the Disney Showcase store on Main Street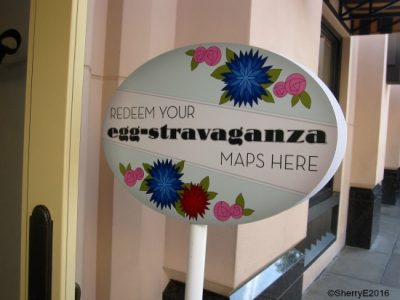 California Adventure's redemption location sign, outside of Elias & Company on Buena Vista Street
Choose only one egg (per map) as your prize!
In Disneyland Park, you will find maps and prizes at the Disney Showcase shop on Main Street. In Disney California Adventure Park, Elias & Company on Buena Vista Street is the place to go. In Downtown Disney, World of Disney sells maps and hands out prizes. Important to note is that while you will find maps for each hunt in more than one shop, there is typically only one redemption location per leg of the Egg-stravaganza, and those locations are the ones named in this paragraph.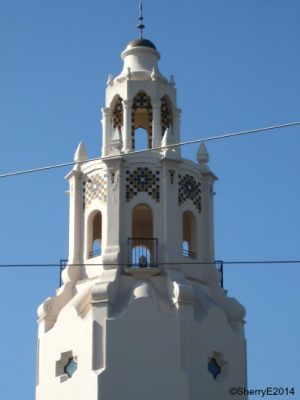 Can you see the egg?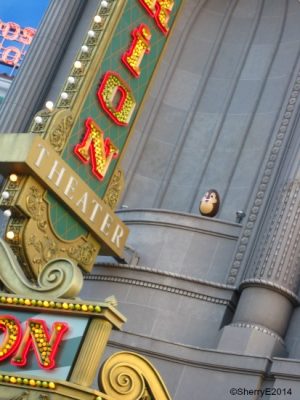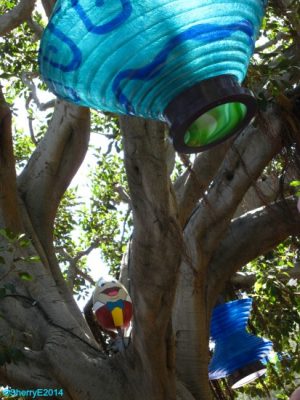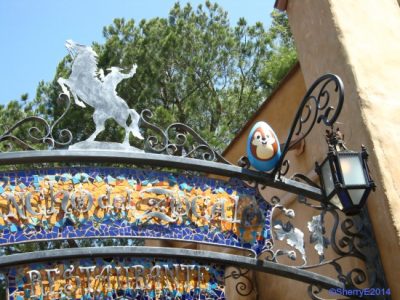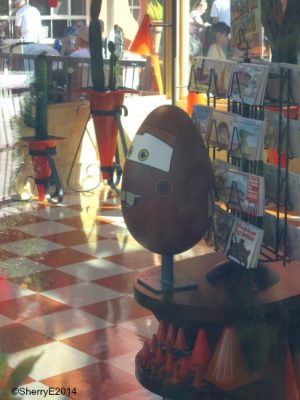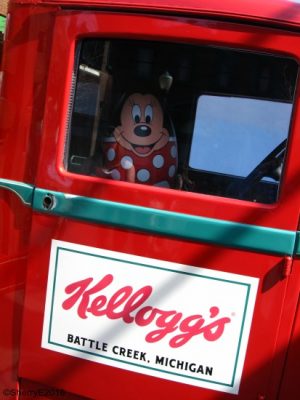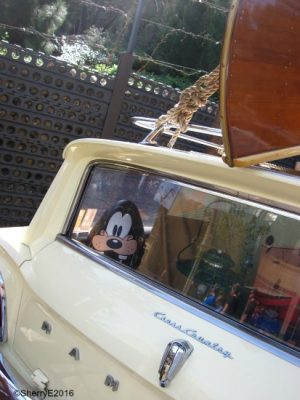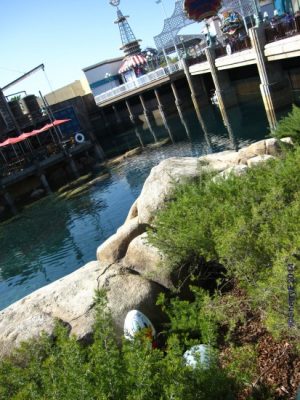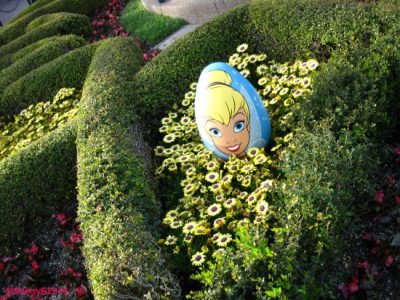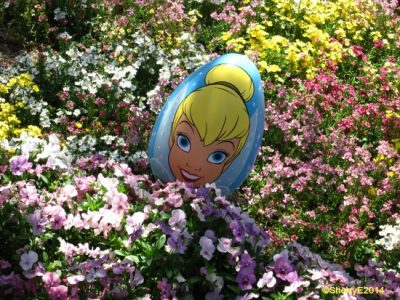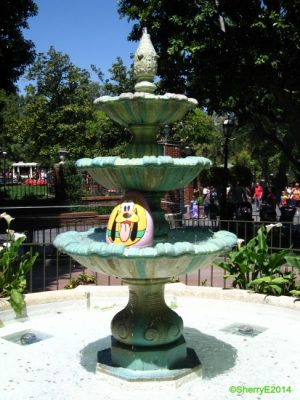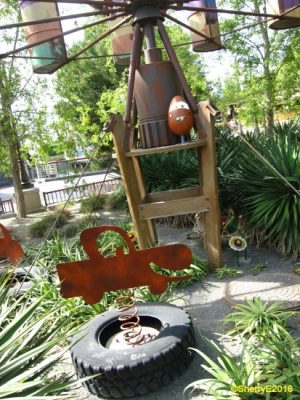 4.  Look up, down and all around!  The Egg-stravaganza is designed to be easy enough for small children to find the character eggs, and – for the most part – it is. All of the eggs are very large and often perched in very obvious places. It will not be hard to find the majority of them, though there are some that are a bit more elusive than others. Remember to look up at balconies, awnings, on top of ride facades, on shelves, and even towers; and glance down in flower beds, bushes and in windows. The eggs tend to be hidden outside, but there are a few that are indoors. The clues on your maps will sometimes alert you to the eggs that can be found inside shops.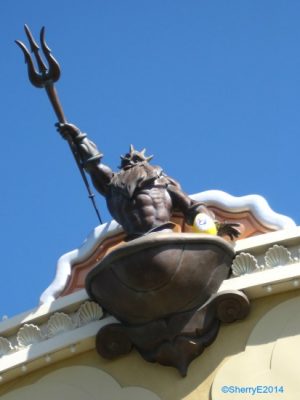 Yep.  There's an egg up there!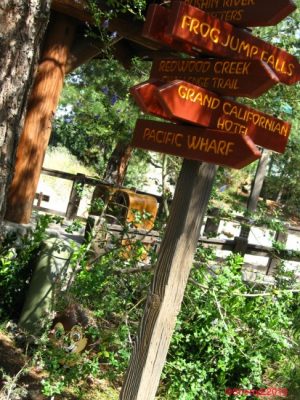 5.  Be prepared for spoilers.  Even though you may go to great lengths to avoid websites, blogs and discussion forums where spoilers of the eggs' hiding spots will be plentiful, there are other ways in which you can be spoiled, and some of them are impossible to bypass. One such occasion might be if you happen to see groups of people gathered around certain spots that don't seem to be remarkable for any other reason. They are probably staring at an egg. You might see someone with a camera fixed on something that doesn't look all that interesting from afar, only to discover that the subject is an egg. You might have trouble finding an egg and, as you scan the landscape in search of your target, a fellow hunter will run up behind you and excitedly shout to his or her companions, "There's the Pluto egg!"
There is really no way to escape the in-park spoilers because there will be plenty of other people participating in the Egg-stravaganza. Their actions – or yours – will be dead giveaways. All you can do is know what to expect, keep a positive attitude and hope that you can find most of the eggs on your own, without unwanted "help."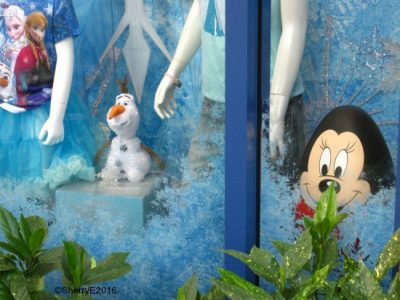 6.  Be courteous and polite to fellow hunters.  Some eggs will be nestled in window displays, in tight corners or in otherwise confined spaces. If you see that someone else is standing in front of what is likely to be your next stop on the egg hunting path, and you cannot seamlessly walk up and look at the egg without inching into the other hunter's space, simply wait your turn. It will not impact your experience to hang back, be patient and wait for the person to leave. Don't hover around, climb under/over or invade anyone else's personal space if you can avoid it. The egg you want to see is not going anywhere. It is not going to jump up and roll away after the other person is finished gazing upon it. It will still be there in 2 minutes, and in 5 minutes, and even the next day!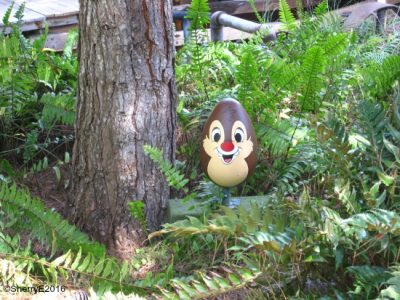 In 2016, this innocent-looking Dale egg nearly drove hunters to the brink of madness due to its perplexing location
7.  Beware of the misleading clues.   It seems that with every year's Egg-stravaganza comes a clue that leads hunters astray. The clue will indicate a certain location, but when you reach that location you will not see an egg. If the clue says that the egg can be found near a bridge, it might actually be peeking out from between two hedges a good distance away. On rare occasions, certain eggs might have to be moved to hiding places other than where they were originally intended to be, after the maps have been printed, due to reasons that only the Cast Members and Mickey Mouse know.
There may also be clues directing you to places you have either never seen or that you have never referred to by the names given on the maps, and you find yourself questioning everything you thought you ever knew about the layout of Disneyland Resort.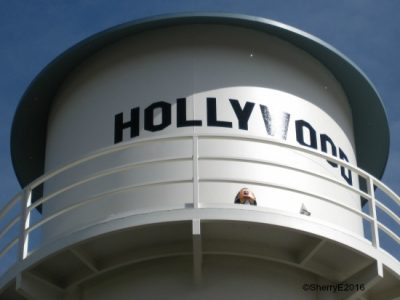 Yep!  There's an egg up there too!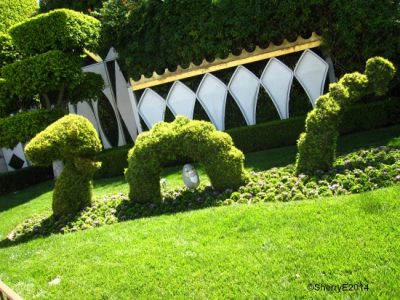 A Cast Member could hardly contain her amusement when I stopped to ask if I was getting close to finding this egg
8.  When in doubt, ask a Cast Member.  If you encounter a situation as described in #7 above, in which you cannot locate an egg and are ready to give up, do not feel bad about asking a Cast Member for assistance. There is no need to walk on eggshells. They are there to help and give information. They see plenty of baffled, lost, frustrated guests on a regular basis – even when there is no egg hunting going on – and they will be able to point you in the right direction. Most of the time they will not volunteer an egg's location unless they are directly asked for it, but they might find it hard to conceal a smirk, a giggle or two as a parade of befuddled hunters mosey past them in search of a troublesome egg.
I tend to appreciate the challenge of the eggs that are a bit harder to find. It is a hunt, after all, and I am doing the Egg-stravaganza for the thrill of the hunt more than I am to get a small character prize egg at the end of it. But I am not above asking a Cast Member for help if I just cannot find that one pesky, problematic egg.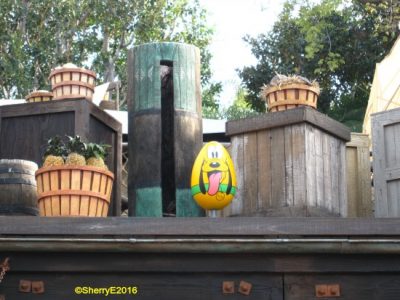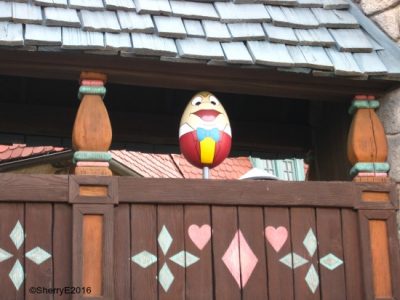 9.  Stick with daytime hunts.  I don't mean to overstate the obvious, but it is worth mentioning that it could be harder to spot eggs after dark than it is to spot them during the daytime. Some eggs will be hidden in places with handy nearby illumination, of course, but when crowds swell and concentrate in precise locations for nighttime shows, parades or fireworks, you might have a more difficult time accessing and viewing your targets.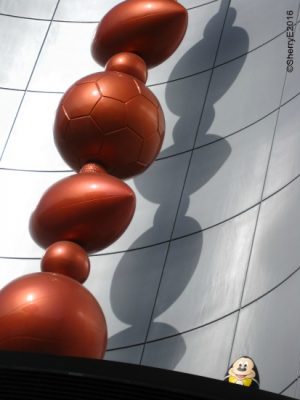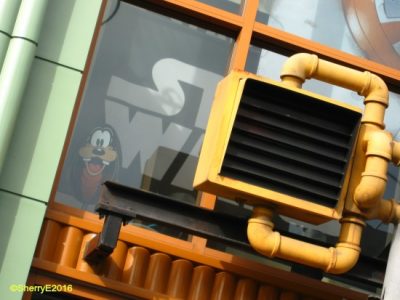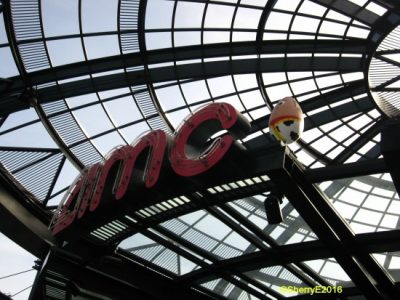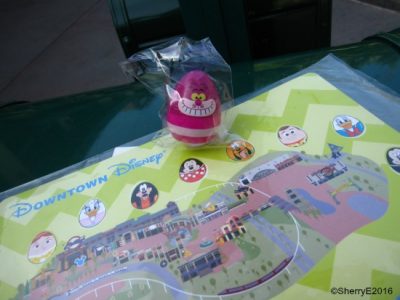 10.  If you aren't going to Disneyland Park or Disney California Adventure Park, the Downtown Disney leg of the Egg-stravaganza is a viable alternative, open to everyone.  I think that one of the smartest things Disney has done in regards to the Egg-stravaganza is to include Downtown Disney in the fun. Not only does it provide 12 additional places for enthusiastic participants to scout out eggs, it also gives visitors a way to enjoy a festive springtime activity – albeit, one that is only available for a limited time – without entering the parks. This would be a good idea for arrival day or departure day of a Disneyland trip, as it keeps the Disney magic going but does not take up a tremendous amount of time.
The Egg-stravaganza is an entertaining, inexpensive way to revel in another glorious season at Disneyland Resort, exploring out-of-the-way corners and discovering little details and hidden gems along the way. It is great for all ages, and there is no rush to get it done.
If you have experienced the Egg-stravaganza, what are your tips and suggestions? What do you like or dislike about the event? Would you like to see Disney implement something a bit more challenging, a bit less challenging, or should it stay exactly as is? Share in the comments.
Did you like this article? Make sure to share it with your friends! Check below for easy ways to share!