This post may contains affiliate links for your convenience. If you make a purchase after clicking a link we may earn a small commission but it won't cost you a penny more! Read our full disclosure policy here.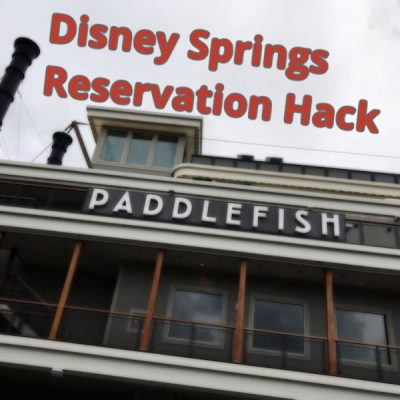 Is the Disney App is telling you that your favorite Disney Springs restaurant is booked?  This won't be a problem when you use this particular Disney Springs Dining Reservation Hack.
You see, Disney Springs dining reservations can also be booked on the OpenTable reservation application.  OpenTable is a smart phone App that  you can use to make your dining reservations all over the world, but also there are some restaurants in Disney Springs that offer this option.
Disney Springs draws in local folks and visitors without theme park passes to eat and shop there, therefore Disney sets aside reservations for the locals, as well as others, through the OpenTable App.  If you use this particular Disney Springs Dining Reservation Hack, it will open those tables for you. So, when Disney shows that no tables are available at your favorite Disney Springs restaurant try using OpenTable to make a reservation.
Disney Springs Dining Reservation Hack Example:
The Disney reservation system shows limited availability at The Boathouse tonight:

No option is close to my requested 7:30 p.m. time.  Eating at  8:30 p.m. is way too late for me.  And even though I'm sixty, I'm still not ready for the early bird special.
But, when I use the Disney Springs Dining Reservation Hack ( through OpenTable) more seating times are available.  I promise that I made these requests minutes apart: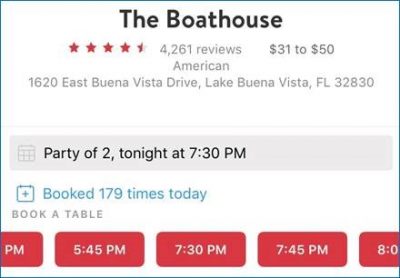 The Disney Springs Dining Reservation Hack produced multiple, additional options.
Unfortunately, the Disney resorts and and theme parks restaurants do not accept OpenTable reservations,  however, OpenTable does work at The Swan and Dolphin restaurants as well.
About OpenTable
OpenTable is free to use and provides rewards.  Twenty reservations earns a $20 gift certificate.  However, some reservations are worth five or ten times the normal amount.  Just two of the 10X reservations gets you $20 right away.  We use OpenTable at home and on vacation.  Pat and I recently received our first $100 certificate.
Before your next vacation to Disney World download the OpenTable app.  I would also suggest that you can test it locally to familiarize yourself with how it works.  That way, when you get to Orlando you will be ready use it and enjoy the Disney Springs Dining Reservation Hack.
Have you tried this option before? Did you have success? Share any other dining hacks with us by letting us know in the comments below or on Facebook or Twitter!
Did you like this article? Make sure to share it with your friends! Check below for easy ways to share!
Want to visit the Walt Disney World Resort? Contact The Magic for Less Travel for more information and a free, no-obligation quote.