This post may contains affiliate links for your convenience. If you make a purchase after clicking a link we may earn a small commission but it won't cost you a penny more! Read our full disclosure policy here.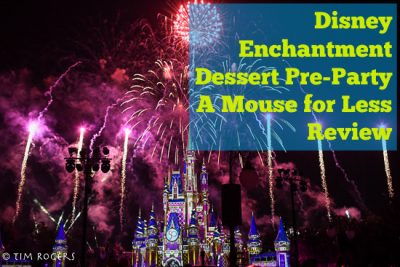 On October 1st, as a part of the 50th Anniversary celebration at Walt Disney World, the Magic Kingdom debuted its newest nighttime spectacular – Enchantment. Shortly thereafter, they also debuted a different kind of nighttime spectacular – dessert parties for Enchantment. Having never done a dessert party in the Magic Kingdom, I thought that a new show for the 50th during a trip after a longer than normal break was a good enough reason to give it a try.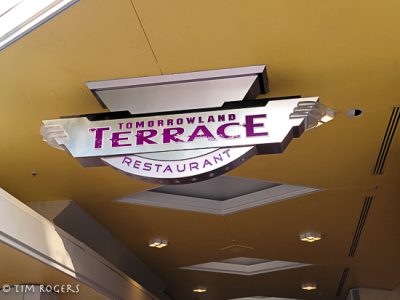 An important thing to know about the Disney Enchantment Dessert Parties, is that there are actually three different ones – a Pre-Party, a "during" Party (also called the Treats and Seats) and a Post-Party. For the Treats and Seats, you have a reserved table at the Tomorrowland Terrace where you can both eat and watch the fireworks. For both the pre- and post-parties, you enjoy the desserts and drinks from Tomorrowland Terrace, but watch the fireworks from a reserved area just off the Hub. We decided for the Pre-Party, and here is what that was like!
On our night, Enchantment was scheduled for 8:00 PM, so the official Pre-Party start time was an hour and a half before that, or 6:30 PM. We saw that people seemed to be checking in before that, so we decided to head over and see, and sure enough we were checked in and seated well before 6:15.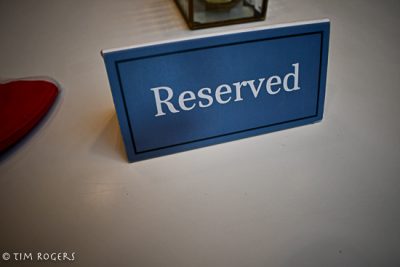 For that check-in process, you get a wristband showing not only that you should get access to the reserved viewing area, but also whether or not you are able to get alcoholic beverages, so if you plan to drink make sure you have an ID.
We were brought to a table in the upper portion of Tomorrowland Terrace, which was then reserved for us, and given an overview of the snack and drink options.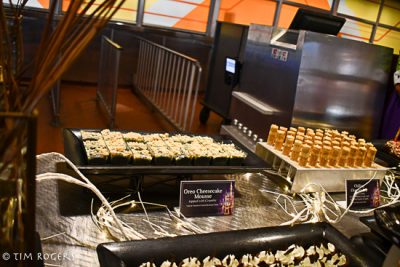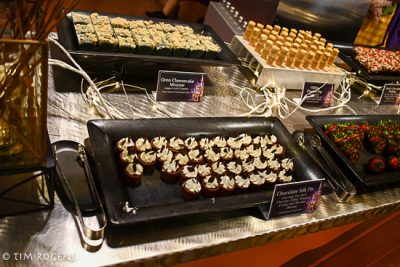 First for the food – they had a buffet set up with a range of sweet treats, both from restaurants within the Magic Kingdom and just for this party. They included Oreo Cheesecake Mousse, Chocolate Silk Pie, Chocolate Covered Strawberries, a Chilling Chamber Pop, Tres Leches Cake, Devil's Chocolate Pudding, Butterscotch Pudding with Caramel Popcorn, Firehouse Donuts with Strawberry Sauce, Fruit, Cheese and Crackers.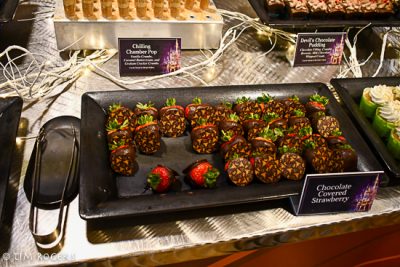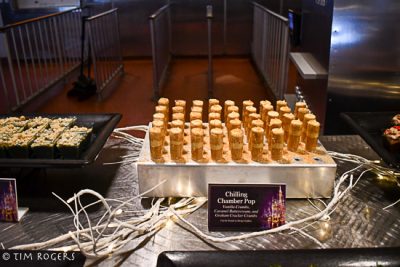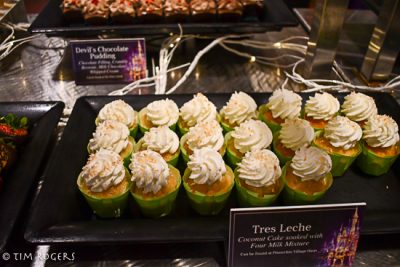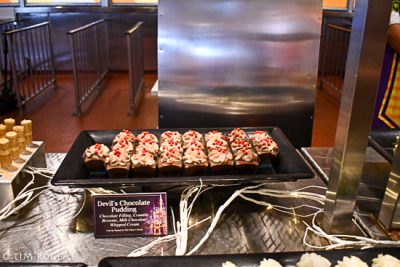 All of these were good, but as you can imagine, there is a lot of sweetness going on. One thing that I think would add a lot of value to this event is adding a few more savory options.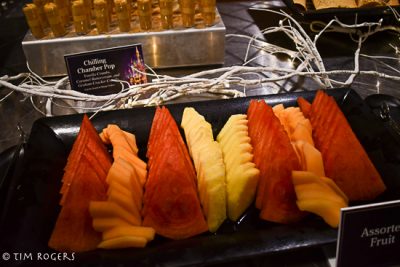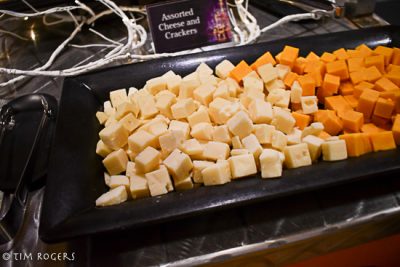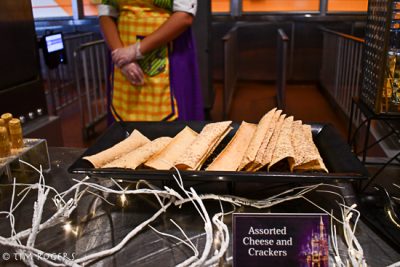 Some favorites were the Firehouse Donuts, the Butterscotch Pudding, and the Oreo Cheesecake Mousse.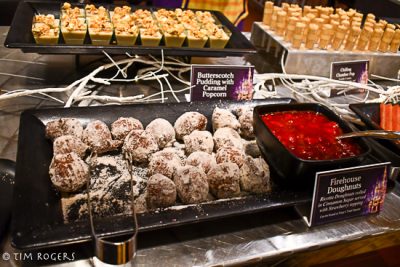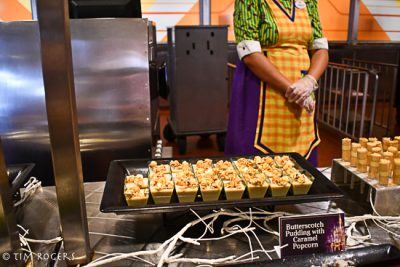 As for the drinks, for those not wanting alcohol, they had sparkling cider, water, tea, milk, lemonades, and POG Juice. One thing I don't completely understand is why Coke products weren't included in some way, because that would have also been a great value add (and like the savory options, something I experienced when I did the Frozen Ever After Sparkling Dessert Party in Epcot a few years ago).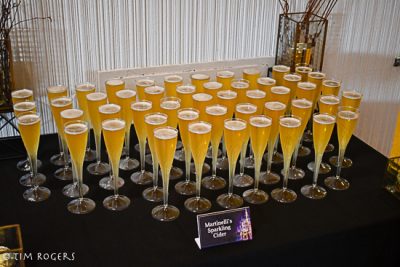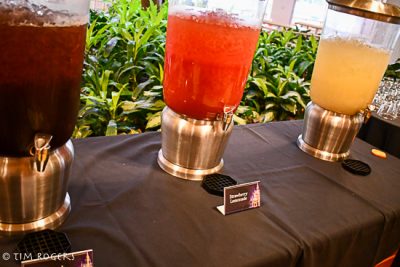 For those of age, they have a selection of wine and beer, with a pretty good array of red, white, and sparkling. I can't really speak to the variety, because I saw they had a personal favorite Moscato d'Asti (Saracco) and so I just had that. It did seem that for the general population, the Cava was the most popular selection.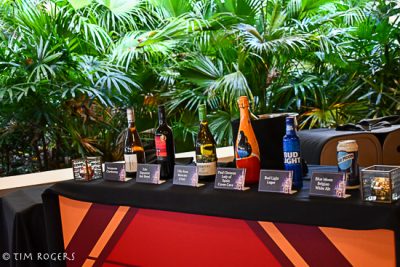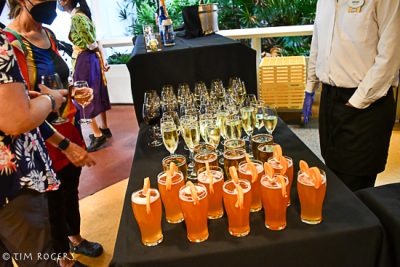 A few observations on the food and drink part of this – arriving early is super helpful. Since we were in the pre-party, we were able to get in earlier and get started with the buffet and drinks earlier. The closer it got to show time, the more people from the treats and seats party also started coming (they use the same food and drink stations) so there were momentary backups. We had gotten there early enough that we felt like we had our fill and were ready to move to the viewing area by about 7:15.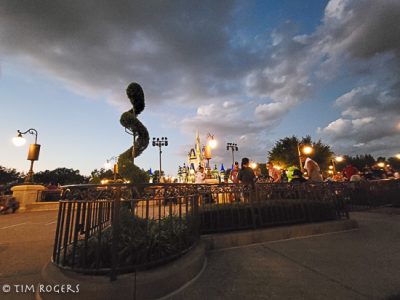 For the viewing area, it was the somewhat walled-off garden area to the right of the Hub if you are facing the castle. In this area, both the pre- and post- guests view the fireworks, so if you attend the pre-party and wait until the last minute to come down, you will have two parties worth of people to contend with. Granted, this is still MUCH less than trying to fight your way to a spot 5 minutes before the fireworks are going to start, but if having some sort of specific view matters to you, you can come down a little early.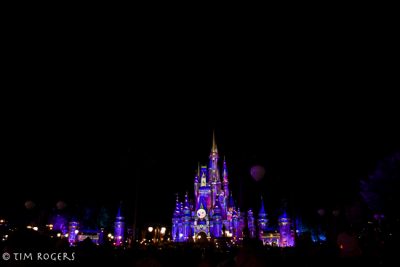 The way they had it set up for us, was there is a front area that is initially reserved for wheelchairs, and then a back area that is open the whole time. They also keep a sidewalk path open to the wheelchair area, so we sat right behind that path, knowing we could move up right before the show started.
About 5 minutes before 8, the Cast Members opened the wheelchair area to anyone attending the party, so a good amount of people moved in there, and we moved up to the wall divider near us. There was plenty of room to move around and find a spot in the reserved area, so even if we had kept having wine and chocolate until the last moment, we would have been fine.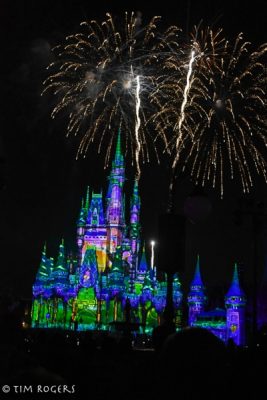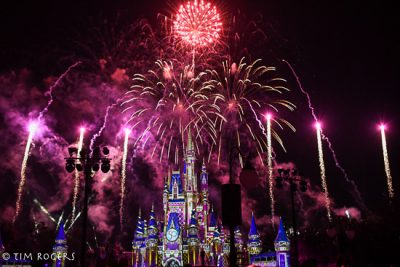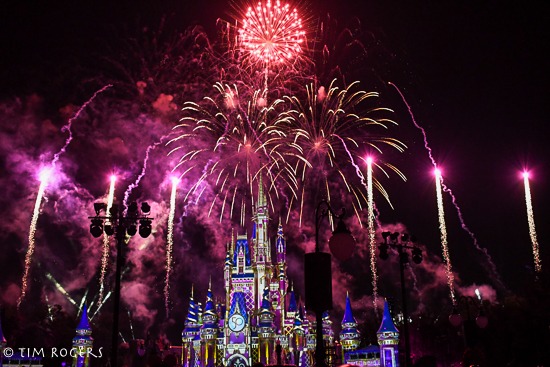 The view is a little off center and there are a few light poles, so if you are trying to do a nice video or unobstructed picture, you might have to move around and find a specific spot that works for you. However, for just being able to see the fireworks without jostling for a spot, or protecting it for a few hours, this experience was definitely worth it.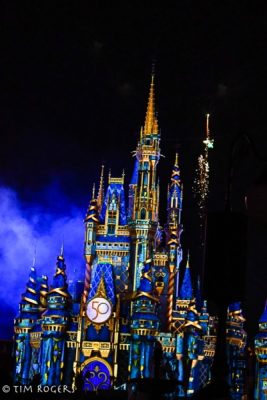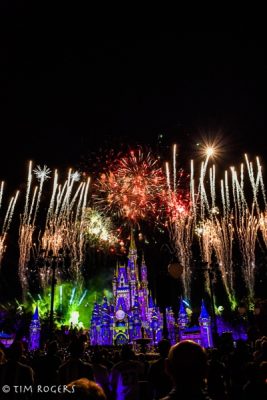 For Enchantment itself, I like a lot of things about it. I think the projection design is fantastic, the song choices are great, and the new song is catchy and appropriate. Comparing it to the previous shows is hard for me, because I loved Wishes and thought they couldn't do better, and then I ended up loving Happily Ever After considerably more than I loved Wishes. As this becomes more familiar, maybe that will be the case with Enchantment too.
I will say, if you do attend the Disney Enchantment Dessert Pre-Party and also have the chance to be in the Magic Kingdom another night, try to watch Enchantment from a bit down Main Street. While I definitely didn't feel like I missed anything from the Hub garden area, when we caught it from about halfway down Main Street, the effect of the projections coming down the street is great and definitely adds to the experience. That might be a testament to the building legacy of this show – there are more different places to have a unique and great view, so more and more guests can have a special moment.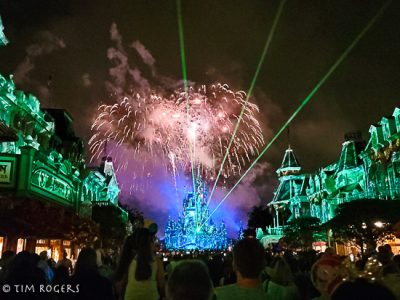 Would you consider a Disney Enchantment Dessert Pre-Party? Share your thoughts in the comments or on Facebook or Twitter!
Did you like this article? Make sure to share it with your friends! Check below for easy ways to share!  
Want to visit a Disney Destination? Contact The Magic for Less Travel for more information and a free, no-obligation quote.

Incoming search terms:
https://www themouseforless com/blog_world/disney-enchantment-dessert-pre-party-review/
disney dessert crepe reviews
disney enchantment dessert party review
disney enchantment pre-party
enchantment dessert party review view
https://www themouseforless com/blog_world/disney-enchantment-dessert-pre-party-review/#:~:text=However, for just being able lot of things about it