This post may contains affiliate links for your convenience. If you make a purchase after clicking a link we may earn a small commission but it won't cost you a penny more! Read our full disclosure policy here.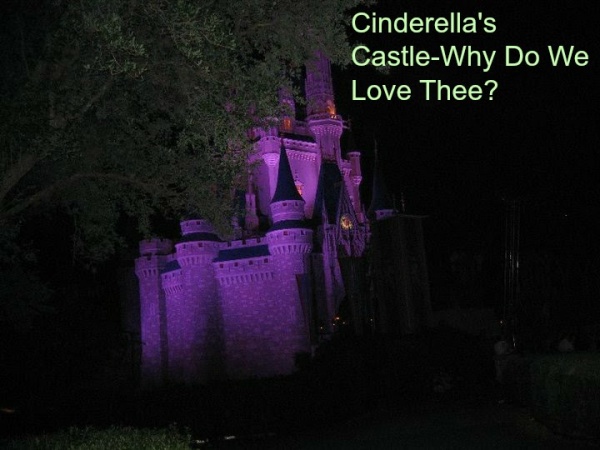 Many frequent travelers to a Disney destination have specific rituals that they perform upon arrival. For me it is getting to The Magic Kingdom and seeing Cinderella Castle. Even if  I cannot partake in the attractions at that moment, it is almost as if I NEED to see the Castle in order to feel like I have arrived. The feeling that it brings when I finally lay my eyes on it is pure enchantment.
On my first Christmastime holiday trip I walked onto Main Street during the day and just stood there and tears came to my eyes when I looked at all the decor with Cinderella Castle in the background.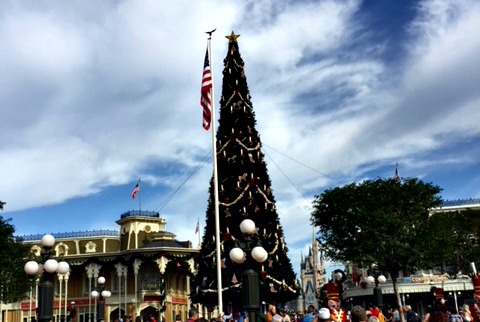 We know that Cinderella Castle took 18 months of construction and stands 189 feet tall. We know the forced perspective method of its construction, which is ingenious, makes it seem much taller than it actually is. We know and are very comforted by the fact that it is made to withstand hurricane force winds. We love the tales we have heard about the inside secret Castle Suite too. While this is all wonderful and I'm really glad to know these facts, this is not why I love it so. Why do I love thee? Let's count some of the ways.
The ever changing looks of the Castle
What other inanimate object can take on so many different looks, even in a single day?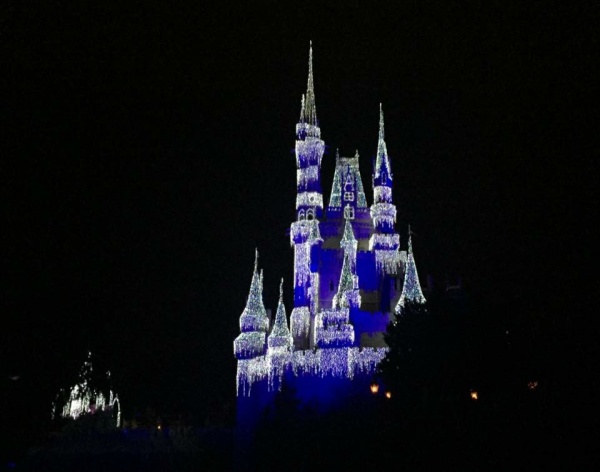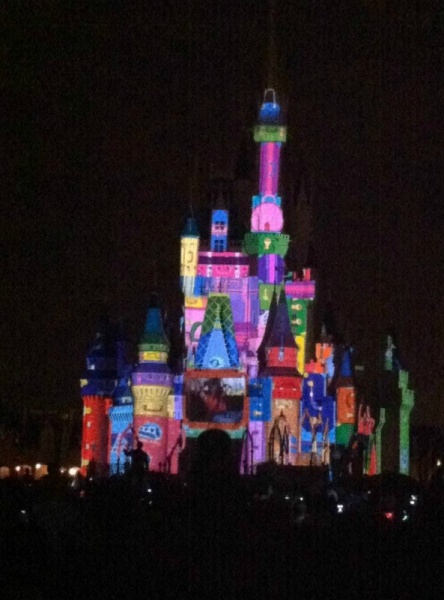 (Photo Credit Rikki Niblett)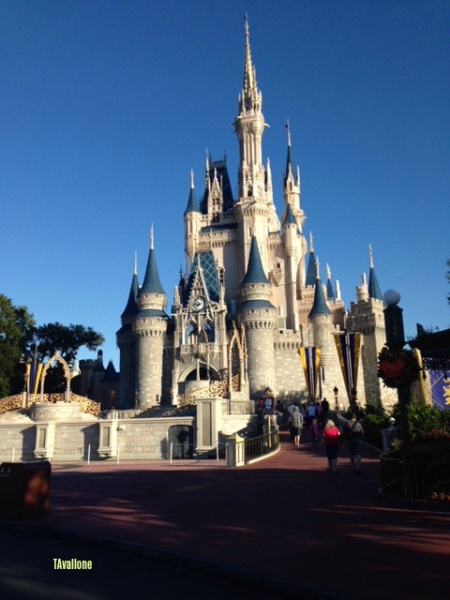 Viewing it from different areas of the park
Traveling in from the Ticket and Transportation Center, you have a couple of options of catching that first glimpse of the Castle. If you choose to ride the ferry in, you can see Cinderella Castle looming up before you in a whimsical way. I have done this trip at night and seeing the Castle lit up as you approach is amazing.  Riding in on the monorail, the Castle can also be seen in a peekaboo sort of way.
No matter how I arrive, I am on a mission to get under the archways at the entrance, walk through the hub, and then stop and stand on Main Street USA and just stare for a moment. Ahhh.. I am really HERE!
Once you are in the park, the Castle can be seen from various angles to remind you where you are. Next time you are on Splash Mountain at night, glance over just as you make the drop! I also love viewing it from the Tomorrowland Transit Authority.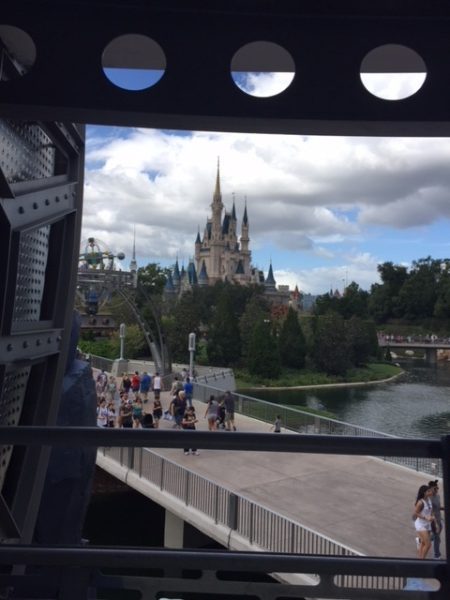 The Castle sure does know how to celebrate each season!
For both Christmas and Halloween, Cinderella Castle takes on a different feel, thanks to projections, decorations, and more.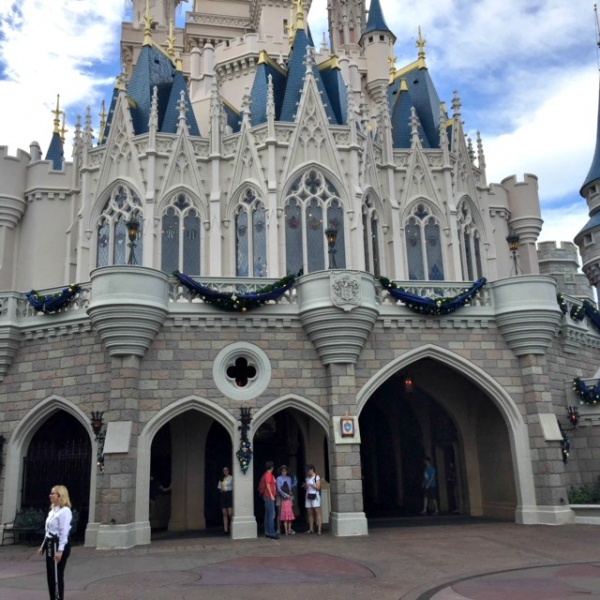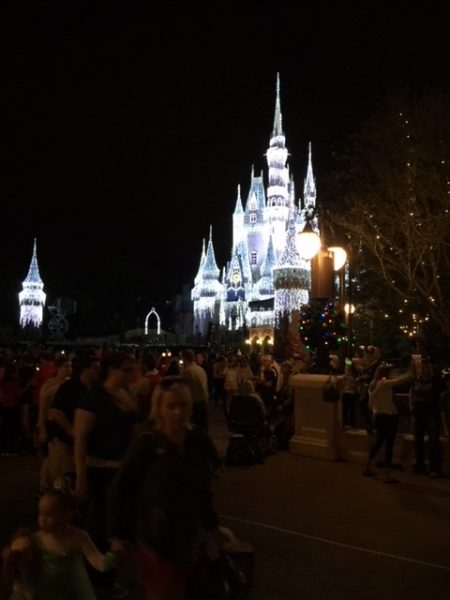 Tinkerbell!
Where else can you see a real, live fairy fly out of a turret? It is hard to capture a picture of Tinkerbell during Happily Every After, but do try and see it in person. To realize this is a real person on a zip line makes it even more magical!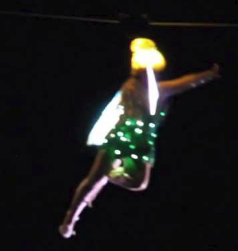 Cinderella's Royal Table Restaurant
You can be treated like royalty when dining within. Some years ago, I asked my son to suffer through a meal at Cinderella's Royal Table with me so I could see what it was like! He pretended to be annoyed, but all the princesses called him "My Lord" and he was willing to take a few pictures.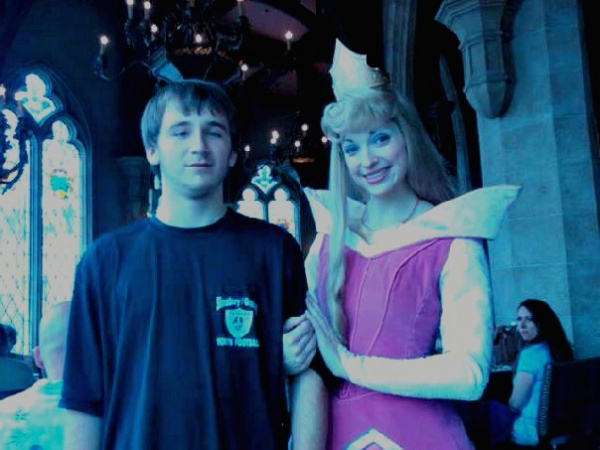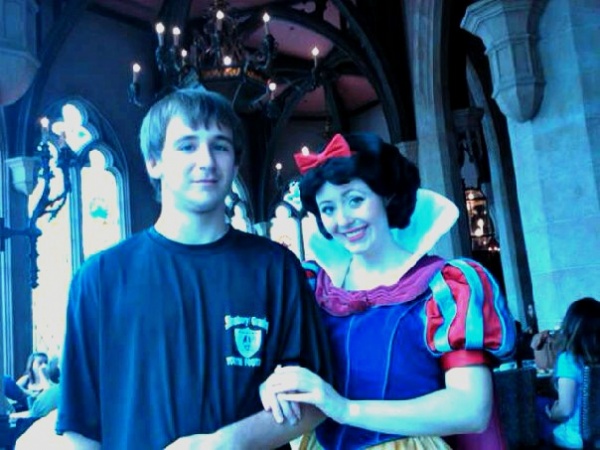 The Five Murals
I hope that when you visit the Magic Kingdom you will take time to look at the murals inside of the Castle archway. They tell the story of Cinderella in beautify mosaic tiles that are Italian glass infused with sterling and 14k gold. There are five murals in all.
The first one shows Lady Tremaine reading the invitation to the ball while Drizella and Anastasia, Cinderella, Bruno the dog and Lucifer the cat all look on. The next one is where the Fairy Godmother is turning Cinderella's rags into to a beautiful ball gown and you can see the pumpkin coach in the background. The third one is of Cinderella rushing out of the ball and losing her glass slipper. The fourth is of Cinderella trying on the glass slipper with the evil stepsisters looking on in anger and envy. The fifth one is of Cinderella and Prince Charming riding off on their horse, into happily ever after.
The one pictured here is the fourth mural; notice the detail of one sister's face "green"with envy and the other's "red" with anger.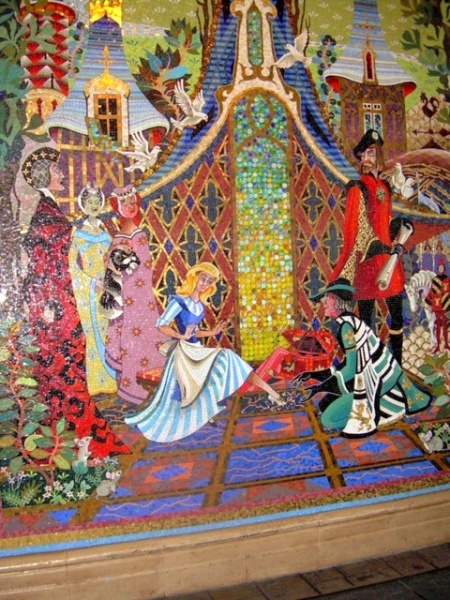 (Photo Credit Kelly Nobles)
Where else can your prince or princess ages 3-12 have a magical makeover at the awesome salon?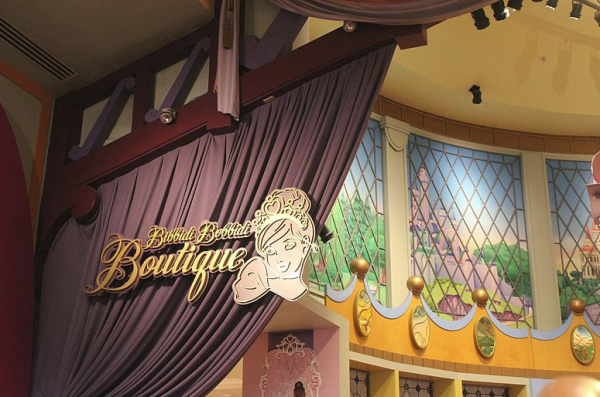 Sir Mickeys
At this Mickey and the Beanstalk themed store, you can shop within the base of the Castle to get apparel and other odds and ends.  I just love the story of Mickey and Beanstalk.
The 25th Anniversary
Remember the Magic? Ok, so all love affairs have their ups and downs and boy was I not in love when I got there in 1997 and saw my beloved Castle looking like this! Although I was annoyed, I must have still loved it deep down because I took all the following pictures of it, despite its gaudy attire. We all make some fashion mistakes here and there.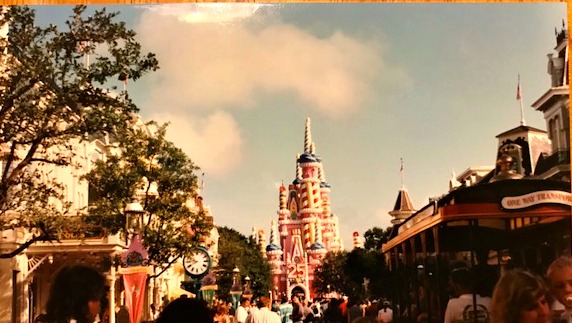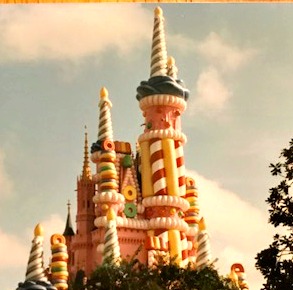 Fountain
Who doesn't love Cinderella's Fountain in the back of the castle? Secret confession: I was on a solo trip in 2013 and I threw a coin into the fountain and wished for a person to spend my life with who would enjoy being at Walt Disney World as much as I do. A year later I met my now husband and he does love visiting Walt Disney World, maybe not quite as much as he loves golf, but good enough for me! Lucky for him there are plenty of golf courses in the Walt Disney World Resort too.
Kiss Goodnight
Lastly, I encourage you to take a few minutes and wander through the Castle, enjoy the shows that take place there and wait until after the park closes and witness the Kiss Goodnight!
What are some of the reasons why you love Cinderella Castle? Share in the comments, or on Facebook or Twitter.
Did you like this article? Make sure to share it with your friends! Check below for easy ways to share!
Incoming search terms:
https://www themouseforless com/blog_world/cinderella-castle-why-do-we-love-thee/