This post may contains affiliate links for your convenience. If you make a purchase after clicking a link we may earn a small commission but it won't cost you a penny more! Read our full disclosure policy here.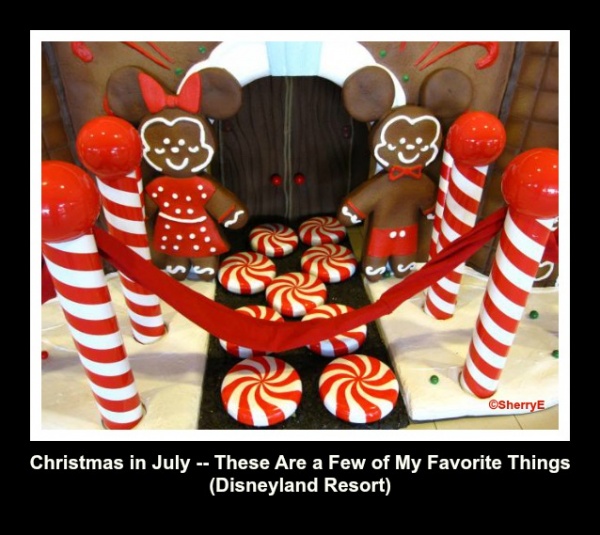 Summer is in full swing, and, for many people, it is a time for pool parties, road trips and carefree sunset strolls on the beach.  It is a time to sing and tell ghost stories around a campfire, and to enjoy picnics in the park.  It is time to grab a boat and explore the nearest lake or ocean.
But, for some of us, summer is a time for visions of sugar plums dancing in our heads.  It is a time to dream of dashing through the snow, walking in winter wonderlands and chestnuts roasting on an open fire.   It is when we start longing to see Rudolph and Hermey travel to the Island of Misfit Toys, and watch Frosty come to life with a corn cob pipe, button nose, and two eyes made out of coal.
Forget all of the "fun in the sun" hoopla at this point in the year.   Summer is the time to look ahead to the holiday season!
Yes, that's right.  I am one of those  Christmas in July people, and am not ashamed to admit it.   I watch Christmas movies in July.  I hum Christmas tunes in July. And if a random Santa Claus-embossed-item happens to find its way to a store shelf in July, I do not recoil in horror at the mere sight of it.  Truth be told, if I could get away with drinking hot chocolate and wearing a sparkly red and green sweater right now, without feeling as though I was burning alive, I might just do it.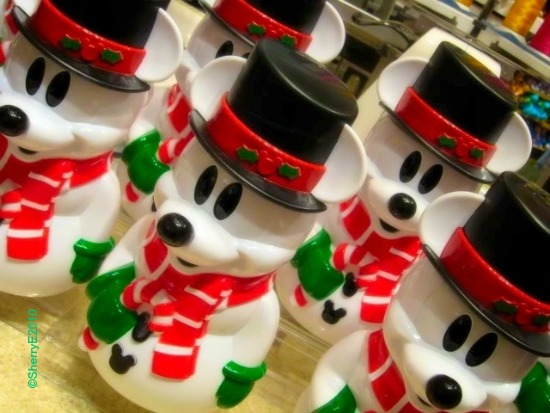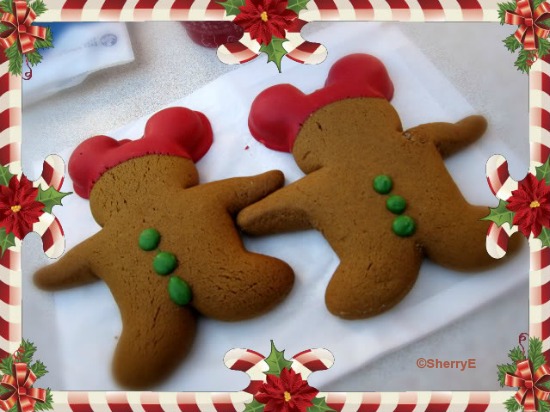 Two of my favorite things in the world are Christmas and Disney, so you can guess that, when those two worlds collide for the spectacular Holidays at Disneyland Resort in November and December, I am brimming with mirth and merriment.   But, while the Disney Parks Blog will occasionally throw something together to observe Christmas in July, Disneyland Resort has really only had one "official" celebration of it in recent years, and that was during the Limited Time Magic promotion of 2013.
So, as the last vestiges of Christmas in July 2017 melt away and we begin the slow crawl to fall, I would like to share "a few of my favorite things" about Disneyland Resort's holiday season.   Vikki and Kristina did a great job of covering it last year, so I will focus on just a handful of holiday highlights for now.
It's Lovely Weather for a Sleigh Ride Together (Themed Ride Overlays!)
Three attractions in Disneyland Park receive annual Yuletide makeovers: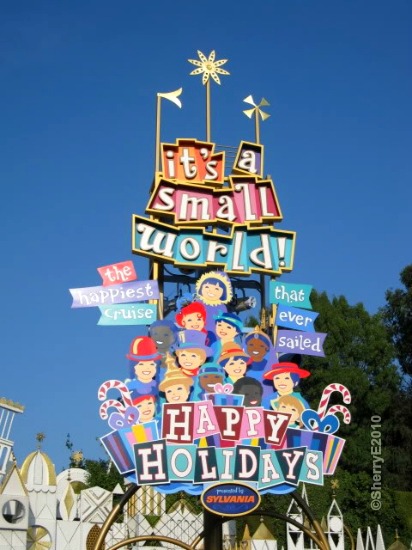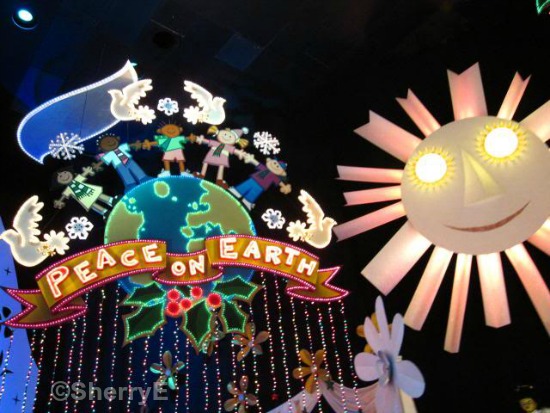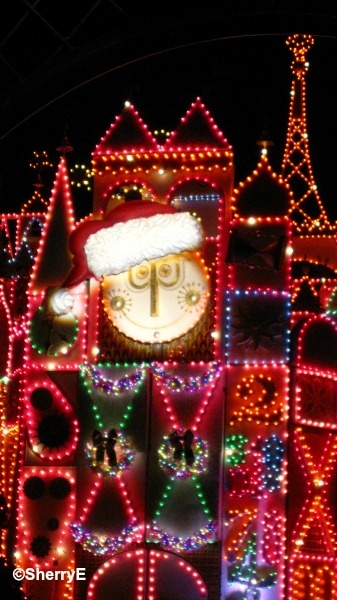 1.  "it's a small world" Holiday — From November to mid-January (exact dates differ each year), "it's a small world" Holiday is one of the most popular attractions of the season, and when the sun goes down it is truly one of the most beautiful sights to see.   At dusk, guests flock from all corners of Disneyland Resort to gaze in awe at the thousands and thousands of brilliant colored lights that envelop the familiar, whimsical façade and collectively glow like a beacon in the night.   It is, quite simply, breathtaking.   The surrounding topiaries glisten, and special wreaths representing various nations (with the same sort of playful design synonymous with "it's a small world") mark a pathway to the queue.
But it is not only the exterior of "it's a small world" that is transformed, as the entire voyage along the canal becomes a celebration of worldwide holidays.   Along with the iconic theme song known far and wide, the famous Mary Blair-inspired dolls also sing Deck the Halls and Jingle Bells (though, if you listen closely, you will notice that as you pass the Little Mermaid scene the lyrics change to "jingle shells").   Additionally, the faint scents of peppermint and pine fill the air and the vibrant hues are more vivid than usual.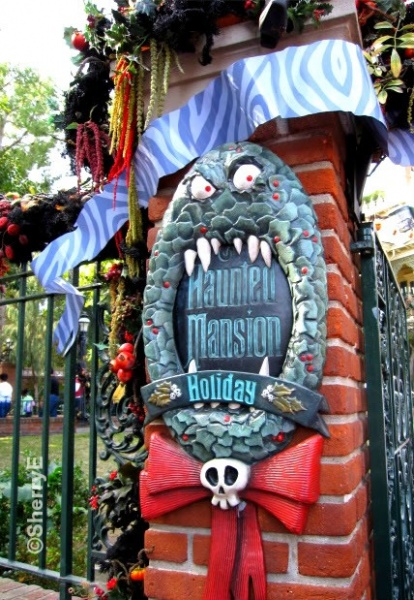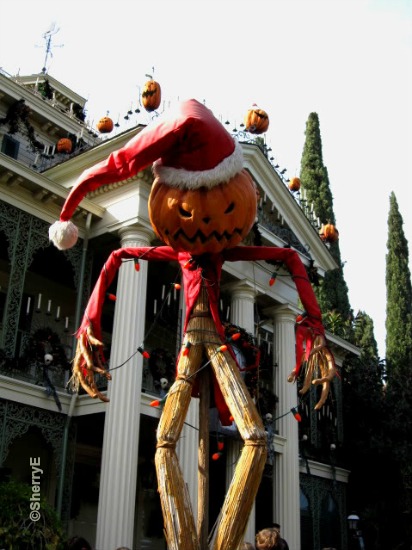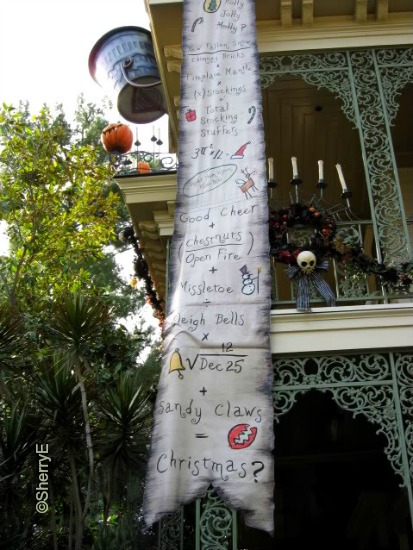 2.   Haunted Mansion Holiday — In 2001, Jack Skellington left his mark on Disneyland's venerable Haunted Mansion for the first time, and Haunted Mansion Holiday was born.   Sixteen years later, this surprisingly polarizing overlay continues to draw large crowds to New Orleans Square from the start of the Halloween Time season in mid-September to the end of the Holidays in early January
The concept of Haunted Mansion Holiday invites us to imagine what would happen if Jack Skellington took over the existing Mansion and infused some twisted Christmas merriment into it.   While there is some controversy over the theme of Haunted Mansion Holiday and how well it actually fits or does not fit in with the Halloween and/or Christmas seasons in the park — or how well Nightmare Before Christmas fits in to the Disney family at all, for that matter — there is no question that the attention to detail in this overhaul of a longstanding, beloved park attraction is exceptional.   The Skellington-ized accents are abundant, from the cemetery, light fixtures and shrubbery in the outdoor waiting area to the famous ballroom scene inside, which features a most interesting and menacing gingerbread creation as the table's centerpiece (there is a new one made every year!).   Almost no corner of the ride is left untouched, which explains the nearly 3-week time frame it takes to install the makeover.   Love it or hate it, most people will agree that it is an elaborate undertaking and truly a spectacle to behold.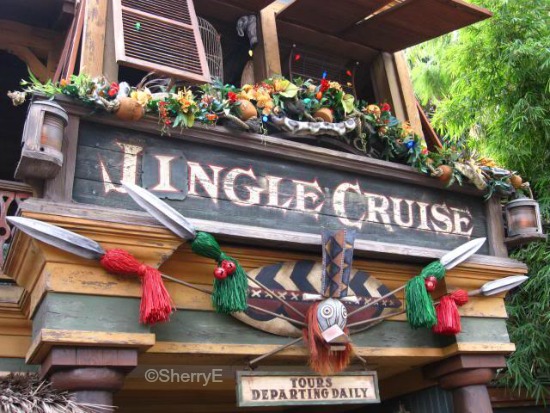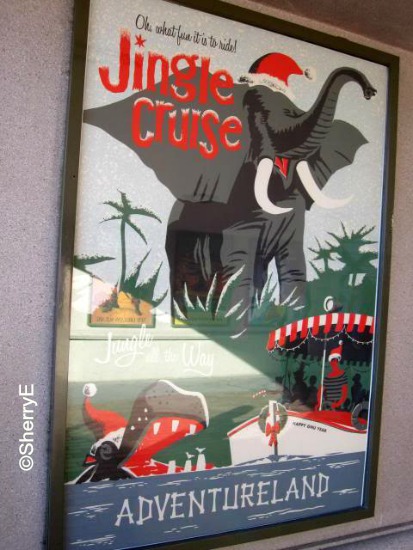 3.   Jingle Cruise — For the holiday season of 2013, the creative minds at Disneyland surprised repeat seasonal visitors by adding a bit of jingle to the jungle – and "Jingle Cruise" was born at both Walt Disney World and Disneyland Resort.
The original storyline for this holiday overlay was that the skippers of the Jungle Cruise had become homesick and missed their loved ones, so to cheer themselves up they decorated the boats and the boathouse with Christmas cards, a tree and other odds and ends.   The ride's queue (both upstairs and downstairs) featured many of those odds and ends, and others were strung on the boats themselves.   Skippers also donned appropriately themed and colored Santa hats and worked some seasonal references into their repertoire of jokes.
While Jingle Cruise was initially not a massive, extensive overlay — and reviews were mixed — more embellishments were applied throughout the ride in subsequent years, and the narrative was expanded to include a "lost holiday shipment" intercepted by the jungle's most ferocious residents.
Deck the Halls (Hotel Holiday Fun!)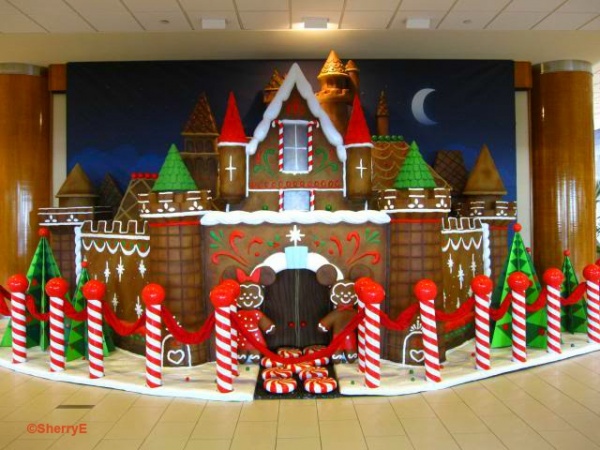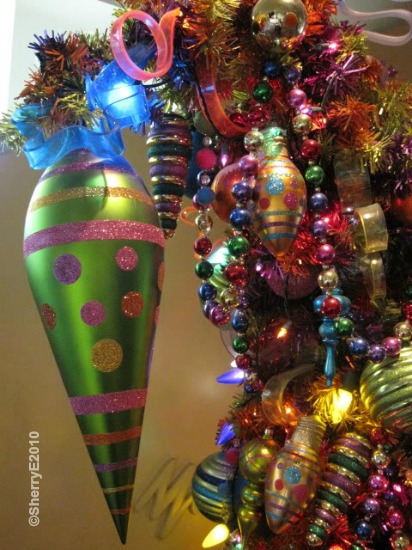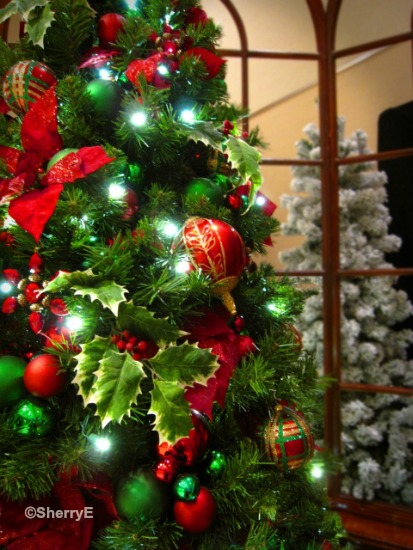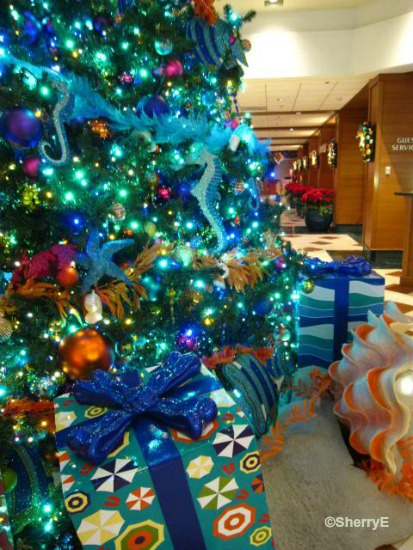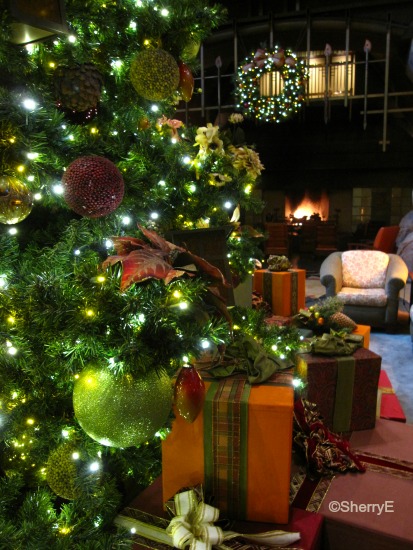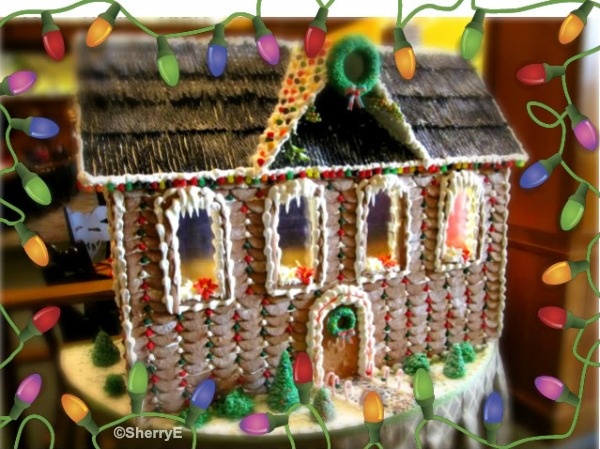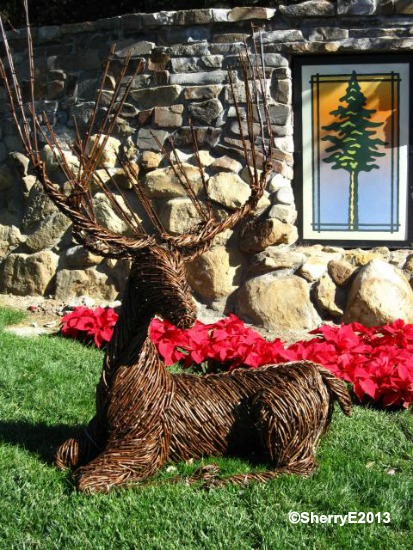 Appearing just before Thanksgiving, one of the wonderful aspects of the holiday season at Disneyland Resort – and possibly one of the most overlooked – is the décor that you can find around the three Resort hotels:  the Disneyland Hotel, the Paradise Pier Hotel and the Grand Californian Hotel & Spa.   Each hotel has its own unique style and ambiance.   Whether it's the wacky, colorful, slightly askew tree which greets guests at Goofy's Kitchen in the Disneyland Hotel; the gingerbread creation in the cozy Grand Californian Hotel lobby; or the combination of oceanic decorations and gorgeous, glowing jewel tones on the majestic Paradise Pier tree, there are many amazing things to see to get you in the holiday spirit, and you do not need to be a guest of the hotels or buy admission to the parks to enjoy them.
It's the Most Wonderful Time of the Year (Themed Decorations in the Parks!)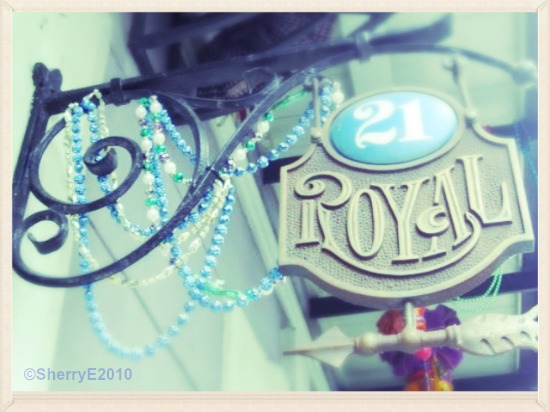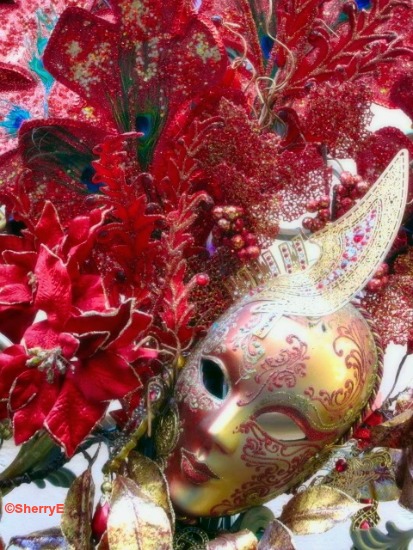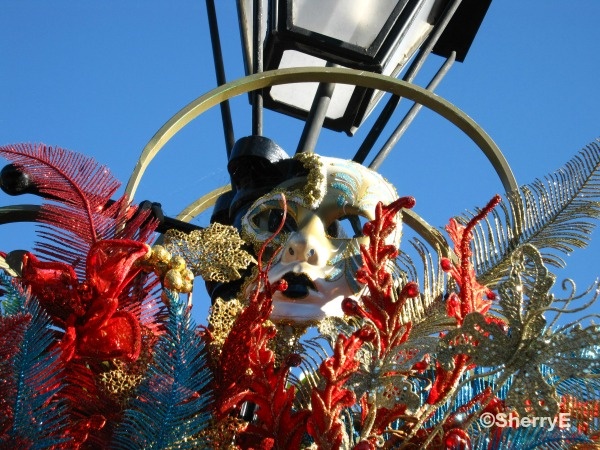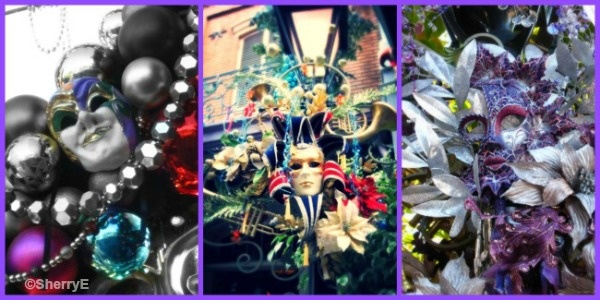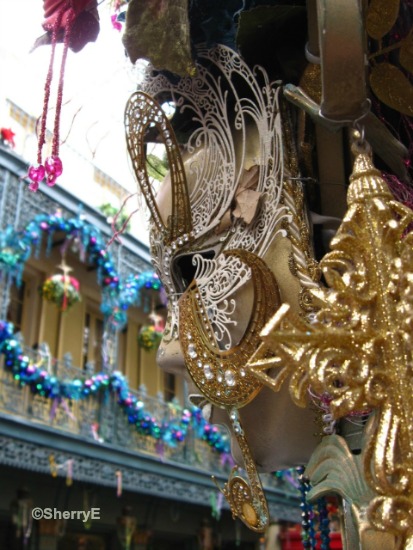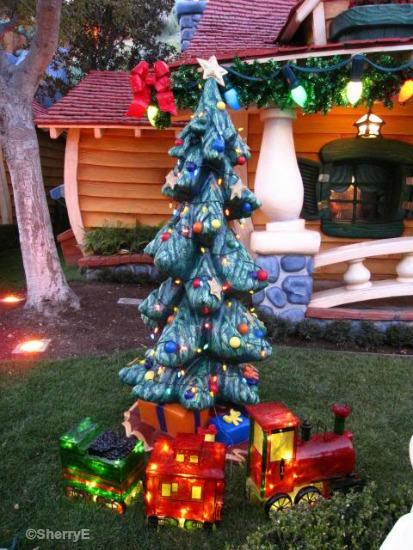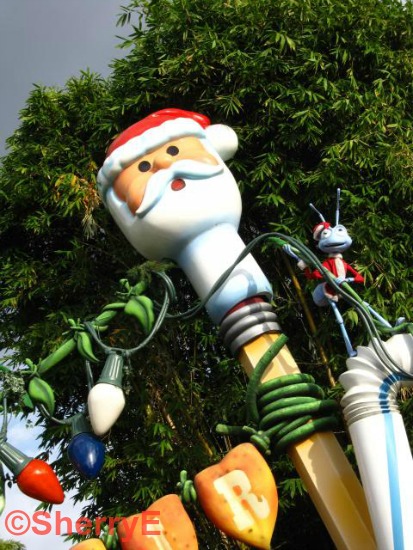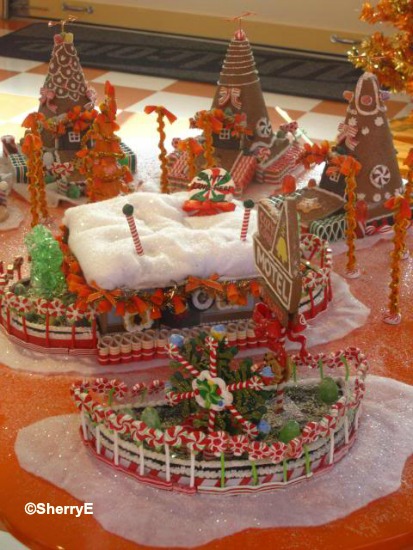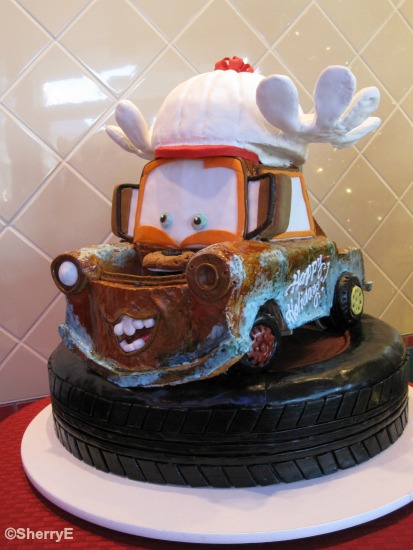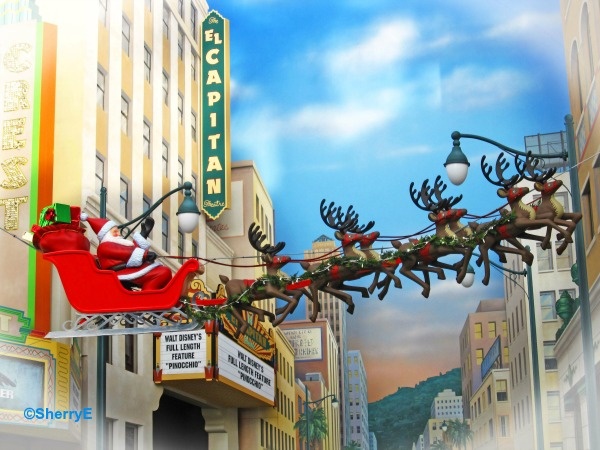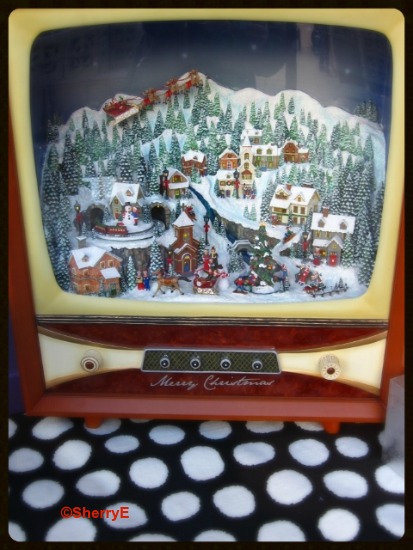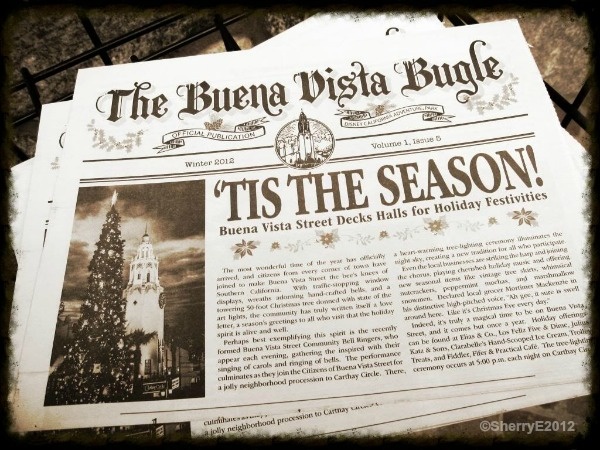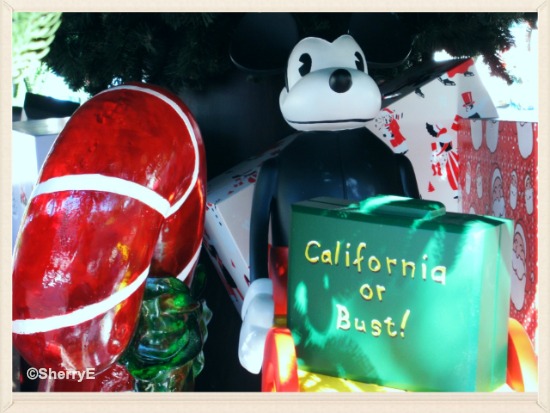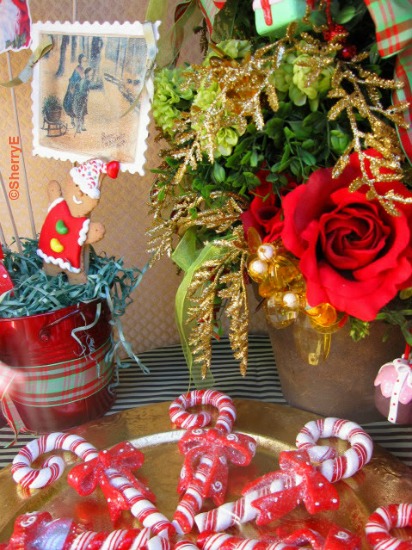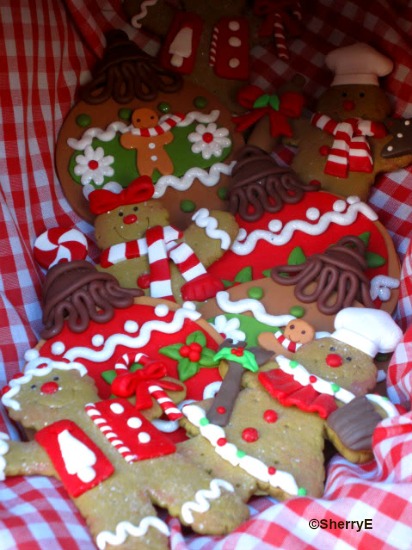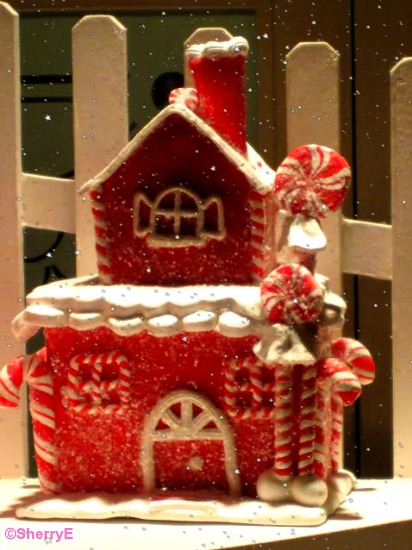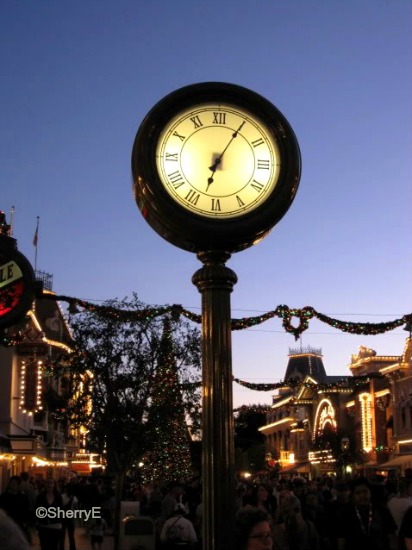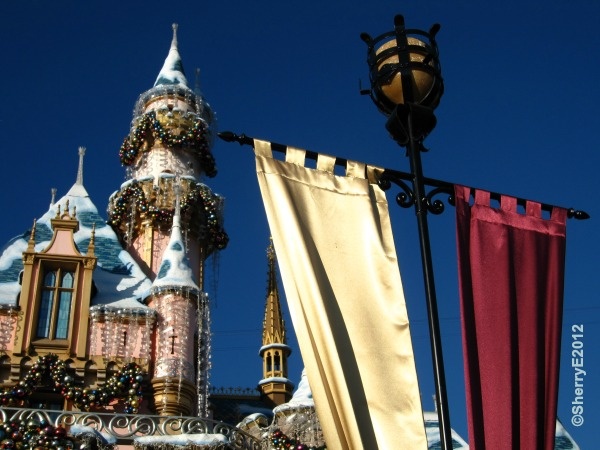 I will confess that I am a sucker for a theme.   Themed decorations, themed parties, themed music, themed Christmas trees… I love it all.   Disney's dedication to themes and immersion knows no bounds, and the holiday season provides an opportunity to play with those themes and take them to a different level.   From the mystical Mardi Gras masks of New Orleans Square, to more offbeat enhancements in A Bug's Land, Mickey's Toontown and Cars Land, to the vintage atmosphere of Main Street and Buena Vista Street, there is something for everyone, no matter the preference in Christmas décor.
In a previous article I told you about other things I love about the Holidays at Disneyland Resort, such as the joyous Candlelight Ceremony and Processional, which I will cover in more detail in a future article.   This year's upcoming season promises to be pretty similar to that of 2016, with the return of Viva Navidad, the Festival of Holidays, A Christmas Fantasy Parade, Believe… in Holiday Magic fireworks, World of Color – Season of Light, the three ride overlays mentioned above, and much, much more.   As we inch closer to the opening of Star Wars: Galaxy's Edge (which is the name of the new land slated to open in 2019, even though it sounds very much like the title of a movie), some elements of each season in the parks could disappear into the Disney history books, while there will inevitably be many additions, new entertainment and unique, creative decorations.
What are a few of your favorite things about the Holidays at Disneyland Resort?   Share them in the comments below.    Happy Christmas (in July) to all… and to all a good night!
What are some of your favorite holiday aspects of the Disneyland Resort? Share them in the comments!
Did you like this article? Make sure to share it with your friends! Check below for easy ways to share!