This post may contains affiliate links for your convenience. If you make a purchase after clicking a link we may earn a small commission but it won't cost you a penny more! Read our full disclosure policy here.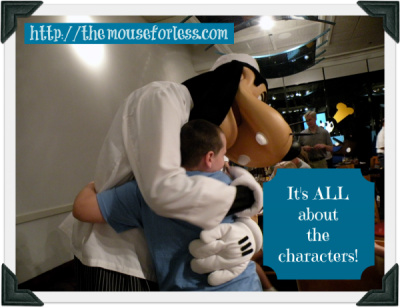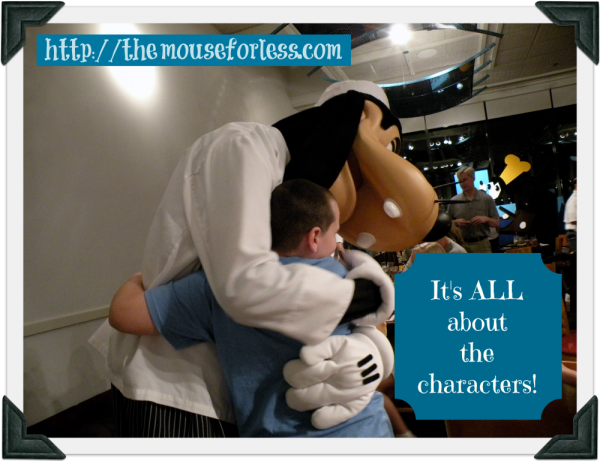 Character dining…  To some, character dining is a "must-do" for each trip to Walt Disney World.  To others, it is a "I've been there, and I've done it." type of experience.  Some try to fit every character meal into one trip, and others try a new character meal each time.  But what is the true appeal of the character meal?  Of course, each meal is ALL about the characters!
That's my son up there giving Goofy a hug at Chef Mickey's.  It was the kids' first trip to Walt Disney World; although, they had been to Disneyland many times.  It was our first night there, and both kids were so excited to have some personal time with the characters!
This brings me to one of my MOST important reasons for our family to go to a few character meals each trip.  No, it's not about the food, and I'll touch on that in a little bit.  It is about getting to meet the characters.  See, we have a hard time getting to meet the characters outside of the meals.  Since my son isn't able to tolerate the heat, it is difficult for him to wait outside to see characters.  To us, being able to be inside in the air conditioning waiting for the characters to come to us is priceless!
One of the hard things for kids to remember is that while the character meals have a "normal" line-up of characters, not all characters are guaranteed to appear.  It's a good idea to let your child know before going in that even though his favorite character is normally there, that character may be on a break or be needed in another place at that time.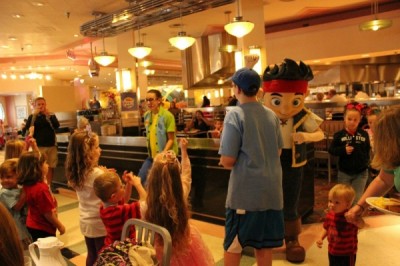 Another fun thing about character meals is the activities or additional opportunities for the kids to interact with the characters, and that provides another chance for making memories.  I remember the first time we took the kids to Goofy's Kitchen in Disneyland, and the kids got to dance the Macarena with Goofy.  Such a great memory watching the kids trying to keep up with the motions.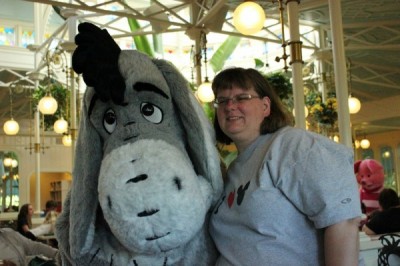 During our last trip, my daughter decided that I needed to get some character interaction, too.  No, character meals really aren't just for kids.  Several of us adults like to see the Disney characters, too.  However, if you would like to eat without the characters stopping by your table, all you have to do is let them know.
So, let's talk a little about the food…  Many but not all of the character meals are buffet or all-you-care-to-eat family-style.  If you have picky eaters or very hungry eaters, the buffets can be a good deal as far as Disney meals go.  Like most meals, some of the character meals are better than others.  While I'm not a big fan of the food at Cinderella's Royal Table, it is definitely the atmosphere that makes this meal a popular draw.  I was trying to come up with my favorite character meal for food to share with you, but I got stumped when I weeded it down to three.  So, I guess I will have to share my top three favorites for food.
Naomi's favorite three character meals for food:
Cinderella's Happily Ever After Dinner at 1900 Park Fare – For us, the sheer variety of food offered here is a winner.  The strawberry soup is to die for!  As a side note, we love to watch Anastasia and Drizella interact with each other and with the guests.
Donald's Safari Breakfast at Disney's Animal Kingdom – This was a good choice for us because there was traditional fare for our picky eaters, and there was also some more adventurous dishes with an African flare for us.  A plus was the yummy juice!  Just bring the pitcher, please…
Disney Jr Play 'n Dine at Hollywood and Vine –  For some reason, I wasn't really looking forward to this meal.  I'm not sure why, but my family found the food to be good.  Maybe not as much variety as the other meals we had been to, but it was tasty.
For us, character meals are a good deal and a fun "must-do" to any trip!  Are you a fan of character meals?  What is your favorite?
If you would like to find more information on the different character meals available at Walt Disney World, please check out our character meal page!