This post may contains affiliate links for your convenience. If you make a purchase after clicking a link we may earn a small commission but it won't cost you a penny more! Read our full disclosure policy here.
If you're looking to venture to other places in and around Orlando, The Unofficial Guide Beyond Disney, 8th Ed. is a great book to have with you. I really like the Unofficial line of guidebooks all together, so this would be my go-to guide for Universal Orlando or SeaWorld.
The layout of the book is really easy to follow. If there is a specific park you are looking to visit, just check out the table of contents. You can learn all you need to know in the chapter specific to that park.
Part 1 of the book begins with lodging for all of Orlando, except Disney resorts of course. There are maps that can help you pick an area to stay in, so you can stay nearest to the attractions you wish you enjoy. I really like the detail you can learn about all the hotels. It breaks down cost range, rating, and how many can stay in a room. When I'm making vacation plans, these are all things I want to know, especially the room occupancy. With a family of 6, it can be difficult to put everyone into one room on a trip. There is even a chart that not only compares the non-Disney hotels, but adds the Disney ones in so you can see how they compare to your favorite resort.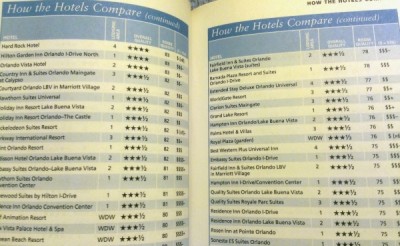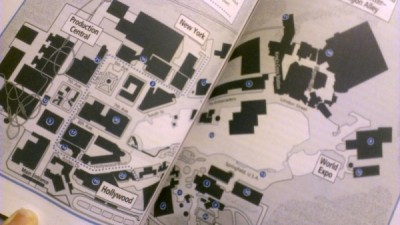 The next seven sections of the book each highlight a park in the Central Florida area. You can learn about Busch Gardens in Tampa Bay, Legoland, Gatorland, The Holy land Experience, Kennedy Space Center, SeaWorld, and Universal Orlando, in that order. You'll find simple directions to the park, a map, and then admission prices.
I will warn, these books are not printed annually, so the prices may not be current. The good news about having prices in there is at least you'll have a place to start with budgeting. Always check online for current prices, or you can call the park directly. Contact information is provided in each section.
Throughout the sections there are also unofficial tips. These are little tidbits that are not advertised, but will help you enjoy your experience more. I really like that these tips are included. Each attraction within the park is described in detail with touring tips, an overall rating, and a rating for each age group showing who will enjoy the attraction most. The chapter rounds out with a section on dining in the park and shopping.
There are also touring plans listed for Legoland and Universal Orlando. These are a great place to start if you've never been to either of these parks.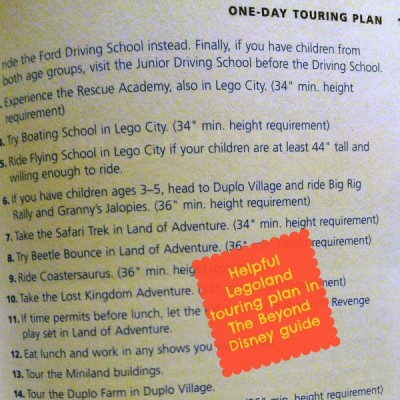 Part 9 and 10 have information on water parks and mini golf in the area. The water parks chapter compares area water parks to the Disney ones. And the mini golf chapter has information on all mini golf locations, including Fantasia Gardens and Winter Summerland inside of the Disney property.  Each location is listed with a rating and short description. I do love a good game of miniature golf.
The next five sections of the book are filled with other activities you can enjoy around Orlando, including things happening after the sun goes down. Each activity is rated and has a short description. There are museums, outdoor attractions, and dinner shows. One of my favorite activities mentioned is going to Medieval Times.
The final chapter of Beyond Disney is all about food. That is a chapter I can sink my teeth into. I love eating different things when I go on vacation. There is a chart that lists a type of food and where to find it in Orlando. Whether you're in the mood for French, barbeque, or Ethiopian food, there is a restaurant recommended on the chart for you. Finally the chapter ends with a section all about food at Universal Orlando. It lists the restaurants with ratings and descriptions of what you can find there.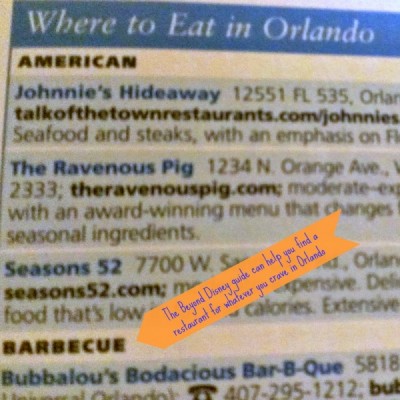 Overall, I would definitely recommend picking up a copy of Beyond Disney, 8th edition: The Unofficial Guide to Universal Orlando, SeaWorld, & the Best of Central Florida. It has great information for anyone planning their next Florida trip. I think this guide has everything you need to know to be able to plan a great trip for your family. I can't wait to use mine to plan my next Orlando trip!