This post may contains affiliate links for your convenience. If you make a purchase after clicking a link we may earn a small commission but it won't cost you a penny more! Read our full disclosure policy here.
The culinary tour of Boma and Jiko is a hidden gem at Walt Disney World's Animal Kingdom Lodge!
Things To Know Before The Tour
The free Boma and Jiko culinary tour is offered daily.  Registration is not needed, which makes this a perfect way to weave in some spontaneous fun during a relaxing afternoon.  Tour time is currently 4:15 p.m., though this is subject to change so checking the Animal Kingdom Lodge Activities Guide is a must.  Those wanting to do tour meet at the entrance of the Boma restaurant.
It Pays To Get To Animal Kingdom Lodge Early
Anytime I'm visiting Animal Kingdom Lodge, I plan to arrive early so I have time for exploration.  The African inspired lobby is worth a visit!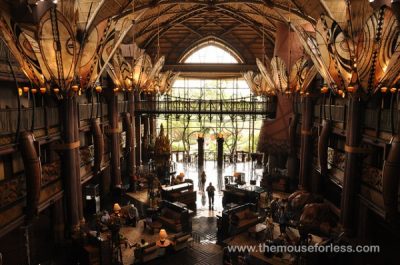 Authentic African artwork is scattered throughout the lobby and corridors.  The Igbo Ijele Mask is over 15 feet tall.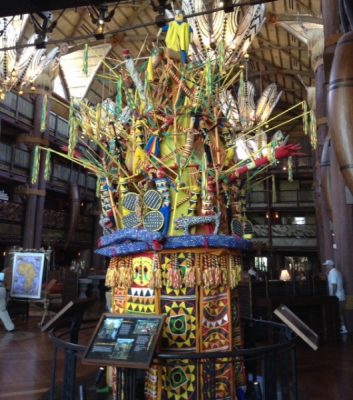 Art made with telephone wire is one of my favorite crafts.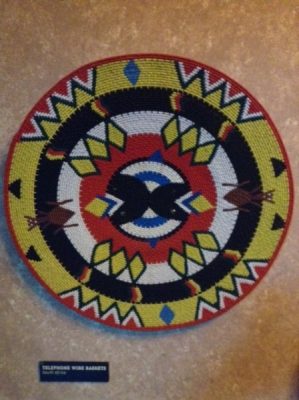 The true treasure to explore is spending time with the Cultural Representatives in the lobby.  There are nearly always African Cast Members on hand to chat about their home country, share a story, play some music, or show a craft.  On the day I visited, it was Swaziland's Independence Day!  I was able to talk to a Cast Member from Swaziland and take part in an upbeat musical celebration to celebrate her country's independence.  This unplanned encounter was one of my favorite memories of my trip!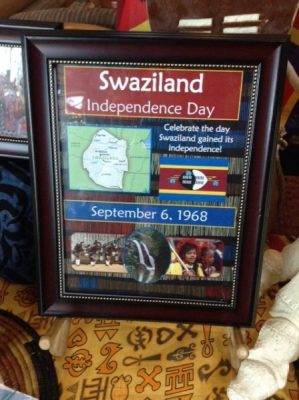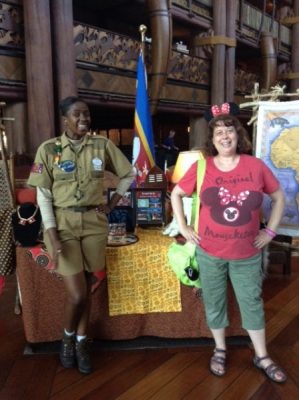 The Savanna Overlook is not to be missed!  Comfortable chairs provide a place to watch the wildlife in the Savanna.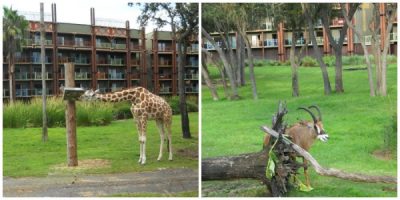 The Tour Begins at Boma—Flavors of Africa
The first Cultural Representative met us at the entrance of Boma and told us about the atmosphere of the restaurant.  Boma means "place of safety" in Swahili.  The pillars represent pots that are used to pound nuts and are painted the color of the sunset.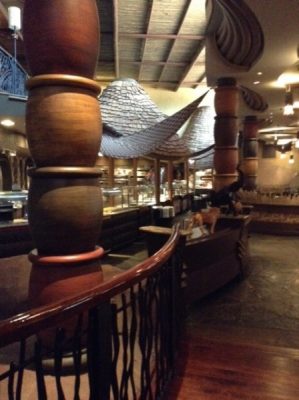 Stamped African coins adorn the wall, a detail that might be overlooked by a casual diner.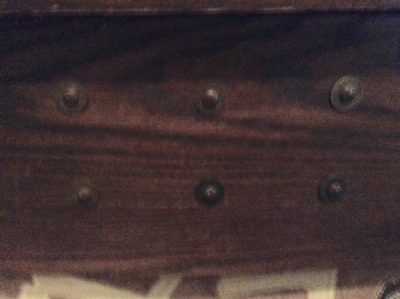 One of the tables is shaped like the African Continent, a detail I have never noticed although I've dined at Boma a few times.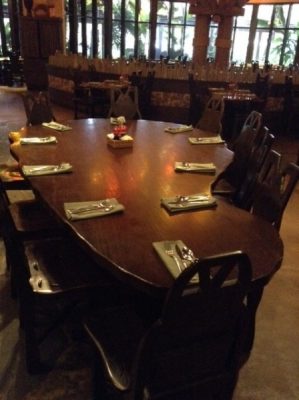 We were free to ask questions about the restaurant and about Africa in general.  Our guide was from Zimbabwe, and discussed city and country lifestyles in her country.
Once we toured the restaurant itself, our guide explained the buffet pods at Boma.  Each pod offers African inspired dishes as well as some plain kid-friendly choices.  Boma is known for flavorful soups, and we sampled the Butternut Squash Soup.  This savory soup is one of my favorites, and I was thrilled to have a free sample during our tour!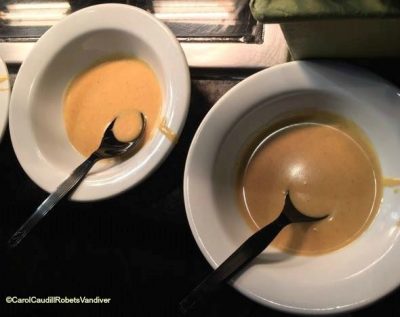 Zebra Domes, a signature dessert only available at Boma and Mara, were also provided as a treat to sample.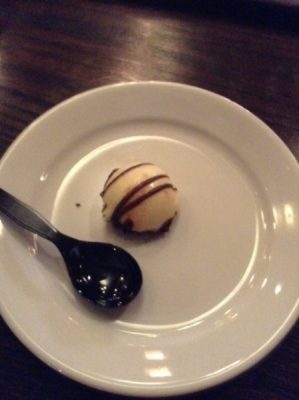 The Tour Ends at Jiko—The Cooking Place
We were escorted to Jiko, and a second Cultural Representative highlighted the details of the setting of the restaurant.  Jiko's artwork includes more ceremonial items from Africa.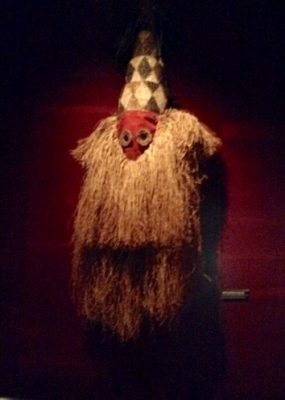 The African wine collection is one of the largest African wine collections in the world outside of Africa.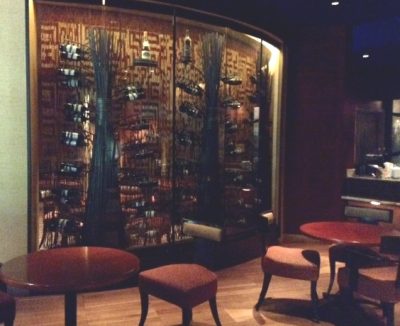 In Jiko, the pillars represent the rings that African women wear on their neck.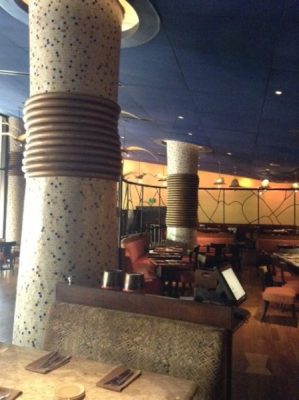 The ceiling is painted the color of the sky, and the orange walls change in shade as the sun sets.  Flying birds represent a prosperous year.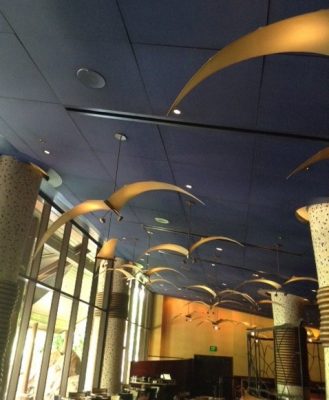 We were shown the ovens, representing traditional cooking hearths, and were treated to a flatbread service with various dips that were bursting with flavor.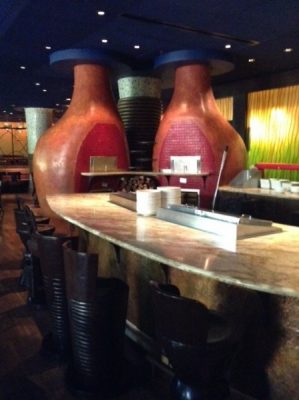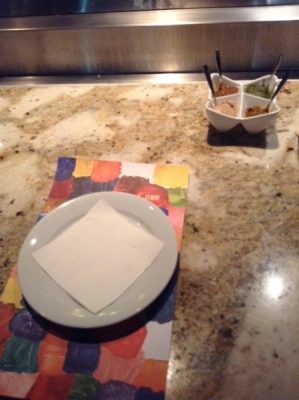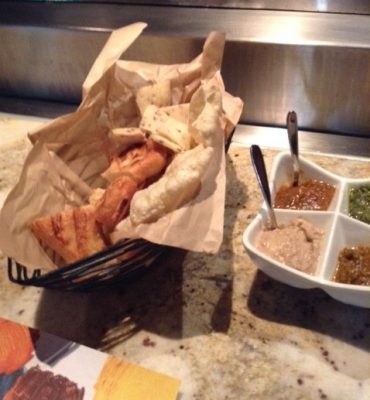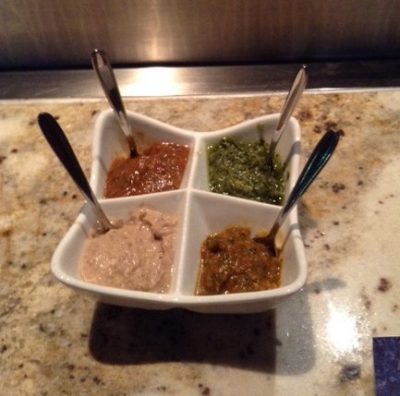 Final Thoughts
While there are countless activities geared toward children at Walt Disney World,  I think that the interest level of the culinary tour is focused on adults.  For adults, this tour is informative, fun, and tasty!  It would be nice to follow the tour with a dinner at Boma or Jiko, or a beverage at Victoria Falls Lounge.  I'd rank this tour as one of the best free activities to do at Walt Disney World.
Have you ever participated in the Boma and Jiko Culinary Tour? What did you think? Share your thoughts and favorite parts in the comments!
Did you like this article? Make sure to share it with your friends! Check below for easy ways to share!