This post may contains affiliate links for your convenience. If you make a purchase after clicking a link we may earn a small commission but it won't cost you a penny more! Read our full disclosure policy here.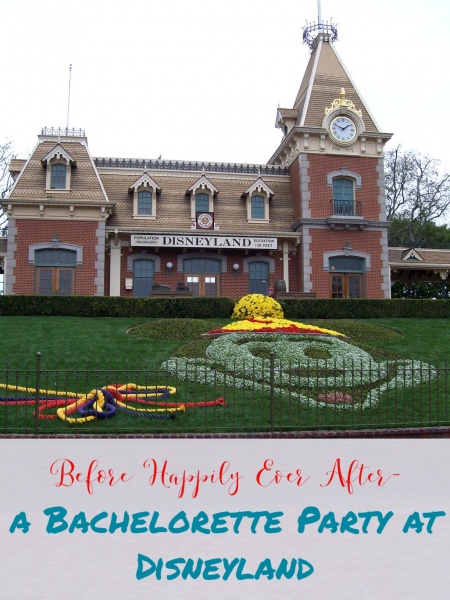 Editor's Note: It's Disneyland week on the blog this week! That means we're going to be highlighting some of the great tips about visiting the Disneyland Resort. 
Once upon a time in a far off land know as Texas, a fair maiden had found her Prince Charming. She was excited to start her "Happily Ever After", but she wanted one last hurrah with her ladies-in-waiting. She left in a aluminum flying carriage to the land of Disney to celebrate with four of the lovely ladies-in-waiting.
In February 2009 I was lucky enough to have my bachelorette party at Disneyland. My best friend lived in San Diego and her parents lived in Orange County, about 15 minutes from Disneyland. My other 3 friends flew in on separate flights and we all met in San Diego for the approximately 2 hour drive to Orange County.
Downtown Disney
My friends gifted me white Mickey Ears with a veil to wear during our visit. I wore them proudly wherever we went. We spent our first afternoon walking around Downtown Disney, shopping at World of Disney and having a dinner outside at Naples Restaurant.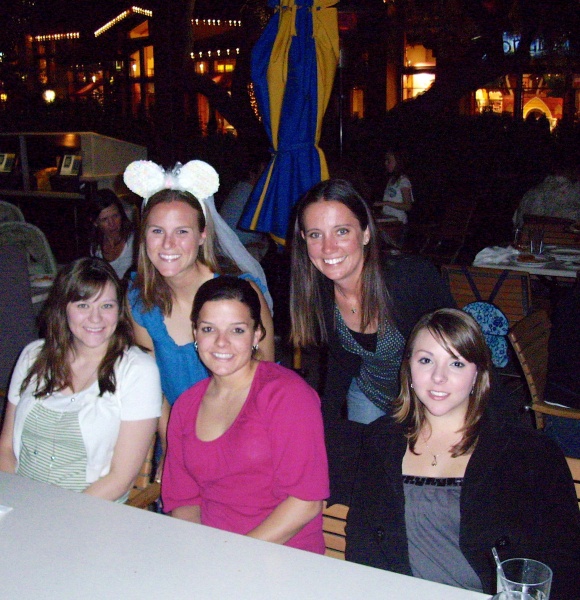 Treated these lovely ladies to dinner at Naples in Downtown Disney
We also visited the Disneyland Hotel and Grand Californian just to look around. We were just out of college and on a tight budget. Thus, we all stayed in one room at Paradise Pier on a special promotion.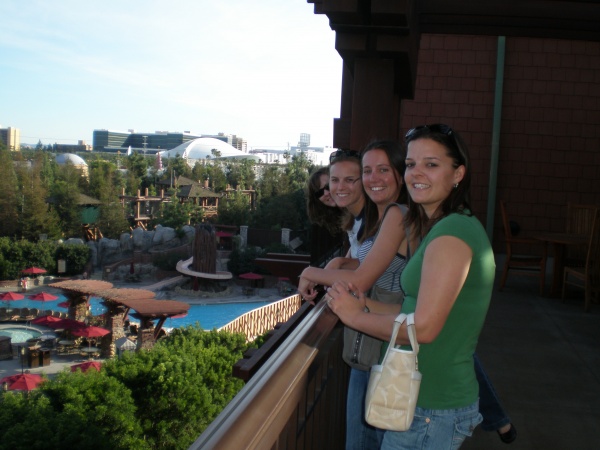 A beautiful view from the Grand Californian…if only we could have afforded it
One Big Sleepover
My wonderful friends somehow decorated our room before I got up to the room. There were streamers, balloons and bachelorette party gifts all over. It was a great surprise to walk in to. They also had matching t-shirts made for the next day. This is before wearing matching t-shirts was really a thing, and you rarely saw them at the parks. The t-shirts had each girl's favorite Disney character on the front with "Cristina's Bachelorette Party on the back". We played Disney Scene-It (this was a DVD based board game that tested your knowledge of all things Disney) and talked about our plans for the next day. We probably didn't get much sleep that night, but who does during a sleepover with all your best girl friends?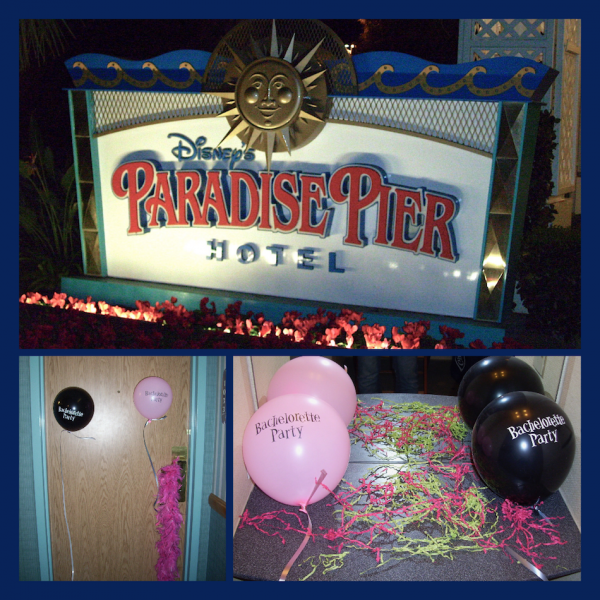 PARTY!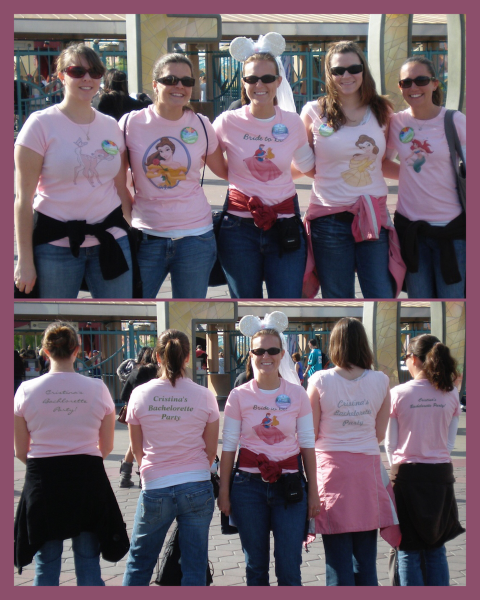 The matching t-shirt craze has come a long way since 2009, but I think we looked pretty good!
Fun with Characters

The old picturesque view when entering California Adventure…just like a postcard
It was so nice to easily walk over to the park from Paradise Pier. We were starting our day at California Adventure as Tower of Terror was one of my favorite rides at the time. The Disney Visa private meet and greet was near there, so we stopped by really quick for a hilarious interaction with Chip and Dale. They proceeded to fight over me and try to walk me down the aisle.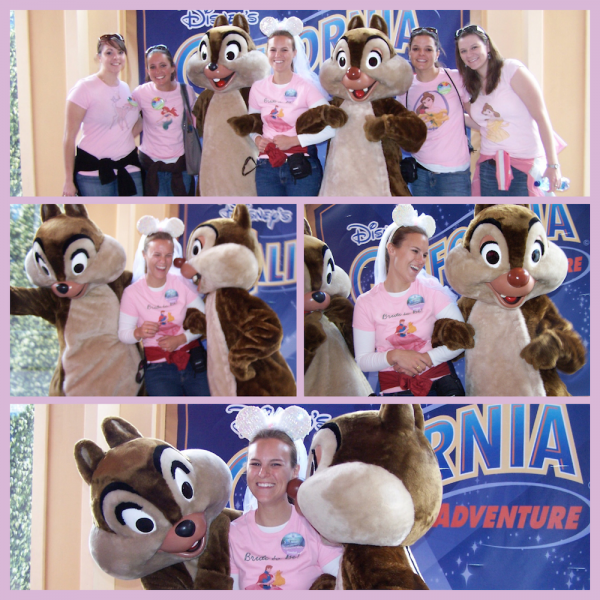 It looks like Dale won
As we walked back towards the entrance to switch over the Disneyland there was a character meet and greet at the Hollywood Backlot Stage. We were invited over for the end of the meet and greet. Cinderella treated us like royalty, Sorcerer Mickey enchanted us, and Woody took prom pictures with us. We felt so special as all other guests were kept away and the characters spent a lot of time with us.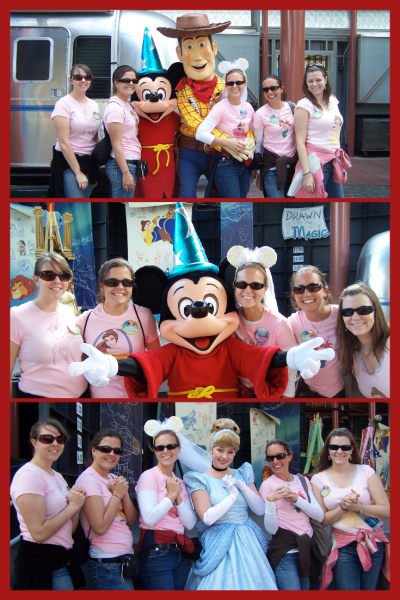 Sunny California….in the Rain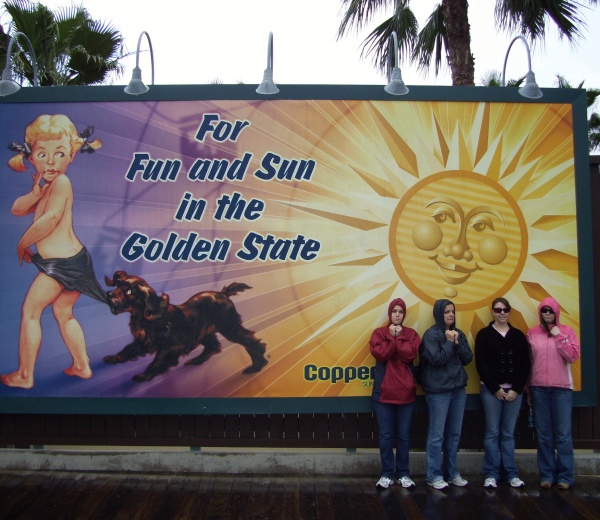 We then decided to head out of California Adventure to experience Disneyland….in the pouring rain! That's right, sunny Anaheim, where it averages 13 inches of rain the whole year and it POURED! We made the most of it, ponchoed up and had fun. We even road the Matterhorn Bobsleds in the rain…which kinda hurts. We met characters and overall had a blast.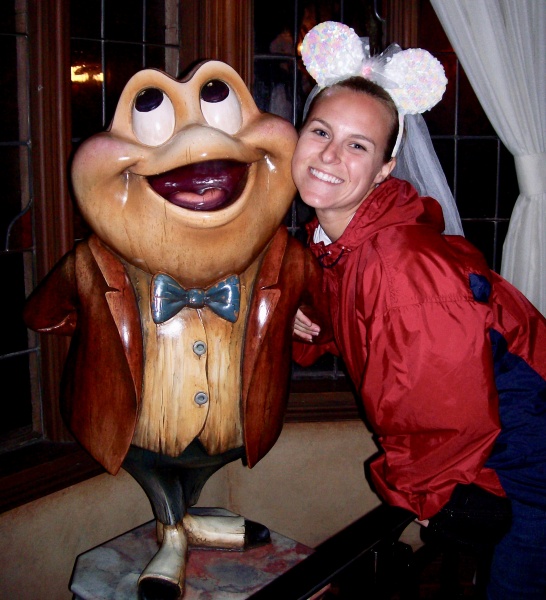 Not technically a character but missing Mr. Toad at Walt Disney World, so I had to get a picture at Disneyland with him.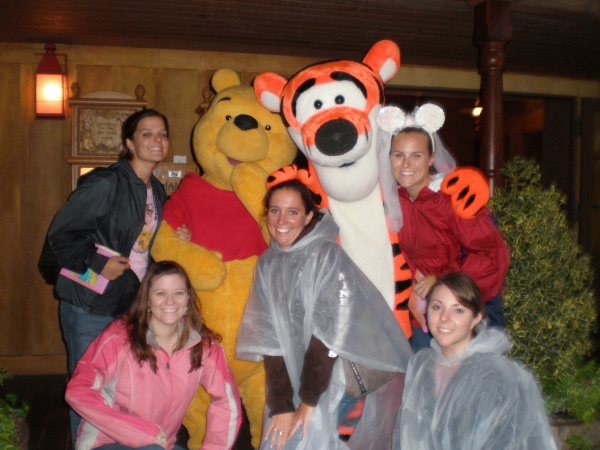 We make the rain gear look good!
That night we stayed in my friend's parent's RV on the beach. It was another great way to save money and enjoy each other's company. But our beautiful beach visit was cloudy and rainy…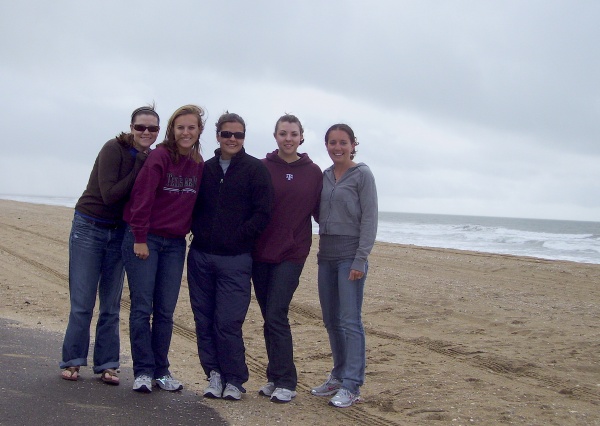 We were the only ones on the beach on that cold rainy morning
It was a short but wonderful trip to Disneyland. We had fun on a budget and I was so grateful my friends were willing to travel for my bachelorette party.
Tips and Suggestions for a Disneyland Bachelorette Party
Find ways to save money but still have fun – share a room/rooms if possible, split meals, etc. Remember that your friends probably spent a lot of money to come with you and might be on a budget.
Wear matching shirts, bridal ears and things that draw attention to you and your group – Cast Members and guests love to recognize you and treat you well.
Character meets are so much fun as an adult!
Don't let rain ruin the day – put on ponchos and have fun…crowds thin out when it rains.
Disneyland is "The Happiest Place on Earth" and a great place to have a bachelorette party.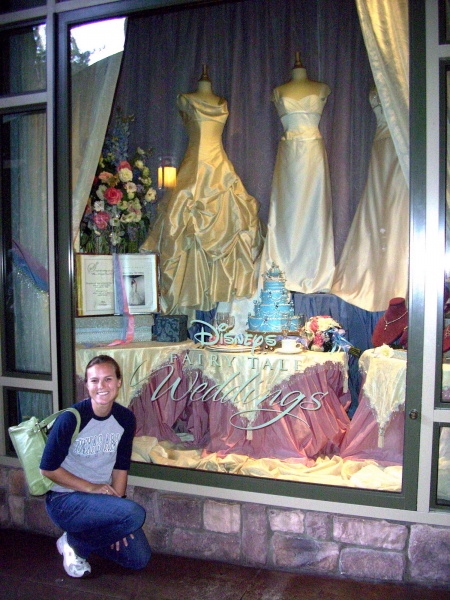 Display by the Grand Californian Hotel…dreaming that I cold have a Disney Wedding
Have you ever had a Bachelorette Party at Disneyland or Walt Disney World? Do you have any tips or suggestions? Share them below.
Did you like this article? Make sure to share it with your friends! Check below for easy ways to share!
Incoming search terms:
bachelorette disneyland
bacherlotte disneyland
disbeyland bachelorette
disney bachelorette blog
disneyland bachelorette party