This post may contains affiliate links for your convenience. If you make a purchase after clicking a link we may earn a small commission but it won't cost you a penny more! Read our full disclosure policy here.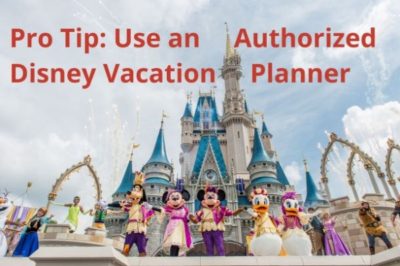 We like to plan our own vacations. For years we planned our Disney vacations and made all the reservations. This is not to slight travel agents; it's just that we like doing the research and developing the details. But, on our last trip this changed and for future Disney trips we will use Disney Authorized Vacation Planner; the best kind of travel agents.
We used our Travel Agent on our next trip with great results
Our reasons for using a travel agent was simple; the complexity of our trip. We had three different couples coming from two locations on three different days staying in two resorts and leaving on two different days from a different Florida airport. We thought have the guide from a travel planner would be helpful.  Here's what we experienced.
There's no difference in cost for hiring an agent. Booking online through Disney or even over the phone does not cost any differently than when you use an agent. Since we like to book our own travel and we are cheap we checked. In addition, Guests will still get a Walt Disney World confirmation number to link to My Disney Experience and payment are made directly to Disney. (Editor's note: There are a few travel agencies that do charge a fee to book your vacation, however, most don't. Our suggestion is to use one that doesn't charge for their services.)
Most travel agents monitor and apply Disney discounts as they become available. If you book far in advance the "off season" discounts or dining deals you are eligible for may not be published. Nothing was nicer than the phone call from the travel agent telling us that they are reducing the cost of our trip.
Our travel agent helped us get up to speed with the MagicBands and the My Disney Experience App. The MagicBand and the app were essential to the success of our trip, but were new since our previous trip. The insight that the travel agent provided helped us transition to these tools was incredibly helpful. Disney is constantly updating these tools (they added the Play Disney Parks app since we last went) and a travel agent can help keep you up to date.
Additionally, our travel agent clued us in to the FastPass rules and dining reservations timelines. When we started going to Walt Disney World a dining reservation could only be made three days in advance, not 180. The last couple of times we went we were casual Disney veterans and were only faintly aware of FastPasses. We used the heck out of our FastPasses on this trip thanks to the knowledge we learned courtesy of our travel agent. Travel Agents are also up early to book dining reservations which can be key for days for mornings you're busy getting off to work/getting the kids to school or want to sleep in.
Travel agents can make recommendations for places to eat, how to best use snack credits, how to get to get from one park/resort to another. They can really help guide you in the best ways possible.
Finally, less than a week before our reservations we decided that we wanted some alone time at Disney and wanted to add two days. We established a budget and called the travel agent. She was able to rebook the flight, extend our stay in the same hotel and add days to our passes within our budget. That was Disney Magic.
What is an Authorized Disney Vacation Planner (and why you should use one)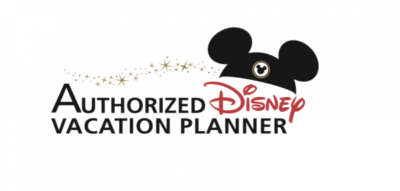 Lots of agencies can book a trip to Walt Disney World. It is important to choose your agency and agent carefully. Just two years after the trip I have learned that all travel agents may have been created equal but some work hard to succeed.
The Authorized Disney Vacation Planner is displayed after Disney awards the agency the distinction of being an "Earmarked Agency". To be "Earmarked" the agency must have a designated percentage of their agents complete the "Disney College of Knowledge" courses, successfully book trips at Disney and maintain a strong reputation.
Even once an agency becomes a Authorized Disney Vacation Planner they can continue to achieve and be recognized. There are four levels of earmarked agencies, bronze, silver gold and, the highest, Platinum. To be recognized as a Platinum agency is quite a feat and there are less than a dozen currently. (Our friends at The Magic For Less Travel are a Platinum agency!
Even though an Authorized Disney Vacation Planner, not all agents have to be trained
While it is true that the best agents seem to work at agencies that are "Earmarked" not all may have completed the Disney College of Knowledge. Look for your individual agent's qualifications. Not all Travel Agents have to complete the Disney College of Knowledge at an earmarked agency. If you are visiting Universal ask whether they have completed Universal Specialist training. Going on a cruise? Before you go ask your Travel Agent if they are accredited by the Cruise Line International Association (CLIA). There's even specific cruise line training too – you can have a bachelors or masters in RCCL for instance. Every bit of knowledge helps and can make your next Disney trip smoother and, possibly, less expensive.
Some Authorized Disney Vacation Planners offer more
When selecting an Authorized Disney Vacation Planner ask what services they offer to a prospective customer. An Authorized Disney Vacation Planner gets the first news about extra hours and other events and can let you know what is available while it's still available. Let them know if you want them to make FastPass and dining reservations for you. Ask how do they notify you about new discounts they can apply. (This may involve changing resorts, so it's not always automatic). Do they help you develop your itinerary to meet your needs?
For a planning nerd this might seem like it's giving up a bit of the fun. Once a travel agent makes a reservation for you have to go through them to make changes but you can make dining and FastPass reservations yourself while the Authorized Disney Vacation Planner takes care of the rooms and the big stuff.
In addition, some agencies offer special gifts when you make a Disney reservation through them. This can include gift cards, MagicBand skins, snacks or even floral arrangements delivered to your room.  More benefits can be found here.  On our next trip we'll step up and use a Travel Agent from an Authorized Disney Vacation Planner from a Platinum Earmarked Agency.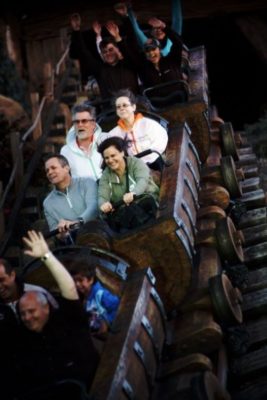 Final Note
You should know that we personally have no skin in this game. We aren't travel agents and aren't paid to blog. Like most bloggers here, the Mouse For Less is a creative outlet that keeps us connected to Disney. The Magic for Less Travel, a platinum earmarked agency, is a sponsor of the Mouse for Less. As Bloggers, we aren't obligated to use their services, however, after doing the research and learning the value of what Authorized Disney Vacation Planners bring to the table it's likely that our next trip will begin with them.
Let us know your thoughts about using an Authorized Disney Vacation Planner in the comments or on Facebook or Twitter! 
Did you like this article? Make sure to share it with your friends! Check below for easy ways to share!
Want to visit a Disney Destination? Contact The Magic for Less Travel for more information and a free, no-obligation quote.

Incoming search terms:
https://www themouseforless com/blog_world/authorized-disney-vacation-planner/