This post may contains affiliate links for your convenience. If you make a purchase after clicking a link we may earn a small commission but it won't cost you a penny more! Read our full disclosure policy here.
although directly translated it means affection, love, peace, compassion and mercy. As all good things must come to an end, it's time to wrap up my blogging on Hawaii until a future trip, which is definitely going to happen.   We hope to be able to book a cabin right on the beach at Bellows Air Force Base with the kids; it's an incredibly beautiful beach that I was able to visit twice, once with Aunt Karen and once when Jeff had a day off we had a picnic over there.    Part of the beach is typically open to the public, and the other part is for military families only.   As well as cabins, camping on the beach is allowed in both the public area and the military area.   This beach was by far my favorite.   And while there we will have to check out Aulani, the new DVC resort on Oahu.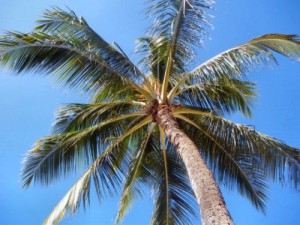 On a few different occasions I was able to go exploring with our Aunt Karen, and she was able to take me right to where Aulani is being built.   We were able to see where the lobby would be from the distinctive shape of the roof, and drove around the corner to a beautiful wedding chapel, shortly beyond that was a very small public parking lot.   We parked and investigated the wedding chapel grounds, then headed down to the beach, where we were able to get a different view of the progress of Aulani.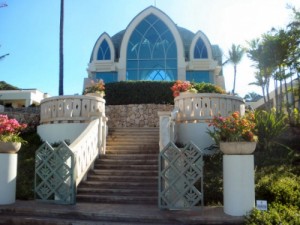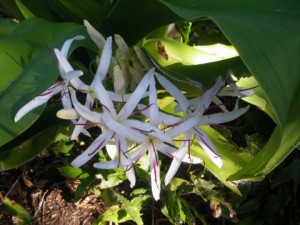 The beach is in a cove and absolutely gorgeous and is located on one of three coves right in that area.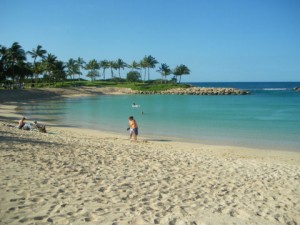 We also walked over to the JW Marriott Ihilani Ko Olina Resort & Spa.   They have a great picture of the cove on their website http://www.marriott.com/hotels/travel/hnljw-jw-marriott-ihilani-ko-olina-resort-and-spa/ and Aulani will be directly to the right.    The JW Marriot is a gorgeous resort itself and worth a visit with a nice large fish pond that had starfish and stingrays.    The pool area looked incredibly relaxing as well.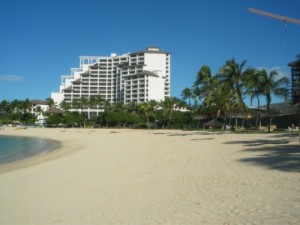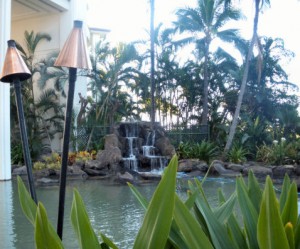 I was somewhat disappointed in how close the Marriot property is to the DVC property, for some reason in my mind, Aulani was going to be out there on its own.
If you are looking on a map, go west from Pearl Harbor along the coast, the island makes an almost 90 degree turn and you will see Barber's Point Harbor. Aulani will be just past that, well before the Farrington Highway starts running along the coast. It is set back in a newer residential area with a golf course.
All in all, it is a gorgeous area they chose to build Aulani and I cannot wait to stay there!
If you missed any of my previous blogs on Hawaii, the links are below
Land of "Lost", but we were not roughing it like Kate, Jack and Sawyer
Waikiki for a beach vacation, probably not!
"This Day Shall Live on in Infamy"
I found Dole Whips, but not at a Disney park