I found Dole Whips, but not at a Disney park!
|
On a few different occasions I was able to go exploring both with Aunt Karen and with my husband when he had a couple of days off.   One day Karen decided we needed to go and see North Beach, which is where all the surfers go for the best waves.   This is on the opposite side of the island from Honolulu and you drive through some agricultural areas on the way.    And what's agriculture without pineapples?  And what is the purpose of pineapples?  Well we all know it's to make Dole Whips.    There is a Dole Plantation you can visit http://www.dole-plantation.com/ There were a few other things to do such as the Pineapple Express, a train tour through the history of pineapples, a plantation garden tour and a garden maze.   (all require admission costs).    We however were there for one purpose, after browsing the large gift shop; we headed to the snack bar area where I was able to introduce Aunt Karen to a Dole Whip.   And I have to admit, I am now torn, is a Dole Whip in Walt Disney World better than a Dole Whip in Hawaii?    It's a tough choice.
From here we headed further north and the terrain changed back into mountains.   We arrived in Hale'iwa and from there found the beaches.    There is beach after beach in this area, as well as some good restaurants and some fun shopping.   The area has turned into a bit of an artist's area.     We stopped into a Wyland gallery in Hale'iwa which was full of beautiful sea life and local fauna in all the creations.    There was one thing missing, hotels.    There are apparently very few if any hotels in this area which was refreshing.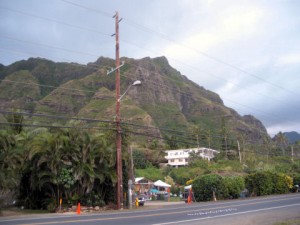 We parked at a beach and wandered down to watch a few of the surfers.   The waves were not incredibly big, and the sky a bit grey and rainy looking, but there was still enough people out there riding the waves.    The beaches were much more "beach" like and easier on my feet than Waikiki.   Most surfing that we see on TV in Hawaii takes place in this area.   I am assuming much of the recent Hawaii 5-0 that centered on surfing was filmed right in this area.   Yes I have gotten hooked on the new Hawaii 5-0.    With Lost gone but not forgotten, I need to get my Hawaii fix somehow.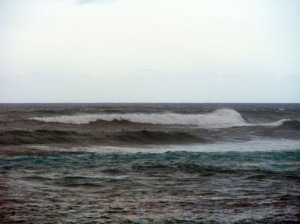 We stopped for lunch at a local restaurant, while not right on the water, there was a nice view of the ocean from the restaurant.   Being an island, many of the restaurants do offer local fresh seafood, as I am not a huge seafood eater, it was sometimes hard to find something "new" to try without stepping over that boundary.  So on this occasion, I did cave in and order a fish sandwich.   I was expecting your typical deep fried cod; however it was grilled and much fresher.    Despite fish not being my favorite entrée, it was very good.
Similar Posts: