This post may contains affiliate links for your convenience. If you make a purchase after clicking a link we may earn a small commission but it won't cost you a penny more! Read our full disclosure policy here.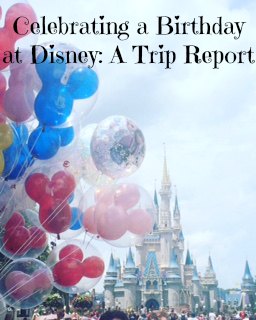 I recently celebrated my 27th birthday, and was lucky enough to do it at Walt Disney World! My parents are Florida residents, so my significant other and I make a few trips to Central Florida each year to visit (and go to Walt Disney World, of course!). This year, we flew down on a Friday night and back mid-week. Here, I'll bring you a little bit of the Disney magic we experienced during my birthday trip!
SATURDAY: MAGIC KINGDOM
I'm one of those Disney-goers who, despite crowd levels, has to go to the Magic Kingdom on the first day of a Disney trip. Since our flight got in so late on Friday night, we slept in a bit on Saturday, had some breakfast, and made our way to the park. We had some awesome FastPass+ lined up, so we rode Space Mountain, Big Thunder Mountain Railroad, and Seven Dwarfs Mine Train one after the other. We took a trip on the Tomorrowland Transit Authority Peoplemover (my favorite!), waited in the standby line for Haunted Mansion, and ducked into Pirates of the Caribbean as it began to rain.
We were starting to get hungry at this point, so we went to Cosmic Ray's Starlight Cafe for some chicken tenders (a request made by my boyfriend, who, for whatever reason, loves that chicken!), recharged in the air conditioning, and headed back out for a few more attractions. Time flew by this first day, and before we knew it, the sun was going down. I made sure to grab a birthday button on Main Street U.S.A. in the Emporium, so I got tons of birthday wishes from Cast Members and guests, alike! That evening, we went home to relax, watch a movie, and take it easy.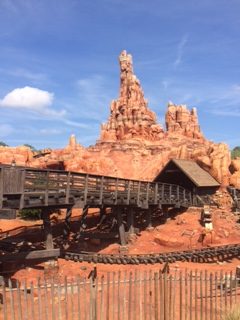 SUNDAY: EPCOT AND ANIMAL KINGDOM
Epcot is my favorite park; I love taking a lap around the World Showcase, eating, drinking, and shopping my way around the world! We started our day in Epcot with a ride on Spaceship Earth, then hit Soarin' and Living with the Land while a huge thunderstorm passed through. We then headed for World Showcase, when I decided I was ready for something Mickey-shaped to eat! We stopped at a cart and I ordered a soft pretzel, which the Cast Member gave to me for free, wishing me a happy birthday! I was so touched by the Disney magic! Everything tastes better when it's Mickey-shaped (and free!). We strolled through World Showcase but didn't go on any attractions. I love the leisurely pace of a day spent in Epcot!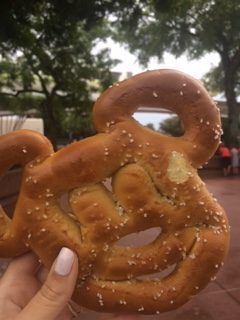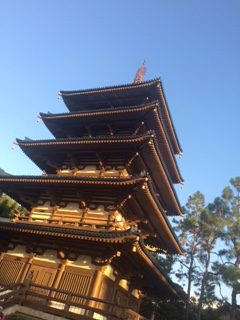 It had been a few months since I'd been down to WDW, so I still hadn't had the chance to experience Pandora: World of Avatar yet. After our Epcot day, we went home to eat some dinner and get changed for the evening, and headed to Disney's Animal Kingdom! We had some great FastPass+ lined up again! We rode Kilimanjaro Safaris, Dinosaur, and Na'vi River Journey, and took our time exploring Pandora. I wanted to see Pandora at night, and I was so glad that we came in the evening to experience everything; the ground was "bioluminescent," and everything was lit up beautifully. We strolled through the gift shops and checked out the Satul'i Canteen. We ended our night watching the projection show on the Tree of Life.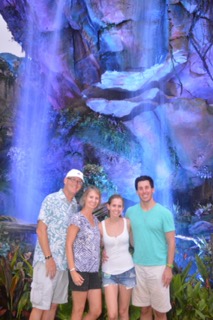 MONDAY: BIRTHDAY FOODS AND MORE MAGIC KINGDOM
Monday was my birthday, so we started the day out with brunch at Olivia's Café at Disney's Old Key West Resort. Being Kona Café regulars, we decided to branch out and try something new, and were happy we did! We loved the banana bread French toast and the crab cake eggs benedict. The environment was very laid back and casual, which was a fun way to start the day.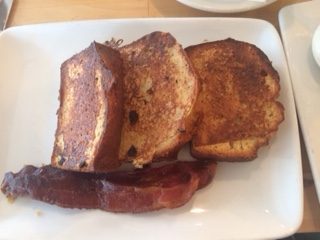 After a big meal, we headed back over to the Magic Kingdom, where we rode just about everything we weren't able to catch on Saturday! After a very successful afternoon, we left WDW property for my birthday dinner in Celebration, Florida. We enjoyed a nice meal, took a quick stroll through town, and headed back to Magic Kingdom to catch the new fireworks show, Happily Ever After. Everybody deserves a fireworks spectacular to close out their birthday! Once the fireworks ended, my boyfriend and mom took a quick ride on Space Mountain with a FastPass+, and we hit the road for home.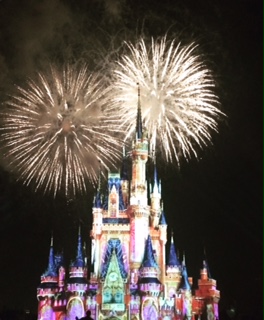 TUESDAY: MORE EPCOT TIME

Since my boyfriend had to get back to work, he hit the road Tuesday morning, so we spent some time traveling to and from the airport. We then headed back to Epcot to squeeze in a Frozen Ever After FastPass+ and some more World Showcase wandering. We stopped in Germany at Karamel-Kuche for some caramel; we split a caramel pecan tart 3 ways, which was more than enough food! As the sun set, we enjoyed the view and waited for Illuminations to begin. Another perfect day in the books, we headed for home!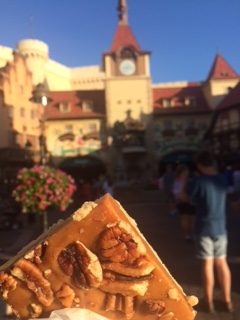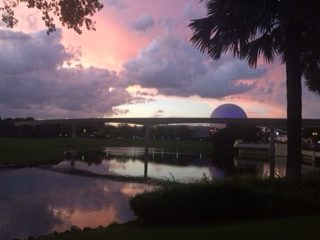 WEDNESDAY/THURSDAY: THINGS GETTING CRAZY!
I was scheduled to depart MCO on Wednesday evening, so we woke up fairly early and headed to Animal Kingdom to squeeze in a little more Pandora time and a few other attractions. We walked the Pangani Forest Exploration Trail, and got to see the baby gorillas playing! We checked out the souvenirs in Zuri's Sweet Shoppe, and relaxed in Africa until it was time to get moving. We had a quick lunch, and I headed to the airport.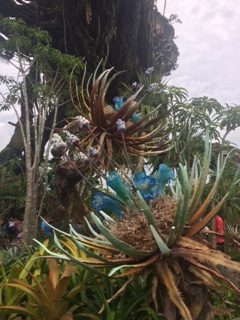 My flight into JFK was delayed by almost 8 hours, so I hunkered down with a book, determined to enjoy every last bit of my vacation time! Unfortunately, at around 9:00 P.M., all flights to the northeast were cancelled due to "weather," so craziness ensued. After about an hour, I was able to rebook the next outgoing flight with seats: Thursday at 1:00 P.M. with a layover in Boston. Certainly not ideal, it was my best bet, so I took it, and headed home to catch a few hours of sleep before trying again the next day!
Unfortunately, "weather" continued in the northeast, and my Boston flight was delayed 10 hours, which obviously wouldn't let me make my connection to NYC! I swapped flights to an opening into Newark, which was cancelled shortly after I booked it, and I switched airlines entirely, finally getting out of MCO that evening! A tip to all travelers: Be sure to bring plenty of Mickey-shaped snacks to the airport to keep the Disney magic alive!
Despite all of the airport madness, I had an incredible, memorable birthday trip with my family. I got to experience the new Pandora and Happily Ever After, go on some fantastic FastPass+ attractions, eat my weight in treats, see the sun set over Spaceship Earth, and really relax before heading back to the city.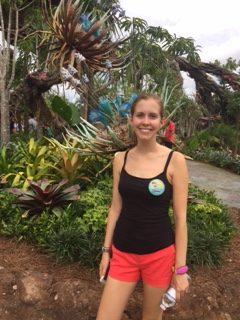 Every trip to Walt Disney World should be as magical as this one, and even though I had some trouble getting home, I have far more perfect memories with my family than frustrating ones in Terminal B.
What are your best suggestions for how to celebrate a birthday at Walt Disney World? And what do you do when your flight gets delayed? Share your thoughts in the comments.
Did you like this article? Make sure to share it with your friends! Check below for easy ways to share!
Incoming search terms:
https://www themouseforless com/blog_world/a-birthday-celebration-walt-disney-world/