This post may contains affiliate links for your convenience. If you make a purchase after clicking a link we may earn a small commission but it won't cost you a penny more! Read our full disclosure policy here.
Disney Travel Tips For 2021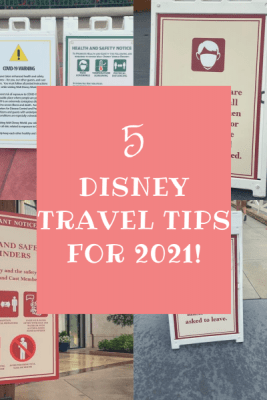 It's a relief to know that while the world experiences monumental changes, Disney still stands. Some things never change, right? 
Well, kind of. 
While Walt Disney World is open, there are 5 Disney Travel Tips that you NEED to know before arriving Home.  
Disney Travel Tips For 2021:
#1: Travel Restrictions
While all of the Disney travel tips we mention are important, this is #1 for a reason. You need to know your state's travel restriction rules. These are in flux and change pretty regularly.  Currently, at the time of this publication, the state of Florida does not have travel restrictions in place, but depending on where you are traveling from, it's likely your area does. These restrictions and regulations are not just for travelers who fly, either. If you choose to drive (I Can Go the Distance comes to mind because I think you may need the mental stamina to be in the car with kiddos!) and stay longer than 24 hours in specific locations, you may be required to quarantine upon arrival to Disney. While we cannot highlight every state restriction and rule here, you need to be aware of the laws surrounding where you are traveling from before you go! (Editor's Note: In addition, you need to check your work policy on traveling out of state, as well. Some companies have strict policies for returning to work.)
#2: Mask Wearing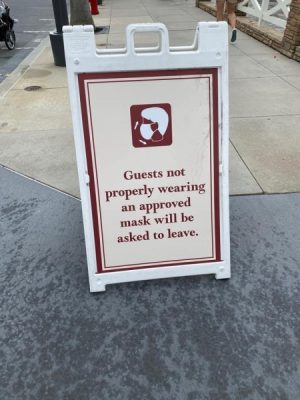 Orange Country, where Walt Disney World is located, is under an Executive Order requiring Face Coverings. This means that you, and your children (unless under the age of 2), are legally required to wear a mask while in the parks, whether indoors or outdoors, and in common areas of your resort. We know that Florida is warm all year 'round – isn't that part of its magic? So, your traditional masks may need more frequent changes due to sweat (or how much you're smiling behind the mask!). 
Check out this blog post which has great tips on on how to make mask wearing more magical! 
The exceptions to this mask policy are when you are dining or swimming. Disney has specified dining to be actively eating or drinking while you are stationary and maintaining social distancing.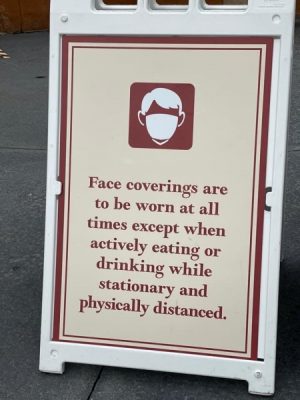 And not just any mask will do. They need to have two layers of breathable material, fully cover the nose and mouth (securing under the chin), fit snugly (no gaps!), and be secured behind the ears or with ties to ensure you can be hands-free. Gaiters, bandanas, and valve-based face masks are not considered acceptable forms of face coverings. Take a look at our guide for face coverings that are acceptable at Walt Disney World. 
So, hot tip: don't wait until the last minute to place orders for what you need! 
#3: Park Reservations & Park Hopping
Park hopping officially returned to Walt Disney World on January 1, 2021! But unlike it's carefree, go-where-you-please attitude of the past, there are new rules put in place to make sure that parks are not overrun with guests who cannot socially distance. 
The first rule is that you MUST have a Disney Park Pass reservation for a park during the day. Unfortunately, you cannot simply arrive to a park and expect to be let in. Disney Parks, in this stage of the phased opening, are operating at a 35% capacity. 
The second detail to note is that Park Hopping doesn't begin until 2:00 p.m. So, you will spend the morning at your first park of choice (where you have a reservation) and then at 2:00, head to your second park of the day! In theory, you could visit all four parks in one day, but three of them would be between 2:00 pm and closing. 
Note to the fandom of Star Wars – you are ineligible to get Rise of Resistance boarding passes if you are Park Hopping to Disney's Hollywood Studios. The force is NOT with you on this one! 
The Exception
The caveat here is that the parks you're trying to hop to need to have capacity for you to go there. There are two ways to tell if a park is at capacity: 
Speak to the Cast Members in the bus loop OR Guest Relations 

Call the hotline:  (407) 560-5000
Before you trek all the way out to the busses, I'd recommend calling the number. It's typically an automated response sharing which parks are open for guests and which are at capacity. At this time, there is no way to know on the app (would be such a helpful feature!) 
Another oldie, but goody, that's returned with Park Hopping is that park-to-park transportation is also back through the bus system. In order to travel this way, you need to have a valid ticket or pass that includes Park Hopper benefits and yes, Cast Members are checking! The beloved monorail to EPCOT still isn't open to guests, but my fingers are crossed… 
The last detail of park hopping in is about returning to your first park. Should you want to return to where to spent the majority of your day, you will need to make sure that it hasn't reached capacity. There have been mixed reports of this, whether you are guaranteed back in, but what I know for sure is that you can hop to any park that is OPEN for capacity! 
#4: Dining Reservations
Despite Disney Parks being open, many restaurants are still closed on site. This means you will have limited options when it comes to making reservations. (Here is a list of the restaurants that are currently open.)
As always, the majority of Disney's quick-service locations do offer outdoor seating, but be sure to bring wipes for the table if you want to snatch a spot quickly! Cast Members are sanitizing tables between guest parties, but during a lunch hour, it may be hard for them to keep up! 
Sitting outdoors at a table-service location can be more difficult. When you make your reservation, you should inquire about outdoor seating, if that is important to you. 
If you are comfortable dining indoors, you may have an easier time making reservations! All restaurants have been outfitted to be socially distant, regardless of their indoor or outdoor locations. Note when visiting a table service restaurant, to check in, instead of stopping to speak with the Cast Member at the front, you'll need to participate in Mobile Dine Check-In, which will check you into your dining experience. More details can be found here on this process. 
Mobile ordering has also become a new norm in Walt Disney World! I love mobile ordering for it's convenience, especially with young, hungry children. And more quick service locations are offering it now than ever before! Mobile ordering is on the My Disney Experience App. Be sure to have this downloaded early to preview your choices!
#5: Character Interactions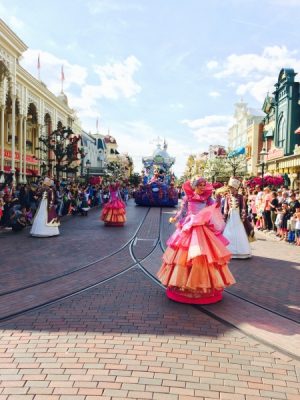 To prevent guests from clustering together, Disney has suspended evening fireworks shows, parades, and some character dining experiences. Personally, these "streetmosphere" activities are what kick up the magic to the Disney level for me, but know Cast Members are sprinkling in bits of pixie dust in safe ways. Character cavalcades are popping up in each park! These are unpredictable mini-parades of a few, well spaced characters either walking, dancing, or riding in a vehicle. I love that these are random; I think you may get to see a bigger selection of characters this way, across all 4 parks. 
We hope these Disney travel tips are helpful. These are sizable changes to everyday Disney, but if the goal is to experience the magic, then know you can safely do so! Plan ahead, pack your masks, and prepare for a slower, less-crowded magical day! 
What tips do you have for visiting Walt Disney World in 2021? Share with us your thoughts in the comments or on Facebook or Twitter!
Did you like this article? Make sure to share it with your friends! Check below for easy ways to share!  
Want to visit a Disney Destination? Contact The Magic for Less Travel for more information and a free, no-obligation quote.

Incoming search terms:
is diniig safe indoors at disnry
disney 2021 traveltips
disney in 2021 tips
disney tips 2021
disney world travel tips 2021