This post may contains affiliate links for your convenience. If you make a purchase after clicking a link we may earn a small commission but it won't cost you a penny more! Read our full disclosure policy here.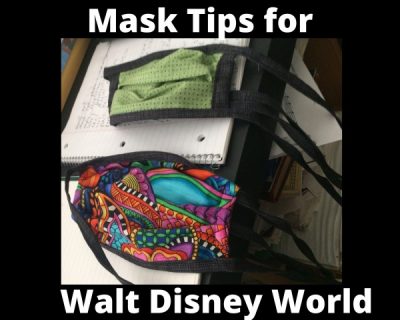 Handmade cloth masks with ties
If you're heading to Walt Disney World anytime soon, you're going to need a mask. The idea of wearing a face covering for an entire vacation may seem daunting. So I reached out to some friends who have to wear a mask all day long for their jobs, and they gave me their tips for wearing masks for an extended amount of time.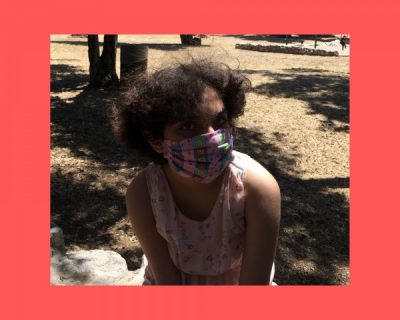 Handmade mask with elastic bands
CHOOSE YOUR MASK STYLE

First of all, you're going to want to figure out what type of mask you want to wear. You'll decide this based on Disney's mask policy, what kind of fastener to use, and what it looks like. People disagree about the best kind of fastener. A friend of mine who works in a medical office prefers a mask that has elastic fasteners that loop around her ears. But my daughter has one like this, and the elastic loop from one of the ears has snapped off. I was able to fix it with a needle and thread, but this is not something you want to happen during your vacation. I prefer a mask that has cloth ties because these seem more sturdy.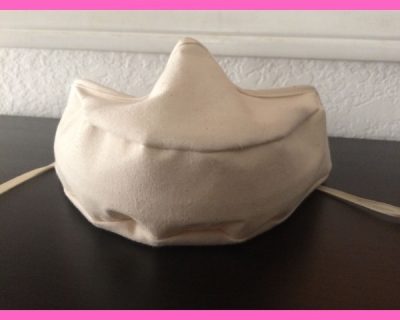 Mask from The Broadway Project
BRING MORE THAN ONE

Accidents happen. Masks can rip or break. If this happens on your vacation, you can buy masks at Walt Disney World. They are cute and come in many patterns, all of them Disney themed. And they aren't even overpriced! But it's better to bring your own. Pack one on your park bag just in case.


PUT YOUR HAIR UP
A friend of mine who works in a local supermarket says she always puts her hair up in a ponytail before she puts her mask on in the morning. This prevents her hair from falling in her face and keeps her from unnecessarily touching her face to push her hair back. I also find that putting my hair in a ponytail makes it easier for me to tie the straps from my mask around my head. So if you've got long hair, put it up.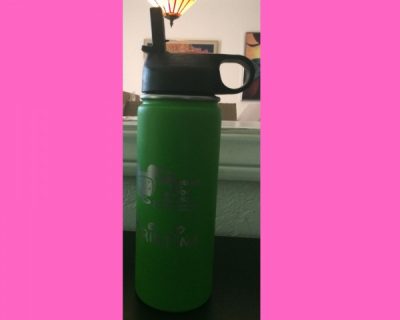 BRING A WATER BOTTLE WITH A STRAW

It's important to hydrate on a Disney vacation, especially during the hotter months. It will be much easier to do this if you have a water bottle that has a built-in straw so you can slip the straw under your mask to take sips. Pulling your mask up or down every time you have to take a sip from a water bottle is cumbersome, and the more you can keep your mask on, the safer you and those around you will be. So I highly recommend you invest in a nice water bottle with a built-in straw.


PRACTICE MAKES PERFECT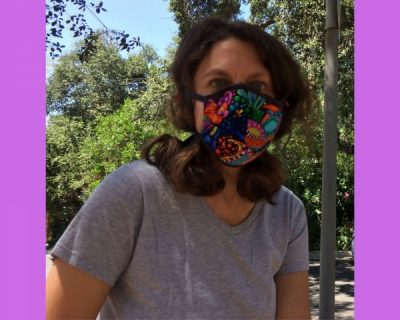 Unless you already walk quite a lot every day, you should gradually increase the amount walking you do so that you are ready for the massive amount of walking you'll do at Walt Disney World. If you are not used to wearing a mask all day long, the same advice applies. Build up the time you wear your mask slowly over a long period of time. If you're already increasing your walking, combine it with mask wearing. Each day, take a slightly longer walk while wearing your masks. This is also a good way to practice drinking water while wearing your masks. Kids might need to be bribed with a small reward to do this. Maybe encourage them to practice by getting them a mask with their favorite character on it. With enough practice, wearing a mask will feel like second nature, and wearing one during your Walt Disney World vacation will be a piece of cake. (Or a Mickey Ice Cream Bar!)
What tips do you have? Share with us in the comments or on Facebook or Twitter!
Did you like this article? Make sure to share it with your friends! Check below for easy ways to share!  
Want to visit a Disney Destination? Contact The Magic for Less Travel for more information and a free, no-obligation quote.

Incoming search terms:
visiting disney world with mask