Walt Disney World Dining for $37 a Day-Magic Kingdom Edition
|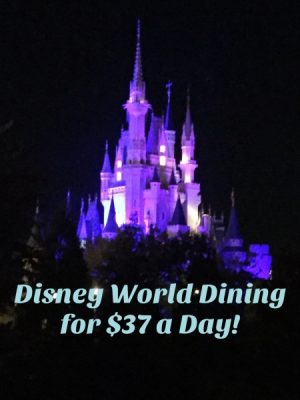 Disney World Dining for $37 a Day
Magic Kingdom Edition
The love for Disney and the love for great food almost go hand-in-hand, don't they? Who can plan for a day at one of the parks without thinking about which tasty treat you'll indulge in along the way? If you think I'm going on a spin in The Mad Teacups without a Cheshire Cat Tail afterward, you are sorely mistaken. Even still, we don't want to eat our way through ALL of our souvenir money (or do we?). Dining at Disney on a budget is possible and in these segments, we will dine for a full day for $37 or less!
Why $37? I'm glad you asked! This pays homage to the world's 1st full-length animated feature, Walt Disney's Snow White, which premiered in 1937. In the house of the mouse, it only seemed fitting to choose an amount that had at least a little bit of the Disney touch.
Join me as we journey through The Most Magical Place on Earth without diving 20,000 leagues into your wallet.
Today's adventure will take us to none other than our Fantasyland favorite, The Magic Kingdom.
Main Street Bakery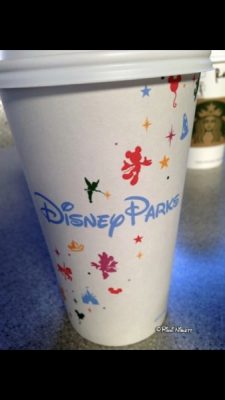 Is there a better way to experience your coffee from Main Street Bakery than with a castle view?
Pro tip: the lighter the coffee roast, the stronger the caffeine content.
Freshly Brewed Coffee, Tall: $2.49
($34.51 Remaining)
Gaston's Tavern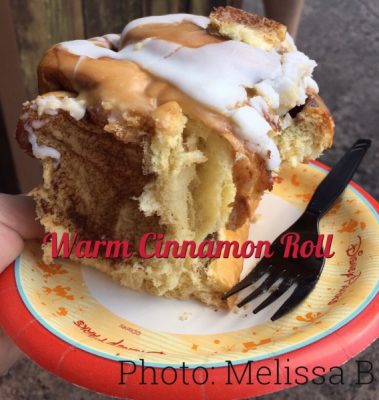 For breakfast or a mid-morning snack, everyone can agree that Gaston's Tavern is worth the stop. If you visit at the right time, you might even see Gaston himself signing autographs and making all the villagers swoon. If you like your cinnamon roll on the sweeter side, ask a Cast Member for extra icing. You'll get a small ramekin of icing that you can pour over the top or use for dipping! Dining at Disney has never been sweeter.
Warm Cinnamon Roll: $4.99
($29.52 Remaining)
Be Our Guest Restaurant
Your stomach will say "Oui, oui!" to lunch inside Beast's Castle! Feast upon croque monsieur with bechamel sauce and a side of pomme frites. Think of it like a warm, grilled cheese sandwich with carved ham, but better! The pomme frites are really just good 'ol French fries. Are they more French when served up next to this classic French sandwich? You be the judge. C'est magnifique!
Croque Monsieur with Pomme Frites: $13.99
Adult Fountain Drink: $3.29
($12.24 Remaining)
The Magic for Less Travel will offer a FREE Minnie Pack to all guests who book a new Magic Your Way package priced at $1500* or more. The Minnie Pack includes a TMFLT laundry bag that is useful during and after your trip. Packages priced at $3000* or more will also receive your choice of one of the following: One 9" Disney plush, 2 MagicBand skins, Disney trading pin, or $10 Starbucks EGift card. See our
Walt Disney World Vacation Discount Page
for more Walt Disney World promotions!
GET A FREE QUOTE NOW!
Casey's Corner
It's time to snag some pavement to save yourself a spot for Magic Kingdom's nightly fireworks show, Happily Ever After. Studies have shown that consuming a meal from Casey's Corner significantly reduces the wait. Well, at least it'll feel like it!
Our dining at Disney budget is looking great, so how about some dinner? Let's dive into a corn dog nugget meal made complete with your choice of apple slices or French fries. Pair this with an ice water and you're ready to nosh.
Corn Dog Nuggets Meal: $8.49
Ice Water (cup): FREE
($3.75 Remaining)
Plaza Ice Cream Parlor
We've got time and just enough scratch left in our dining budget for one more stop before the night is over! Join me at Plaza Ice Cream Parlor for a delicious Mickey Mouse Kid's Cone. A sugar cone with your choice of ice cream and is topped with two round chocolate pieces to make Mickey's iconic ears. Sure, it's a kid's dessert but we are all kids at heart when we are at Disney!
Mickey Mouse Kid's Cone $3.49
($0.26 Remaining)
We've made it through an entire day with The Mouse and made it out with money to spare. I hope you'll join me soon on another adventure as we eat our way around Walt Disney World on just $37 a day!
Feel free to peruse the menus of Disney's Magic Kingdom to create your own budget-friendly day out!
What are your suggestions for dining at Disney in the Magic Kingdom for under $37? Share in the comments, or on Facebook or Twitter.
Did you like this article? Make sure to share it with your friends! Check below for easy ways to share!
Similar Posts: