This post may contains affiliate links for your convenience. If you make a purchase after clicking a link we may earn a small commission but it won't cost you a penny more! Read our full disclosure policy here.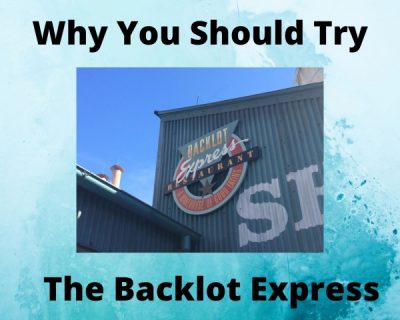 Welcome to the Backlot Express!
Disney's Hollywood Studios theme park is very popular right now, and with good reason! Toy Story Land is bringing smiles to guests' faces, and Star Wars fans are rhapsodic about Galaxy's Edge. Because of this, at mealtime, people tend to flock to the quick service spots in both these new lands.
But that means those places are getting busy, and at times you can find a wait for your food and difficulty finding a place to sit and eat. I've got a suggestion for you if you find yourself in this situation. 

Give the Backlot Express a try!

Okay, this might not be the most glamorous suggestion, but hear me out. We've eaten at this quick service location multiple times over the years, and I wouldn't hesitate to do it again. Here are my reasons: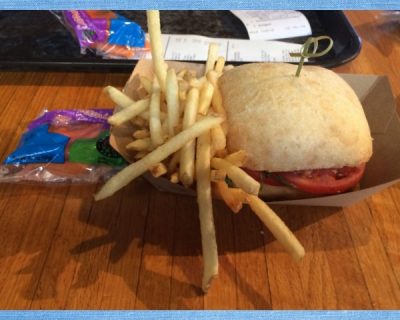 Simple and hearty sandwich and fries
LOTS OF SEATING


This restaurant is themed after a real-life Hollywood backlot. I've been lucky enough to visit two of these, and I can attest that Disney's version bears more than a passing resemblance to the real thing. Indoor seating makes you feel like you're working behind the scenes on a movie and have taken a lunch break in the paint, prop, or carpentry departments. Little details adorn the seating areas to add to this theme.
When the weather is pleasant, you can also eat outdoors. The seating outdoors is covered by a shade structure, so even during the blazing heat of afternoon or a light sprinkle of rain, you'll be protected. (I wouldn't recommend it during a complete downpour, though.).

The bottom line? We've never been unable to find a seat here. However, as usual, I recommend you try visiting when neither the lunch rush or the dinner rush is in effect. (I recommend 11:00am for lunch and 5:00pm for dinner.).

One other comment about timing: As of this writing, the Indiana Jones Epic Stunt Spectacular is not running. However, the Backlot Express is located close to the amphitheater where this show usually is presented. Because of that, after shows let out, the restaurant can experience a deluge of guests.
GREAT FOOD FOR PICKY EATERS


If you've got kids (or adults!) who have whined their way through World Showcase, asking why they should eat couscous and crepes when they really want burgers and fries, this might be the perfect place to stop and have a bite. Burgers, sandwiches and salads are the mainstays here, and they are hearty and good. There is always at least one meatless entrée as well. As for desserts, the selection isn't huge, but there always seems to be one Star Wars themed item available. When we last visited, it was a Darth Vader cupcake, but the menu now shows a Wookiee cookie!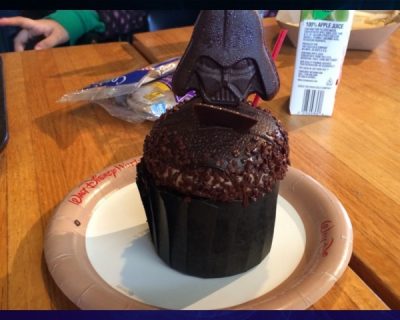 There's always a Star Wars treat on hand!
So even though it's been around for about 30 years, this place still is a good, reliable place to get simple, hearty food.


Have you tried Backlot Express lately? What were your thoughts? Share in the comments or on Facebook or Twitter!
Did you like this article? Make sure to share it with your friends! Check below for easy ways to share!  
Want to visit a Disney Destination? Contact The Magic for Less Travel for more information and a free, no-obligation quote.